Delta Air Lines' 2014 network strategy entails bypassing Tokyo and leveraging partnerships
Analysis
Two main pillars are driving Delta Air Lines' network strategy for 2014 – capitalising on the so-called new-generation partnerships in which the airline takes stakes in foreign carriers, and continuing to serve strategic points in Asia directly as flow traffic over Japan becomes less important for the airline.

During the past year Seattle has emerged as Delta's key US west coast gateway to Asia, and the carrier has been furiously adding new domestic service to maximise feed to the Pacific. Its latest domestic addition in Seattle is San Jose, which is another market where Delta is opting to capture its own connecting traffic rather than rely on a long-standing codeshare pact with Seattle-based Alaska Air Group.

A joint venture with Virgin Atlantic set to launch 1-Jan-2014 is a important lever for Delta to pull finally in order to achieve profitability in New York after working during the last couple of years to improve its competitive position against American and United in one of most important corporate markets in the US.
Delta Air Lines believes it is just brushing the surface in terms of forging global joint ventures, and is confident it can create similar business schemes with Aeromexico and GOL once the US reached open skies pacts with Mexico and Brazil.

Overall, the network scale Delta is trying to achieve in 2014 and beyond is central to its efforts to sustain the profitability momentum it has enjoyed over the past few years, as well as convince investors its reformed business model has staying power.
See related report: Delta Air Lines' latest punch at Alaska in Seattle in an effort to siphon traffic from Vancouver
For Delta it is not about Seattle, Asia is the end game
Delta's rapid fire expansion in Seattle during 2013 - and continuing in 2014 - has drawn much scrutiny as the carrier seems to be casting aside its relationship with Alaska in order to maximise revenue at its west coast gateway to Asia.

By mid-2014 Delta will operate service from Seattle to Tokyo Haneda and Narita, Osaka, Seoul, Hong Kong, Beijing and Shanghai. New service from Seattle to London Heathrow joins existing flights to Amsterdam and Paris in Mar-2014.

Outlining Delta's strategy in Seattle succinctly, Delta CEO Richard Anderson recently declared to investors: "It's actually not Seattle, it's how Asia is evolving and how the Asian network is evolving."

That evolution entails more flying over its traditional Tokyo hub rather than connecting onwards to other Asian markets.
Delta chief revenue officer Glen Hauenstein noted that non-Japan Asia now comprises 51% of the carrier's Pacific long-haul flying versus 28% in 2009. Delta's rival United also recently expressed similar sentiments, noting that its intra-Asia capacity dropped 31% from 1999 to 2013, and during 2014 the decrease will reach 53% compared to 1999.
This was not entirely the number one plan, but Delta has been shut out of the Japanese airline partnerships - ANA has its ATI-supported JV with Star carriers and JAL with oneworld) and despite some rowdy performances by Mr Anderson in Tokyo, Delta was unable to make serious inroads in acquiring new slots at Haneda.

See related report: United reduces Tokyo connections in a Pacific network revamp that emphasises more directs

Mr Hauenstein remarked that passengers travelling from a market such as Indianapolis to Shanghai or Beijing essentially do not prefer two stops. Their preference is a stop in a gateway city for direct service to those markets.

To serve Asia properly from the US in a manner that reflects passenger preferences, Delta concludes that east coast and mid-country hubs are necessary. For Delta its Atlanta and New York hubs are its east coast Asian gateways while Detroit has direct service to Beijing and Shanghai (Delta has opted to transfer Detroit-Hong Kong service to Seattle).

"You've got to have a west coast gateway," Mr Anderson declared, concluding that Los Angeles is too fragmented and "San Francisco is taken", through United's hub at the airport. Given the powerful economy in the US Pacific Northwest, Delta's CEO believes Seattle is underserved. Presently, Seattle only offers service to six Asia-Pacific destinations compared with 12 from San Francisco and 17 from Los Angeles.
Delta needs "sufficient" connectivity in Seattle
Delta is working quickly to shore up service to Seattle, as Mr Anderson stated its six non-stops per day to Asia and three non-stops to Europe results in roughly 2,500 seats per day each way.

"In order to be able to support that service, we have to have sufficient connectivity to Seattle," stated Mr Anderson. His remarks underscore Delta's recent decision to offer service to large US domestic markets from Seattle with its own metal, ensuring it captures all the revenue from those passengers connecting to Asia.

Unlike United, which is evolving its Asia strategy into secondary markets as it continues to add Boeing 787s to fleet, (new service from San Francisco to Chengdu begins in Jun-2014), Delta is opting to serve those destinations through its SkyTeam partners China Eastern and China Southern, which have a strong presence in Beijing and Shanghai.
Virgin Atlantic will help Delta improve its footprint in busier European markets
Delta has recorded solid financial results in its trans-Atlantic operations during 2013 (including a 4% increase in yields during 3Q2013) despite what Mr Hauenstein characterised as the "economic malaise" in Europe. Carrier president Ed Bastian concluded that Delta's Europe and trans-Atlantic routes were the leading margin producer across the carrier's international sectors in "one of the most difficult European environments and economic environments in recent memory".

Mr Hauenstein believes the Eurozone's fortunes will begin to improve during 2014; however Delta plans flat capacity offering to the region, focusing on core markets in Amsterdam, Paris (hubs for its SkyTeam joint venture partner Air France-KLM) and London.

Delta's focus on London results from the landmark deal it reached with Virgin Atlantic in Dec-2012 to acquire Singapore Airlines' 49% stake in the carrier and create a trans-Atlantic joint venture that officially launches on 1-Jan-2014. During Apr-2014 Delta and Virgin Atlantic will officially launch a bridge schedule between JFK and London that entails offering service between JFK and Heathrow once in the morning followed by six departures in the evening to London at thirty minute intervals.

Bolstering service from JFK to London is key for Delta as it is the busiest corporate market in the world; but even after the carriers begin to market their combined service, Delta and Virgin Atlantic's combined 35% seat share between the New York market (all airports – JFK, LaGuardia and Newark) will still be pale in comparison with the 52% combined share of oneworld joint venture partners American and British Airways. (market share data is based on schedules in OAG for 30-Mar-2014 to 5-Apr-2015).
New York to London Heathrow Airport (seats per week, one way): 19-Sep-2011 to 22-Jun-2014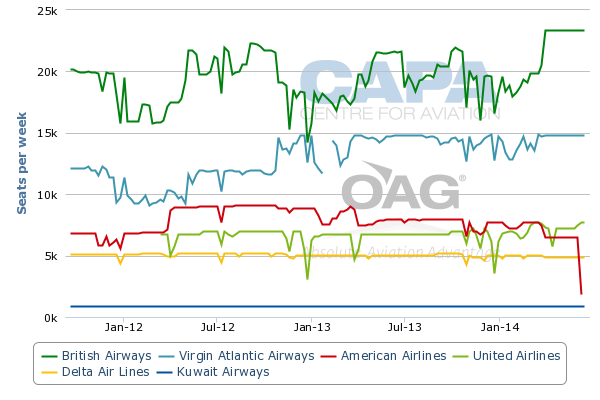 Delta's joint venture with Virgin Airways also allows the carrier to now tout service options from the US to the top markets in Europe, a weakness for Delta prior to its tie-up with Virgin Atlantic, acknowledged Mr Bastian. "Prior to the JV, we were big in Europe, but big in the secondary markets," he concluded. "Today we're proud to say with the Virgin Atlantic partnership, we're going to have a significant service offering in each of the top ten markets to Europe."
Delta Air Lines' service to the top markets to Europe from the US: pre and post joint venture with Virgin Atlantic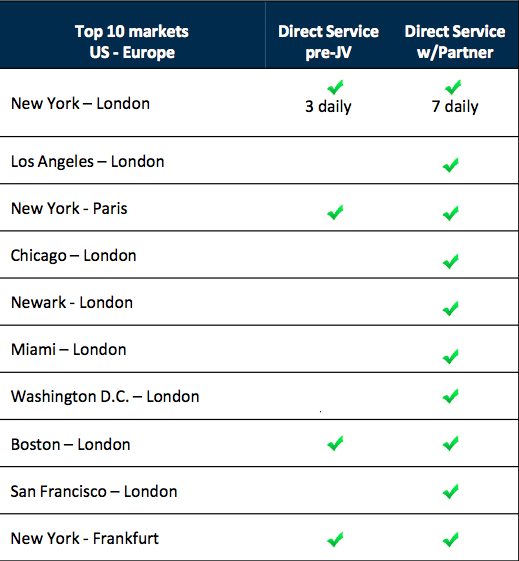 Virgin Atlantic should also benefit from Delta's sales strength in North America, which coupled with some cost savings, potentially could improve the weak financial condition of Heathrow's second largest carrier.

See related report: Virgin Atlantic Airways' track record of losses: partnerships should help. Cost cutting would
Delta hopes to attain profitability in New York during 2014
Delta continues to showcase its improving position in the New York market after it began utilising 132 slot pairs it acquired from US Airways at LaGuardia airport during 2012.
The carrier expects a five point margin improvement in New York (LaGuardia and JFK combined), a steady climb from a negative performance recorded during 2011.
Delta Air Lines' estimated weekly seat departure from New York for Summer 2014 and margin performance: 2011 to 2013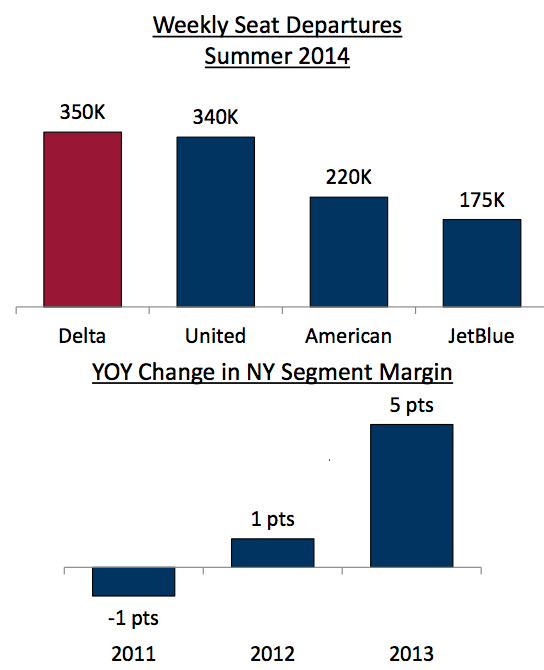 Mr Bastian declared that "we look at 2014 as the year New York will be profitable as an overall set of hubs, and that's a very important benchmark for us". Underscoring the improvements in Delta's New York performance, Mr Bastian said the carrier's losses in the market four years ago fell in the range of USD600 million to USD700 million.

Explaining Delta's outlook with respect to competing with United in New York (United calculates it offers 451 daily departures from New York versus 417 for Delta and 207 for American), Mr Hauenstein remarked that New York City is a very expensive market to create flow traffic (referring to United's Newark hub).
He observed that Delta's strong position in LaGuardia (the closest airport to Manhattan) makes it less reliant on connecting traffic and "more dependent on the very rich and high-yielding local New York City market". Presently, Delta holds a nearly 35% seat share at LaGuardia.
New York LaGuardia Airport capacity by carrier (% of seats): 16-Dec-2013 to 22-Dec-2013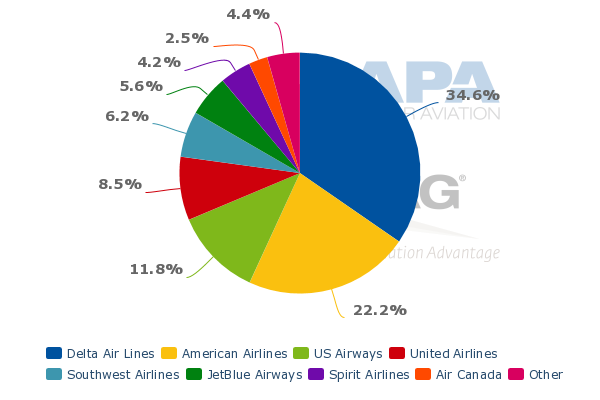 New York daily departures: CY2013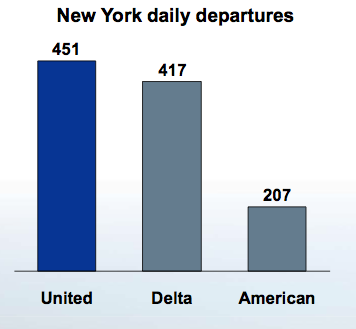 Delta believes it will forge JVs with Aeromexico and GOL as open skies are forthcoming
During the last couple of years Delta has taken equity stakes in Aeromexico (4%) and Brazil's second largest carrier GOL (3%) in order to deepen ties with those carriers to improve its stature in the Latin and Central American markets. Delta trails behind American and United in its service offerings to upper South America, holding a 10% share compared to 37% for American and 11% for United.
It also lags behind those carriers on service from the US to Central America, with an 11% seat share compared with 21% at American and 20% at United.
United States to Latin America : Upper South America (seats per week, one way): 19-Sep-2011 to 22-Jun-2014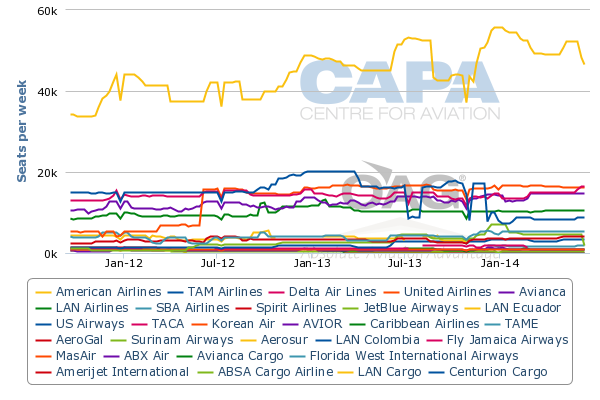 United States to Latin America : Central America (seats per week, one way): 19-Sep-2011 to 22-Jun-2014)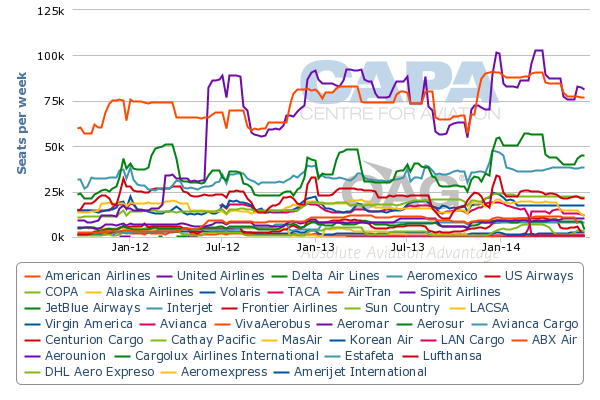 Outlining the benefits of its partnership with GOL, Mr Hauenstein noted Delta's ability to connect to cities from Sao Paulo that "we haven't even heard of inside of Brazil that have two or three million people...they're growing at double-digit rates". He believes over the long term Delta's deepening relationships with GOL and Aeromexico will strengthen Delta's position in the Latin American market. Mr Hauenstein also thinks it will forge joint ventures with Aeromexico and GOL during the next few years as open skies deals should be concluded with Mexico and Brazil.

However, in the short term the carrier's offerings will still be deficient compared with American, who along with its oneworld partners have gained access to Brazil through LATAM Airlines Group, the combination of LAN and TAM that has now produced Latin America's largest carrier.

Interestingly, American's partnership with LATAM will be key going forward as Delta believes Latin America GDP growth during the next two decades is forecast at double that of the US. Delta's positioning with GOL and Aeromexico help lift Delta's positioning in Latin and Central America, but matching American's network breadth in Latin America will be tough for both rivals Delta and United.
Delta has the luxury of playing offense – for now
Delta's moves during the past few years to bolster New York through acquiring LaGuardia slots; forging its joint venture with Virgin Atlantic; taking stakes in Aeromexico and GOL to broaden is Latin American footprint; and building up Seattle as a major Asian gateway, all reflect the carrier's assertive stance in ensuring it retains a competitive global network.
In theory the levers Delta is pulling to shore-up its network strength seem logical. But even as it improves its standing in important emerging markets, it will still face challenges in Latin America. Its JV with Virgin Atlantic guarantees a certain level of connectivity in strategic European markets, but Virgin has its own financial challenges to overcome. And, to judge by the noise Delta is making about the Gulf airlines - incongruously for the world's largest airline with extensive unused open skies access to most global markets - it sees them as a real threat too.
Once United finally reaches its long-awaited merger synergies with Continental and American and US Airways complete their merger, the playing field changes in the US. As consolidation takes full effect in five years time, Delta appears to be building a strong offense ahead of defensive moves that may be necessary in just a few years.
background info
Delta capacity allocation by geographical region:
| | |
| --- | --- |
| Region | Percent of Capacity |
| Domestic | 59% |
| Pacific | 12% |
| Atlantic | 20% |
| Latin America | 9% |