CSA Czech Airlines: restructuring, partnerships, and now growth for SkyTeam's smallest airline
Analysis
One of the five oldest airlines in the world that are still in operation, CSA Czech Airlines is also the smallest airline in SkyTeam by passenger numbers. After several years of losses the airline returned to profit in 2015 and expects another positive result in 2016, albeit below last year's level. CSA Czech Airlines is growing once more this year, after a restructuring programme involving reductions in its fleet, capacity and headcount it has also developed a profitable contract flying business. Together with lower fuel prices, its restructuring has helped to achieve the airline's turnaround.
CSA Czech Airlines has a predominantly European network. Its only intercontinental route is from Prague to Seoul, the hub of its part-owner – codeshare partner and fellow SkyTeam member, Korean Air. Its biggest destination market is Russia, but this is followed by the Western European countries France, Italy and Germany. It has a relatively low share of seats at its hub in Prague, where LCCs have a significant share and Ryanair has opened a base this winter. However, although CSA faces strong competitors on routes to non-SkyTeam hubs, competition is limited elsewhere by its targeting of niche regional routes and its use of codeshare agreements (including with Travel Service, another part owner).
Return to profit in 2015 after years of losses
CSA Czech Airlines has been in operation since 1923 and has the distinction of being the first airline to operate a regular route exclusively with jet aircraft – in 1957 on Prague-Moscow, a route operated by CSA for 80 years.
The airline is part-owned by the state holding company Czech Aeroholding, and also by Korean Air and the Czech aviation company Travel Service. According to the airline's website, all three shareholders are represented on CSA's supervisory board.
However, recent reports suggest that Czech Aeroholding has sold its remaining 20% stake in the airline to Prisko (ceskateleviz.cz/tyden.cz/blesk.cz/echo24.cz, 20-Oct-2016). CAPA understands that Prisko is a state-owned enterprise, but it is being merged with Travel Service.
In Feb-2016 CSA Czech Airlines announced that it had returned to a positive operating profit in 2015, after several years of losses, with a result of CZK250 million (EUR9 million). This compared with a loss of CZK598 million in 2014. Its 2015 net result was a profit of CZK223 million (EUR8 million), versus a 2014 net loss of CZK631 million.
CSA Czech Airlines: summary traffic and financial results, 2014, 2015, 1H2015 and 1H2016
| | 2014 | 2015 | Change | 1H2015 | 1H2016 | Change |
| --- | --- | --- | --- | --- | --- | --- |
| Pax million | 2.27 | 2.01 | -11.5% | 0.90 | 1.01 | 11.8% |
| ASK | | | -25% | | | 8% |
| Load factor | 67% | 72% | +5ppts | 70% | 70% | 0ppts |
| Operating profit CZK million | -598 | 250 | -141.8% | -154 | 47 | -130.7% |
| Net profit CZK million | -631 | 223 | -135.3% | 13 | 72 | 461.2% |
Improved profit in 1H2016, but lower operating result expected in FY2016
The improvement in its financial results continued into 1H2016 when it achieved an unaudited operating profit of CZK47 million (EUR2 million), compared with an operating loss of CZK154 million for the same period a year earlier.
This profit was in spite of "continued competitive pressure on ticket prices".
In a statement in Jul-2016 CSA said that its 1H2016 result was its best first-half profit in the past 10 years. However, it also reiterated that it aimed for a 2016 full year operating profit of CZK180 million. This is below its 2015 level, presumably reflecting downward yield pressure and a reduced benefit from lower fuel prices.
Return to capacity growth in 2016 after cuts under restructuring
The airline attributed much of its turnaround in 2015 to a restructuring plan. This included the reduction of its fleet by six Airbus A320 aircraft, a headcount reduction, capacity cuts and load factor gains. Load factor improved from 67% in 2014 to 72% in 2015, but remains below industry average levels of approximately 80%.
In addition, third party contract flying for Saudi Arabian Airlines made a positive contribution to CSA's results. Lower fuel prices also helped.
Scheduled seat numbers were cut by 14% in 2015, following a 20% cut in 2014 and a 6% cut in 2013, according to data from OAG. Total passenger numbers fell by 11%, to 2.01 million in 2015 (this made it the smallest airline in the SkyTeam alliance by 2015 passenger numbers, according to data on the alliance's website).
In 2016 CSA has returned to capacity and traffic growth. Indications from OAG for 2016 are that seat numbers will be up by 4.5% year-on-year. In 1H2016 CSA's passenger numbers increased by 12% to 1.01 million and load factor remained stable at 70%.
Traffic growth was attributable to increased numbers of passengers on aircraft operated by CSA but leased out to third-party airlines. CSA has a contract with Saudi Arabian Airlines for the lease of two A319s.
CSA Czech Airlines: annual seat numbers, 2012 to 2017*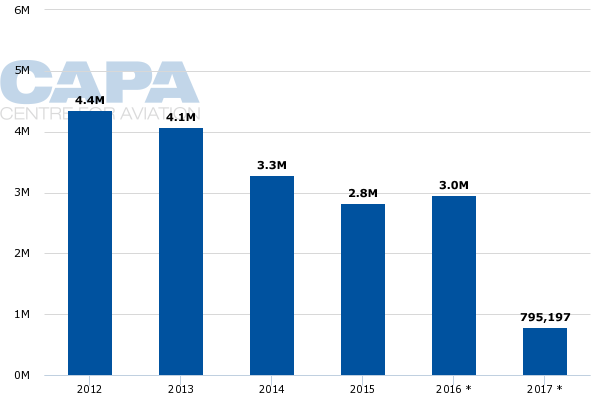 Fleet is growing once more; A320neos to replace A319s
According to the CAPA Fleet Database CSA's fleet currently stands at 17 aircraft (as at 31-Oct-2016). This consists of nine A319s, one A330-300X, three ATR 42s and four ATR 72s.
This represents a modest increase from 16 at the end of 2015 – following the addition of one ATR 72 in Jun-2016 – and it marks a return to fleet growth after a few years of reductions. The CAPA Fleet Database records a fleet size of 27 aircraft at the end of 2012, 22 at the end of 2013 and 21 at the end of 2014.
CSA owns three of its A319 aircraft, while the remaining 14 aircraft in its current fleet are leased. Its single widebody aircraft, an A330-300X, is leased from Korean Air and is deployed on Prague-Seoul.
The average age of the fleet is 10.4 years, although there is some variation across the aircraft types. The A330 is 15.2 years old, while the A319s average 8.1 years. The ATR 72s have an average age of 13.7 years and the ATR 42s 11.3 years.
CSA has seven A320-200neo aircraft on order, under an agreement signed with Airbus in Mar-2016. According to the CAPA Fleet Database, deliveries are expected in 2019 (one), 2020 (three) and 2021 (three) and will replace existing A319s. They will be configured with 180 or 186 all-economy seats.
CSA Czech Airlines fleet summary as at 31-Oct-2016
| Aircraft | Number in service |
| --- | --- |
| Airbus A319-100 | 9 |
| | 1 |
| ATR 42-500 | 3 |
| ATR 72-500 | 4 |
| Total | 17 |
Network is dominated by European destinations
According to OAG data for the week of 31-Oct-2016, 96% of CSA's seats are in the international markets. It operates three domestic routes (but only one in the Czech Republic) and 39 international routes.
Its network is dominated by European destinations. Approximately 60% of its international seat capacity is on 19 routes to Western Europe, with 37% on its 19 routes to Eastern/Central Europe and 3% on a single route to North East Asia.
In the summer 2016 season CSA Czech Airlines operated scheduled services to 47 destinations in 24 countries. In 2016 it launched 11 new routes from Prague: to Helsinki, Birmingham, Pisa, Zagreb, Skopje (summer only), Odessa, Kazan, and Ufa, as well as to Malta (summer only), Beirut (peak summer and Christmas period only) and Riyadh (peak summer only).
As at the week of 31-Oct-2016, it is the sole operator on eight of these 11 new routes. Finnair and Norwegian also operate to Helsinki. Croatia Airlines operated Prague-Zagreb in summer 2016 and Air Malta also operates to Malta (summer only).
CSA Czech Airlines: share of international seats by region, 31-Oct-2016 to 6-Nov-2016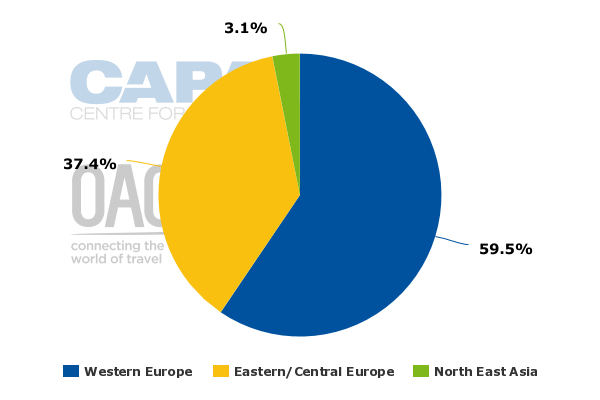 By country, CSA's biggest market is Russia, which accounts for 20% of its international seats and eight routes from the Czech Republic. The airline operates from Prague to Moscow Sheremetyevo, Saint Petersburg, Rostov-on-Don, Yekaterinburg, Kazan, Samara and Ufa; and from Karlovy Vary to Moscow Sheremetyevo.
This is almost twice the 11% accounted for by its second largest market, France, where it has only three routes (Prague to Paris CDG, Nice and Strasbourg). CSA's capacity to France is dominated by Prague-Paris CDG. Its third largest destination market is Italy, where it operates from Prague to Milan Malpensa, Rome Fiumicino, Bologna and Venice Marco Polo.
In Germany, its number four market, CSA serves Frankfurt, Duesseldorf and Hamburg from Prague and also operates from Hamburg to Gothenburg in Sweden.
Among its remaining top 10 countries by international seat capacity there are five where CSA has just one route: Netherlands, Belgium, Denmark, Hungary and Sweden (it operates from Prague to Amsterdam, Brussels, Copenhagen, Budapest and Stockholm).
In Spain it has two routes: from Prague to Madrid and Barcelona. Its three international routes from Czech Republic to Slovakia are from Prague to Košice and Bratislava and from Ostrava to Košice.
Outside the top 10, other countries served by CSA are Poland, Finland, Romania, Ukraine, UK, Croatia and South Korea. It operates two routes to Poland (both Prague and Ostrava to Warsaw Chopin) and to Ukraine (Prague to Kiev and Odessa) and one to the others (it operates Prague to Helsinki, Bucharest, Birmingham, Zagreb and Seoul).
CSA Czech Airlines: international seats by country, 31-Oct-2016 to 6-Nov-2016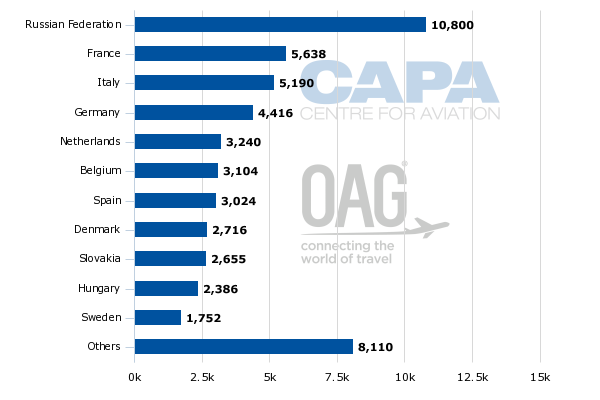 Prague Airport's largest airline, but operates only 18% of seats
CSA is the largest airline at its main hub, Prague Václav Havel Airport, but its 18% share of seats is very low compared with many others of Europe's so-called flag carrier airlines at their main hubs.
There are 12 LCCs at Prague with a combined share of 31% of seats, including number two ranked easyJet (9% of seats at the airport), number four ranked Ryanair (6% of seats) and number eight ranked Wizz Air (3% of seats).
In addition, Travel Service is a significant operator at Prague. Primarily a charter airline, it is ranked third at the airport by scheduled seats, with an 8% share. Its scheduled services are flown under the SmartWings brand, which operates as an LCC.
This takes the effective LCC share at the airport to 39%. However, CSA has an extensive codeshare agreement with Travel Service, under which each partner carries the other's code on the majority of their routes from Prague.
Prague Václav Havel Airport: top 10 airlines by share of seats, 31-Oct-2016 to 6-Nov-2016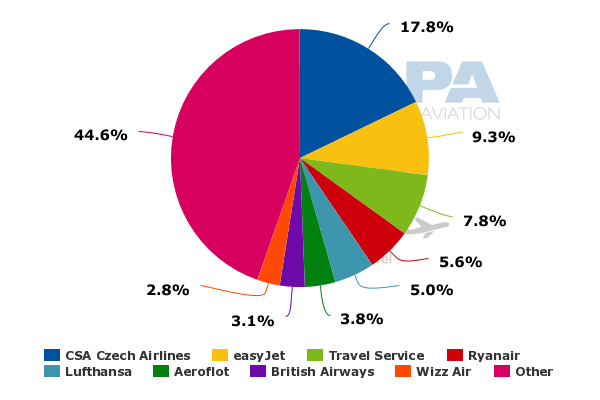 Sole operator on three domestic routes in three countries
CSA's three domestic routes are in three different countries. It operates Prague-Ostrava in its home country of the Czech Republic; Bratislava-Košice in Slovakia and Venice Marco Polo-Bologna in Italy. The domestic routes in Slovakia and Italy are both part of multi-stage routes beginning and ending in Prague.
CSA deploys ATR turboprop aircraft on all three of these domestic routes. According to OAG data, CSA is the only operator on its three routes in domestic markets.
CSA Czech Airlines: domestic routes ranked by seats, 31-Oct-2016 to 6-Nov-2016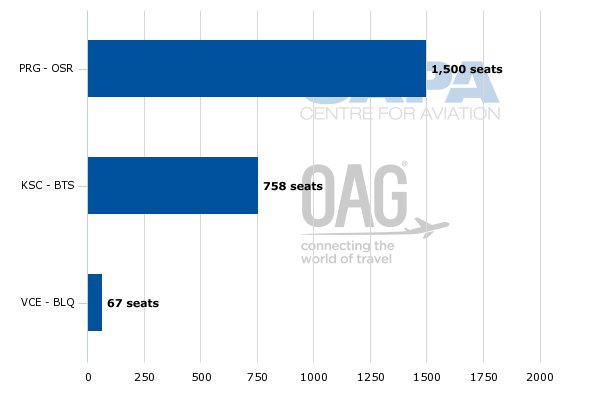 CSA Czech Airlines: market position on top 10 domestic routes by seats 31-Oct-2016 to 6-Nov-2016
Rank

Route

CSA Czech rank by seats on city pair

Competitors in order of seats
on city pair*

1

1

CSA Monopoly

2

Bratislava-Košice

1

CSA Monopoly

3

1

CSA Monopoly
Top 10 routes: SkyTeam hubs and the hubs of rivals
To CSA Czech Airlines international markets are far more significant than domestic markets, and none of the three domestic routes ranks in its top 10 routes by seats. All 10 are international routes from Prague.
They are led by Prague to Moscow Sheremetyevo, which CSA serves three times daily with A319 aircraft. On this route it codeshares with its SkyTeam partner Aeroflot (and with Travel Service).
SkyTeam hubs also feature in three others of its top 10 routes by seats: Paris CDG, Amsterdam and Seoul (which is its only intercontinental route). In each case CSA codeshares with the SkyTeam airline partner that is the biggest airline at the destination airport (Air France at Paris CDG, KLM at Amsterdam and Korean Air at Seoul).
In some ways the Prague-Seoul route looks a little out of place in CSA's network, since it is its only widebody route. However this was launched in summer 2013, after Korean Air had taken a 44% stake in CSA in Apr-2013.
CSA's route from Prague to Milan Malpensa also features in its top 10 by seats. Although Malpensa does not really count as a hub for Alitalia, CSA codeshares with its SkyTeam partner on this route. In addition, CSA and Alitalia codeshare on a further 29 routes.
These include Alitalia flights to Abu Dhabi, which is no longer served by CSA, although CSA and Etihad have a codeshare agreement. Under this agreement CSA carries the Etihad code from Prague to Duesseldorf, Frankfurt and Milan Malpensa, while Etihad carries the CSA Czech code from Abu Dhabi to Frankfurt and Milan Malpensa.
The other airports making up its top 10 international routes by seats feature the hubs of airlines in other alliances - Brussels, Copenhagen, Frankfurt and Madrid - in addition to Budapest. Among these, the only one on which CSA codeshares with the destination airport's leading airline is Madrid – it codeshares with Iberia on Prague-Madrid (it also codeshares with Air Europa on this route).
CSA Czech Airlines: top 10 international routes by seats 31-Oct-2016 to 6-Nov-2016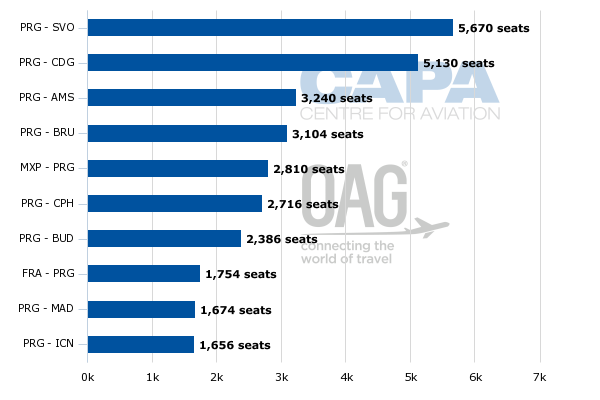 Five routes in top 10 where CSA has monopoly, or codeshare with biggest competitor
CSA is the number one airline by seats on only three of its top 10 routes. On one of these, Prague-Budapest, it is the only operator. On Prague-Copenhagen it has competition from both SAS and Norwegian. On Prague-Seoul, its only intercontinental route, the only other operator is its codeshare partner and part-owner, Korean Air.
CSA is the number two airline on five of its top 10 routes, but has more than one competitor on three of these, on a city pair basis (see table below). These include Prague to Milan, where competition has increased with Ryanair's launch of its Milan Bergamo service from the start of winter 2016/2017.
It is third out of three on the remaining two routes in its top 10. There are LCC competitors on five of its top 10.
In addition to Prague-Seoul, there are also three other routes in its top 10 where CSA codeshares with the leading airline by seats: Prague-Moscow (codeshare with Aeroflot and also with Travel Service), Prague-Paris (codeshare with Air France), and Prague-Amsterdam (codeshare with KLM).
This makes a total of five routes in its top 10 where it is either the monopoly operator, or where competitive forces are mitigated by codeshares with the biggest competitor.
CSA Czech Airlines: market position on top 10 international routes by seats, 31-Oct-2016 to 6-Nov-2016
Competition is relatively low on CSA's networks to Russia, France, Spain and Slovakia
The level of competition on routes operated by CSA to a number of its most important destination countries is relatively low.
As noted above, CSA's biggest country market is Russia. In addition to Prague-Moscow – its biggest route overall, where it codeshares with both competitors – competition is relatively limited on its Russia network. On Prague-Saint Petersburg CSA codeshares with Aeroflot, which mainly operates in the summer only (plus a limited selection of weeks in the winter schedule).
On Prague-Yekaterinburg the only competitor to CSA is Ural Airlines. CSA is the sole operator on Prague to Rostov-on-Don, Kazan, Samara and Ufa, and from Karlovy Vary to Moscow Sheremetyevo.
Similarly in its second largest market, France, competition is relatively low on the routes operated by CSA. As noted above, CSA is number two on Prague-Paris, which is also operated by LCCs easyJet, Transavia and Vueling, but where CSA codeshares with market leader Air France. CSA is the only airline on its other two French routes: Prague to Nice and Strasbourg.
In Spain, competition to Madrid comes from Iberia, but this is mitigated by a codeshare agreement. On Prague-Barcelona CSA competes with Vueling, but the only other operator is its part-owner and codeshare partner, Travel Service.
CSA is the only operator on its three routes between the Czech Republic and Slovakia.
CSA's Italian network is more competitive, with Prague-Bologna its only monopoly route. It also faces competition from Lufthansa and/or Eurowings on its German destinations.
CSA's attention is now turning to the future
As noted above, CSA's position in Prague and on many of its key routes has been enhanced by the judicious use of codeshare agreements. Its partnership with Travel Service – the Czech Republic's number two airline by scheduled seats (its biggest by fleet numbers, with 26 aircraft) and operator of low cost brand SmartWings – has helped it to combat LCC competition.
Moreover, until recently the Czech Republic has not been a significant focus market for the two biggest and fastest-growing LCCs in Central/Eastern Europe – namely Wizz Air and Ryanair (they are also the two lowest unit cost operators in Europe).
However, this is changing as both of these LCC competitors have ambitious growth plans in the region. Specifically, Ryanair is opening five new bases in Central/Eastern Europe for winter 2016/2017, including Prague, where it has launched new routes to Milan Bergamo and Rome Ciampino this winter.
See related report: Wizz Air: city pair overlap with Ryanair on one third of seats. Opportunities for both; CASK crucial
The A320neo order announced by CSA Czech Airlines in Mar-2016 marked a significant moment in the airline's recovery. After the years of losses finally ended in 2015, this demonstrated that its attention was turning from a focus only on restructuring towards building for the future.
It will need all of its renewed confidence to be successful in what looks set to be an increasingly competitive market in Prague.