Crude prices cool on reports of weaker demand, but jet fuel demand is rising
Analysis
However, outside North America, consumption of jet fuel is soaring. Brazil's state-run oil firm, Petroleo Brasileiro, reported record monthly consumption of aviation fuel in Dec-2009, mostly from soaring traffic due to the strong expansion of local LCCs. Aviation fuel consumption in the Indian Subcontinent is also on the rise, with year-on-year increases of more than 30% reported in both India and Pakistan over late 2009.
The increase in consumption and the late 2009 surge in oil prices prompted Indian state-owned oil companies to increase aviation fuel prices by 6.5% at the beginning of this week.
Oil retreats back below USD80
Crude oil prices dipped back under the USD80 per barrel mark this week, with the price dropping 4.2% over the week. US fuel stocks are declining, but prices are also falling in line with lower consumption and more idle refinery capacity.
Also contributing to lower prices was OPEC's latest world oil demand forecast, which remains essentially unchanged from its late 2009 outlook of a minor increase in consumption for 2010. The oil cartel forecast an increase in consumption in 2010 of 0.8 million barrels per day to 85.1 million barrels per day.
WTI spot price: Jan-2009 to Jan-2010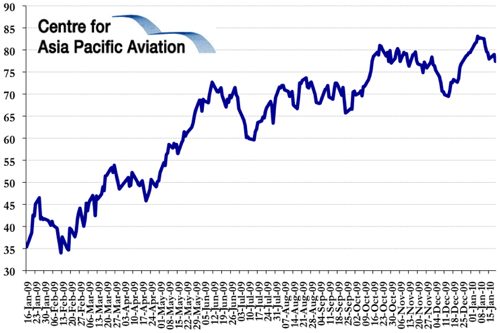 Jet fuel pries were also lower, with New York Harbour and US Gold Coast prices down 5.2% each, while Los Angeles prices dipped 5.5% in the week to 21-Jan-2010. Amsterdam exchange prices were down 2.7%, while Singapore prices fell 4.9%.
Major oil market movements, USD cents per gallon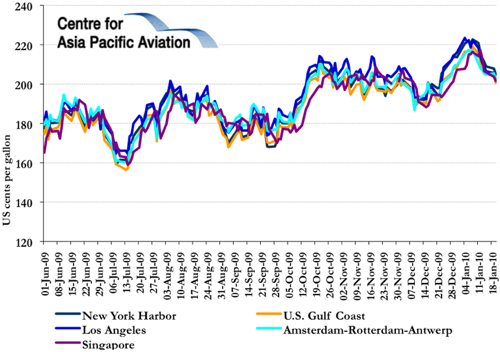 Daily jet fuel prices (kerosene, cents per gallon) at New York, US Gulf Coast, Los Angeles, Amsterdam, Singapore: 01-Jun-2009 to 20-Jan-2010
| | 12-Jan-10 | 13-Jan-10 | 14-Jan-10 | 15-Jan-10 | 19-Jan-10 | 20-Jan-10 | one week Change | 12 month Change |
| --- | --- | --- | --- | --- | --- | --- | --- | --- |
| New York Harbor | 216.1 | 213.2 | 211.3 | 208.93 | 207.85 | 204.86 | -5.2% | 40.6% |
| U.S. Gulf Coast | 211.6 | 208.2 | 207.55 | 204.93 | 204.35 | 200.61 | -5.2% | 43.5% |
| Los Angeles | 214.1 | 210.7 | 208.8 | 206.43 | 205.6 | 202.36 | -5.5% | 51.9% |
| | 208.11 | 207.05 | 205.39 | 204.86 | 205.46 | 202.44 | -2.7% | 48.8% |
| | 212.74 | 206.55 | 205.95 | 203.69 | 201.55 | 202.26 | -4.9% | 51.6% |
| WTI Spot* | 80.79 | 79.66 | 79.35 | 77.96 | 78.98 | 77.42 | -4.2% | 100.7% |