Cost efficiency for LATAM and Avianca takes on a higher priority as yields continue to fall
Analysis
Weak economic conditions are hovering over Latin America well into 2016, forcing the region's airlines to adjust their capacity, and expectations for a recovery in yields. Those airlines are also strengthening an already laser-sharp focus on controlling cost, which becomes even more important as revenue softness persists.

Latin America's two consolidated airlines LATAM and Avianca Holdings have recorded favourable unit cost performances during 2015, driven in part by lower fuel expense, while yields have remained under pressure. LATAM is in the midst of an initiative to shed millions in operating costs by 2018 and fuel hedging headwinds Avianca faced in 2015 should settle down in 2016.

Maintaining a flat or decreasing cost structure takes on a different level of importance in an environment where revenues and yields continue to be squeezed. But LATAM and Avianca are working to wring out inefficiencies in their cost base, and working to scale back fleet growth in order to reduce financial commitments.
LATAM and Avianca post unit cost declines in 2015, but LATAM seems to have the edge
On a stage length adjusted basis, LATAM's total CASK performance was better than rival Avianca during 2014. Some of the disparity is driven by LATAM's longer length of haul, and the ability to spread costs over more available seat kilometres.
LATAM cost per ASK and average trip length: 2014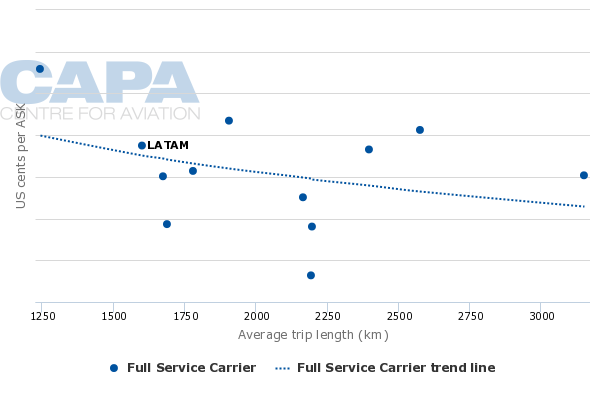 Avianca cost per ASK and average trip length: 2014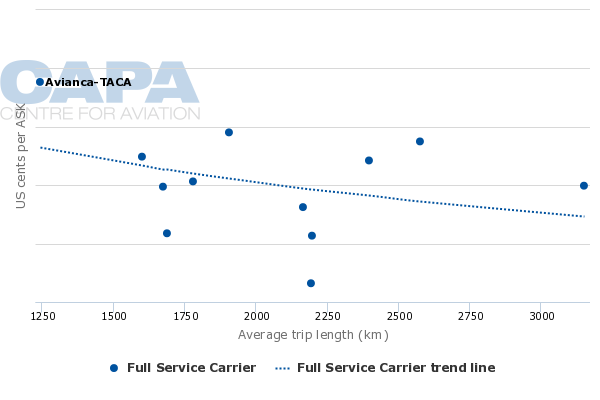 LATAM in 2014 launched a cost cutting scheme that entails achieving a cost reduction of USD650 million over the 2014 to 2017 time period. The company is also shedding older aircraft in order to lower its cost per ASK.

LATAM's all-in unit costs and unit costs excluding fuel were better than Avianca's for the first three quarters of 2015. Although each company posted solid decreases in their unit costs.
LATAM all-in CASK and CASK ex-fuel: 1Q2015 to 3Q2015
| | | |
| --- | --- | --- |
| Quarter | CASK (USD) % increase/decrease | CASK ex-fuel (USD) % increase/decrease |
| 1Q2015 | 5.1 cents 17% decrease | 3.6 cents 9.6% decrease |
| 2Q2015 | 5 cents 20.7% decrease | 3.6 13.8% decrease |
| 3Q2015 | 4.7 cents 22.3% decrease | 3.4 cents 13.7% decrease |
Avianca Holdings all-in CASK and CASK ex-fuel: 1Q2015 to 3Q2015
| | | |
| --- | --- | --- |
| Quarter | CASK (USD) % increase/decrease | CASK ex-fuel (USD) % increase/decrease |
| 1Q2015 | 9.9 cents 6.6% decrease | 7.4 cents 2.7% increase |
| 2Q2015 | 9.8 cents 11.2% decrease | 7.3 cents 5% decrease |
| 3Q2-15 | 8.9 cents 17% decrease | 6.7 cents 9.7% decrease |
LATAM achieves nearly 37% of its targeted 2018 cost reductions
During 3Q2015 LATAM estimated that fuel prices were down 42% year on year and its fuel costs dropped 37%. The 14% decline in unit costs excluding fuel was driven in part by the cost cutting scheme LATAM began in 2014.

When LATAM unveiled its plans to lower operating costs, it identified several areas where it aimed to reduce expenses, including a 15% decrease in overhead and a 10% drop in procurement.
LATAM targeted cost reductions by 2018: (% by category)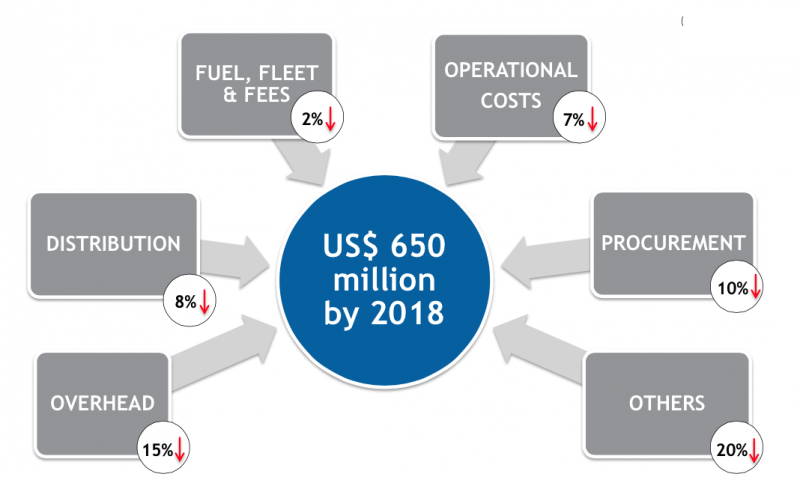 The USD650 million target in total cost reduction by 2018 was based on LATAM's 2014 operations. In 3Q2015, the company's wages and benefits per ASK fell 17% year on year. At the end of the quarter, LATAM estimated it had achieved savings of USD240 million in 2015.
Avianca acknowledges the challenge of pushing costs down faster than falling yields
Between 4Q2014 and 3Q2015 Avianca posted roughly USD115 million in hedge expense. Those expenses were highest in 1Q2015 at USD36 million. By 4Q2015 the company expects the fuel hedging costs to drop to USD12 million.

Company executives stated that fuel hedging cost pressure will ease in 2016, which should help Avianca's overall cost performance. Avianca also gained some benefit from the depreciation of the COP against the USD, which was approximately 50% year on year during 3Q2015. Although the currency pressure drives down revenues, Avianca gets a benefit from the depreciation for its expenses denominated in the USD. For example, the company's salaries, wages and benefits dropped 24% year on year in 3Q2015.

As the COP continued to slide against the USD in 2015, Avianca opted to cut domestic capacity, and yields denominated in the Colombian currency have improved. However, Avianca has continued to see yield pressure in its international markets, reflected in a 20% drop in system yields for 3Q2015. The company has concluded it needs to keep up efforts to reduce costs deeper than its yield declines.
Executives acknowledged Avianca's challenge is how fast the company can adjust its cost structure to the yield pressures in Latin America. All-in unit costs fell 17% year on year in 3Q2015, which was 3ppt lower than the 20% yield decline.

Among the measures Avianca is taking in its attempt to drive down costs faster than yield declines, is the establishment of a new training facility in 1Q2016. Using the pilot group as an example, the company stated that it would achieve savings by eliminating the need to send pilots to Miami for training.
LATAM and Avianca are working to reduce financial commitments by adjusting their fleets
In addition to focusing on lowering unit costs both LATAM and Avianca are also working to cut their aircraft CapEx commitments due to Latin America's weak economy. The region's GDP is projected to contract 0.1% in 2015, and likely experience very modest growth in 2016.

LATAM has outlined its intent to reduce its fleet commitments by 40% between 2016 and 2018, and projects reducing its capital expenditures by USD3 billion during that time period. At the end of 3Q2015, it had already achieved USD1.8 billion of the planned decrease.
The company stated its efforts to reduce aircraft CapEx commitments were due to weaker demand in Latin America, particularly in the Brazilian market.
Brazil's GDP is projected to contract by 3% in 2015 and IATA has estimated that during 1H2015 the country's airlines lost a collective USD500 million. Presently, (7-Dec-2015 to 13-Dec-2015), Brazil represents roughly 25% of LATAM's ASKs, and during 3Q2015 its unit revenues in the Brazilian market plummeted 32%. Its system wide passenger yields fell 23%, roughly in line with the 22.3% drop in all-in unit costs.
LATAM Airlines Group S.A. international capacity by country (% of ASKs): 7-Dec-2015 to 13-Dec-2o15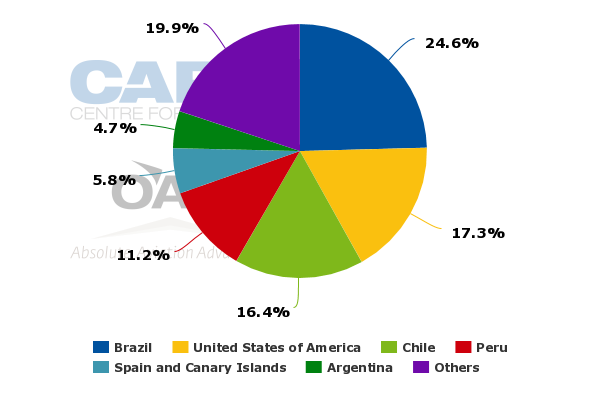 Avianca has also postponed five of 11 aircraft deliveries scheduled for 2016, and is in the process of disposing of 12 Embraer 190s. It aims either to sublease or sell those aircraft.
With the aircraft deferrals and the grounding of the Embraer aircraft, Avianca projects its CapEx will drop by 50% year on year in 2016. The company recently stated its intent to cap its spend at USD350 million in 2016, and explained that estimate could fall after the outcomes of discussions with lessors and financiers.
Continued weakening conditions will drive enlarged cost scrutiny for Latin airlines
In many ways Latin America's airlines have to make quick adjustments as the region's economy has progressively weakened throughout 2015, driven by tough conditions in Brazil. In light of the worsening trends the region's airlines have had to re-examine their cost bases as yields have taken a beating. Even if certain economies in the region show promise for slight improvement during 2016, it will take quite a bit of time for yields to reach pre downturn levels.

Against that backdrop, Latin America's airlines will need to dig their heels in and continue to find ways to drive down costs faster than the decline in their respective yields.
Lower fuel prices offer some relief, but as LATAM and Avianca's recent actions show, all elements in Latin American airlines' cost structure remain under scrutiny.