Corporate travel: US big 3 airlines cut capacity, grow revenues
Analysis
The three major global US airlines, American, Delta and United, have all opted to reduce their 2018 capacity forecast for 2018 in light of growing fuel costs, and the fuel price pressure has resulted in both American and Delta lowering their share price guidance for the year.

During 2Q2018 Delta and United were able to capture about 75% of their respective increases in fuel, while American is declaring that a fuel price of USD75 per barrel is the new reality.

Despite the fuel cost headwinds, American, Delta and United have reasonably positive outlooks for their respective corporate performance, although American is warning that its overall unit revenue growth rates are slowing in comparison with its two largest competitors, and the airline has decided to make changes in its basic economy offering to bolster its position among cost conscious customers.
Summary
American, Delta and United trim their respective capacity growth forecast for 2018 in light of rising fuel costs.
Despite the fuel headwinds, all of those airlines have reasonably positive outlooks for their corporate revenue performance for 3Q2018.
American, Delta and United pull back capacity as fuel costs bite
US airline capacity growth has been a concern for investors during 2018 as fuel costs have grown. As of late Jul-2018, Bloomberg's price per barrel forecast for Brent Crude was Sep-2018 was USD74.17, although prices do seem to be settling down from their recent highs of USD80.

Delta calculates that its fuel costs increased by USD600 million during 2Q2018, but the airline was able to offset approximately 75% of the escalation. The company expects its fuel expense to grow by USD2 billion in 2018, and has opted to cut 50 to 100 basis points in capacity growth from its schedules for the US autumn season.

United's fuel expense grew from USD1.7 billion to USD2.4 billion year-on-year in 2Q2018, and company executives have also stated that the airline was able to capture 75% of the increase. But United, whose planned capacity increases spooked investors the most, has also cut its capacity guidance for 2018. In Jan-2018 the airline projected 2018 capacity growth of 4% to 6%, but has scaled its forecast back to an increase of 4% to 5% due to higher fuel prices.

American has trimmed its 2018 estimates for system capacity growth from 2.5% to 2.2%, and plans to eliminate underperforming flying in the back half of 2018 as fuel prices of near USD75 per barrel become the reality.

Increasing fuel costs have resulted in American and Delta lowering their EPS guidance for 2018, while United has upped its share price guidance. Part of the increase stems from positive results from the rebanking of its hub in Chicago O'Hare and Houston Intercontinental to bolster higher yielding connections to smaller and medium sized markets.
American, Delta and United Jan-2018 EPS forecast versus Jul-2018 EPS forecast for full year 2018
| | | |
| --- | --- | --- |
| Airline | Jan-2018 EPS forecast for FY2018 | Jul-2018 forecast for FY2018 |
| American | USD5.50 to USD6.50 | USD4.50 to USD5.00 |
| Delta | USD6.35 to USD6.70 | USD5.35 to USD5.70 |
| United | USD6.50 to USD8.50 | USD7.25 to USD8.75 |
Delta president Glen Hauenstein recently stated that there had been two sharp phases of fuel price increases – one in late 2017 and another in the US spring of 2018. "Given the industry's historical fuel recapture lag, we have fully recaptured the first leg in fuel run up, and are working hard to realise the second leg as quickly as possible", Mr Hauenstein stated.

Fuel surcharges on international flights are beginning to set in, and Delta executives have also stated that the airline's pricing as of mid-Jul-2018 was up 4% year-on-year.
Delta and United appear to grow corporate revenues without stealing share
All three major US global network airlines posted favourable performance in corporate revenue generation in 2Q2018. Delta posted a 10% increase in its corporate revenues, and in the airline's latest survey 84% of its corporate travel managers expected to maintain or increase their spending in 3Q2018.

However, while Delta was pleased with its corporate revenue performance in 2Q2018, "as of June [Jun-2018] we have only recovered 20% of the decline in domestic corporate fares since our peak in 2014", Mr Hauenstein said. He said that the US domestic market was "where we really need to get those fares moving".

United's corporate revenues increased by double digits in 2Q2018, with executives pointing out that performance outpaced the airline's topline revenue growth of 7.7% for the quarter.

The company fielded questions over whether its corporate performance in the quarter signalled a share shift from other airlines, but United executives stated that it was not a share shift story, citing strong corporate performances in the energy and technology sectors.
The airline's second largest base by departing frequencies is Houston Intercontinental, and the energy sector is a major driver of the region's economy. A couple of years ago, when fuel prices were markedly lower, United battled significant weakness in corporate revenues from the energy sector.
United Airlines top bases measured by weekly departing frequencies as of late Jul-2018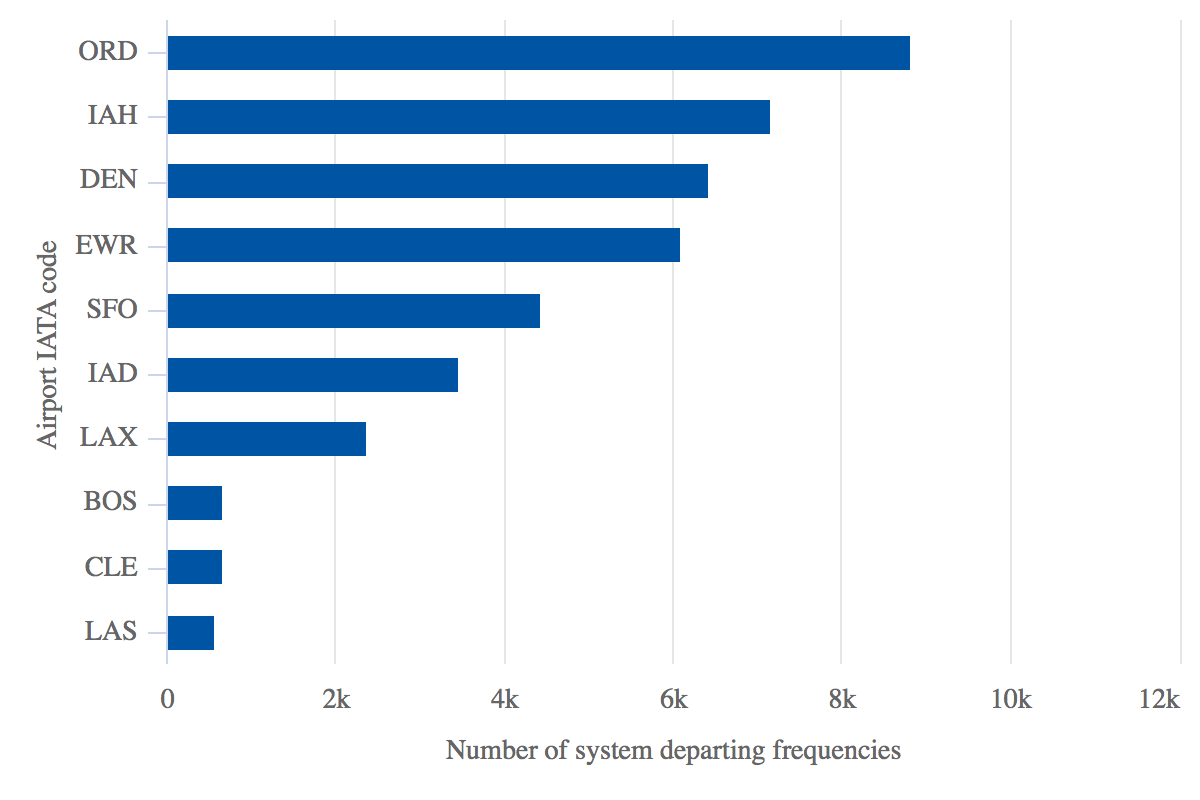 American also cites corporate strength, but acknowledges revenue headwinds
American Airlines has been working to close the corporate revenue gap with its peers, having determined in early 2017 that it had fewer corporate contracts than its competitors. The company grew its small and medium business accounts by approximately 50% from Jan-2017 through 3Q2017.

American posted a 10% increase in its corporate revenue year-on-year in 2Q2018, and remarked that its small to medium sized corporate acquisitions were at an all-time high.
However, its unit revenue performance lagged its peers during 2Q2018, and the gap is projected to widen in 3Q2018. The company's top end of total unit revenue guidance is 3%, which is the starting point for Delta.
American, Delta and United 3Q2018 unit revenue forecast
| | |
| --- | --- |
| American | 1% to 3% increase in TRASM |
| Delta | 3.3% to 5.5% increase in TRASM |
| United | 4% to 6% increase in PRASM |
American has stated that some of the factors creating a widening unit revenue gap include weakness in Latin America (where American has a greater presence versus Delta and United) and tougher year-on-year comparisons. However, American's CEO Doug Parker has acknowledged: "Some of it is underperformance in the United States, which is a concern for us."

American recently made changes to its Basic Economy offering, matching Delta in removing the carry-on bag restriction for domestic and short haul international flights, which will allow passengers to bring bags for storage in overhead bins. United told the Los Angeles Times it has no plans to change its policy, which will be the most restrictive among the large three airlines when American's changes take effect in Sep-2018. A spokesman for the airline has told the publication that the restriction allows for a smoother boarding process.

American Airlines CEO Doug Parker stated that there was a "big airline out there" that does not charge for carry-on baggage, and now with filters on a passenger's Google search that ask if that passenger wants to bring carry-on luggage, and if a customer says yes – all of a sudden American flights do not show up nearly as high as they did before because it adds [USD]20 to our fare. Nothing wrong with that, that's accurate. But when you get yourself in a position in this business where price-sensitive customers find themselves with lower fares on truly competitive airlines like that, we have to take that under consideration".

The changes to American's Basic Economy offering do not take effect until late 3Q2018, so any benefit will not show up in the airline's revenue performance until 4Q2018 or early 2019.
US airlines' corporate outlooks are promising; AA's faces wavering in Wall Street
It is not surprising to see American, Delta and United pulling back on their capacity forecast in 2018, given the fuel cost headwinds all of those airlines are facing throughout the remainder of the year.

The positive outlooks those airlines are expressing are also encouraging considering the uncertainty created by the President Trump's boomeranging trade policies. However, American could find itself in an uphill climb to curry investor favour for the remainder of 2018.