China's HNA Group, of Hainan Airlines, invests in Africa World Airlines, third new start-up in Ghana
Analysis
Chinese aviation is entering a new phase with the country's HNA Group, which includes Hainan Airlines and Hong Kong Airlines, making the first notable investment in a foreign passenger airline. HNA is taking a stake in Africa World Airlines, a start-up in Ghana that intends to launch low-cost operations this year, joining a crowded field in the West African nation that includes Starbow Airlines and Sir Stelios-backed FastJet, currently operating as Fly540, and incumbent Antrak Air.
Management at Africa World Airlines will be seconded from HNA carriers. HNA takes a long-term view towards investments, which with airlines can sometimes produce inefficiencies, as HNA seeks to build scale ahead of profitability. Africa World intends to start domestic operations modestly, with two Embraer ERJ145LRs, and then expand regionally, across Africa and beyond.
The plan is long term, and therefore consistent with HNA strategy, even if immediate short-term gains are not achieved.
Chinese investment in domestic airlines is extensive, but outside of the mainland is limited to Hong Kong and Macau with the exception of HNA's 49% stake in Turkish cargo operator ACT Airways. HNA is one of seven shortlisted companies – also including Qatar Airways, Bahrain Air, Gulf Air, the Islamic Development Bank, Nesma Holding and Falcon Express – that applied to Saudi Arabia to operate domestic and international flights. HNA has also previously stated general ambitions to enter Latin American aviation.
The HNA Group is a major entity, with extensive international investments beyond the airline and transport sector.
See related article: HNA Group on the acquisition trail
Africa World to have management seconded from HNA
HNA's investment of an undisclosed sum or percentage gives credence, even with a raised eyebrow, to Africa World Airlines, which was incorporated in Nov-2010 with no notable positive prognosis until now. Also investing in the joint-venture carrier from the Ghanian side is Social Security and National Insurance Trust and Strategic African Securities, founded by Togbe Afede, the king of eastern Ghana's Asogli state. Another investor is the private Chinese equity fund China-Africa Development Fund as well as Hong Kong-based Bravia Capital, a private equity firm focused on transportation and logistics. Bravia and HNA in Aug-2011 jointly acquired GE SeaCo, a maritime container leasing company. The total initial investment in the carrier is reportedly USD50 million.
Although the carrier's board has not yet confirmed management, local reports say top management at Africa World will come from carriers affiliated with the HNA Group. The CEO reportedly will be Zhang Jiuhua, previously VP of Tianjin Airlines, owned by Grand China Airlines which, through an opaque ownership structure, is affiliated with HNA. The COO will reportedly be Shi Cheng, formerly AWA at Hainan Airlines. The finance manager will be Sunny Sun. HNA will also supply technical and training expertise.
HNA-affiliated management should bring positive insight to Africa World, but they are no Etihad swooping in to Air Seychelles with seconded management or advising airberlin on a refined long-haul strategy, or in a previous decade, Emirates overseeing SriLankan.
China's increasing involvement with Africa has made it the continent's largest trading partner. China in 2010 was Ghana's second overall major trading partners (first was the EU), split between second for imports and ninth for exports. Yet such large development occurring over a compressed time can lead to a contentious relationship between the sides. So far Africa World seems to be off to a positive start.
A local report shows Mr Zhang sharing a jovial welcome dinner with Ghana's Director General of the Ghana Civil Aviation Authority (GCAA) as well as the country's Minister of Transport. Mr Zhang said the GCAA and Ghana Airports Company were supportive of the start-up while Director General of the GCAA expressed desire for more Ghanian carriers to serve regional routes (national carrier Ghana International Airlines collapsed in 2010) but also to cooperate with each other, such as through interline arrangements.
Africa World received its Air Carrier License in Mar-2011. It then proceeded with the AOC acquisition process, which after some delays the carrier confirms to CAPA it expects to receive in Aug-2012. The company previously said it had intentionally kept a low profile, given the number of African carriers that have failed to come to fruition. "We are not going to make a big public fuss about ourselves until we are off the ground. Talk is cheap. We intend to let our actions speak for themselves in due course," the company said on a message board.
Africa World plans Sep-2012 launch, but with smaller aircraft than competitors
On the occasion of the management team's welcome dinner, it was announced the carrier intends to launch operations on 21-Sep-2012, which will require the carrier to move at a brisk pace in order to achieve that goal. It will launch with two ERJ145LR aircraft from Tianjin Airlines. Initial routes from its Accra hub will be to domestic destinations, before expansion to regional Africa pending regulatory approval. Intercontinental expansion could occur after five years, a sufficiently long-term date to quell immediate concerns of over-reaching. Past African carriers have failed in part due to their attraction of high-profile intercontinental routes rather than the regional sectors the continent needs.
Although route opportunities within Ghana are limited, a company report from Apr-2011 specially named as initial destinations Kumasi, Tamale and Takoradi. They are respectively the country's second, third and fourth largest cities after Accra. All three are served from Accra by local carriers Antrak Air (commenced operations in 2003), Starbow (2011) as well as Fly540 Ghana (2011), an affiliate of pan-African airline that is due to rebrand later this year to FastJet following a 5% investment from Sir Stelios Haji-Ioannou, the founder of Europe's easyJet.
On the mooted initial routes, Fly540 operates double daily services (except on Sunday with a daily service) to Kumasi, typically less than daily service to Takoradi (schedules vary significantly based on the week) and daily service to Tamale operated by an ATR 72. Starbow currently has three daily services to Kumasi, five weekly to Takoradi and a daily to Tamale, operated by three BAe146s.
Antrak Air operates to Kumasi, Takoradi and Tamale as well as Sunyani. According to its website, Antrak Air offers 15 weekly flights to Kumasi, nine to Takoradi, seven to Tomale and seven to Sunyani with a fleet of two ATR 42s. Its and Fly540's domestic capacity is approximately 3500 weekly seats while market leader Starbow offers about 6200 weekly domestic seats, giving it a domestic capacity share of just under 50%.
Africa World's launch aircraft, the ERJ145LR, at 50 seats in a single-class configuration, seats considerably fewer passengers than dominant carrier Starbow Airlines. The BAe146-300 (the variant the carrier prefers) seats approximately 100, while the ATR 72s operated by Fly540 typically seat 70 and the ATR 42 operated by Antrak Air tyically seats 42. Fly540 will acquire A319s while Starbow is deciding between A319s and 737-700s, which can seat upwards of 149 in a single-class configuration.
While Embraer states the ERJ-145LR has a range upwards of 1550nm, Africa World says for its purposes the ERJ-145LR will have an effective range of 1200nm, giving little additional geographic advantage over the BAe146-300's 1040nm range.
The A319-sized aircraft to be used by FastJet and Starbow will be able to reach all of Africa or with only a few limitations due to altitude.
BAe146-300 and ERJ-145LR range comparison from Accra (ACC)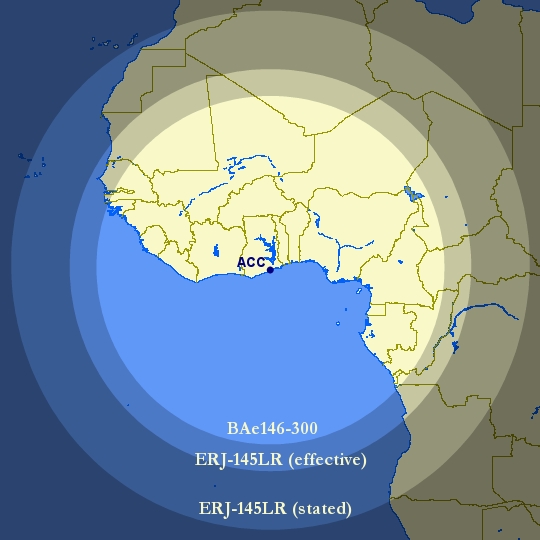 Africa World is considering larger aircraft for its regional Africa expansion, but it may be limiting traffic potential with its smaller type, although the aircraft may have been secured from HNA via Tianjin Airlines at very favorable commercial terms. Africa World is planning to use the type's long and thin characteristic to open secondary cities around the region. Although some cities around West Africa cannot support large jet aircraft, overall secondary city opportunities will be fewer while competitors will gain greater scale and efficiency by using larger jet aircraft.
Secondary cities quickly become small, with Accra's 2.2 million population being closely matched by Kumasi at number two with 1.9 million. Tamale and Takoradi, the final two cities that round out most carriers' domestic network, are at approximately 500,000. There is a handful of cities with a population between 100,000 and 200,000 but then populations drop to under 100,000.
International market will be competitive and Africa World will initially be the underdog
By the time Africa World establishes a domestic footprint, Fly540 and Starbow will likely be building international networks around West Africa. Given the compact area, Fly540 and Starbow will be targeting many of the same routes, and preliminary international expansion plans indicate that. There will also be competition into Ghana from regional startups, including Air Côte d'Ivoire. The sudden influx of capacity after years of stagnation will likely mean the market will take a while to profitably absorb the capacity. FastJet is planning typical LCC ultra-low marketing sales, which may force its competitors to respond, creating great pressure on yields and likely increasing operating losses.
See related articles:
Starbow route map of current and future destinations
Fly540 Ghana route map of current and future destinations
Africa World to pursue no-frills model but offer connecting flights through Accra
Africa World's intention to pursue a no-frills LCC model is well-suited to regional African services. Ghana has a population of 25 million over 240,000sqkm, although road infrastructure is limited, giving an advantage to airlines, even if flight times are short. Fly540 has a 45 minute block time for Kumasi and Takoradi as well as an 80 minute block time for Tamale. There is still enormous potential for growth by offering lower fares, made possible by adopting a LCC model, but challenges remain.
Fly540, which includes affiliates across Africa (specific breakdowns are not given) lost on average USD33.31 per passenger in 2011, a decrease from the USD49.32 lost per passenger in the 12 months to 30-Sep-2010. Its average revenue per passenger in the 15 months to Dec-2011 was USD108.50, indicating the rebranded operation (FastJet), merely to reach breakeven would need to locate an average saving of USD71.81 to meets its stated goal of an average fare of USD70-80.
FastJet upon its rebranding will pursue a more LCC-type model while Starbow is also evaluating a low-cost or hybrid model. Africa World will offer an unbundled no-frills operation, the carrier tells CAPA. But Africa World will not be point-to-point the way some LCCs in Europe are, instead offering connecting services, which is becoming popular especially in Asia, in part due to reservation and other technology innovations. The carrier expects that offering connecting flights through Accra will allow new city-pairs to be opened.
Africa World says it will be further advantaged by technology investments that, compared to existing distribution infrastructure, will broaden its consumer distribution but also payment settlement; credit card uptake in Africa is low.
Ghana is becoming crowded, but HNA investment will be long term
The large growth of supply will, like internationally, take a while to be profitably absorbed domestically. While Starbow has a head start, the deep pockets of FastJet, and even potentially deeper pockets of HNA in Africa World, should mean those two will survive if any competitor becomes fragile. An airline collapse would be a loss given the long-overdue need for supply, but Ghana is seeing a boom in air transport rivalled in recent times only by South Africa. So, assuming a growing market, there is room for some turbulence and experimentation.
But survival is not necessarily afforded to only the smartest. HNA has the funds to see it through mistakes, as it is currently witnessing on affiliate Hong Kong Airlines' all-premium service to London that records low load factors and yields. While such all premium operations failed last decade across the Atlantic, London will not be the kiss of death for Hong Kong Airlines or HNA, but rather a footnote and representative of its formative years – which to be fair are in greater limelight and competitive tensions than those from any legacy carrier decades ago.
Africa World is young, but in a field where the incumbents are unprofitable, aspects of its business plan raise questions, although there will be time for refinement, and as shown by HNA in Asia, shareholder support. HNA will need to ensure its traditional Chinese management style does not conflict with the other shareholders – or the safety regulator – and also that its long-term outlook is not conflicted by others looking for more immediate returns.
Investments by Chinese airlines: a new era, and potentially opening a hornet's net
HNA's development, like that of many companies in China, is one of compression. It was formed only in 2000 and today it and its affiliates have approximately 300 aircraft. It is the only Chinese carrier to receive a five star rating from Skytrax, to which Chinese carriers deeply aspire. HNA counts George Soros amongst its investors, and the group has wasted no time building up a portfolio of airlines, hotels, transportation and logistics firms, assets totalling USD30 billion.
This venture into a foreign airline (excluding Hong Kong and Macau) is a first for a Chinese carrier, and will very likely not be the last. HNA has previously spoken of pursuing carriers in Africa as well as South America, another growing region with close economic ties. It is a buyer's market for airlines, and while HNA has shown a less focused purchasing pattern its investment in a Ghanian start-up shows HNA's interests are where there is growth. HNA sees its stake in Africa World as a step towards closer ties between the group and Ghana, and larger Africa, as well as general Africa-China relations. Yet HNA's long-term focus on profitability – one of the more relaxed attitudes amongst Chinese carriers – may, with further investments, ignite a subsidising debate that makes the current discourse around Middle East network carriers seem like a mere misunderstanding.
HNA is privately owned and so has international investment freedom that the country's big carriers, all state-owned (and partly listed) – Air China, China Eastern and China Southern – do not. The so-called Big 3 carriers are busy forming larger domestic networks and carving international niches. But when scale becomes as important as growth, or perhaps more so, once growth subsides, other carriers are likely to realise the benefit of strategic partners and investments, which they already carry out domestically with extensive subsidiaries.
A positive role model for Chinese carriers will be found in Air China, the flagship carrier that has stakes in Air Macau and the much more formidable, and profitable, Cathay Pacific. China Eastern has branched out via a joint venture with Qantas' Jetstar to establish the LCC Jetstar Hong Kong. Immunised alliances are not de rigueur in China owing to lack of liberalisation, but those can be an investment gateway, as shown for example with Air New Zealand and Etihad's stake in Virgin Australia.
Africa World to help Ghana become West African hub
The inevitable spillover of Ghana's industry expansion into other countries to support air transport, liberalise and even one day finally sign the Yamassoukro Agreement will benefit the region. Ghana's success will further pressure Nigeria, the region's economic powerhouse, to act before it loses the potential to become a West African aviation hub. The numbers – population, land mass, economic activity – are in Nigeria's favour but Ghana is advantaged with a far more supportive business environment.
Whether it is Kenya Airways seeking to service all six inhabited continents, FastJet attracting Sir Stelios or Africa World partnering with an airline from the world's second largest, and soon to be largest, economy, African aviation is finally hitting the world stage. It is still a small market, something that should come to define its potential rather than its current scope. Adding competition is sure to stimulate activity and, while it will not be a steady growth, the industry's improving profile means that more new entrants will appear.