China-UK air service agreement permits growth as Chinese airlines constrained in most other markets
Analysis
An agreement between China and the UK to more than double their air service agreement is good timing for both sides. Chinese airlines are finding an imbalance: they are taking delivery of widebody aircraft and more Chinese airlines are flying long haul but traffic rights to major markets – the US, Canada, Germany and France – are becoming depleted. Negotiations to add traffic rights have not succeeded, typically due to the foreign side being concerned about accessing Chinese slots or Russian overflight rights.
The agreement with the UK to expand the number of weekly passenger flights from each side from 40 to 100 reflects considerable pragmatism on the part of the UK: British Airways and Virgin Atlantic are not growing in China, and China is a large growth opportunity. The UK has lagged on Chinese tourism. It was only in 2015 that China became the UK's largest inbound market.
Consistency is challenging: Chinese visitors to the UK decreased in 2014, then rapidly grew in 2015 and declined in 1H2016, although the full year looks more upbeat. The pound's post-Brexit depreciation has meant that the Chinese receive about 20% more for their currency. Despite a seeming alignment of factors in the UK's favour to grow tourism, it must continue to reform its visa policy so that the UK can compete with China's more preferred European markets of France, Germany and Italy.
UK-China weekly flights to grow from 40 to 100 for each side
In Oct-2016 the UK Department for Transport announced the UK-China air service agreement would more than double flight levels – from a cap of 40 weekly flights to 100. As recently as late 2014 the Chinese side was utilising only half their allocation of traffic rights.
In late-2014/early-2015 and then mid-2016 there were increases from Chinese airlines. Chinese airline service peaked in Jul/Aug-2016 with 35 weekly flights, adding urgency to expanding the bilateral.
Air China intends to open four weekly Shanghai-Manchester service in Mar-2017 but has not yet started sales. (The collective presence of mainland Chinese airlines is outsized by Cathay Pacific, which operates up to 43 weekly flights to the UK from Hong Kong.)
UK airlines operated more services to China than Chinese airlines to the UK until late 2012 when the two sides dovetailed. It appears the UK's last hurrah was BA's additional Shanghai service in early 2016, after which the Chinese side grew. The UK side decreases in Jan-2017 with BA's exit from Chengdu, but could expand slightly in the near future should BA bring its second Shanghai service to daily.
There are no indications of BA looking to replace Chengdu with another secondary city, or for Virgin to consider growth.
UK-mainland China weekly flights by airline nationality: 2012-2017
The agreement also removes the previous cap that airlines from each side could only serve six points. That cap had not been reached: British airlines serve only three mainland Chinese destinations – Beijing (BA), Shanghai (BA and Virgin) and Chengdu (BA, but withdrawing in Jan-2017). Chinese airlines were focused on London, and only in recent times have added non-London destinations via charters (Birmingham) and scheduled service (Manchester). There was full liberalisation of cargo-only flights but no mention of beyond rights for passenger services, which could be of interest.
China reportedly plans to allocate 28 of the additional 60 weekly flights to airlines other than the Big 3 (Air China, China Eastern and China Southern).
Expanded agreement shows UK is pragmatic toward liberalisation
The balance of demand in China's aeropolitical affairs has been changing. It used to be a foreign country seeking more traffic rights, but having to compromise as China capped growth so its airlines could mature and use their share. Now it is increasingly the Chinese side approaching or reaching limits and needing more expansion than the other side. It may be some years before the added rights become of use to British operators, but in 2017 the Chinese side will likely make use of the expanded rights.
This contrasts with the 1998 CAA decision on how to allocate a precious two weekly allocation for Shanghai, rising to only four weekly in 2000. British Airways and Virgin Atlantic fought for the right (Virgin won, and BA was later able to add service), but now the new agreement is far more about inbound Chinese airline growth for the UK than being an opportunity for British operators.
The China agreement suggests the UK is showing pragmatism towards growing aviation, its hub and ultimately – its economy. The UK, unlike its major peers France and Germany, has also shown a liberal approach with Gulf operators while stopping short of full open skies.
See related report: Gulf airlines in London Heathrow: slot purchases expand capacity further, improving connectivity
However, it is difficult to separate national policy from the influence of local airlines. British Airways is aware it cannot serve every opportunity, especially outside London. To a degree it welcomes other airlines' services. Virgin Atlantic's withdrawal of Mumbai, Sydney and Tokyo while growing trans-Atlantic flights indicates Virgin, under Delta's guidance, is becoming a less relevant operator to the east.
See related reports:
At the same time Air France and Lufthansa are intent on growth eastwards, but unlike BA have not fully come to terms with the internal challenges they face within their organisations to realise that growth (before considering external factors and getting into a fair competition discussion).
The UK's Brexit vote requires the UK to define its post-Brexit aeropolitical rights. It is not yet known if the UK will want, and be able, to effectively maintain the status quo, or if it will need to form a series of bilateral agreements. It is too early to read the UK's apparent open-minded approach to the Chinese air service agreement as an indicator that the UK will be liberal in all of its markets. There is too much at stake in limiting Chinese airlines – especially given the state's direct ownership in the three largest.
Even protectionist markets like Canada grant Chinese airlines far more traffic rights than the Canadian side will be able to use. Should the UK have to form a series of bilateral agreements, and want to use the opportunity to assert nationalism (a supposed driver of Brexit), the UK may (for example) sharply limit access for the Netherlands and its home airline KLM.
UK is a young market for Chinese airlines
The UK is a relatively new and young market for Chinese airlines. It was only in 2012 that the UK market received a third Chinese airline (China Southern, in addition to Air China and China Eastern). In 2012 Air China was also the first to offer more than daily service, whereas China Eastern and China Southern did not go daily – to London Heathrow, their only UK destination – until 2014 (for China Southern) and 2015 (for China Eastern). In 2015 there was the entry of the fourth Chinese airline, Hainan Airlines, and in 2016 the fifth Chinese airline, Tianjin Airlines.
The UK is the third largest market for Chinese airlines in 2016, with an average of 4.4 daily flights. Italy is slightly higher at 4.8, while the leaders are France (6.3 daily flights) and Germany (7.2). Italy and France reflect tourism while Germany is China's largest European trading partner and is the home of Lufthansa, the partner of Air China – which has the largest international presence of Chinese airlines.
The Netherlands, with an average of 2.6 daily flights in 2016, is the fourth largest market for Chinese airlines. The (perhaps) surprising size is the result of links between China's SkyTeam airlines and their European partner KLM.
KLM and Amsterdam present an opportunity for Chinese airlines to connect to other European points.
Average daily Chinese airline service to four largest European markets: 2012-2016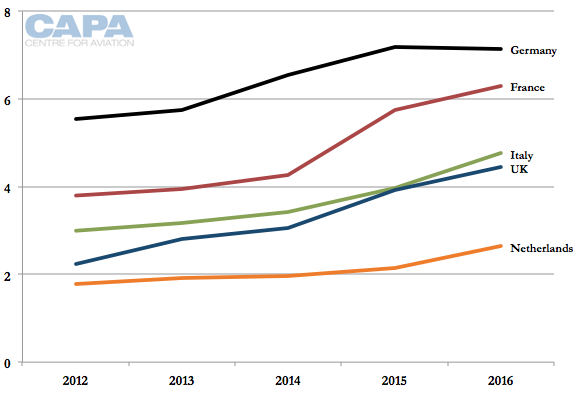 UK growth opportunity comes as Chinese airlines face constraints in other long haul countries
A large addition of traffic rights for Chinese airlines to the UK creates growth opportunities at a critical juncture. Chinese airlines are taking delivery of widebody aircraft and more Chinese airlines are flying long haul. There are short- and medium-term concerns about finding growth markets – due to depleted traffic rights.
Traffic rights for Canada are fully allocated and recent negotiations to expand the air service agreement did not produce an outcome due to Canada's concerns about obtaining slots at Chinese airports.
US-China talks also did not result in any outcome, due to US airlines' concerns about slots also. US airlines, unlike the situation for Canada, have exhausted traffic rights. Chinese airlines have run out of traffic rights to fly to the US from primary Chinese cities, leading them to weigh secondary cities or turn to other markets.
Australian traffic rights remain plentiful, but there are concerns of overcapacity. The market is very seasonal, and almost entirely leisure traffic with heavy China point of sale.
North America and Europe give Chinese airlines the opportunity to have better bilaterals and also target the corporate sector. Major continental European markets are constrained, with reluctance to expand the bilateral. Germany's concern is not directly on the Chinese side but rather – not wanting to expand traffic rights so long as it is difficult for Lufthansa to obtain the Russian overflight rights needed for economical service to China.
UK's China tourism has much room to grow, but also needs to be more competitive
In 2015 China became the UK's largest Asian market for inbound visitors, with 270,000 annual visitors. This was a 46% increase from 2014, but a 35% increase compared to 2013. Chinese visitor numbers declined in 2014 compared to 2013. The net increase in 2015 visitors is the same net growth previously achieved over three to four years.
1H2016 visitor arrivals (latest figures available) report a 16% decrease in visitor arrivals to the UK, composed of 0.6% growth in 1Q2016 but a 29% contraction in 2Q2016. The full-year outlook is more optimistic, given the capacity surge that Chinese airlines added during 3Q2016.
Annual Chinese visitors to the UK: 2006-2015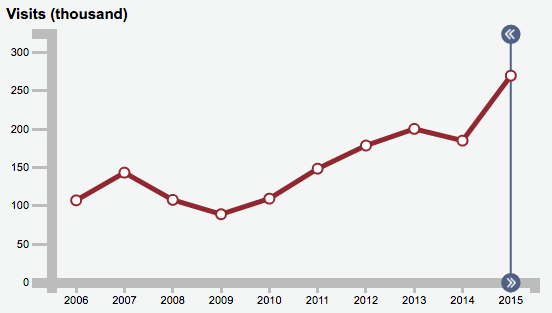 In becoming the largest Asian market for the UK China overtook the traditional large markets of Korea, Singapore and Hong Kong. Chinese visitor numbers to the UK in 2015 were 20% greater than from the next largest Asian market for the UK – Korea.
Annual visitors to the UK from select major Asian markets: 2015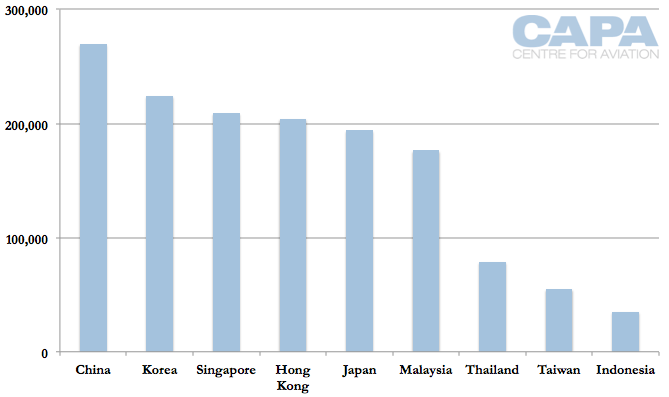 The leap in Chinese visitors to the UK begins to correct the UK's lagging appeal; previously China lagged a few Asian markets, although some (Hong Kong, Singapore) have historical ties that explain their outsized presence.
There is still much more room for growth. Besides the traffic rights being available at a time when Chinese airlines are constrained in more traditional long haul markets, the pound's depreciation after the Brexit vote makes the UK much more affordable, a trend expected to continue into the medium and long term. Compared with 2012, Chinese visitors converting yuan to pounds now receive approximately 20% more.
The UK still faces a number of challenges for attracting Chinese visitors. The UK is not a member of the Schengen area, a disadvantage since Chinese visitors tend to visit a few European countries during their visit.
The UK and Belgium have a "twin system" for visas whereby a Chinese national can apply for a UK visa and Belgian visa at the same time. Although the Belgian visa gives access to the Schengen zone, it requires the visa holder to enter Belgium, which is not as popular yet for Chinese nationals. A French, German or Italian Schengen visa is more popular.
The UK is damaging its airlines by requiring Chinese visitors, with only a few exceptions, to possess a transit visa if they wish to transit the UK for another destination. This effectively restricts British airlines from carrying sixth freedom traffic from China (or for other airlines to use the UK as a hub) and was one of several factors that led British Airways to exit the Chengdu market.
See related reports:
The UK has shown pragmatism in significantly expanding the Chinese air service agreement. Having decided to accept Chinese visitors, the UK must now welcome them.