China-Australia aviation: one million visitors & flights on 21 city-pairs from 12 Chinese cities
Analysis
Naming 12 Chinese cities would be a challenge for most people outside China. Yet that is how many mainland Chinese cities will so far enjoy non-stop service to Australia in 2016. Until 2011, only three Chinese cities had flights to Australia. This doubled to six in 2014, and will double again to 12 – maybe more – during 2016. A rising middle class coupled with Australia's liberal air service regime and low fuel prices have meant a growing prominence of Chinese aviation, and the visitors it brings.
The growth in Chinese airports with service to Australia coincides with growing Australia-China non-stop city pairs: from nine in 2013 to 21 in 2016. These 21 city pairs are just under the 22 between Australia and its far closer neighbour and partner, New Zealand. New Zealand is Australia's largest source of foreign visitors, but China will soon surpass New Zealand. The 12 months to Nov-2015 made the first year that Australia received more than 1m Chinese visitors, making Australia the second largest long haul market for Chinese visitors after the United States.
2016 will bring rapid growth in China-Australia air routes
The China-Australia market is dominated in non-stop seat capacity by China Southern, which holds over 40% of the market in Jan-2016. China Eastern and then Air China each hold about 20%. The recent entry of smaller carriers, as well as secondary routes from other carriers, has meant rapid growth in links, even if capacity expansion is more moderate and capacity is concentrated on core routes (China Southern sends the A380 to Sydney in the southern summer).
Australia to China (seats per week, one way): 19-Sep-2011 to 26-Jun-2016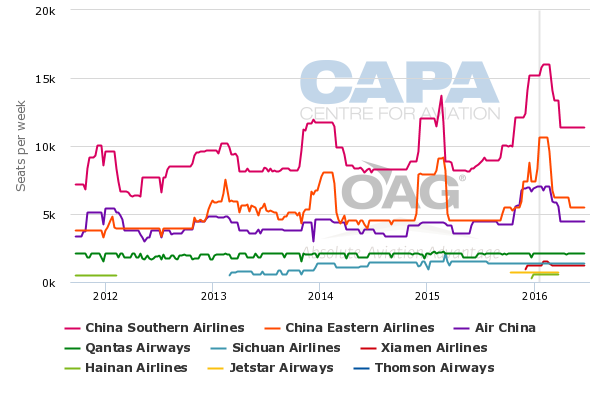 Until 2010, only two Australian airports – Melbourne and Sydney – had non-stop service to mainland China. In 2015 this reached six, with Jetstar's Gold Coast-Wuhan service, in addition to services at Brisbane, Cairns and Perth. There are some links between Darwin and Southeast Asia, but no non-stop links to Northeast Asia (yet). Adelaide could benefit from non-stop service in the future, but prospects dim beyond that possibility, given Australia's concentrated population and tourism hotspots.
The bigger growth prospects are from mainland China. Until 2010 only three Chinese cities (Beijing, Guangzhou and Shanghai) had service to Australia. This number swelled to six in 2014, and is so far planned to double to 12 in 2016. Most of the growth has occurred since late 2015, when Xiamen Airlines opened Sydney services from Fuzhou and Xiamen, and Hainan Airlines from Xi'an. China Southern plans to open service from Shenzhen in Jan-2016. Australia-China city pairs could grow to at least 21 in 2016.
China-Australia routes by airport (left axis) and city pairs (right axis): 2005-2016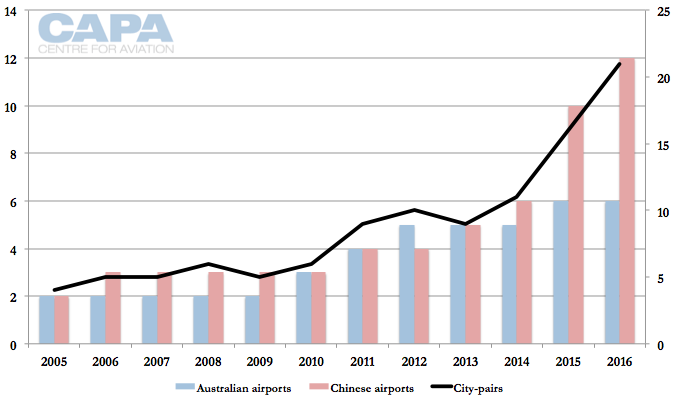 See related report: China Southern Airlines exceeds 55x flights target to Australia/NZ. Competition regulators query JVs
Late 2015 saw the entry of Xiamen Airlines and (the re-entry) of Hainan Airlines. Hainan opened a Xi'an-Sydney service having tried and withdrawn a Shenzhen-Sydney service some years ago (China Southern will open this in Jan-2016). Beijing Capital Airlines has applied to open a Qingdao-Melbourne service during 2016.
This could give Australia service from all of China's long haul airlines except for Tianjin Airlines. Part of HNA (as are Beijing Capital and Hainan Airlines), Tianjin Airlines plans to commence long haul flying in 2016 and has not named Australia as an initial point, but will likely serve the country in due course. Hong Kong Airlines, while not from mainland China, expects to carry large numbers of mainland China transfer passengers, similarly to Cathay Pacific's Australian presence. Hong Kong Airlines' two Australian points, Cairns and the Gold Coast, are the end points of limited non-stop mainland China service.
The Australia side of the China market is concentrated, and more so than the country's average. Sydney accounts for 55% of Australia-mainland China seats, with Melbourne 32%. Four other Australian airports make up the remaining 13%.
Australia-mainland China non-stop seat capacity by Australian airport: 10-Jan-2016 to 16-Jan-2016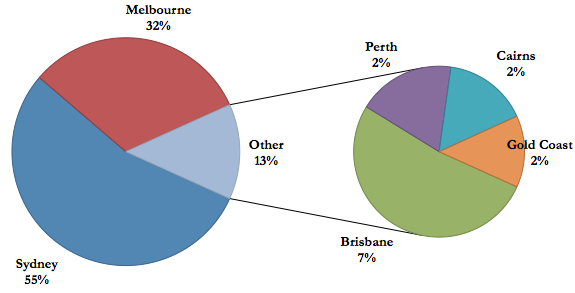 While the number of Chinese airlines serving Australia and the number of routes has swelled, the market remains concentrated. 88% of non-stop seat capacity between Australia and China departs from three Chinese airports: Beijing, Guangzhou and Shanghai. Guangzhou alone accounts for 43%. This reflects Guangzhou-based China Southern's prominent position in the market.
The same three Chinese airports – Beijing, Guangzhou and Shanghai – are the only Chinese airports with at least daily service to Australia. All others have no more than three weekly flights.
Additional routes planned so far for 2016 are unlikely to change this. By the end of 2016, five of the (so far) 12 Chinese airports expected to have service to Australia will have flights to more than one Australian city: Guangzhou and Shanghai with four each, followed by two each at Beijing, Chengdu and Xiamen.
Australia-mainland China non-stop seat capacity by Chinese airport: 10-Jan-2016 to 16-Jan-2016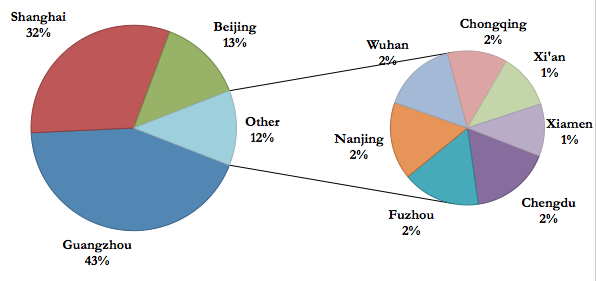 There is potential, and an expectation, that airlines would increase frequency on existing routes or add service to other Australian points from existing Chinese points. This theoretically would give a stronger proposition than two or three weekly flights, while also giving scale – more flights from the same departing airport, rather than establishing long haul operations at (and rotating aircraft to) another city.
But the nuances of the Chinese market dictate otherwise. Local subsidies back many routes and are seldom enough for a high frequency operation. The same might be true of a travel agency that effectively underwrites a route.
Chinese airlines are willing to spread themselves thinly on long haul markets: once they serve a route, another local carrier is seldom allowed to compete. While opening a route now might not be profitable, there is the risk that another carrier will move on it. Sichuan Airlines, for example, has only two Australian routes: Chengdu-Melbourne and Chongqing-Sydney. Sichuan Airlines does not serve Chengdu-Sydney, and Air China has applied to do so.
Sichuan Airlines' Australian network alludes to another nuance: government ownership of airlines influencing or dictating network links. Sichuan Airlines serves Sydney from Chongqing but serves Melbourne from Chengdu, despite Chengdu and Chongqing almost being neighbours. This appeases the governments, even if it fragments Sichuan's network.
Xiamen Airlines will open service to Melbourne from Xiamen, which it links from Sydney, but Xiamen Airlines also links Sydney service with Fuzhou, which is almost a neighbour to Xiamen. It could be strongly posited that Xiamen Airlines prefers Fuzhou passengers to connect at Xiamen, but it appears that the local government does not.
See related reports:
Chinese visitors to Australia exceeded 1 million in year to Nov-2015
Even before the rush of additional capacity that largely commenced in Dec-2015, Nov-2015 proved to be a record-breaking month for Chinese visitors to Australia. A 26% increase in visitors in Nov-2015 took the 12 months to Nov-2015 to being the first year in which Chinese visitors to Australia exceeded one million.
Chinese visitors to Australia in all of 2014 numbered 839,000, and in 11M2015 alone were 913,000 (up 19% from 11M2014). This set 2015 up for being Australia's first calendar year of receiving over one million Chinese visitors.
Monthly Chinese visitors to Australia: 2010-2015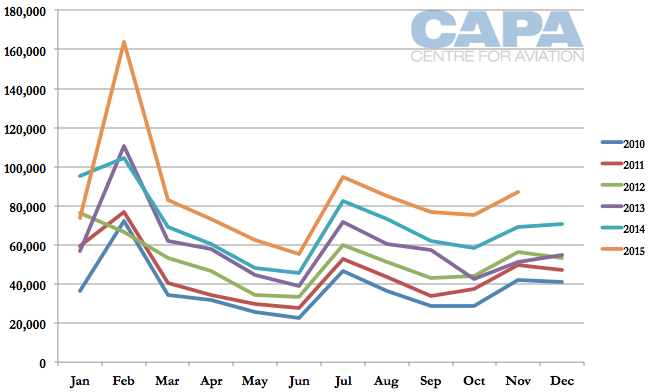 Despite its small size, Australia is the largest long haul Chinese destination after USA
Chinese visitor numbers exceeding one million over a year are nothing new to regional Asian markets, where most Chinese visitors go, but large numbers of Chinese visitors in long haul markets is not so common.
Australia becomes only the second long haul/non-Asian market, after the USA, to have hosted over one million visitors in a year. The USA crossed the 1m mark in 2011 and the 2m mark in 2014. Although Australia reached the 1m mark four years after the US, Australia does not expect 2m Chinese visitors in a year until 2024.
Chinese visitors to the US: 2003-2014
See related reports:
Outlook: Australia continues to plan for growth, but also diversification and stabilisation
Australia intends not only to increase Chinese visitor numbers, but also to improve the quality. Already Australia has experienced a shift from visitors arriving in groups to semi-FIT and fully FIT visitors, regarded as more sustainable. Although their figure is outdated, Tourism Research Australia says 45% of Chinese leisure visitors to Australia between 2011-2013 were FITs.
Of Australia's major inbound markets, China has the least dispersal between main areas and regional areas of the country. Having visitors leave major cities to explore other parts of the country is a major objective, to diversify tourism and bring impacts to all parts of the country. Yet just 22% of leisure FIT visitors from China went to regional areas, not significantly different from 23% of Singaporeans, 28% of New Zealanders or 29% of Japanese.
Dispersal of leisure FITs from Australia's top inbound markets: 2013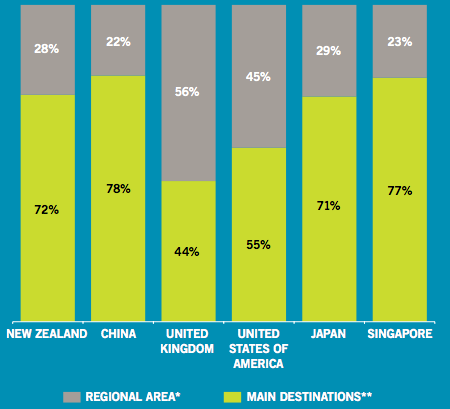 With China, Australia takes one of its most liberal market access approaches, if not the most liberal approach, to expanding non-open skies air services agreements. Australia does, however, want to ensure continuity and sustainability. Many of the new Australia-China routes, while small in capacity, have taken up large amounts of resources from the Australian planning end. Australia wants the routes to last and grow. Any increase in fuel price would threaten to undermine the viability of many of the new routes and markets, which almost entirely consist of leisure travellers. Secondary city routes would taper off faster than Beijing, Guangzhou and Shanghai should a downturn emerge.
A smoother year-round level of airline capacity and visitor numbers is preferred to the high traffic spikes during Chinese New Year, typically between January and February when visitor numbers for the month can be double or triple any other month during the year.
This is a common problem, and Chinese airlines hope that reform from the central government will disperse holiday times – good for aviation but also for the country's larger focus and re-orientation towards consumption.
By no means does Australia complain about its performance from the Chinese market, but its wish list of ways to improve and grow the market shows how far ahead of all other markets it is in successfully wooing Chinese visitors for a first and then repeat visit.
The USA outshines Australia with over twice as many Chinese visitors, yet Australia punches well above its weight considering its small local population and more recent Chinese ancestry, which would otherwise stimulate more visitor flows.
While Australia considers its future with Chinese tourism and air services, many non-Asian countries could look at today's Australia as an indicator for their future also.