China airline growth: 57% international surge while domestic holds up and Hong Kong/Macau fall
Analysis
As questions reverberate about China's economy and slowing growth, what are the impacts to Chinese aviation, home to the world's second-largest domestic market?
The good news is 1Q2015 traffic from China's airlines is comfortably robust, increasing 13% and surpassing 100 million passengers for the first time. Domestic growth remained at 11%, with Chinese airlines carrying an additional 9 million domestic passengers in 1Q2015 compared to 1Q2014 – equivalent to an additional 656 737 flights a day.
International growth has picked up giant steam, surging 57% in 1Q2015 – equivalent to an additional 64 A380 flights a day. But overall international traffic remains small for Chinese airlines, accounting for only about 7% of total carriage – the same as in 2008 but higher than more recent years. Regional growth has slowed to 5% as Hong Kong and Macau are not as attractive as they used to be.
More worryingly for Taiwan, that market is starting to show a contraction in Chinese visitors, perhaps as they head to seemingly more exotic regional Asian points like Japan, Korea and Thailand. Those three countries will attract the highest growth from Chinese airlines in summer 2015.
China's 2015 passenger traffic exceeds 100 million for the first time
Chinese airlines have reported traffic for 1Q2015, carrying 104m passengers across their networks. This is up 13% from 1Q2014, and is the first time first quarter traffic has exceeded 100 million. "Regional" traffic covers Hong Kong, Macau and Taiwan, while international is all other markets.
Chinese airline traffic by category: first quarter, 2008-2015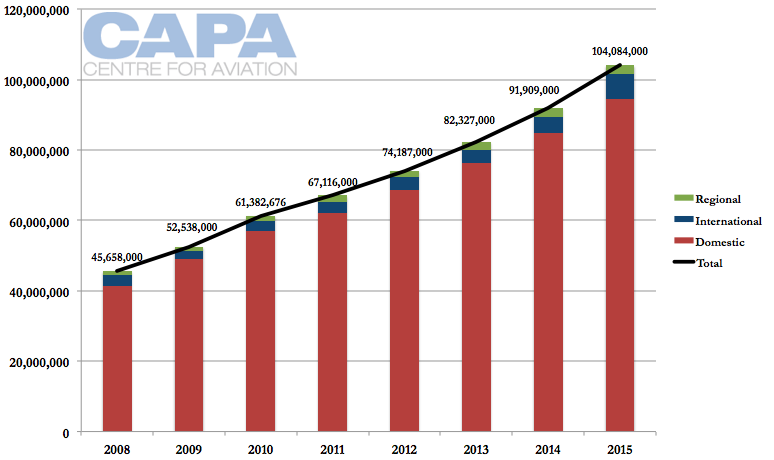 Chinese airline international traffic surges, by an amount equivalent to 64 more A380 flights a day
International traffic remains a small component for Chinese airlines, accounting for 6.8% of their carriage in 1Q2015, according to CAAC statistics. This is about the same as international's 6.4% share in 1Q2008.
But in the intervening years from 2009 through 2014, international traffic dipped to levels around 4.2-4.9%, indicating there is some shift back to expansion in the international market.
Share of Chinese airline traffic by market segment: first quarter, 2008-2015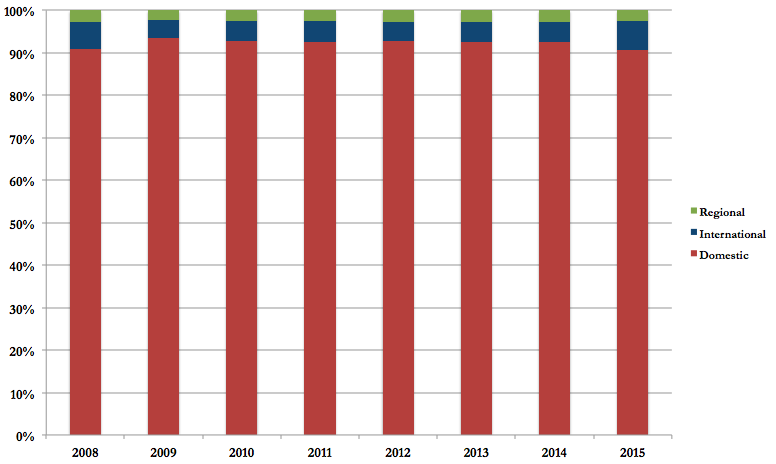 In 1Q2015, Chinese airlines reported a 57% increase in international passenger numbers to 7.1 million. This increase follows "slower" growth in previous years that was in the low double digits.
There was 32% international growth in 2010, but this was after a weak 2009 that saw traffic dip 25% below 2008 levels. In any event, international traffic at Chinese airlines has doubled between 1Q2012 and 1Q2015.
Chinese airline international traffic: first quarter, 2008-2015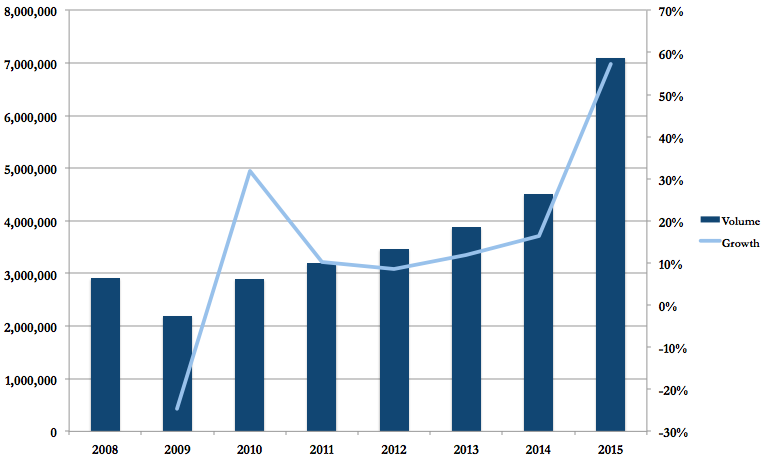 To put this growth in perspective, in 1Q2015 Chinese airlines carried 2.6m more passengers than in 1Q2014. This equates to an additional 64 A380 flights running at a 100% load factor (450 seats) and operating every single day in 1Q2015. Alternatively it equates to an additional 180 daily A320/737 flights (160 seats) at a 100% load factor.
Chinese airline figures for January and February generally need to be looked at in aggregate since the Lunar New Year, an extremely popular time to travel, shifts between the months. What is unique in 2015 is March traffic levels (see graph below).
In past years March traffic has generally been at about the same level or lower than January traffic; in 2015 it was significantly higher. Mar-2015 traffic was also higher than any month in 2014; usually the previous year's August traffic volume is higher. Mar-2015 traffic was 4% higher than Aug-2014, which was the busiest month for international traffic in China in 2014. Summer 2015 will obviously set yet another record.
China monthly international passenger numbers: 2008-2015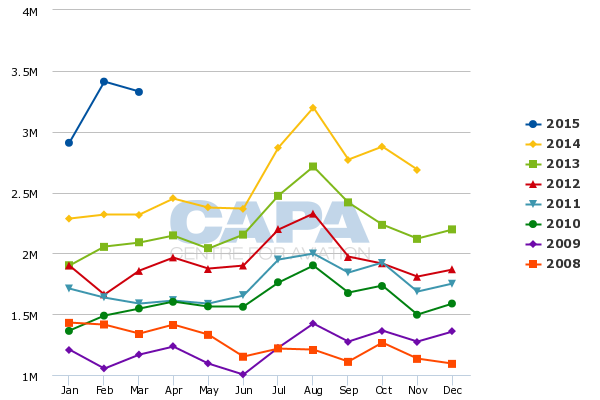 With the popular third quarter travelling season approaching, what are the largest markets Chinese airlines will grow in? As of schedules filed in May-2015, it is regional markets – Korea, Thailand and Japan – that lead growth. In 3Q2015 there will be an additional 1.4m seats to Korea offered by Chinese airlines, 800,000 to Japan and 480,000 to Thailand.
The US is the only other major growth market, with a planned addition of 190,000 seats.
Top 10 markets for growth by Chinese airlines: 3Q2015 versus 3Q2014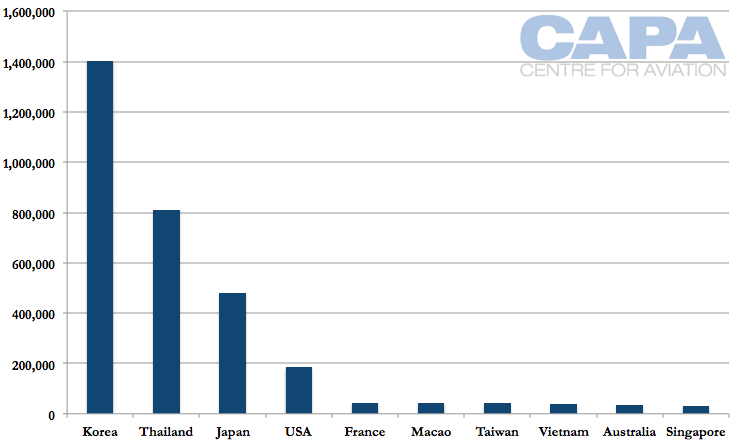 See related reports:
Regional traffic growth is cut in half as Hong Kong and Macau experience a drop off in visitors
Regional traffic, as defined by China's aviation industry, covers the comparatively small landmass of Hong Kong, Macau and Taiwan. But this has been a large travelling destination: between 2009 and 2014, regional traffic was more than half as big as "international", which covers the entire rest of the world. In 1Q2015 however growth slowed to 5.6%. 1Q2009 saw a contraction of 2.7% while 1Q2010 saw 21% growth, 1Q2011 16% growth and then 1Q2012-1Q2014 11-12% growth.
Chinese airline regional traffic: first quarter, 2008-2015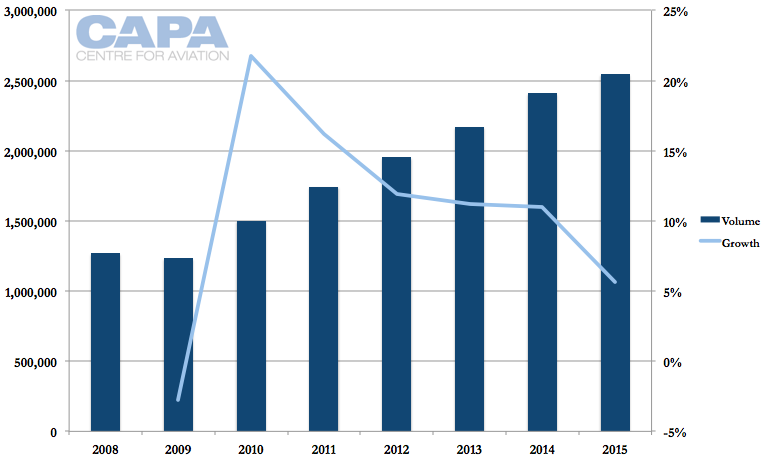 The CAAC does not publicly breakdown figures within the regional category, but it is possible to triangulate other metrics to get a synopsis of the trend. Taiwan saw growth in mainland Chinese visitors in Jan-2015 and Feb-2015, but a contraction in Mar-2015 that has continued into Apr-2015. 1Q2015 mainland Chinese visitors to Taiwan are up 8.2%, but including Apr-2015, year-to-date visitors are up only 4.4%.
Taiwan monthly tourist arrivals from mainland China: 2008-2015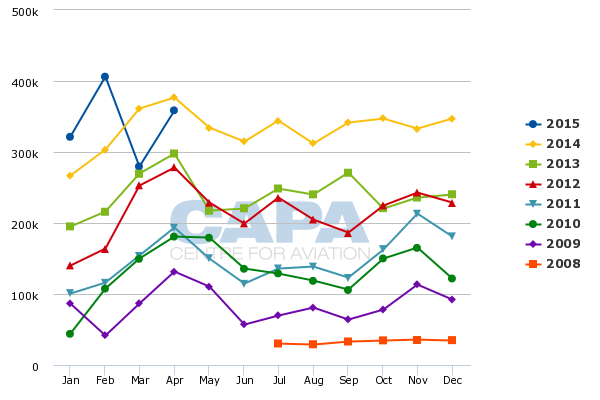 Mainland Chinese visitors account for over one third of visitors to Taiwan, so the changes are impacting Taiwan's total visitor arrivals. However, other markets (for example Hong Kong and Japan) also show weakness, but not to the extent of mainland China.
Hong Kong and Macau are observing similar trends, with Jan-2015 and Feb-2015 visitors from mainland China up but Mar-2015 figures showing a contraction. These two markets however differ in that most of their mainland visitors arrive via surface transport and not airports, so there is not necessarily a strong correlation between overall visitor arrivals and the small subset carried on passenger aircraft. Most mainland Chinese visitors to Taiwan arrive by air.
Taiwan remains a favoured destination but this is not the case for Hong Kong and Macau. China's anti-graft campaign has had an impact, mostly in high profile gambling Mecca Macau, while many in mainland China perceive Hong Kong to not be welcoming to mainland visitors after a number of incidents and protests.
Future months in 2015 should show more of an impact from mainland visitors to Hong Kong after Beijing in Apr-2015 limited Shenzhen residents to one trip to Hong Kong a week; previously there was no limit. But once again this does not (directly) impact Chinese airlines' traffic.
Hong Kong monthly tourist arrivals from mainland China: 2009-2015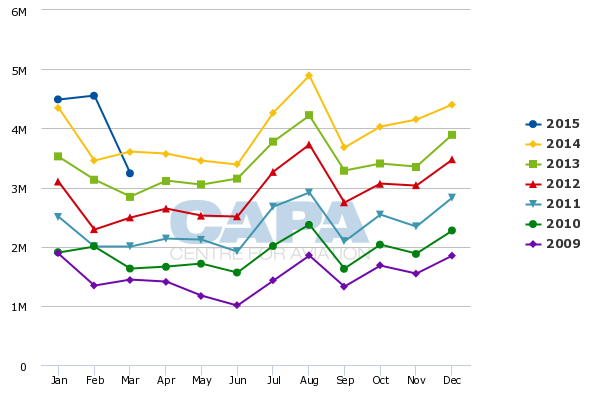 Macau monthly tourist arrivals from mainland China: 2009-2015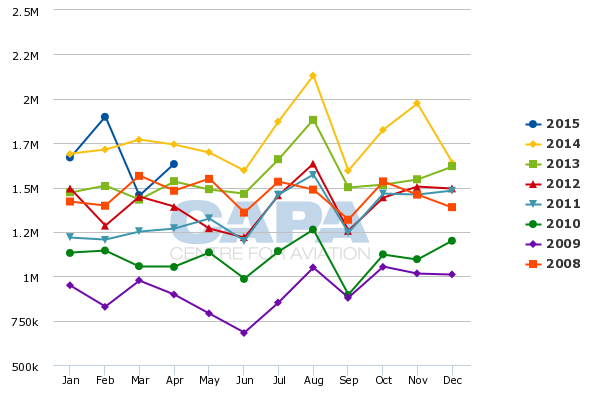 Domestic growth remains at a healthy 11%. 1Q2015 increase equals another daily 233 A380 flights
Chinese airlines' international growth – to markets far and wide – has captured attention, but the domestic Chinese market is the heart and the soul of the airline industry. International growth in 1Q2015 may be equivalent to 64 additional A380 flights a day, but domestic growth in 1Q2015 was equivalent to an additional 233 A380 flights a day, or 656 A320/737 flights.
Chinese airline domestic traffic: first quarter, 2008-2015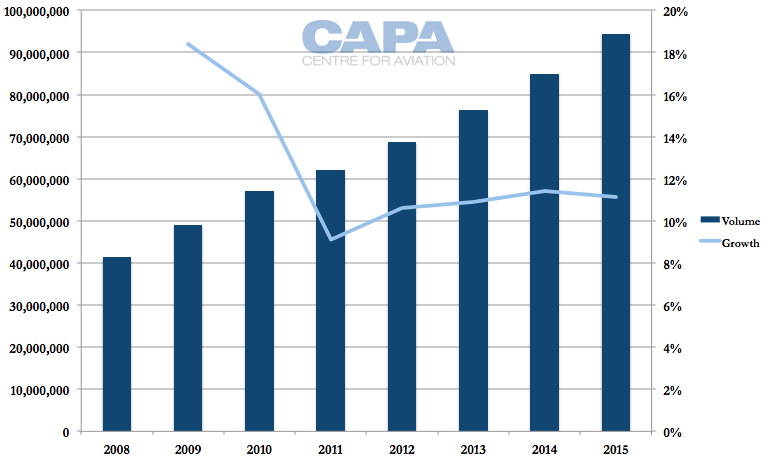 China's domestic traffic in the first quarter crossed the 90 million mark for the first time (each year generally sees another milestone passed). The pre-2010 years of annual growth around 20% are clearly gone, but the base is now at formidable levels. Focusing on percentage growth can be distorting since the base level for growth constantly changes. Growth in percentage terms in 1Q2015 may be slow, but more additional passengers were carried than in any previous year. The additional 9.5m domestic passengers in 1Q2015 was 8.5% higher than the additional 8.7m passengers carried in 1Q2014.
Additional domestic passengers carried by Chinese airlines compared to the previous year: first quarter, 2009-2015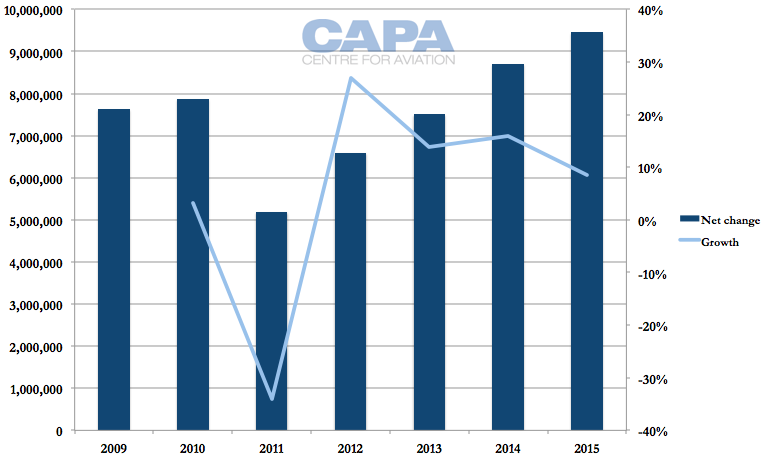 Domestic growth is largely coordinated at the government level, which arranges how many aircraft national airlines can bring in. As CAPA has previously noted, the big airlines for some time have been frustrated with the volume output they have had to produce. This level of growth is exhausting and does not permit for strategic, "smart" growth and re-calibrating cost bases, which are bloated.
Ironically, they are also under pressure from the CAAC, which has held up LCC Spring Airlines has a model of efficiency, to be imitated and emulated. Recourse options for airlines are limited, such as by retiring older aircraft to offset new imports.
Paradoxically, it is the big airlines that want to slow growth, but they cannot while the smaller privately owned airlines want to grow but are not allowed to.
Part Two: Private airlines surge and airlines transition to the LCC model
The majority of traffic at Chinese airlines is operated by the big state-owned full-service carriers and their subsidiaries/affiliates. There is a small but growing sector of private airlines and LCCs. They are capturing attention, with Spring and Juneyao Airlines recently managing very successful IPOs. Meanwhile a number of airlines are transitioning from full service to low cost. This trend will be looked at in a follow-up instalment.