Caticlan Airport: capacity doubles with expansion from AirAsia, Cebu Pacific and Philippine Airlines
Analysis
Capacity at Caticlan Airport in the Philippines has quickly doubled following the opening of a runway extension enabling narrowbody jet operations. Capacity at Caticlan will approach, and could exceed, 40,000 weekly seats in the coming months, compared to 18,000 weekly seats a year ago.
Jet operations began at Caticlan in Nov-2016 after Philippine authorities approved the use of a runway extension. The new owners of the airport, San Miguel, also plan to open a new terminal by early 2018, which will be capable of handling international flights.
Cebu Pacific and Philippine Airlines (PAL) have already transitioned most of their flights at Caticlan – the gateway to the popular resort island of Boracay – from turboprops to A320s. Philippines AirAsia is planning to enter the Caticlan market in Mar-2017 with flights from Manila, Cebu and Davao. AirAsia, Cebu Pacific and PAL may also launch international flights from Caticlan in 2018, along with a potential new Caticlan based airline that San Miguel is looking to establish.
A320 operations finally begin at Caticlan
Caticlan is a small town in the central Philippines located a short ferry ride from the resort island of Boracay. The Caticlan Airport has historically only been able to accommodate turboprops and the BAe 146, a four engine regional jet with short takeoff and landing capabilities.
On 17-Nov-2016 the Philippine authorities finally approved the opening of a runway that was built as part of an upgrade project undertaken by the airport's new private owners, San Miguel. San Miguel began the airport runway project, which involved flattening a hill, in mid 2014 and was initially hoping to open the extended runway in 2015 or early 2016. In 2013 San Miguel won a 25 year contract to rehabilitate, expand and operate the Caticlan Airport.
See related report: Cebu Pacific, PAL, AirAsia plan Boracay expansion. Will new runway at Caticlan lead to overcapacity?
The Philippine Airlines full service regional subsidiary PAL Express operated the first narrowbody service to Caticlan on 18-Nov-2016, flying in an A320 from Manila. PAL Express had previously served the Manila-Caticlan route with Bombardier Dash 8 turboprops.
PAL upgauges all Manila-Caticlan flights and launches two new Caticlan routes
PAL Express has since upgauged all of its Manila-Caticlan flights to jets. It currently serves Manila-Caticlan with four daily A320 frequencies, based on OAG schedule data for the week commencing 20-Feb-2017.
PAL Express previously operated up to 10 daily flights on Manila-Caticlan using Dash 8 Q300 and Q400 turboprops. PAL Express was only able to use the smaller Q300 in Caticlan until 2015, when the first phase of the airport upgrade project was completed.
PAL Express also launched service to Caticlan from Cebu and Clark in Dec-2016. PAL Express currently operates one daily flight on both the Caticlan-Cebu and Caticlan-Clark routes using Dash 8 Q400 turboprops.
PAL Express' current capacity in Caticlan is up approximately 30% compared to Feb-2016, to nearly 11,000 weekly seats, based on CAPA and OAG data. The increase in capacity is almost entirely driven by the new routes to Cebu and Clark.
PAL Express' capacity on the Caticlan-Manila route ends up broadly flat as it has reduced frequencies to offset the increase in capacity from the upgauging to A320s. The gauge changes at Caticlan have enabled PAL Group to free up slots at Manila without having to reduce seat capacity. Freeing up the slots is strategically important as it has enabled expansion in other markets that would not otherwise have been possible – given the current slot constraints at Manila.
Cebu Pacific expands at Caticlan using A320s for most flights
Cebu Pacific also has freed up precious Manila slots by upgauging some of its Caticlan flights to A320s. Cebu Pacific operated its first A320 flight to Caticlan on 23-Nov-2017 and the LCC group has since upgauged five of its Manila-Caticlan flights from ATR 72s to A320s. Cebu Pacific continues to offer two daily Manila-Caticlan flights using ATR 72s, which are operated by its turboprop subsidiary Cebgo.
Cebu Pacific previously had 55 weekly flights in the Manila-Caticlan market, all using Cebgo operated ATR 72s. The group's current Manila-Caticlan capacity is up 70% compared to Feb-2016, according to CAPA and OAG data.
Cebu Pacific also upgauged its Caticlan-Cebu service from ATR 72s to A320s on 1-Feb-2017. However, Cebu Pacific now only operates one daily frequency in the Caticlan-Cebu market, whereas Cebgo previously operated up to 20 weekly frequencies.
Cebu Pacific is the market leader in Caticlan with a more than 56% share of current seat capacity. This includes a 53% share under the group's A320 mainline operation and a 3% share under Cebgo. PAL currently has a 39% share, and the small independent leisure airline SkyJet accounts for the remaining 5%.
SkyJet continues to operate BAe 146s, the only aircraft type in its fleet, on the Manila-Caticlan route. SkyJet currently serves the route with two daily flights.
Caticlan Airport capacity share (% of seats) by airline: 20-Feb-2017 to 26-Feb-2017
Philippine AirAsia to enter Caticlan market in Mar-2017
All three incumbents at Caticlan will experience a decline in market share in Mar-2017 as Philippines AirAsia launches services. The AirAsia Group affiliate plans to start competing on the Manila-Caticlan route on 15-Mar-2017 with two daily A320 flights.
Philippines AirAsia also recently unveiled plans to launch daily services to Caticlan from Cebu and Davao on 22-Apr-2017. It will be the only airline in the Caticlan-Davao market. Davao is the third largest city in the Philippines, while Cebu is the second largest.
The combined four daily flights at Caticlan will give AirAsia slightly more than 10,000 weekly seats and approximately a 25% share of the Caticlan market. As AirAsia enters the market total capacity at Caticlan will approach 40,000 weekly seats.
Caticlan Airport total one way seat capacity: Sep-2011 to May-2017
The above chart does not include SkyJet capacity beyond late Mar-2017 because SkyJet has not yet filed its northern summer schedule with OAG.
However, SkyJet is already selling its twice daily Manila-Caticlan flights on its website for summer 2017. When this capacity from SkyJet is included, total capacity at Caticlan for May-2017 is just under 40,000 weekly seats.
New night operations will boost capacity further at Caticlan
Cebu Pacific is also planning to add new night flights at Caticlan within the next few weeks, which could result in Caticlan's total capacity exceeding 40,000 weekly seats in summer 2017. Cebgo plans to operate at least one evening flight at Caticlan.
San Miguel has installed lights at the airport as part of the upgrade project. Philippine authorities are expected to approve night time operations at Caticlan soon, although initially there will be a restriction only allowing turboprop operations at night.
PAL Express will likely match Cebgo with its own turboprop evening flight on the Manila-Caticlan route. Currently the last departure from Caticlan to Manila is 17:00h for both competitors.
Night operation to improve Boracay's position as a destination
Night operation is important as it enables tourists to maximise their time at Boracay – the most popular tourist destination in the Philippines.
For domestic tourists, evening flights enable Filipinos and expatriates to work a full day in Manila before flying to Caticlan and having a full day on Boracay before flying back to Manila. For international tourists, better connections will be available in markets that have late night departures from Manila such as Australia, which is a large and growing source market for the Boracay tourism sector.
Night operations also enable San Miguel to get better use out of the current small parking apron and interim terminal. The airport can only handle a limited number of flights at present due to a lack of apron and terminal space. This issue will eventually be resolved with a new terminal and expanded parking area, but for now expanding the operational hours of the airport enables more flights to be accommodated using the existing space.
Cebu Pacific significantly reduces capacity on Manila-Kalibo route
The growth at Caticlan does not represent entirely new growth for the overall Philippines market, since airlines have been reducing their operations at nearby Kalibo Airport as they start jet operations at Caticlan. Kalibo is a small city approximately 80km from Boracay and its airport has typically accommodated more tourists heading to Boracay than has Caticlan, due to the limitations at Caticlan.
With Caticlan opening up to jets and supporting more capacity, demand for Kalibo has naturally waned. It takes over two hours to travel from Kalibo to Boracay via a road ferry combination, whereas a short ferry connects Caticlan Airport with Boracay directly.
Local demand at Kalibo is relatively small. For example, Cebu Pacific recently surveyed its Kalibo passengers and confirmed that an overwhelming majority are heading to Boracay. Cebu Pacific therefore reduced its Manila-Kalibo schedule from six to four daily frequencies, freeing up more precious slots at Manila for other markets.
Cebu Pacific currently operates two daily A320 flights and two daily ATR 72 flights on the Manila-Kalibo route, according to OAG schedule data for the week commencing 20-Feb-2017. In early Nov-2016, prior to the opening of the extended runway at Caticlan, the group was offering three daily A320 flights and two ATR 72 flights on the Manila-Kalibo route.
The Cebu Pacific Group now has approximately 2,100 one way weekly seats from Manila to Kalibo, compared to almost 4,000 weekly seats a year ago. The group has maintained capacity on its only other domestic route at Kalibo, to Cebu. Cebu Pacific currently operates 20 weekly A320 frequencies between Kalibo and Cebu.
PAL also has cut capacity on the Manila-Kalibo route. PAL currently has approximately 3,000 weekly one way seats from Manila to Kalibo compared to 5,000 a year ago, according to CAPA and OAG data. The group has 22 weekly flights on the route, including 21 flights operated by PAL Express with A320s and one weekly frequency operated by PAL mainline with A320s.
The PAL Group also has seven weekly flights from Kalibo to Cebu which are operated with mainline A320s/A321s. PAL resumed this route in Sep-2016 as part of its expansion at Cebu Airport.
Philippines AirAsia also has filed a reduction in its Manila-Kalibo schedule from three to daily frequencies from Mar-2017, when it launches Manila-Caticlan. However, Philippines AirAsia is expanding at Kalibo in late Mar-2017 as it resumes three weekly flights from Clark to Kalibo – a route not currently served by any airline. AirAsia does not compete with Cebu Pacific and PAL on the Kalibo-Cebu route and there are currently no airlines offering services between Kalibo and Davao – this route was last served by Cebu Pacific in early 2014.
Kalibo capacity cuts are significantly less than the capacity gains at Caticlan
Total domestic capacity at Kalibo will drop to approximately 33,000 weekly seats in May-2017. This represents a 15% reduction in capacity compared to May-2016.
Kalibo Airport total one way domestic seat capacity: Sep-2011 to May-2017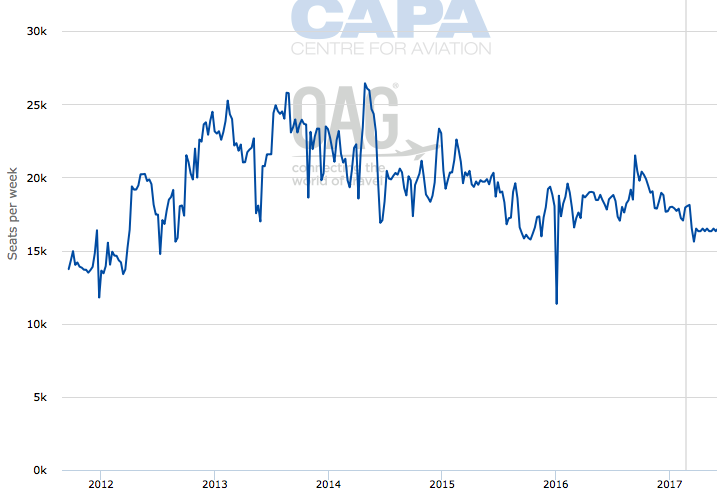 While Kalibo has lost approximately 6,000 weekly domestic seats weekly seats, Caticlan has gained much more – approximately 22,000 weekly domestic seats.
Boracay is a growing market, and airlines are obviously banking on the additional capacity at the more convenient Caticlan driving even faster growth in visitor numbers to Boracay.
However, the total growth in domestic capacity at the two airports serving the Boracay market – approximately 16,000 weekly seats, or nearly 30% – could outstrip demand, pressuring yields and load factors.
Kalibo is well served internationally
Kalibo, at least for now, will continue to be the only airport in the Boracay market providing nonstop international links. Kalibo currently has more than 25,000 international weekly seats and it therefore now has nearly as much international capacity as domestic capacity.
Kalibo is currently linked with nine international destinations, including four in China (Beijing, Chengdu, Hangzhou and Shanghai) and two in South Korea (Busan and Seoul), as well as Kuala Lumpur in Malaysia, Singapore, and Taipei in Taiwan. Cebu Pacific, PAL and Philippines AirAsia operate international services from Kalibo and the airport is also served by three foreign airlines – Malaysia based AirAsia, Singapore based SilkAir and Tigerair Singapore.
Almost all the international traffic arriving at Kalibo consists of tourists heading to Boracay. South Korea is the largest international market from Kalibo, accounting for 57% of total international capacity, followed by China with 26%. Not surprisingly, along with the US, South Korea and China are among the three largest source markets for the Philippines tourism industry.
Kalibo international capacity share (% of seats) by country: 20-Feb-2017 to 26-Feb-2017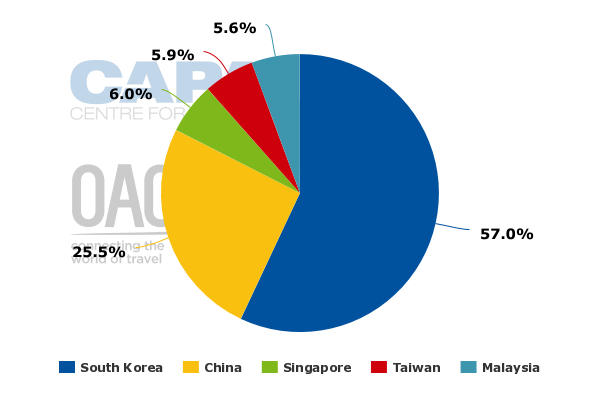 The largest international route from Kalibo, Seoul, is served by all three Philippine carriers, while Busan is currently only served by PAL. Beijing is served by both Cebu Pacific and PAL, while the other three Chinese destinations are served by one Philippine carrier each. Charters from Kalibo to other secondary cities in China are also common.
Taipei is served from Kalibo by both Cebu Pacific and PAL, while AirAsia is the only airline operating the Kalibo-Kuala Lumpur route. SilkAir and Tigerair, both of which are part of the Singapore Airlines Group, operate Kalibo-Singapore but each with a less than daily schedule.
Caticlan Airport prepares for international operations
Kalibo will likely undergo a reduction in international capacity in 2017 as international services are launched at Caticlan. However, Kalibo should be able to retain at least some of its international routes due to runway limitations at Caticlan.
International flights could be launched at Caticlan after a new terminal opens, but runway length will still be a limitation. The current terminal is too small to support a customs and immigration facility. The new terminal is designed to support international operations as well as providing significantly improved services to domestic passengers, compared with what is available at the tiny, limited facility currently being used. San Miguel is aiming to open the new terminal by early 2018.
The extended runway at Caticlan is 1800m compared to the 950m previously, but approximately 150m of the new runway is currently not useable due to a displaced threshold. For Philippine authorities to deem all 1800m useable San Miguel may need to expand the area around the runway and relocate a road – a project that ultimately may not be pursued.
Based on the current useable runway length A320 operators expect to be limited to flights of approximately two hours or less. Caticlan-Hong Kong and Caticlan-Taipei are likely initial international routes for any, or all, of the three main Philippine carriers – Cebu Pacific, PAL and Philippines AirAsia.
San Miguel may launch Caticlan based airline
San Miguel is also considering establishing its own airline and acquiring aircraft that are capable of operating longer international routes without further extension of the runway. The new airline would be based in Caticlan and focus on international routes of up to four or five hours. The new airline could also potentially compete in the domestic market.
San Miguel has been discussing the 737 MAX 7 with Boeing. Embraer will obviously promote the E190 and Bombardier – the CSeries. Any of these aircraft would give San Miguel's new airline subsidiary a competitive advantage, since they are capable of operating routes from Caticlan to several potentially viable destinations in East Asia that could not be reached with the A320.
However, Philippine authorities should examine the proposed airline from San Miguel closely if the plans proceed to the AOC application stage, given the obvious conflict of interest. San Miguel sold its stake in PAL in 2014 and has since focused on potential airport projects, including in Manila. In most countries owning airports and airlines at the same time is prohibited.
Airport charges at Caticlan increase significantly
Philippine authorities should also re-examine the oversight of Caticlan and other regional airports in the Philippines, some of which are now being considered for privatisation.
While San Miguel won a contract back in 2014 to take over and expand Caticlan Airport, it seems a cap on airport charges was not agreed as part of the concession. Some of the airlines serving Caticlan have expressed their concern with the large increase in charges that San Miguel has implemented since the extended runway opened.
For example, Cebu Pacific's cost per passenger at Caticlan has increased fourfold. In addition to dealing with higher airport fees, Cebu Pacific has been forced to use a San Miguel subsidiary for ground handling. Previously it was able to carry out ground handling itself.
Cebu Pacific has also been notified that it can longer use its joint venture company with SIA Engineering to provide engineering services or line maintenance at Caticlan. Cebu Pacific's costs of operating at the airport will increase further after it is forced to switch to the only engineering supplier authorised by the airport.
Caticlan poised for rapid growth, despite the high charges
An increase in airport costs is to be expected, since San Miguel needs to recoup its investment in extending the runway and building the new terminal. However, airport charges should have been set as part of the initial concession. Airlines of course are free not to use the airport, but walking away is not really a feasible option from a competitive standpoint, given the importance of Boracay as a destination.
Ultimately the upgraded airport at Caticlan should stimulate further growth in domestic and international visitor numbers to Boracay. Cebu Pacific, PAL and Philippines AirAsia will likely continue to add capacity at Caticlan Airport to meet rising demand – even with relatively high airport costs.
The convenience of flying into Caticlan should enable airlines to charger higher fares than Kalibo and essentially pass on the higher fees to customers. However, a new airline from San Miguel is not necessary for Caticlan (or Boracay) to achieve growth, and would distort the playing field.