Cathay Pacific's new routes – Dusseldorf, Zurich, Boston – continue long-haul market expansion
Analysis
During the past decade, Cathay Pacific opened only three long-haul passenger markets that are still served today. But over 18 months in 2014 and 2015, Cathay will open six long-haul markets, with more likely to come. Three of those markets – Doha, Newark and Manchester – have already launched while Zurich opens in Mar-2015, Boston in May-2015 and, the most recent one announced, Dusseldorf, in Sep-2015.
The new long-haul markets bring Cathay's long-haul destination count to 30 and will help it continue to rebalance its network towards long-haul as short-haul flying becomes too competitive. Cathay's long-haul flying accounted for 63% of ASKs in 2006, 58% in 2011 and then a recent low of 55% in 2013. Cathay ended 2014 with 56% of ASKs in long-haul market, and by late 2015 this is due to be around 58%, according to the schedules it has filed.
Cathay has six new long-haul destinations in 2014/2015 compared to three in 2010/2011
Launch date of Cathay Pacific long-haul markets served or planned to be served as of Feb-2015: 2005-2015

In the decade between 2004 and 2014, Cathay opened new markets it has since withdrawn from, including Abu Dhabi (2011-2014) and Jeddah (2009-2014). While Cathay's city count may not be overwhelming compared to Air China's European presence or Korean Air's North American network, Cathay has increased service on numerous long-haul routes.
Cathay has five daily flights to each of London and the New York area and four daily to Los Angeles and Sydney, for example. Whereas other airlines, especially in mainland China, have a tendency to open many routes with limited service (and high start-up costs from having new stations), Cathay prefers to thicken its schedule and extract benefits from its size and scale.
But key markets are at saturation in the short term and becoming more popular, bringing the challenge of over-capacity. For example, all three of the main Chinese carriers now serve New York, while Hainan and Japan Airlines serve Boston, and Gulf carriers are increasing the number of Asia-Europe city pairs. Cathay is being forced to look for new markets it can serve non-stop from Hong Kong (and link with other markets to have one-stop service).
Over-sized 777-300ER growth will need A350 re-calibration
Long-haul growth is likely occurring faster than Cathay would like, with some markets below ideal size and others better suited to smaller widebodies and next-generation aircraft, such as the A350 that Cathay does not receive until 2016 (for the -900 variant to be used mostly to Europe, or 2018 for the -1000 variant to be used to North America).
This period of growth will likely be followed by re-calibration when Cathay can better match aircraft to market size. For now, a long-haul route basically has to be flown by 777-300ERs (747s and A340s are being removed from long-haul service and Cathay has no smaller long-haul aircraft; A330s lack the range). Cathay will take delivery of six 777-300ERs in 2015. From 2016, Cathay shifts to the A350 as it takes 12 A350-900s in 2016 and 10 in 2017, followed by A350-1000s between 2018 and 2020.
After that date (although much can change), 777Xs comprise the long-haul growth. Three of 2015's 777-300ERs were ordered in Dec-2013 following the order for 777Xs.
See related report: Cathay Pacific 777X order ensures prompt re-fleeting while starting 777X sales bonanza in Asia
Cathay Pacific fleet deliveries as of Nov-2014: 2014-2021+

While Cathay is withdrawing its 747s and A340s, there is limited need for new 777s to replace them since the only long-haul A340 routes in 2015 are to Auckland and Moscow and could stay on the A340. Cathay has no regularly scheduled long-haul 747 routes.
Cathay Pacific 747-400 retirement plan as at 31-Oct-2014: 2013-2014
Cathay Pacific A340-300 retirement plan as at 31-Oct-2014: 2015-2017

Long-haul was 58% of Cathay's 2011 capacity, down to 55% in 2013. In 2015 it is 57-58%
The new long-haul routes, and frequency increases on existing routes, will continue a network rebalancing. Cathay's proportion of long-haul capacity decreased in 2012 and 2013. Long-haul demand was weakening while regional Asia demand was strong so Cathay shifted growth focus to regional markets. Additional short-haul growth occurred as Cathay sought to utilise increasingly scarce Hong Kong landing slots. (During this period, many new short-haul destinations were launched, mostly by wholly-owned subsidiary Dragonair.) Further, 747-400s were replaced on long-haul routes with smaller but more efficient 777-300ERs as high fuel prices persisted.
Long-haul markets (Australia/New Zealand, Europe, Middle East, North America and South Africa) accounted for 58% of Cathay's (including Dragonair) ASKs in 2011 but declined to 56% in 2012 and 55% in 2013. Long-haul's share increased to 56% in 2014, and is expected to further rise to 57-58% in 2015, according to Cathay's schedules as filed with OAG.
Cathay Pacific Group ASKs and long-haul share of capacity: 2005-2015F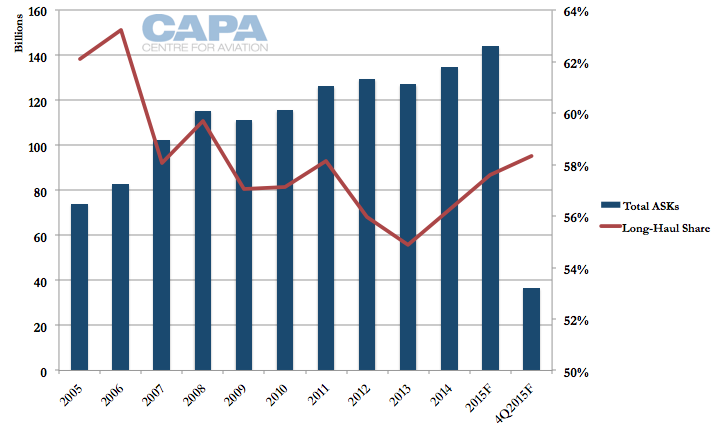 Cathay has lagged behind in Europe - its A350-900s will be key to serving new points
As of Feb-2015, Cathay has passenger service to eight points in Europe (Manchester's addition in Dec-2014 increased this from seven). This compares to 13 European points from Singapore Airlines and 15 from Air China. Zurich and Dusseldorf will bring the total to 10.
Europe in Feb-2015 accounts for approximately 5% of Cathay (including Dragonair's) seats and 15% of ASKs. In 2014, Cathay's North American capacity was 74% larger than its European capacity. In 2005, North America was only 17% larger.
Cathay Pacific Group seats by region: 9-Feb-2015 to 15-Feb-2015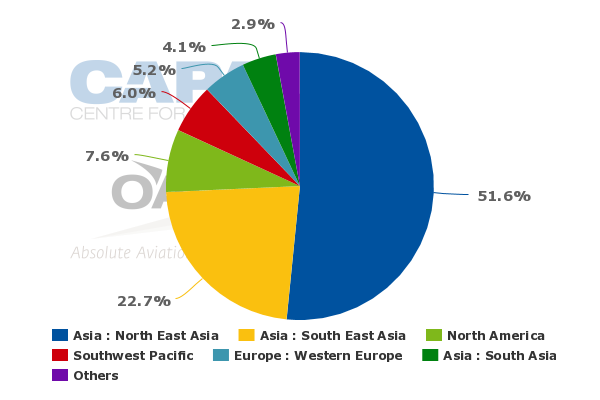 Cathay Pacific Group ASKs by region: 9-Feb-2015 to 15-Feb-2015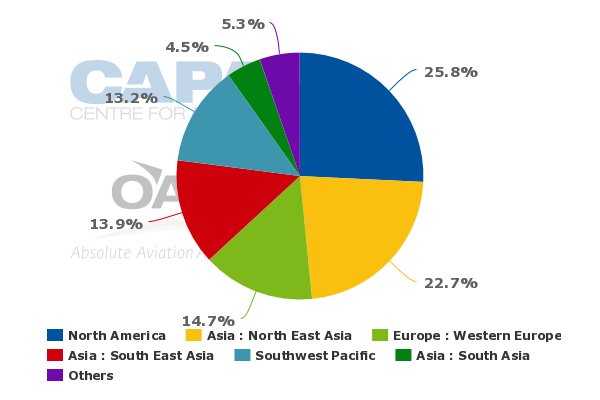 Despite a relatively small number of European destinations, Cathay in Feb-2015 is the fourth largest airline between Europe and North Asia with a 7.2% share of capacity (behind Lufthansa, Air China and Air France), reflecting frequency thickness and large aircraft deployment.
For offline coverage in Europe, Cathay has relied on a codeshare agreement with British Airways over London Heathrow, which Cathay serves five times a day. In 2014 Cathay started a JV with Qatar Airways, the first for the new oneworld member. Cathay took over one of Qatar's two daily Doha-Hong Kong flights and launched codeshares on Qatar's destinations beyond Doha. These onward codeshares include: Athens, Barcelona, Budapest, Copenhagen, Geneva, Istanbul, Madrid, Oslo, Stockholm, Venice, Vienna and Zagreb (and outside Europe, Nairobi), according to OAG data.
See related report: Cathay Pacific and Singapore Airlines cautiously welcome new hubs as Qatar & Turkish enter the fray
Cathay COO Rupert Hogg, in an interview with Airways published in Feb-2015, remarked of Europe: "Offline Europe is much more problematic for us than the six destinations we serve ourselves. So the A350-900s are going to be a very important part of our network building in Europe."
As CAPA previously noted, the A350-900 can open new destinations but also supplement 777-300ER service. For example, the A350 could provide off-peak capacity the way A340-300s have historically for Cathay. It is likely many of Cathay's new long-haul routes will be transitioned to the A350. Many in the industry expected Cathay would not open routes like Manchester without the A350.
See related reports:
Of Cathay's six new long-haul routes (so far), North America is the second-largest market, with service to Newark and Boston. The daily Newark flight launched in 2014 complements four existing JFK services (three non-stops and one via Vancouver). Newark offers a slightly different catchment area and also came online in the wake of Singapore Airlines ending its non-stop Newark-Singapore service.
United Airlines also serves the Hong Kong-Newark route but the two have different focuses: United is carrying passengers from around the US to Hong Kong and Singapore (United connects Hong Kong with Singapore) while Cathay is mainly bringing passengers from the Newark area to Hong Kong and beyond.
Cathay does not have competition to Boston, launching May-2015, but Japan Airlines and Hainan Airlines serve the New England city, both with 787-8s. JAL's service is daily year-round but Hainan's service is daily only in the peak summer season. Cathay will serve Boston four times weekly but Cathay director of corporate development James Barrington told the Boston Herald Cathay could move the service to daily within three to four months depending on the market response.
Cathay has served Boston via connections on partner American Airlines from other US gateways (mostly New York and Chicago). OAG Traffic Analyser data indicates United and Cathay (with American codeshares) have carried about 75% of the Boston-Hong Kong market, which in 2014 was about 70 passengers a day in each direction. Including flights sold by American, Cathay's share is higher than United's. Air Canada and JAL have smaller passenger numbers in the market, followed by an even smaller British Airways, Delta and Emirates.
Boston to North East Asia (seats per week, one way): 19-Sep-2011 to 19-Jul-2015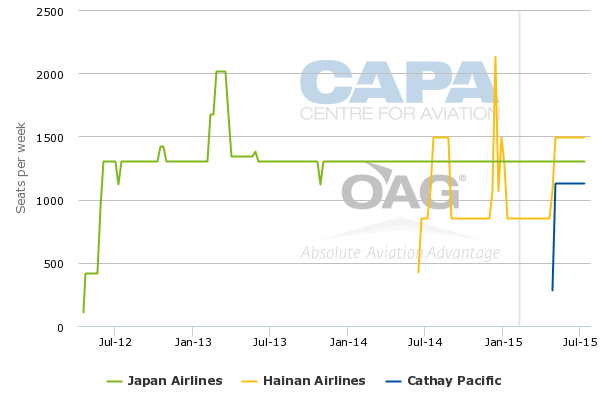 Europe will receive three new destinations: Zurich, Dusseldorf and Manchester
Europe is the target of Cathay's largest destination growth, with three new markets (so far): Zurich, Dusseldorf and Manchester.
Only Zurich has direct competition, with SWISS operating a daily A340-300 flight. (SWISS does not serve Hong Kong from Geneva.) The only other North Asian carrier in Zurich is Korean Air while from Southeast Asia, Singapore Airlines and Thai Airways serve Zurich.
Zurich Airport to North East Asia (seats per week, one way): 19-Sep-2011 to 19-Jul-2015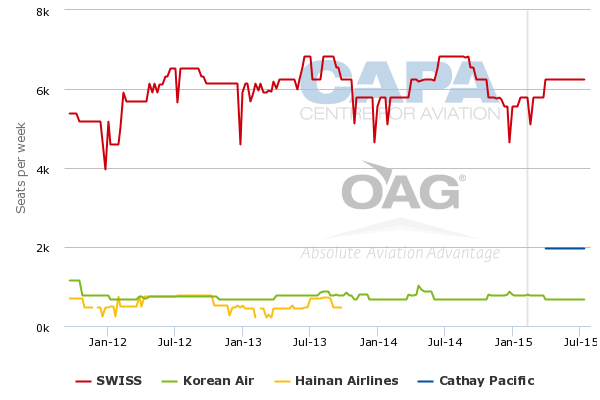 Zurich Airport to Southeast Asia (seats per week, one way): 19-Sep-2011 to 19-Jul-2015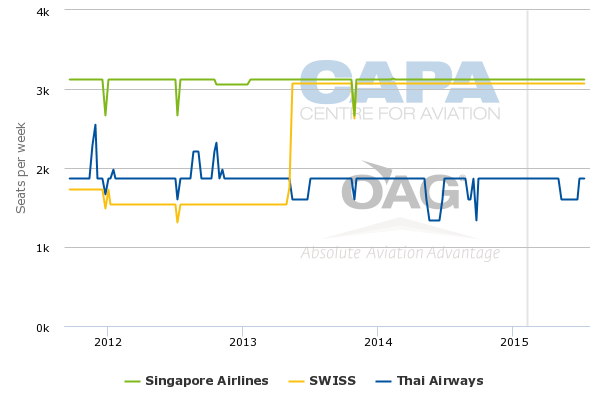 SWISS unsurprisingly was the largest carrier between Hong Kong and Zurich in 2014, although Emirates carried about 24 passengers a day in the market and Singapore Airlines 17. Cathay's daily four-class 777-300ER Zurich service is a resumption, after having suspended Zurich in 2001. But Cathay has maintained a Swiss team, with the offline market achieving greater success than some online markets.
As country manager Germany & Eastern Europe Tony Sham said in CX World: "Despite Switzerland being offline its revenue contribution has been bigger than some countries with online operations."
Since 2001, Cathay has acquired Dragonair, giving it a huge presence in mainland China (which has grown as a market), and has more connections to Australia. Cathay also has premium economy, which SWISS does not. Cathay reckons those contributions, and Switzerland's cargo demand (pharmaceutical, medical technology and watches), can allow it to succeed in Zurich this time.
2. Dusseldorf
Dusseldorf is Cathay's newest announced destination and has prompted questions. Cathay reportedly wanted to commence service last decade but could not secure slots, which are scarce at Dusseldorf. The four times weekly service will be on a four-class 777-300ER including first class. Demand to Hong Kong is limited, forcing a higher reliance on low-yielding connections.
Connecting demand to/from parts of China can be strong due to the steel sector links. ANA in Mar-2014 opened service between Tokyo Narita and Dusseldorf, but with a smaller 787-8 and relying on the strength of a Japanese community in Dusseldorf and the tendency for Japanese individuals or companies to pay a premium for service on a Japanese carrier. ANA will not so much be a competitor but Air China will be, as will Lufthansa, offering connections from various Asian cities to Dusseldorf via Frankfurt or Munich.
Dusseldorf Airport to North East Asia (seats per week, one way): 19-Sep-2011 to 19-Jul-2015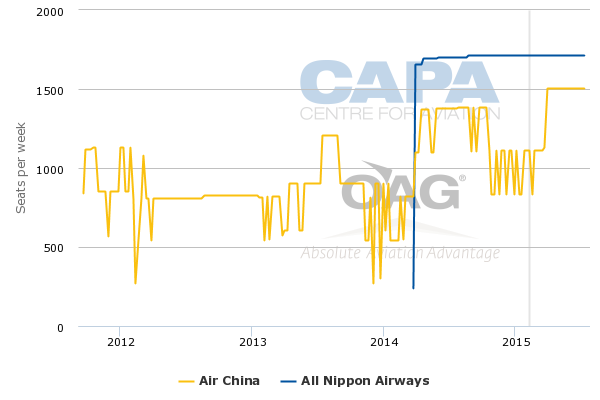 Dusseldorf is the second-largest base for oneworld's airberlin. Cathay offers flights to Dusseldorf via its service to Zurich and then an airberlin interline connection from Zurich to Dusseldorf. This is available both on days Cathay does and does not serve Dusseldorf non-stop. However, Cathay does not plan to codeshare with airberlin.
It says in a statement: "As a founding member of oneworld, Cathay Pacific works closely with other member airlines on various fronts, but there is no plan to codeshare with airberlin at the moment."
airberlin top 10 hubs/bases/stations/focus cities ranked on available seat capacity: 9-Feb-2015 to 15-Feb-2015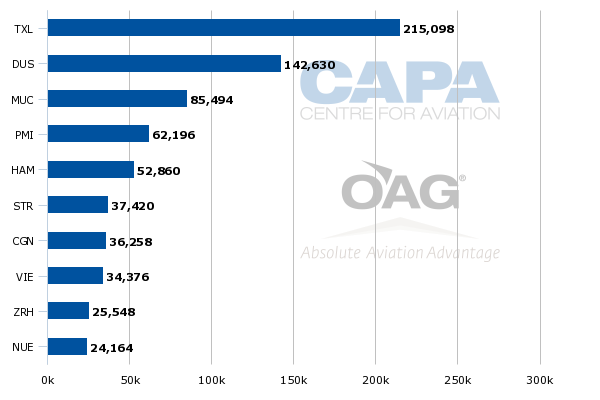 Cathay's Manchester service was reviewed in a previous report. Cathay in Feb-2015 said it would like its four times weekly Manchester service to go daily "as quickly as possible".
See related report: Cathay Pacific launches Manchester, continuing long-haul re-balance and clawing back at Emirates
New routes probably are more the exception than the rule for Cathay
In the short term, Cathay's strong European growth will likely generate over-capacity between Hong Kong and Europe. SAS and Etihad's Hong Kong entry will also contribute to this. In the long term, this period will probably be one of Cathay's busier times for expansion into entirely new markets. It is already the biggest in over a decade, and it may not be over yet.
Cathay's long-haul exposure will also grow as it replaces all of premium economy with a greater number of economy seats to the Middle East and South Asia while Australian routes will have a slight reduction of premium economy in favour of more economy seats. Long-haul's share could be further increased if there is a decrease in short-haul flying. (Prior to 2010, Cathay grouped medium-haul India (and surrounds) with Southeast Asia. India's share of ASKs decreased from 9.4% in 2010 to 7.9% in 2014. The aircraft re-configuration will boost ASKs since more seats are added.)
Long-haul growth will help Cathay re-balance from the competitive short-haul market. But this only delays to another, more painful, day Cathay's need to address an increasingly competitive short-haul space. And there is no guarantee long-haul will be insulated as competitors, especially mainland Chinese airlines, grow. Some of their routes will be logical and others simply challenging, but nonetheless all are competition.
Cathay can be expected to stick to its policy of entering and dominating a market, leaving smaller markets to others. This has served it well so far – but in an environment of stagnation. Peers are quickly catching up on service and network.
As the industry speculates Cathay is considering a sixth daily London flight, there does not appear to be any sign of a significant strategy change. As Mr Hogg said to Airways: "Even with five daily flights on some trunk routes, we don't think we have hit the limit yet. And we have lots of places where we are not at five daily flights yet, but might be in the future."