CAPA unveils comprehensive Airport Data suite - Capex, Charges, Investors, Traffic and more
Press Release
CAPA has introduced a premium online data and intelligence collection on the global airport sector. The CAPA Airports Data suite, for the first time, provides users interactive and constantly updated sets of data covering Airport Charges, Airport Construction and Capex, Airport Investors and Privatisation. This unique collection of data on the world's airports will offer subscribers unrivalled convenience in obtaining useful competitor insights and appraising business opportunities.
The new data tools are already supporting decision makers at companies worldwide. These include airports, airlines, airport construction firms, airport architects, airport equipment suppliers, airport investors and financiers, government and regulatory agencies, advisory and consultant firms and other organisations with an interest in the financial, development, investment and commercial aspects of the world's airports.

Peter Harbison, Executive Chairman of CAPA, said, "This is a very good day for the global airport sector. Never before has so much rich and useful data on the world's airports been assembled in one place. We're delighted to make this unique offering available to our industry and we look forward to continuing to develop new and useful data and intelligence tools for our industry".
The suite of new data tools features:
1. Airport Charges & Benchmark
CAPA, in partnership with the Air Transport Research Society (ATRS) is offering a unique global index of charges at 200 of the world's busiest airports for different types of aircraft, with different aircraft weight classes, covering landing, terminal, check-in and baggage charges. The data is collected by the Air Transport Research Society and provided exclusively in an online format to CAPA.
Prof. Tae Oum, Coordinator of the ATRS Global Airport Performance Benchmarking Task Force, said, "we are very much pleased to initiate our airport user charges data in an online format in cooperation with CAPA. This is the first phase of our cooperation and we look forward to developing more CAPA-ATRS airport data services in the near future."
Landing Charges (USD) for Barcelona El Prat Airport, Madrid Barajas Airport, Paris Charles De Gaulle Airport for 2013
2. Airport Investors, Ownership and Privatisation
The second pillar of the CAPA Airport Data suite is the recently completed and fully updated Global Airport Investors database.
CAPA is constantly tracking and recording the past, present and future investments of approximately 480 airport investors around the world, which is now available in an exclusive online and interactive database, providing much-needed insight into the complex world of airport ownership, privatisation and investment.
There is nothing like this available elsewhere on the market.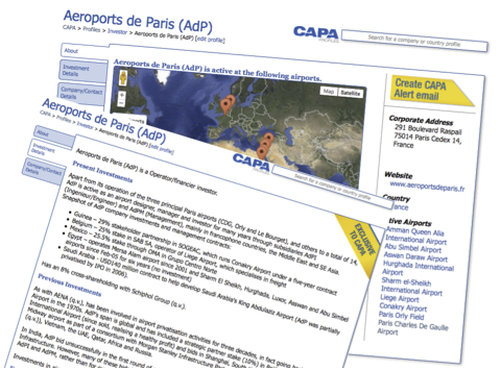 3. Airport Construction & Development Projects
CAPA is constantly tracking and updating the records of hundreds of airport construction and development projects around the world. A handy summary of global airport construction activity by region provides a real-time summary of the hot spots of airport development activity.
Total Airport Construction activity by region (USD) as of (Aug-2013)
Users may browse Airport Construction and Development projects by airport, country or region. Below are the entries for Cambodia's airports.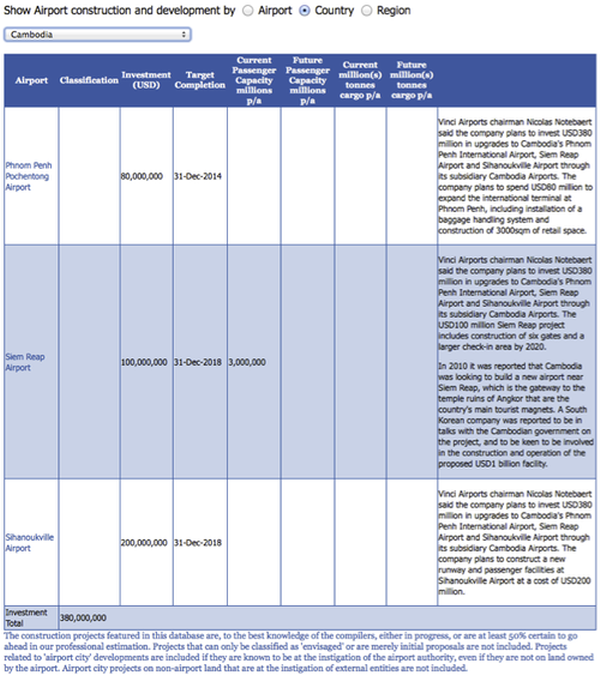 4. Airport Profiles
The next feature of the CAPA Airport Data suite provides a window into the operational and commercial aspects of every airport on the planet.
CAPA retains profiles on over 4,200 airports worldwide, with comprehensive data on schedules, traffic, published fares, capacity/schedule analysis data, contacts, route maps – as well as all strategic/commercial news (distributed to CAPA Members by customised daily CAPA Alerts) and indepth analysis from our global team of Senior Analysts.
The airport profiles also feature CAPA's exclusive 'Print Summaries' option that loads all the need-to-know information and data about an airport into a handy summary that may be exported to PDF or word to be printed or loaded into a tablet or mobile device. They are perfect for internal or external meetings and dramatically reduce preparation time and multiple sourcing of information.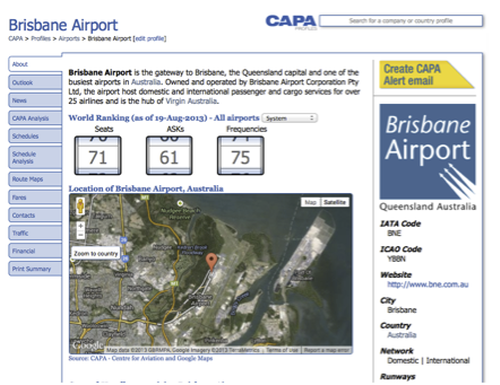 5. Airport Traffic Database
CAPA's new Airports Data suite also features monthly and annual traffic data (total passengers, cargo and aircraft movements) for just under 1,000 airports worldwide. Constantly updated and with handy cross-comparison tools, this is the most powerful airport traffic database available on the market.
Annual traffic comparison for Dubai International Airport, Doha International Airport, Abu Dhabi International Airport from Aug-11 to Aug-13
Traffic comparison for Dubai International Airport, Doha International Airport, Abu Dhabi International Airport from Aug-11 to Aug-13
6. Airport Contacts
CAPA has teamed up with Gooey Worldwide to provide executive contact details at thousands of airports worldwide, all conveniently located in a look-up tool on the CAPA site.
Hong Kong International Airport contacts courtesy of Gooey
7. Airport Route Capacity Analysis
CAPA also provides very useful Airport and Route capacity analytics. Users can look up any route pair worldwide and view the total capacity stretching back a few years and for six weeks into the future. Schedules data is supplied by Innovata and is updated weekly and combined with CAPA's aircraft configuration data to produce the Route Analyser tool.
For example, it's a very useful tool for investigating the impact of new or expanded air services on markets. The tool also offers flexibility to cut the data by country or region.
New York John F Kennedy International Airport to Kingston Norman Manley International Airport (seats per week, one way, 19-Sep-2011 to 9-Feb-2014): Route Total
8. Airport Rankings
CAPA also provides up-to-date global rankings of Airports (and Routes and more), by teaming global airline schedules with CAPA's own aircraft configuration data to give accurate total seat or ASK counts by airport. This is a great help when assessing the size of various airports, for business development purposes or for conducting competitor analysis.
Top 100 airports, ranked by Seats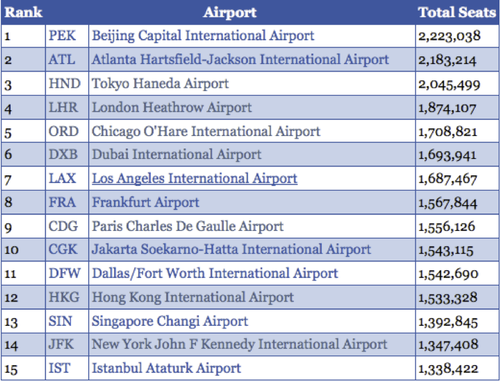 The most comprehensive Airport Data tools ever!
CAPA's new Airport Data tools deliver unrivalled insights, accuracy and convenience.
All the modules can be purchased separately on top of the CAPA Membership service, so request a Free Trial today – and get started!