CAPA Iran Aviation Summit opens in Tehran – huge opportunities ahead, with some challenges
Analysis
The CAPA Iran Aviation Summit – the first international business event in Iran in any sector of the economy since the lifting of international sanctions – opened in Tehran today with 400 delegates and media in attendance. The Summit was inaugurated by the Minister of Roads & Urban Development, Dr. Abbas Akhoundi, Government of Iran.
The summit brings together senior Iranian government and aviation officials and international guests from leading aviation and travel organisations to explore the prospects for market development in the post-sanctions environment in Iran.
Peter Harbison, CAPA's Executive Chairman, said, "The aviation market potential in Iran is immense due to the pent up demand after decades of sanctions. We are honoured to have been part of this landmark international event and wish to thank Iran Airports Company and the Iran Civil Aviation Organization for their invaluable support".
According to CAPA research, the size of Iran's economy, on a PPP basis, sits somewhere between that of Turkey and Australia whose commercial airline fleets range between 500-600 aircraft.
In sharp contrast, Iran's airline industry is understood to have an operational commercial fleet of just 135 aircraft, with one of the highest average ages in the world. A further 80 aircraft are grounded due to the impact of sanctions on the ability to maintain their airworthiness.
In theory the economic fundamentals in Iran should support the ability to absorb 300 aircraft over the next five years, but it is another question as to whether that is feasible in practice will depend on Iran's vision and the obstacles to achieving it. Such a rate of growth would place immense pressure on airport and airspace infrastructure as well as management and technical skills, even in mature markets.
"Rapid growth will not come without challenges", said Mr Harbison. "This is especially the case as Iran's aviation eco-system will need to adapt to a generational leap forward in aircraft technology and develop aviation skills and competencies. The opportunities for the people of Iran, its aviation sector and for global suppliers however are very exciting", he concluded.
About the CAPA Iran Aviation Summit
Following the announcement in Vienna on 16-Jan that nuclear-related sanctions against Iran have been lifted, the CAPA Iran Aviation Summit is the first international gathering of business leaders in post-sanctions Iran in any sector.
The Iranian delegation comprised some 160 senior officials from the national airport, airline, travel and transportation industries including government ministers and leaders. The foreign delegation of over 160 attendees were drawn from 35 countries.
CAPA Iran Aviation Summit Attendees by country (%)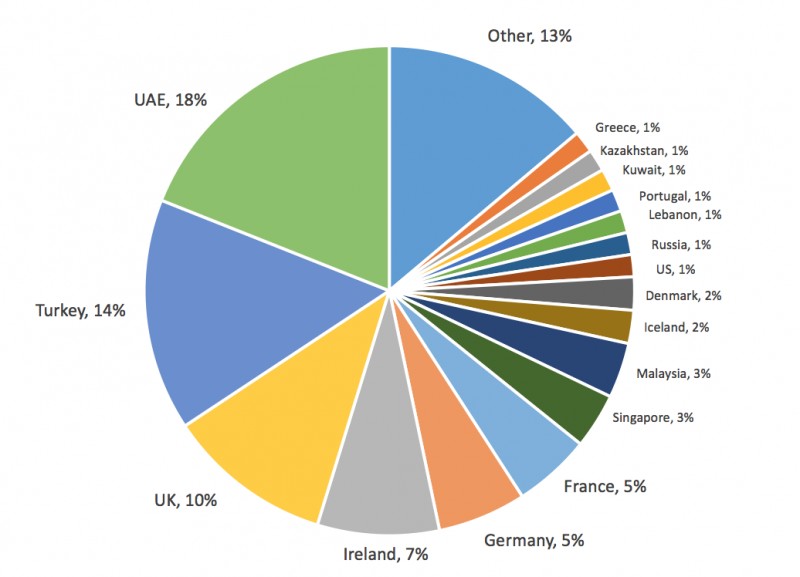 About CAPA
Established for over 25 years, CAPA delivers market analysis and data that support strategic decision making at many of the world's most recognised organisations. CAPA Membership provides access to the premium news, analysis and data services.
CAPA also organises leading aviation and travel summits around the world. Global aviation Summits will be held this year in Tehran, Mumbai, Singapore, Dublin, Las Vegas, Brisbane, Tokyo, Cartagena and Amsterdam. Corporate Travel events will be held in Sydney, Brisbane, Melbourne, Auckland, Adelaide, Perth and Singapore.