Business models diverge at long-time archrivals Cathay and Singapore Airlines
Analysis
Cathay Pacific Airways sees enough growth in the top end of the market to stick entirely with the traditional full-service model and will not be persuaded to follow some of its biggest rivals in establishing a low-cost carrier subsidiary.
Speaking to the National Aviation Press Club in Sydney this week, new Cathay CEO John Slosar said he "doesn't fully understand the goals" of the planned new long-haul low-cost subsidiary at Singapore Airlines (SIA). He says Cathay doesn't see a need to establish a new brand and plans to instead grow its network and traffic "through the Cathay brand".
Unlike SIA, Mr Slosar points out Cathay's traffic, including premium traffic, has already fully recovered to pre-global recession levels. He sees Cathay in a unique position to be able to continue to rapidly grow its premium business. Demand for premium travel to and from Hong Kong has been particularly robust as Hong Kong has emerged as the biggest equity market in the world while premium demand from neighbouring China is expected to take off.
SIA has seen its passenger traffic drop in recent years, prompting it to rethink its previous strategy of focussing entirely on the top end of the market. The SIA Group including regional carrier SilkAir transported 19.3 million passengers in 2010, a 1% drop compared with the 19.6 million passengers transported by the group in 2006. Over the same period, the combined traffic at Cathay and Dragonair has increased 21% from 22.1 million passengers in 2006 to 26.8 million passengers in 2010.
Cathay/Dragonair passenger numbers vs Singapore Airlines/SilkAir passenger numbers: 2005 to 2010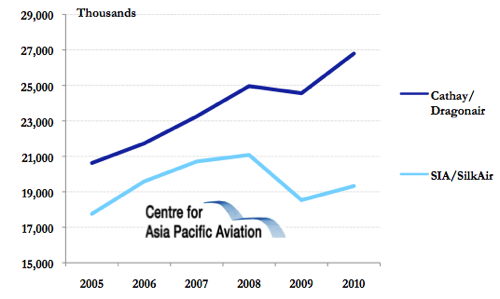 Mr Slosar took over as Cathay's CEO two months ago from Tony Tyler, who is now preparing to assume the top post at IATA. But unlike the recent CEO transition at SIA, do not expect the change of management at Cathay to result in any strategy shift.
For Cathay, the need to change is simply not as pressing. While SIA has been struggling to grow its business under its traditional premium-focussed model, Cathay has been quickly able to resume growing its premium business after a temporary setback during the global downturn. If SIA wants to again overtake Cathay as a larger airline group (in terms of total passengers, the SIA-SilkAir combination were bigger in the early portions of last decade than the pre-merger combination of Cathay and Dragonair) it has to diversify and take the risk of assuming a new business model.
See related story: SIA's long-haul low-cost subsidiary strategy to restore growth after a lost decade
Retaining its focus on the premium end of the market allows Cathay to continue spending all of its capital expenditure on its original business model. Cathay is now investing significantly in new business-class cabins and upgrading its lounges at its Hong Kong hub.
The battle for the best business class seat
Mr Slosar believes the new business-class seats introduced by Cathay over the past few months on some of its A330s and B777-300ERs will be an "industry setter". He says the initial response to the new seat, which has already been introduced on some A330-300 flights to Sydney and some 777-300ER flights to New York, has been very positive. All of Cathay's A330-300s and B777-300ERs will be outfitted with the new seat by early 2013.
Although SIA will need to funnel a significant amount of funds into launching its new long-haul low-cost carrier, it is not about to let its premium product suffer. SIA is generally considered the industry trendsetter when it comes to long-haul premium products and SIA is now planning yet another new generation of business-class seats for its future fleet of A350s and B787s.
Contrary to Cathay's aim to leapfrog over SIA in the battle for the best business-class seat, SIA sees Cathay's move to replace its current long-haul herring-bone business-class seat, which was only introduced four years ago but proved to be unpopular with frequent flyers, as more of a response to its more successful seat that was first introduced on B777-300ER at the end of 2006. SIA's current long-haul class seat, which is also featured on the carrier's A380s, is still wider than Cathay's new seat although Mr Slosar believes Cathay's design is better for side-sleepers and the carrier has found the "sweet spot" between privacy and space.
The reality is both SIA and Cathay long-haul premium products are once again at or near the top of the industry and the bigger differentiator is the strength of their networks. Given the very rapid growth of the Hong Kong and Chinese markets, Cathay seems to be developing the edge in this respect although SIA also has a very strong local market in Singapore. Mr Slosar points out the economic growth in China is fuelling not only a huge increase in economy class travel as a larger sector of the population now has the means to travel by air but also more Chinese are becoming wealthy enough to afford to travel in premium cabins.
Cathay expanding rapidly in mainland China while SIA is shrinking
Both SIA and Cathay have an edge over mainland Chinese carriers in tapping this growth at the top end of the Chinese market as their products are viewed as far superior by China's growing upper class. But in terms of capacity, Cathay has a much bigger offering.
Cathay and Dragonair have almost 80,000 seats per week out of China. Dragonair, which operates to 17 destinations in mainland China, accounts for the most of the company's Chinese capacity. Cathay and Dragonair merged in 2006.
In comparison, SIA and SilkAir combined have only about 21,000 seats per week out of China. The SIA Group has reduced its capacity from mainland China over the last five years by 8% while Cathay/Dragonair capacity from China has increased 21% over this period.
SIA Group vs Cathay Group seats per week from China: June-2006 to Jun-2011
Jun-06
Jun-07
Jun-08
Jun-09
Jun-10
Jun-11
% Change
Jun-06 to Jun-2011
Cathay Group
64,433
66,425
72,390
62,917
71,232
77,624
20.5%
SIA Group
22,492
23,396
23,822
19,712
20,240
20,746
-7.8%
International capacity from China by carrier (seats per week) - Jun-2006 to Jun-2011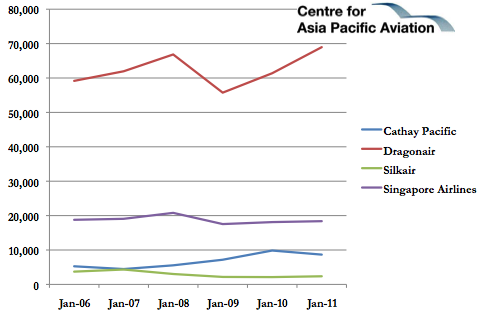 China to Hong Kong capacity by carrier (seats per week): 23-May-2011 to 20-Nov-2011
China%20to%20HK.png" alt="" width="636" height="406" />
China to Singapore capacity by carrier (seats per week): 23-May-2011 to 20-Nov-2011
China%20to%20Singapore.png" alt="" width="638" height="410" />
SIA's positioning in the increasingly important premium Chinese market is also weakened by the fact almost none of its flights to China are operated with B777-300ERs or A380s, which are the only aircraft in the carrier's fleet with lie-flat business-class seats. Cathay and Dragonair also primarily offer a regional business-class product on its flights to China but Cathay's Chinese flights are significantly shorter.
In many connecting markets out of mainland China, SIA is also increasingly competing for premium business against Middle Eastern carriers, which unlike SIA and Cathay generally offer a full lie-flat seat on their Chinese flights. Emirates now has almost 13,000 seats per week out of China and has increased its capacity out of China by 354% since Jun-2006.
Qatar Airways now has 6000 seats per week out of China, a 217% increase over Jun-2006. Etihad only launched services to China in 2008 and now has 2000 seats per week in the market. Turkish Airways also has been growing its Chinese operation fast and now has 5000 seats per week from China, a 214% increase compared with Jun-2006.
Combined, Emirates, Qatar, Etihad and Turkish now have 3% of the international market out of China, compared to only 1% five years ago. Over this period SIA Group has seen its share of the market drop from 3.5% to 2.3%. Cathay/Dragonair also has seen its share drop from 9.9% to 8.8% as the total market has expanded by 36%, outpacing the 21% expansion by Cathay/Dragonair.
Capacity shares (%) from China: Jun-2006 to Jun-2011
Bullish on its ability to exploit the fast-growing Chinese market, Cathay is also expanding at a significantly faster clip. Cathay plans to grow capacity by about 11% this year compared with 6% at SIA. While SIA has 48 new widebodies on order, according to Ascend data, Cathay has 88 widebodies on order.
Singapore Airlines current fleet in service and on order
Cathay Pacific current fleet in service and on order
Mr Slosar hints of more orders, saying "we may not be finished yet". But he insists that for now Cathay has decided not to follow SIA in acquiring A380s.
Cathay to rethink A380s and 747-8s
In recent years Cathay has conducted several studies of new jumbo jets, including the A380 and B747-8, but Mr Slosar says Cathay prefers to stick with twin-engine widebody aircraft because it "really wants to offer a good schedule". He cites specifically two of Cathay's biggest markets, Hong Kong and Sydney, where the carrier now offers four daily flights and says Cathay's schedule really helps its premium business as its frequent flyers know there is always a flight when they need one.
Looming capacity constraints at Hong Kong, however, could persuade Cathay to re-evaluate its requirement for widebody aircraft over the next few years. Hong Kong International Airport is now projected to reach capacity within the next seven to nine years. Community discussion of a third runway will begin this year. If the airport does not get the green light to construct the third runway, Cathay would need larger capacity aircraft to better utilise its existing slots. Mr Slosar acknowledges that in a couple of years Cathay will have "another look at the 747-8s and A380s".
Cathay is also continuing to look at introducing a premium economy product. Mr Slosar believes premium economy has become more than a niche product for select long-haul routes and expects it to continue becoming more widespread. He says Cathay takes the premium economy trend "very seriously" and is prepared to respond. "We've been looking at it long and hard," Mr Slosar says. "We see the industry going that way."
While Cathay continues to focus on improving its overall premium offering, Mr Slosar believes the carrier can remain competitive at the lower end of the market without investing in a low-cost subsidiary. He says Cathay is already competing effectively against low-cost carriers in several markets, including Hong-Singapore and Hong-Kuala Lumpur. Mr Slosar believes passengers understand the value Cathay brings and realise the difference in cost is not much when all the extra charges are considered, but acknowledges "in economy class you need pretty sharp fares".