Brussels Airlines to benefit from changed EU law that levels playing field for airlines
Analysis
Brussels Airlines will benefit from ongoing European Union legal changes that it argues will level the playing field for nationally based legacy carriers compared to European-wide low-cost carriers which establish outside their home bases. Under previous legislation, airline employees were subject to taxes and social security rules of their company's home, and not their operating base. That meant, for example, that Ryanair staff in Belgium paid lower taxes and had a competitive advantage against Brussels Airlines staff even though living in the same country.
This disadvantage was pushed into the limelight recently by what Brussels Airlines deems was misinterpretation by the foreign press that the airline would move headquarters to a more favourable labour location like Luxembourg. The airline affirms it has no intention to move its staff or headquarters. Brussels Airlines will continue to call its namesake city home.
Cost disadvantages spotlighted in Belgium
Brussels Airlines had generated interest when it compared salary differences between Belgium and other European countries. The difference between gross and net salary in Belgium can be upwards of 60%, whereas it is only 30% in other European countries. Brussels Airlines raised these inequalities to stmulate public awareness – and ultimately pressure government to reverse the situation.
That was partially achieved on 18-Apr-2012 when the European Parliament voted that pilots and cabin crew would be subject to social security of the country they lived in and not the country their airline is based in. But still unresolved are different tax protocols, among other legal issues where LCCs are perceived as being advantaged.
Ryanair has condemned the change, saying it will increase its costs and reduce competitiveness – and its bargaining advantage – between EU states. Ryanair previously closed a Marseille base over similar tax and other payment disputes.
The change in legislation, and any future changes, will deliver some added comfort for Brussels Airlines as it sees its short haul market share increasingly threatened by LCCs while its fleet modernisation will result in reduced European capacity.
Ryanair operates from Brussels' secondary airport, Brussels South Charleroi, so has less than completely direct competition with Brussels Airlines. However, when the area overall is considered, there are considerable overlaps in the airlines' networks. In total the carriers compete on 22 routes.
Brussels Airlines and Ryanair overlapping routes from Brussels: 16-Apr-2012 to 22-Apr-2012
| Route | Brussels Airlines Frequency | Ryanair Frequency |
| --- | --- | --- |
| Agadir Al Massira | Weekly | Twice weekly |
| | 26 times weekly | 21 times weekly |
| Bologna Guglielmo Marconi | 22 times weekly | Nine times weekly |
| Budapest Ferenc Liszt | 18 times weekly | 13 times weekly |
| | Four times weekly | Four times weekly |
| | 18 times weekly | Three times weekly |
| Krakow John Paul II Balice | Three times weekly | Six times weekly |
| | Weekly (from 21-May-2012) | Twice weekly |
| | 19 times weekly | 19 times weekly |
| | 14 times weekly | Four times weekly |
| | 24 times weekly | 13 times weekly |
| Marrakech Menara | Weekly | Three times weekly |
| | 19 times weekly | Five times weekly |
| | 11 times weekly | 21 times weekly |
| Oslo/Oslo Moss Rygge | 13 times weekly | Seven times weekly |
| | Seven times weekly | Seven times weekly |
| | 18 times weekly | 17 times weekly |
| Sevilla | Weekly (ending 22-Apr-2012) | Six times weekly |
| | 22 times weekly | Four times weekly |
| | 11 times weekly | Four times weekly |
| | 14 times weekly | 16 times weekly |
Brussels Airlines' lower frequency on some of these routes is aggravated by operating lower capacity aircraft than Ryanair. Even on some routes where Ryanair offers less frequency, it consequently still offers more seat capacity than Brussels Airlines. According to Innovata, Brussels Airlines' A319s are configured with 132 seats, A320s are configured with 168 seats, Avro RJ85s are configured with 82 seats, Avro RJ100s are configured with 97 seats. Ryanair's Boeing 737-800s are configured with 189 seats.
Overall, Brussels Airlines and Ryanair offer very similar capacity each week between Belgium and the rest of Europe. Brussels Airlines' long-haul network adds an additional approximately 20,000 weekly seats.
Top 10 airlines between Belgium and Europe (seats per week): 16-Apr-2012 to 22-Apr-2012
Rank

Airline

Total Seats

1

161,648

2

139,671

3

29,948

4

26,700

5

20,904

6

12,838

7

11,406

8

10,748

9

10,440

10

10,280
Ryanair route network from Brussels South Charleroi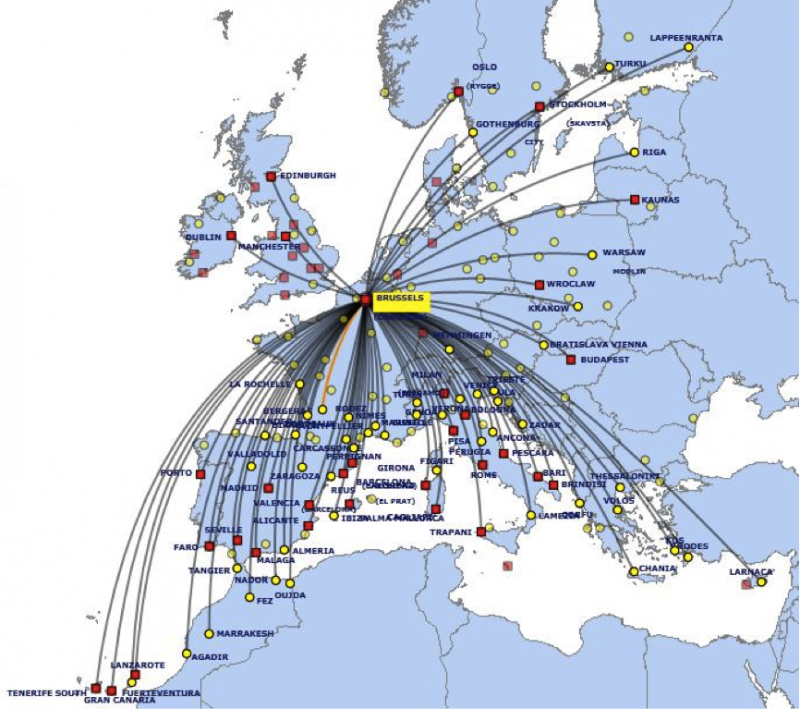 Brussels Airlines' main focus is on African long haul while reducing its short haul network

Based at Brussels Airport, Brussels Airlines is currently simplifying and modernising its short haul fleet with the removal of 737-300/400s and Avro RJ aircraft in favour of A319s and A320s. The airline expects its short haul fleet to reduce by up to six aircraft in 2012.
Recently Brussels Airlines' winter 2012/2013 schedule showed at least six routes are to be cut, including those to Athens, Catania, Faro, Florence, Naples and Porto. Of these, the airline faces direct competition from Aegean Airlines on Brussels-Athens; Jetairfly on services to Catania, Faro and Naples; and TAP Portugal on Brussels-Porto. Ryanair competes with Brussels Airlines on Faro and Porto.
As Brussels Airlines CEO Bernard Gustin told CAPA late last year, "We need to invest where we are strong – which is long-haul in Africa – and we need to reduce a little bit in Europe because of the low-cost competition."
See related article: Brussels Airlines to further expand in Africa and launch New York but cut back in Europe
Africa holds large potential for Brussels Airlines due to it being an emerging market with limited competition. From Apr-2012 the airline planned to increase frequency to Yaounde and Douala (Cameroon) by four times weekly each while it would also add a third weekly frequency to Brussels-Bujumbura (Burundi). Service to Kinshasha (Democratic Republic of the Congo) increased to six times weekly and service to Nairobi (Kenya) increased by one weekly frequency. Brussels-Abidjan (Côte d'Ivoire) was also to increase from Apr-2012. In summer 2012 frequency to Kigali (Rwanda) and Entebbe (Uganda) will increase.
Along with these frequency increases, Brussels Airlines plans to operate its new in-flight product on its African services which features its new lie-flat business class seating and improved economy seating and entertainment. In Jun-2012 it will open a New York route and hopes to capture traffic going from the US to Africa.
Brussels Airlines' African focus is not only on its own network, but also on that of its new start up joint venture in Africa, Korongo Airlines. Launched on 16-Apr-2012, Korongo Airlines is a joint venture between Brussels Airlines and Forrest International Group, based in the Democratic Republic of the Congo. The carrier will initially operate Kinshasa-Lubumbashi service before adding other domestic destinations including Bukavu, Kisangani and Mbuji Maji. International route plans include Luanda, Johannesburg, Kigali and Bujumbura.
See related article: Brussels Airlines to further expand in Africa and launch New York but cut back in Europe
Brussels Airlines reflects the dilemma of many other European full-service carriers in that it has a successful long-haul network – and in Brussels' case, with little competition – but faces challenges on its short-haul network. It is responding by cutting capacity and modernising its fleet. Like with other carriers, it has to find a balance between losses and and cutting so much that it loses feed for its long-haul services.
At least the recent EU measures will reduce the Belgian flag carrier disadvantage against Ryanair as employee claims are achieved, a welcome move for it and other carriers.