Brazilian airline Gol's fortunes are inextricably tied to and mired in Brazil's weakening conditions
Analysis
Brazilian airline Gol continues to battle the deteriorating conditions in its home market driven by high inflation and record currency devaluation. Unlike most Latin America airlines, Gol has a much larger exposure to the domestic market and the demand fluctuations created by the macroeconomic pressure in Brazil.

Given the conditions in Brazil, Gol has revised its planned capacity targets downward in the domestic market for 2015, but at a lower rate than rival TAM, part of the LATAM Airlines Group. Gol reasons that its rival is catching up after Gol undertook a significant capacity reduction in late 2012. However, Gol cites some fleet flexibility if market conditions dictate a further capacity reduction.

Gol for the last couple of years has been working to strengthen its balance sheet as the BRL has devalued significantly against the USD. It recently brokered a financing deal with Delta, which upped its equity stake in Gol. But currency devaluation is pressuring Gol's leverage position, diluting some of the balance sheet clean-up it has undertaken during one of the most challenging periods in Brazilian aviation.
Gol's yields deteriorate as Brazilian domestic capacity expands in 1H2015
An inflation rate of more than 9%, and a roughly 38% devaluation of the BRL against the USD in 2Q2015 helped to drive Gol's yields down 17% for 2Q2015 and 12.6% in 1H2015. Passenger unit revenues fell 15.2% in 2Q2015 and 10.5% for 1H2015.

Gol's total revenues fell by 10.5% in 2Q2015 to BRL2.1 billion (USD605 million). The decline was offset by 13% growth in ancillary revenue, and company executives recently estimated that ancillary revenues represented approximately 13% of Gol's total revenues in 2Q2015.

Gol seemed to maintain reasonable capacity growth in 1H2015, increasing supply by 3.1%, with 2.1% growth in the Brazilian domestic market and an 11% increase in international markets. Data from Brazilian regulator ANAC show that capacity in the domestic market grew 3% year-on-year in 1H2015 and traffic increased 4%. In the year prior capacity notched up just 0.16% and traffic grew 7%.

TAM's domestic capacity remained flat year-on-year during 1H2015 and Gol's supply expanded 2.1%. Azul grew its capacity by nearly 5% and Avianca Brazil recorded a 16% rise in capacity.

TAM's market share slid from 38.1% to 36.7% year-on-year while Gol maintained its 36% market share. Azul's market share was relatively flat at 17% and Avianca Brazil notched its share up from 8.2% to 9%.
Brazil domestic market share by airline (% of RPKs): 1H2015 vs 1H2014
Gol defends its smaller capacity reduction versus TAM, pointing to deeper cuts in the past
Brazil's two major airlines TAM and Gol have decided to reduce domestic capacity in 2015 from previous growth targets. TAM now plans a 2% to 4% decrease versus flat growth, with an 8% to 10% decline in 4Q2015. Gol now plans flat growth to a decrease of 1% compared with previous targets of flat growth. The airline is forecasting a capacity decline of 2% to 4% in 2H2015.

Gol's capacity reductions for CY2015 are less pronounced than TAM, but Gol maintains that it started a capacity cutting programme earlier than its main rival. Between 2011 and 2014 Gol estimates that it cut supply by 14% as industry supply increased 2% over that time, largely driven by huge increases by Azul and Avianca Brazil.
Gol's capacity decreases versus the Brazilian domestic industry: 2011 to 2014

Although Azul's capacity growth of nearly 5% in 1H2015 was a significant drop from the 44% recorded the year prior and Avianca Brazil's supply growth slowed to 17% from 23%, it is not likely either airline will actually decrease their domestic supply in 2015. Avianca Brazil has reportedly stated it will grow capacity by 15% in 2015 as it replaces Fokker aircraft with higher density Airbus narrowbodies. Each airline is still in a growth phase, working to maintain and expand market share, so Azul and Avianca Brazil at this point are likely willing to trade in yields to grow their market presence.

Azul's and Avianca Brazil's continued growth in the Brazilian domestic market will pressure both Gol and TAM, but Gol could feel more pressure given its larger exposure to the domestic market. Data from CAPA and OAG for the week of 17-Aug-2015 to 23-Aug-2015 show that 94% of Gol's seats and 86.5% of its ASMs are deployed into the Brazilian domestic market.
Gol international vs domestic capacity (% of seats): 17-Aug-2015 to 23-Aug-2015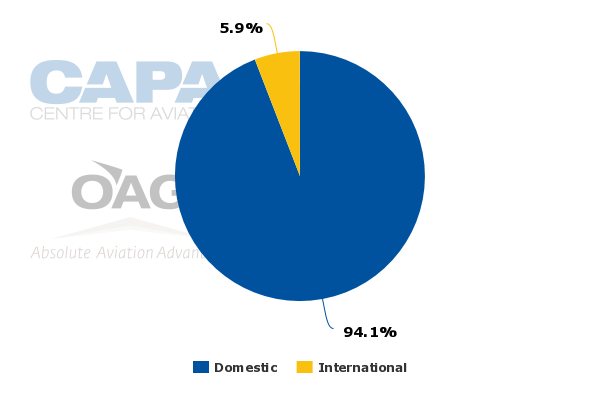 Gol international vs domestic capacity (% of ASMs): 17-Aug-2015 to 23-Aug-2015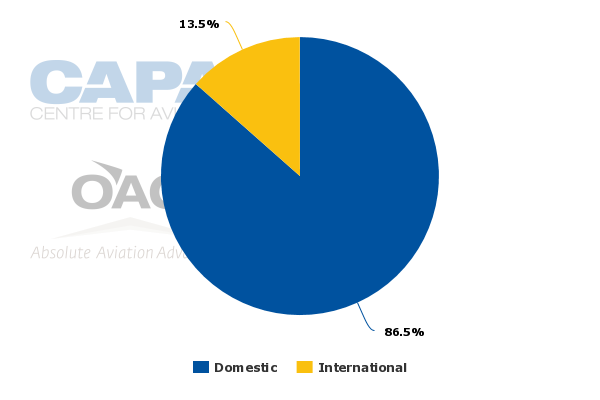 Gol indicates some available fleet flexibility if further capacity cuts are necessary
Gol plans to carry out its planned domestic capacity reductions in 2H2015 through frequency reductions rather than eliminating markets. The airline is also indicating various methods of fleet flexibility if conditions within the Brazilian market worsen.

At the end of 2Q2015, Gol was operating 134 Boeing 737 Next Generation aircraft out of a total of 142. One narrowbody was being returned to its lessor and seven were sub-leased to European airlines. The airline stated it has 127 firm orders with Boeing through 2026.
Gol operating fleet as of end of 2Q2015

In addition to possibly reworking future aircraft deliveries, Gol also sees an opportunity to potentially engage in more subleases to European operators during the low season in Brazil. The airline also outlined that it has 97 aircraft under operating leases and 45 under financial leases, 40 of which have a purchase option when their leasing contracts expire.

Few airlines operating in the Americas have outlined their capacity plans for 2016, but its does not appear that Brazil's economy will undergo a huge turnaround; in fact, some projections indicate a second consecutive year of economic contraction for the country. Given that outlook, it is safe to assume that Gol could (or should) keep its capacity flat for 2016.
Currency devaluation hurt Gol's progress in lowering leverage ratios
As the Brazilian economy has been weakening during the last couple of years, Gol has been working to bolster its balance sheet amidst posting continuous losses (2Q2015 was no different as its net loss widened 145% to BRL355 million (USD102 million)).

See related report: Gol receives some recognition for its prolonged restructuring. Now the goal is profitability

But the significant depreciation of the BRL has in some ways stalled Gol's efforts to maintain favourable leverage ratios. Although Gol's leverage has markedly improved from 31.44x in 4Q2014, it increased from 4.63x in 2Q2014 to 7.27x in 2Q2015. The increase is driven by the exchange rate further devaluing even as Gol's debt denominated in the USD dropped year-on-year.
Gol leverage ratios and debt levels: 4Q2012 to 2Q2015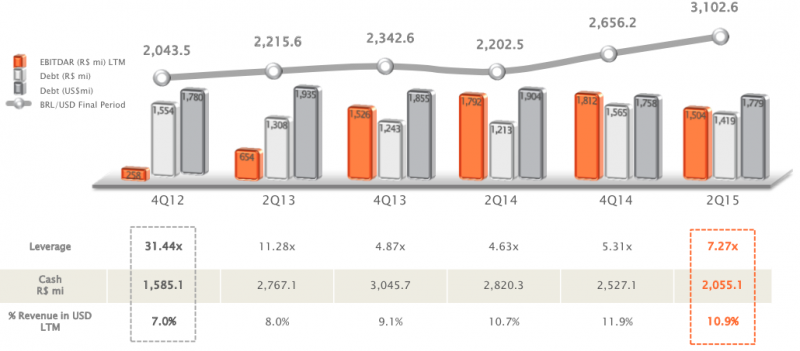 Gol recently concluded a financing package with its largest shareholder and US airline Delta. Its largest shareholder has USD90 million of newly issued shares in Gol and Delta has upped its equity stake from 3% to 9% through an investment of USD56 million. Delta has also agreed to guarantee USD300 million of Gol's unsecured debt secured by Gol's interest in its publicly traded loyalty programme Smiles.

See related report: Delta Air Lines Part 2: Stiff international market competition, eased by Delta's foreign investments

Delta's enlarged investment in Gol is a move to ensure it has a strong partner in the Brazilian market over the long term, and perhaps to guide Gol in its strategic direction once Latin America's largest aviation market begins a slow rebound. In essence, Delta can help Gol with some financial challenges as markets are largely closed to Brazilian companies while influencing Gol's strategy for the future.
Gol faces a long road to recovery – in both yields and top line profits
For now Gol is sticking to previous guidance of achieving an operating margin of 2% to 5% for 2015 after posting a negative 2.1% in that metric for 1H2015. In general Gol feels that 2H is stronger in Brazil than 1H, and has indicated that yield declines have bottomed out as booking curves in 3Q2015 seem sequentially better than 2Q2015. But the yield recovery will be a long and slow process given the economic undercurrents in Brazil.

To say that Gol has faced tough operating conditions during the last couple of years would be an understatement.
Its larger exposure to the Brazilian market has resulted in annual losses since 2011, with no indication of when the airline will return to profitability. At this point, Gol can only continuing working to mitigate the negative economic environment rather than declaring a timeline for restored profits. A condition the airline cannot seem to shake.