Brazil aviation: airlines expand international & domestic capacity
Analysis
Brazil's three largest airlines are forecast to grow their domestic capacity in 2018 at varying degrees as demand in the country appears to be on a stable upswing, after plummeting during the country's recession that began in 2015.

Azul, GOL and LATAM Airlines Brazil believe the country's domestic market is in a period of stabilisation, with corporate demand finally starting to rebound. Azul and GOL both posted healthy increases in ticket prices at the end of 2017, which reflects a level of pricing traction in the market.

All three of those airlines are also expanding international capacity from Brazil this year: LATAM will add service to Rome, Las Vegas and Boston, and GOL is inaugurating service from Fortaleza and Brasília to Miami and Orlando, using Boeing 737 MAX narrowbodies. Late in 2017 Azul added new service to the US that will mature over the course of 2018.
As those airlines bolster service to the US, American Airlines, which is the largest operator between the US and Brazil, is cutting service between the two countries.
Summary
Brazil's domestic capacity growth inches near 2015 levels
During Brazil's recession the country's two largest airlines GOL and LATAM Airlines Brazil slashed their capacity as demand vaporised. Brazil's domestic passenger growth plummeted 7.8% year-on-year in 2016, regaining some ground in 2017 with a passenger increase of 2.2%.
Brazil's domestic passenger growth from 2013 to 2017
For the first time in close to two years, GOL and LATAM are planning solid capacity growth in Brazil's domestic market.
After cutting domestic capacity by 3.6% in 2017, LATAM Airlines Brazil is planning 2% to 4% growth in 2018, and GOL is targeting a range of flat to 3% growth in Brazil's domestic market. Azul's domestic capacity is increasing by 8% to 10% in 2018.
Azul, GOL, and LATAM Airlines Brazil domestic capacity growth 2017 vs 2018 projections
Airline

2017 domestic capacity growth

(ASK)

2018 domestic capacity projections

(ASK)

Azul
5.3%
8% to 10%
GOL
0.9%
0% to 3%
LATAM Airlines Brazil
3.6% decrease
2% to 4%
Data from CAPA and OAG show that during 1H2018 Brazil's domestic ASKs will remain below 2015 levels, but are projected to creep up in the latter half of the year.
Brazil's weekly domestic ASKs from 2015 to mid-Sep-2018*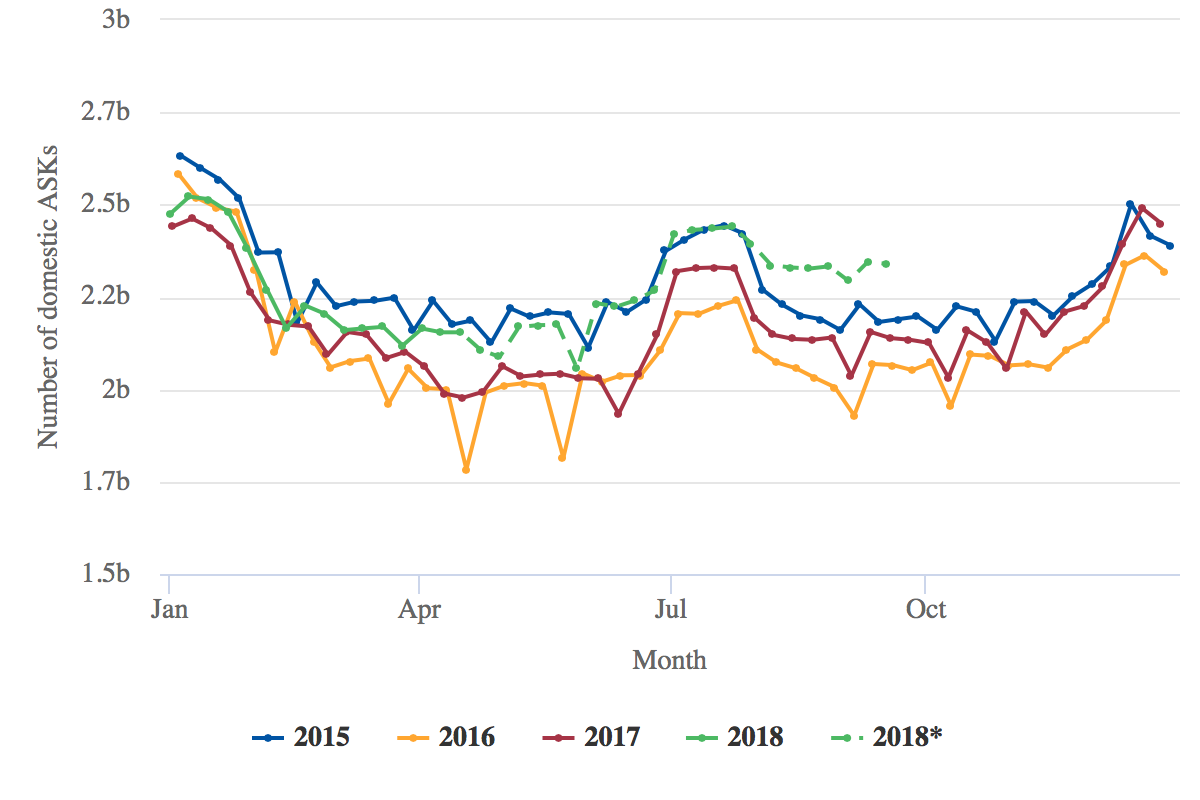 Both Azul and GOL cite favourable domestic market trends in Brazil
Much of Azul's domestic capacity growth is driven by fleet upgauging as it continues to add Airbus A320neos to its fleet.
Azul fleet summary as of 2-Apr-2018

Azul
's average fare increased 17% year-on-year in 4Q2017, and its rival
GOL
posted a nearly 5% increase in its average fare for the last quarter of 2017.
GOL
's average fare for FY2017 grew 7%.

Azul
cited strength in
Brazil
's domestic market during 4Q2017, particularly in corporate demand. For much of the quarter, booking inside 14 days were strong, the company has stated. It is a welcome development, considering that a rebound in corporate demand within
Brazil
has been uneven during the past year.
GOL
executives recently stated that the company believes demand for 2H2018 will remain solid as bookings for 1Q2018 were strong. The airline's management ticked off a number of favourable conditions in
Brazil
, including lower interest rates and lower inflation.
The airline also believes capacity growth in
Brazil
's domestic market is rational. Although
Azul
's capacity growth could reach double digit levels,
GOL
has remarked that
Azul
is adding flights largely in markets where it does not operate.
Brazil
is holding presidential elections later in 2018, but
GOL
's management seems unconcerned about the effect on demand. In fact, they recently noted that demand typically grows in an election year.
Brazil's airlines step up service to the US, even before Open Skies sets in
GOL is taking a major step in its international network in late 2018 when it launches service from Brasília and Fortaleza to Miami and Orlando International, using Boeing 737 MAX narrowbodies. Those route additions are driving GOL's international 7% capacity growth to 10% in 2018.

GOL has served the US in the past, and believes the 737 MAX narrowbody is the right aircraft for the market.
The airline has previously stated that the MAX jets would allow it to grow "the international revenue portion of our overall mix from 14% to 15% today to around 20%".
GOL has 74 MAX 8 jets on order, and is scheduled to accept delivery of five of the jets in 2018.
GOL fleet summary as of 2-Apr-2018

A big driver for Azul's 55% to 60% international capacity growth in 2018 is the launch of flights from Belém to Fort Lauderdale and Belo Horizonte to Orlando in Dec-2017, and the introduction of service from Recife to Fort Lauderdale in May-2018.
The airline has stressed that its growth remains off a small base – only 24.6% of its ASKs are deployed into international markets – and considers its flights to the US to be low risk, while they also allow for connections from US partners United and JetBlue and its European partner TAP.
Azul's domestic vs international ASKs for the week of 2-Apr-2018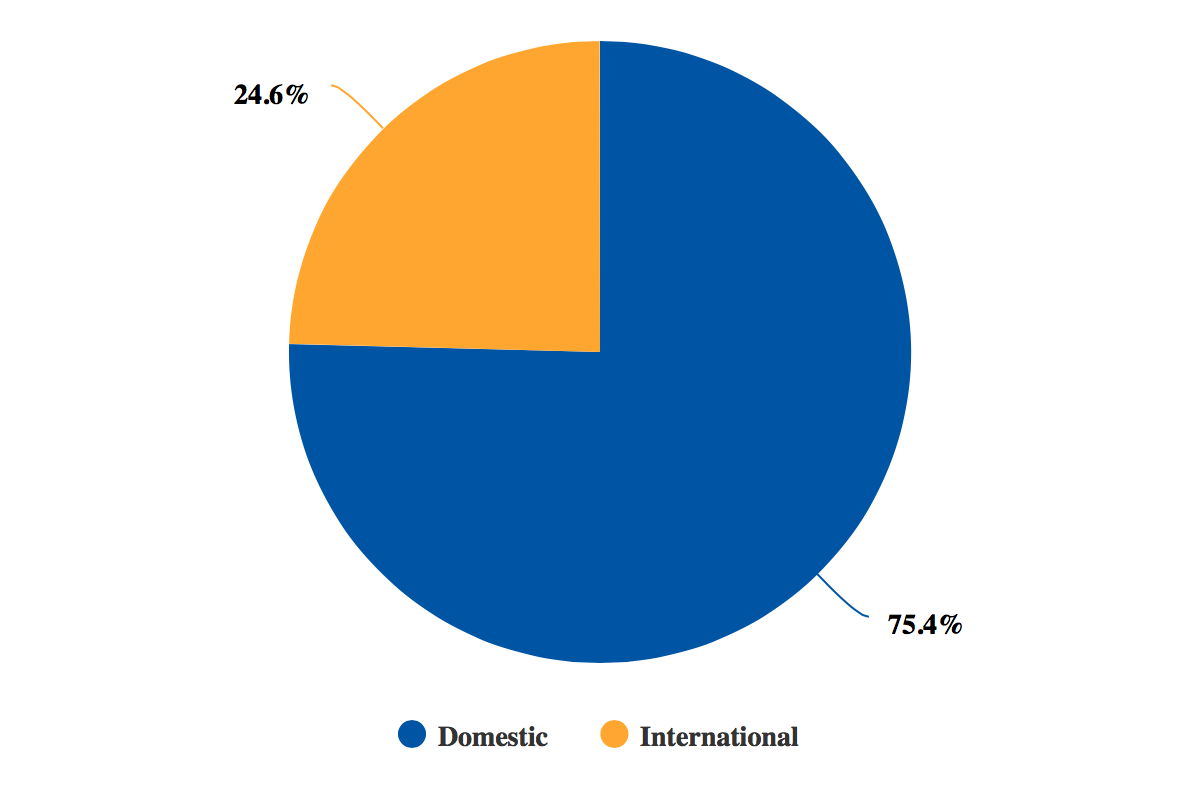 During 2018 LATAM Airlines Brazil is also making a push in the US from its hub in São Paulo Guarulhos, with seasonal fights to Las Vegas and year-round service to Boston. The airline is also adding flights from São Paulo to Rome.
All of the service additions by Brazil's airlines to the US occurred before Brazil's Senate ratified an open skies agreement between the two countries, which lifts restrictions on the number of flights airlines are allowed to operate.

Even before that ratification American Airlines, which holds a 33% seat share between the US and Brazil, cited some capacity creep in the market as unit revenues were recovering.

American is making some adjustments in its service profile to Brazil, cutting service from Belo Horizonte to Miami and from Dallas/Fort Worth to Rio. The airline is also cutting frequencies from Miami to Rio and São Paulo, and from Los Angeles to São Paulo.

Those adjustments are allowing American to add service elsewhere in Latin America, including new flights from Dallas/Fort Worth to Oaxaca, Los Angeles to Buenos Aires, and Miami to Córdoba, Georgetown and Pereira.

Latin America remains an emerging market, so American is working to deepen its network breadth with service to some of the region's growing markets – particularly to Colombia and Argentina.

The changes do not signify any change in American's commitment to Brazil. American and LATAM Airlines Group are working to forge a joint venture between the US and several Latin American countries, including Brazil, so American's service footprint will not change drastically.
Azul has also expressed an interest in creating a joint venture with United, which means the landscape in Latin America has the potential to change significantly during the next few years. The formalisation of open skies allows for those airlines to push forward with their immunised joint ventures.
Brazil's airlines appear to hold a positive view of domestic and US demand
Brazil's airlines are showing no concern over the planned capacity growth in the country's domestic market for 2018. There seems to be a match between demand and pricing traction that, for now, is a positive sign that the country's economy is recovering.
As 2018 unfolds, markets will dictate if there is excess capacity between Brazil and the US, but Brazil's airlines believe much opportunity is left to tap between the two countries ahead of joint ventures spreading to Latin America.