Boeing confirms 787 to visit Australia on 15/16-Nov-2011
Analysis
Boeing has confirmed a 787 Dreamliner will visit Australia on 15-Nov-2011 and 16-Nov-2011, which coincides with Qantas' 91st anniversary on 16-Nov-2011. The Qantas Group has 15 B787-8s and 35 B787-9s on order. The first example, a B787-8, is officially planned for delivery to Jetstar in Dec-2012.
Qantas had been pressing for a 787 to visit Australia last year to coincide with the carrier's 90th anniversary. The events in Nov-2010 ended up being overshadowed by the 04-Nov-2010 uncontained engine failure of a Rolls-Royce Trent 900 powerplant on Qantas A380 VH-OQA operating as flight QF32.
Boeing Australia and South Pacific president Ian Thomas confirmed the visit during remarks in Sydney on 11-Oct-2011. The aircraft is expected to wear branding elements of the Qantas and Jetstar liveries but not the entire liveries, and visit Melbourne and Sydney.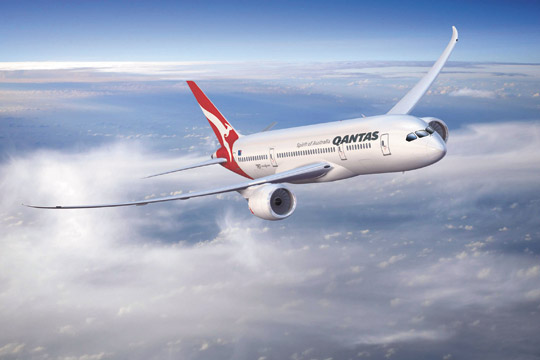 Jetstar initially spoke of deploying the B787 on new intercontinental long-haul routes, including European destinations like Rome and Athens. "The Boeing 787 provides breakthrough technology, enabling us to fly further to more point-to-point destinations throughout the world at a cost equivalent to operating larger aircraft like the B747-400," then-CEO Geoff Dixon said at the time of the Dec-2005 order. "One of our clear priorities is for Jetstar to be ready for international operations by early 2007, with the fastest possible transition to new technology, more efficient aircraft."
More recently, however, Jetstar has favoured intra-Asia growth and is now instead looking at using B787s to replace its existing A330s on flights within Asia (Singapore-Beijing launches on 24-Nov-2011) and from Asia to Australia and New Zealand (including Singapore-Melbourne/Auckland, Tokyo/Osaka-Gold Coast/Cairns, Bangkok-Melbourne) and open new routes in those markets before considering Europe, which is not in Jetstar's immediate plans.
Read more: global airline B787 deployment plans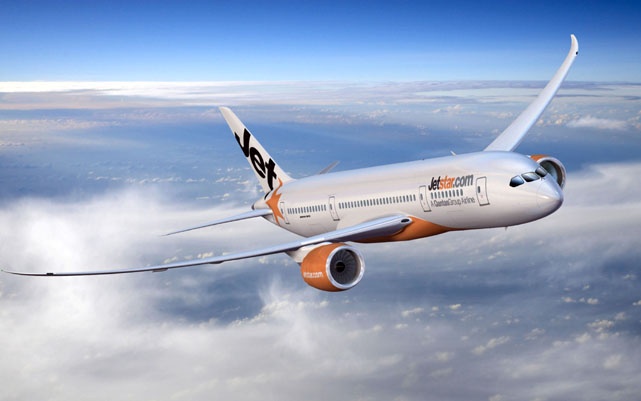 Airbus brought a demonstration A380 to Australia in Nov-2005 to celebrate Qantas' 85th anniversary. The aircraft, F-WWOW (c/n 001), had a hybrid Airbus-Qantas livery with F-WWOW having the Airbus tail design, Qantas logo and "Spirit of Australia" titles as well as the Qantas logo on engine cowlings. The livery plan for the B787 has not been confirmed.
Also unconfirmed is the specific B787 that will visit Australia. The first B787, ZA001, wears Boeing's full livery. ZA002 wears launch customer All Nippon Airways' (ANA) livery while ZA003, ZA004, ZA005 and ZA006 wear a simple white livery with a blue wave running down the fuselage and B787 titles on a blue tail. ZA003 made the B787's international debut with a trip to the Jul-2010 Farnborough Airshow. ZA001 visited the Jun-2011 Paris Airshow and also made stops in Berlin and Warsaw. ZA002 visited Japan and launch customer ANA in Jul-2011 for service ready operational validation tests. ZA003 visited the Oshkosh Airshow in Jul-2011.
The aircraft routing is also yet to be confirmed. Boeing could bring the B787 to Australia from America or ferry it to Australia after visiting part of the Dubai Airshow, running from 13-17-Nov-2011.
Elsewhere in the region, Virgin Australia in the long-term plans to acquire the B787 or A350 XWB.
Images: Boeing