Boeing and Airbus slide further as Aercap, Aircastle continue to rise. Aviation suppliers share wrap
Amid concerns about the enormously successful - in concept and pre-sales at least - B787 being overweight as well as late, the manufacturer announced yesterday that progress was coming to a head.
Selected Aviation suppliers daily share price movements (% change): 19-Mar-09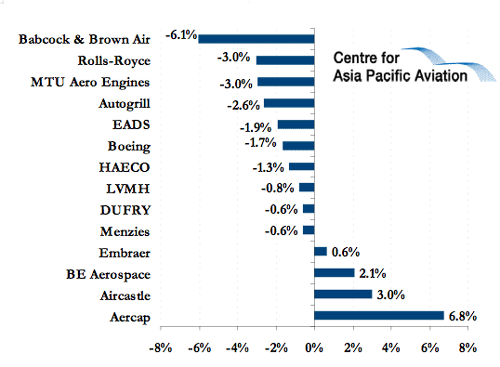 According to Boeing, "the sixth and final B787 designated for flight test is now undergoing final assembly in Everett. The airplane, designated ZA006, will be powered with General Electric GEnx engines.
Progress continues on the fleet. The first flight test airplane, ZA001, is getting its paint touched up this week before finishing factory testing.

"Power was brought onto the second airplane, ZA002, in late February and build verification tests are progressing well. Production work continues on ZA003, ZA004 and ZA005. In all, assemblies for 31 Dreamliners are currently in production throughout the supply chain."

Meanwhile, the Defence arms of both airframe producers are awaiting the outcome of continued haggling over the US military's USD35 billion refuelling tanker contract. US Defense Secretary, Gates, yesterday announced that he did not favour splitting the contract between EADS and Boeing - a compromise which has been suggested, to resolve the standoff since the original award to EADS came under fire.

Both manufacturers' shares have suffered along with the market over recent months. But Boeing badly needs some good news in the short term and its inability at this stage to respond to concerns of customers about the timeline and payload features of the early models is not helping.
Boeing share price: 18-Jun-08 to 19-Mar-09
EADS' market cap has not been hit as badly as Boeing's, helped to some extent by a weaker Euro, improving its competitiveness. But it too will be feeling the cold winds of slackening civil aviation demand, as well as having to hope for a favourable resolution to the US tanker contract issue.
EADS share price: 18-Jun-08 to 19-Mar-09