Big profits expected for US airlines in robust 2011 but fuel prices loom
Analysis
US airlines will report USD3.95 billion in profits on USD122.2 billion revenue for 2010, according to AirlineFinancials.com founder Bob Herbst, who issued his expectations over the weekend. However, he expects the average profit margin to be 3.3%, well below the targets of the eight largest US airlines tallied but within their historical norms.
"Assuming these projections are somewhat accurate, this would be the highest annual profit in over 10 years and the 2nd highest annual revenue ever reported," he said of the news that will unfold as Delta kicks off the earnings season.
Robust results to continue
Mr Herbst's projections came as Barclays Capital issued its pre-season research note discussing expectations for 2011.
"Despite fuel headwinds, we believe current revenue trends combined with our expectations for capacity deployment and cost performance set up for a very solid 2011 from a profitability perspective," said the company. "We now expect 2011 will see the industry's best ever operating profit and substantial free cash flow, just a short time after economic recovery began. Our preference remains for legacy carriers."
Industry operating profit for 2011
Share prices reflect scepticism
AMR, however, remains a pick despite its distribution battle. "Uncertainty surrounding the impact of AMR's distribution disputes is likely to weigh on the shares near term, but it remains our top pick followed by DAL and UAL, in order," said the company.
"We believe revenue trends accelerated considerably in the second half of 2010," said Barclays. "Our analysis suggests the acceleration was a bit more powerful internationally than domestically, though capacity growth is considerably more on the international front. In our view, that acceleration tees up solid RASM gains in the first half of the year. As of now, we expect the ATA composite will see RASM gains of 7% domestic and 6% on a system basis in 1Q11.
Actionable revenue data points during earnings
Revenue accelerated considerably in 2H2010
Solid RASM gains in 1Q2011
Cautionary notes
Mr Herbst cautioned that news of the profits may conspire to hurt airlines politically.
"As airlines report their profits over the next two weeks, there will be a lot of media and political attention given to the industry profits," he said. "What will get lost in the rhetoric is that US airlines are not a public mass transit system. Having a stable, safe, and efficient airline industry requires a balance between the cost to fly and acceptance that airlines are in business to make profits for their investors."
His words come as Congress is considering diluting the financial reform that would rein in commodity speculation passed in the US. As with most legislation, the devil is in the detail which are left to federal rulemakers to determine. And it is there that the real work takes place but it also has the potential to undermine the legislation.
For now, the Commodity Futures Trading Commission (CFTC) is now working on a notice of proposed rulemaking that has the Air Transport Association worried. It released a statement Friday saying speculation position limits for energy are too high and urges the commission to reduce them further.
It asked the commission to protect consumers against fuel price spikes which would impact the economic recovery. It said the limits are too high and are contrary to the requirements in the Dodd-Frank Wall Street Reform Act passed last year to curb speculation that caused fuel to rise to an unprecedented USD147 per barrel in 2008.
Highly volatile fuel prices, it said, will affect the industry's ability to sustain profits and impact consumer demand. It added that they would also be a job killer since high prices would limit airline ability to increase employment.
"Excessive speculation, unrelated to the fundamentals of supply and demand, creates volatility in prices that simply cannot be effectively managed by the airlines or, for that matter, any other industry where fuel is a key cost item, and it damages the economy," said ATA Vice President and General Counsel David Berg. "The extraordinary price fluctuations that harmed consumers, industry and the economy in recent years will not be prevented by the proposed limits, and with predictions that prices will once again exceed USD100 a barrel, the CFTC must do more to address this problem by delivering on the intent of Congress as clearly outlined by Dodd-Frank. The market easily can function efficiently and effectively with more stringent limits."
ATA said airlines and truckers – bona fide hedgers – used to represent 60% of the oil futures market; today, speculative interests control 60% of the market.
"Restoring historical levels of speculative interest in the oil futures market will do much to prevent unfounded volatility in energy prices, maintaining adequate liquidity for bona fide hedgers and ensuring that efficient market function and price discovery are not compromised," it said.
Other factors
The profitability numbers will also probably undermine industry attempts to reduce the burden on one of America's most heavily taxed industries, even as the Obama Administration considers a major reform of the tax code, a move that is expected to hit the middle class the hardest. The Department of Transportation (DoT) is also considering new passenger protection rules that specifically target airline fees for transparency.
"Including 2010, only three of the last 10 years were profitable for the airline industry," said Mr Herbst as a reminder of how much airlines have to make up with the industry's new business model. "Since 2001, the eight airlines accumulated over USD35 billion in net losses. For 2010, the most profitable year in the last decade for the industry, on average only three of every 100 passenger made up the profits."
Barclays expects non-fuel costs to rise marginally
Non-fuel CASM growth
"Given limited capacity growth, revenue gains, and significant cost reduction efforts over the last several years, we do expect cost pressures generally for the industry on non-fuel cost per available seat mile (CASM)," Barclays said. "Our current forecast is for 1% non-fuel CASM growth in 2011 across our coverage universe."
Growth in 2011 domestic capacity
Growth in 2011 international capacity
"Factors combine for a robust 2011 in airline shares," said Barclays. "Our current forecast, despite rising fuel, is for a robust 2011 from a profitability and cash flow perspective. The industry is improving, cash flows should be strong, and valuations are very attractive, in our view. We believe 2011 will be another solid year for airline equities."
While discipline remains the order of the day for legacies, large aircraft orders could be in the offing, although most will replace older equipment. Even so, there will be added capacity, especially among low-cost carriers.
The news that Delta is considering a large aircraft order that could potentially replace 270 ageing aircraft in its fleet. It is considering ordering between 100 and 200 narrowbodies and optioning 100 more but analysts suggested the order could be a record 400 aircraft when all is said and done. In addition, over the weekend, analysts suggested the time may be right for United's long-awaited, narrowbody order, put on the backburner with United's merger with Continental last year.
G2 Solutions Managing Director Michel Merluzeau told MarketWatch he sees a 100-aircraft order now a sign that the industry is in full recovery and access to capital has eased. Rising prices are also driving the quest for the most fuel-efficient and environmentally friendly aircraft.
Mr Merluzeau echoed other analysts discussing Delta's RFP when he said Boeing is aggressively pricing the 737. While the order may come in an improving market compared with United's widebody order placed in 2009 at the bottom of the market, deals can still be had, according to Mr Merluzeau.
MarketWatch quoted Delta Vice President Fleet Strategy and Transactions Nat Pieper: "We're now starting to plan for the long term, to ensure that we continue to maintain a flexible, cost-efficient fleet that meets our customers' needs in the years to come, replace retiring airplanes and provide for domestic mainline growth."
Lessors, said MarketWatch, have been building stockpiles, ordering USD8.52 billion in aircraft during Farnborough last summer which signalled the unlikelihood of a long-feared, double-dip recession. It also noted that United/Continental has a fleet of 20-year-old 737s on the ground in addition to aging Airbus A320s and A319s. The smaller jet could be a candidate for a Bombardier CSeries replacement.
Yesterday, Virgin American announced a 60-aircraft order for A320s set for 2013-2016 delivery as well as the first commercial airline order for the A320neo, slated for delivery beginning in 2016, formalising and expanding the mega-order it placed at Farnborough. With today's order and growth from other sources, Virgin America's fleet will more than triple – from 34 to 111 aircraft by 2019.
"At just three years old and at a time when many carriers are contracting, we're pleased to be growing and bringing our award-winning service to new markets," said Virgin America President and CEO David Cush. "We credit a great deal of our success to date to having the right aircraft. The low operating costs, cabin comfort and carbon-efficient design of our all new Airbus A320 Family fleet has helped fuel our growth and success in the North American market – and we're confident the A320neo will only build on that."
Airbus estimates the A320neo's fuel efficiency will yield an average annual savings of USD1.1 million per aircraft, although industry experts and analysts only expect half that.
Q4 continues profitability, USD487m expected
Mr Herbst, who said this was the first time in more than a decade airlines will have a profitable fourth quarter, covered Delta, American, United, US Airways, Southwest, JetBlue, Alaska and AirTran. United's numbers include Continental. It is also the first time in a decade the industry will have three consecutive profitable quarters, with all much American reporting profits for the fourth quarter and 2010.
4Q2010 profits will total USD487 million, according to Mr Herbst, who noted here again American will be the odd man out with a USD97 million loss.
2011 projections
Barclays issued projections for the year ahead including modest domestic capacity growth as international advances. Airlines are also expected to continue their robust revenue trends.
"Our current 2011 forecast is for 1% domestic capacity growth skewed heavily toward low cost carriers and 7% international," said Barclays. "Relative to capacity levels the industry could fly in a full utilization scenario, these levels still reflect discipline. Expect solid revenue trends as we turn the corner on 2011: Revenue acceleration in the back half of 2010 should pave the way for solid revenue per available seat mile (RASM) gains in the first half of 2011. Our Q1 forecast is for 7% domestic and 6% system RASM gains for the ATA composite."
Rating, price targets and earning changes in Barclays' report (all changes shown in bold)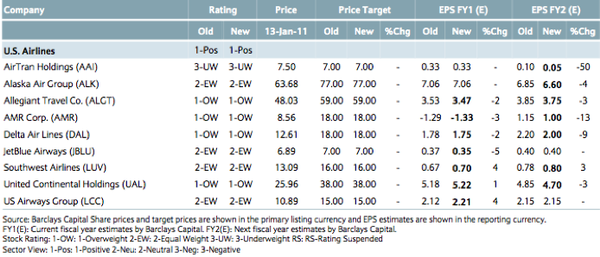 Adjusting 4Q2010, 2011 and establishing 2012 estimates