Belgrade Airport, with resurgent Air Serbia, challenges the hub order in Central/Southeast Europe
Analysis
During 2014 a quiet revolution took place in an aviation backwater of Central and Southeast Europe - namely Serbia and in particular Belgrade's Nikola Tesla Airport.
After recording 5.3% passenger growth in 2013 a figure of almost 32% was achieved at Belgrade in 2014, leaving the neighbouring and much bigger capital city airports at Vienna, Prague and Budapest in the shade, even allowing for the low base figure at the Serbian capital.
This growth was unexpected is and quite surprising given Serbia's recent political and economic history and the fact that growth has not come specifically from the LCC segment, which is the usual source for 'secondary' level airports in Europe. It raises the possibility of Belgrade actually competing with these (regional) giants for pre-eminence throughout an area that is growing in economic significance.
Indeed, national carrier Air Serbia's CEO Dane Kondić was moved to remark recently that his airline is pleased with the development of its Belgrade hub since the carrier's rebranding from JAT Airways, commenting "We're trying to develop Belgrade into a hub and so it's really starting to compete now against the likes of Vienna which was probably for many years the hub in that part of the world, which was the gateway to Central and Eastern Europe."
The carrier will also look further to develop partnerships with fellow Etihad Airways' 'equity alliance' carriers. Etihad code shares with 47 airlines and is a major cargo carrier to boot. Mr Kondić perceives Alitalia to be an interesting future partner once it "beds down" while airberlin is another one in the frame for a partnership arrangement.
The carrier's ambitions are evident in its announcement on 11-Mar-2015 of an agreement with Abacus International for the distribution of its schedules and fares in the Asia Pacific region through Abacus' GDS, an important step in growing Air Serbia's footprint in Asia Pacific and bolstering its global positioning.
Serbia seeks to establish regional and pan-European status following decades of turmoil
It is important to consider these developments in the light of turbulent historical events. Both politically and economically what is now Serbia has had a hard time of it since the end of the Second World War and even more so since the Balkans wars of the early 1990s.
The military and political movement headed by Josip Broz "Tito" (the Partisans) took full control of Yugoslavia when their domestic rivals and the Axis occupiers were defeated in 1945. Although they were communists, Tito and his successors were able to steer their own particular path between the Warsaw Pact nations and the West for the next four and a half decades. Then, in 1989, the ultranationalist Slobodan Milošević became president of the Republic of Serbia with the eventual, and violent, breakup of Yugoslavia along ethnic lines.
In 1991, Croatia, Slovenia, and Macedonia declared independence, followed by Bosnia in 1992. The remaining republics of Serbia and Montenegro declared a new Federal Republic of Yugoslavia (FRY) in Apr-1992 and under Milošević's leadership, Serbia led various military campaigns to unite ethnic Serbs in neighbouring republics into a "Greater Serbia." These actions were unsuccessful and, after international intervention, led to the signing of the Dayton Peace Accords in 1995.
Milošević retained control over Serbia and eventually became president of the FRY in 1997. In 1998, an ethnic Albanian insurgency in the formerly autonomous Serbian province of Kosovo provoked a Serbian counterinsurgency campaign. The Milošević government's rejection of a proposed international settlement led to NATO bombing of Serbia in the spring of 1999 and, subsequently, in Jun-1999, and the UN Security Council authorised an interim UN administration and a NATO-led security force in Kosovo. FRY elections in late 2000 led to the ousting of Milošević and the installation of democratic government.
In 2003, the FRY became the State Union of Serbia and Montenegro, a loose federation of the two republics but following a resumption of violence in Kosovo in 2004 UN talks led to Montenegro seceding from the federation in Jun-2006 as an independent nation, Serbia adopting the role of the successor state to the union.
Twenty months later Kosovo declared itself independent of Serbia - an action Serbia refuses to recognise though there has been an improvement in relations leading to Serbia and Kosovo signing the first agreement of principles governing the normalisation of relations between the two countries in Apr-2013. Both countries are in the process of implementing its provisions.
In what was often referred to as 'the trial of the century' Slobodan Milošević was indicted in May-1999 by the United Nations' International Criminal Tribunal for the Former Yugoslavia for crimes against humanity and other charges. The lengthy trial that began in 2002 was cut short by Milošević's sudden death in Mar-2006. Latterly, Radovan Karadžić, former first president of Republic Srpska, has also been brought to trial on war crimes charges, as has Ratko Mladić, a former Bosnian Serb military leader, again on war crimes charges. Both trials continue.
There is a consensus of opinion that it was the arrest of Mladić in May-2011, on the same day that the European Union's (EU) special representative visited Belgrade, that immediately helped improve relations with the EU, which had been concerned that Serbia was sheltering Mladić.
Serbia edges towards possible EU accession in 2020
15 years ago it would have been difficult to imagine Serbia joining the EU but it is currently an official candidate for membership, having first been nominated in 2003, subsequently applying formally in 2009, and being granted candidate status in Mar-2012, just 10 months after Mladić's arrest and following the improvement in relations with Kosovo.
The EU has been formally negotiating accession with Serbia since 21-Jan-2014. The EU has been considering enlargement in the Balkans since at least the late 1990s and Serbia is but one of a raft of countries in the region that are at various stages of their application procedure, namely Croatia (actually a member since 01-Jan-2014); Macedonia; Albania; Montenegro; Bosnia and Herzegovina; and Kosovo. Turkey and Iceland were the two other (non-regional) applicants but Iceland withdrew its application in Mar-2015.
EU enlargement – candidates
Exactly when Serbia can expect to gain EU entry is a moot point. There are many issues on which Serbia does not have a good record in addition to lingering concerns over its co-operation with the War Crimes Tribunal in The Hague. They include Agriculture & Rural Development; Judiciary & Fundamental Rights; Justice, Freedom & Security; and Financial Control.
In all four of these categories of the EU's 'Acquis' chapters Serbia was judged to need 'considerable efforts' at the time of the original EC (European Commission) assessment. In the category 'Environment' the judgment was 'totally incompatible with Acquis.'
While improvements have been made in all categories it seems unlikely that accession will be possible before 2020 at the earliest.
Then there is the question of whether the population actually wants membership. In government polls taken between Dec-2003 and Jan-2012 (the last for which data is available) the 'yes' vote has varied between 72% (2003) and 51% (Jan-2013, up from only 46% three months earlier and with 28% against and 21% undecided).
If it were to become an EU member, it would add a population of 7.18 million, a GDP of USD43.7 billion and GDP per Capita of USD5,906 to the existing 'EU28' (countries) collective population of 507.9 million; GDP of USD17.27 trillion and GDP per Capita of USD33,998.
Outside of the EU negotiations Serbia is already a member of the United Nations, the Council of Europe, the Organisation for Security and Co-operation in Europe, the Partnership for Peace (a NATO programme), the Organisation of the Black Sea Economic Co-operation and the Central European Free Trade Agreement. It can no longer be considered to be in isolation.
The state retains its grip on the economy but strategic location and free trade agreements are in Serbia's favour
Due in part at least to the events of the last 20 years and the shift away from what was earlier described here as Yugoslavia's 'own brand' of communism, Serbia now has a transitional economy largely dominated by market forces. But the state sector remains significant in certain areas and many institutional reforms are needed.
The economy, which shrank by half from 1990 as a result of mismanagement, war and sanctions, relies on manufacturing and exports, driven largely by foreign investment, so the landlocked country with few nearby ports requires an air cargo base of substance. (The Port of Belgrade on the River Danube does allow the city to receive goods by river. Port transfer capacity is three million tonnes per year and 10,000 TEUs [a container measurement]. That is small by Danube standards; the Port of Vienna's capacity is 12 million tonnes and 325,000 TEUs).
After renewing its membership of the IMF in 2000, Serbia continued to reintegrate into the international community by rejoining the World Bank (IBRD) and the European Bank for Reconstruction and Development (EBRD). Serbia has made progress in privatisation, but many large enterprises - including the power utilities, the telecommunications company, the natural gas company, and others - remain in state hands.
Serbia's negotiations with the World Trade Organisation are advanced, but with obstacles remaining to accession. An IMF mission visited Serbia in Feb-2014 to initiate discussions with Serbian authorities on a possible new IMF arrangement and these talks will continue following the formation of the new government that year.
There is high unemployment of over 20% that is expected to continue, and household incomes are static. Structural economic reforms needed to ensure the country's long-term prosperity have stalled since the onset of the global financial crisis. Growing budget deficits constrain the use of stimulus efforts to revive the economy and contribute to growing concern of a public debt crisis, given that Serbia's total public debt as a share of GDP doubled between 2008 and 2013. GDP projected growth is low over a five-year span. The inflation rate, however, is falling.
Major challenges ahead include:
High unemployment rates and the need for job creation;
High government expenditures for salaries, pensions, healthcare, and unemployment benefits;
A growing need for new government borrowing;
Rising public and private foreign debt;
Attracting new foreign direct investment;
Getting the IMF programme back on track.
Other serious longer-term challenges include an inefficient judicial system, high levels of corruption, and an aging population. Factors favourable to Serbia's economic growth include its strategic location, a relatively inexpensive and skilled labour force, and free trade agreements with the EU, Russia, Turkey, and countries that are members of the Central European Free Trade Agreement (CEFTA).
Snapshot of Serbia's economy:
Unemployment rate of Serbia (Percent of total labour force)
GDP Growth of Serbia (Percent change)
Inflation, average consumer prices of Serbia (Percent change)
Serbia's central geography makes it different

Physically, Serbia sits at the crossroads between Central and Southeast Europe. The land locked country borders Hungary to the north; Romania and Bulgaria to the east; Macedonia to the south; and Croatia, Bosnia, and Montenegro to the west. It claims a border with Albania through the still disputed territory of Kosovo.
The capital of Serbia, Belgrade ('White City'), is also a region of the country. It is one of the largest cities in Southeast Europe with a population of 1.23 million and 1.65 million in the wider metropolitan area. Comparative population figures for capital cities with competing airports are: Vienna (1.8m/2.6m); Budapest (1.75m/3.3m); and Prague (1.25m/2m). According to the Globalisation and World Cities Research Network, Belgrade is a Beta- (minus) City along with others such as Bratislava, Lyon and Detroit. Of the competing cities aeronautically, Prague and Vienna re Alpha- while Budapest is Beta+.
Belgrade has been a transport crossroads throughout history and fought over in 115 wars, many of the occupying the rival Hapsburg and Ottoman empires. Today the city is at the confluence of two of the 10 'Pan-European Corridors,' numbers seven and 10.
The Pan-European corridors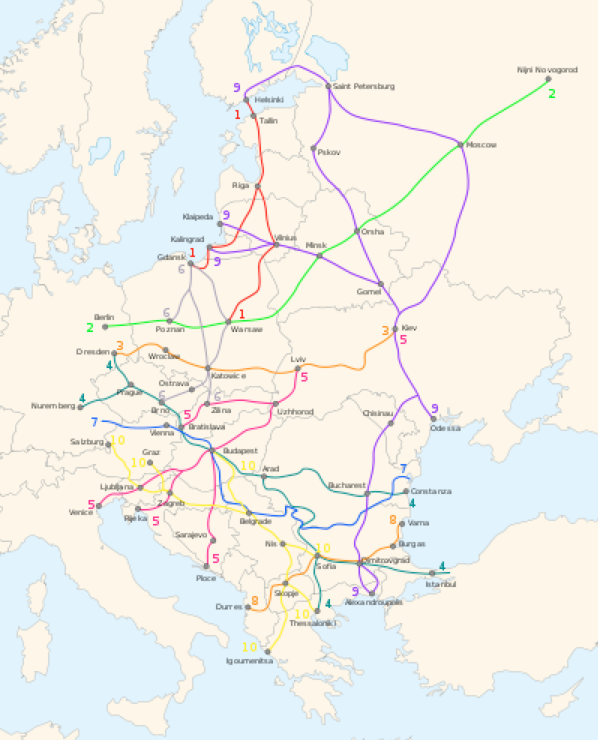 Analysis of the city's economy throws up a few surprises. As well as being the financial centre for Serbia, Belgrade has the same cachet for large parts of the Southeast Europe region as a whole (i.e. the countries Albania, Bosnia and Herzegovina, Bulgaria, Croatia, Cyprus, Greece, Kosovo, Moldova, the Republic of Macedonia, Montenegro, Romania, Slovenia and Turkey in addition to Serbia) and particularly that part of Southeast Europe (a nebulous term) that comprises the Balkan peninsula as defined by the Danube-Sava-Kupa line. Those countries are Albania, Kosovo, Bosnia and Herzegovina, Bulgaria, Greece, Macedonia and Montenegro.
Belgrade is also a major centre for information technology industries with important regional or even global facilities for Microsoft, Intel, Dell and NCR. The incidence of usage of the Internet and mobile/smart phones is reported to be considerably higher than in Sofia, Bucharest and even Athens. Over 40% of Serbia's GDP is generated by the city and over 30% of national employment.
Serbia's geographical location ensures it is reasonably well connected to the rest of the world aeronautically. There are flights to and from Europe, North Africa, and the Middle East; previously North America and Australia.
Belgrade Nikola Tesla Airport Network Summary (at 09-Mar-2015)
| | |
| --- | --- |
| | 22 |
| Domestic only | 0 |
| International | 22 |
| Total non-stop passenger destinations | 51 |
| Domestic | 0 |
| | 2 |
| | 0 |
| | 45 |
| | 0 |
| | 4 |
| | 0 |
| Total non-stop freight destinations | 3 |
| Domestic | 0 |
| | 0 |
| | 0 |
| | 3 |
| | 0 |
| | 0 |
| | 0 |
Air Serbia takes on a new life as flag carrier
Belgrade is the hub airport for Air Serbia, which was rebranded from the long established JAT Airways in Aug-2013 after Etihad Airways acquired a minority stake from the Serbian Government. Air Serbia operates extensive services within Europe, the Middle East and Africa and provides charter services through subsidiary Aviolet as well as wet lease services. It has no domestic services.
Apart from Belgrade there are two other Serbian international airports, at Niš and Vršac.
Air Serbia international capacity, seats by country 09 to 15-Mar-2015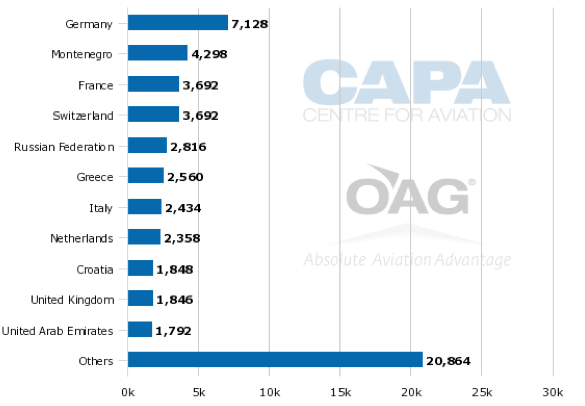 Source: CAPA - Centre for Aviation and OAG
Air Serbia recently recorded a net profit of EUR2.7 million during its first full year of operations (2014), as below:
Revenue: EUR262 million, +87% year-on-year;
Net profit: EUR2.7 million;
Passenger numbers: 2.3 million, +68%;
Passenger load factor: 67%, +3 ppts;
Cargo volume: 2700 tonnes, +67%.
It was singled out for praise by Etihad Airways' CEO James Hogan for its "ongoing and strict financial discipline and focus on cost which have marked its first year of operation," while its own CEO likened a return to profitability for 2014 to "one of the most amazing turnarounds in history," as it easily reversed a EUR73 million JAT/Air Serbia loss in 2013.
Belgrade Airport is one of the fastest growing major airports in Europe
In this environment, Belgrade Airport's fortunes have been determined by continuous national and regional political strife that only eased in the last three or four years and which had prompted a state of economic uncertainty. That economy is showing signs of recovery but remains transitional, while Serbia awaits entry into the European Union not before 2020.
Nevertheless, and aided by the surprising performance of Air Serbia, during 2014 the airport achieved the position of being one of the fastest growing major airport in Europe as measured by passenger numbers, with Chisinau (Moldova), Skopje (Macedonia) and Athens airports in close attendance, indicating a regional resurgence as much as it is solely in Serbia. It also managed cargo volume growth of over 25% in 2014, most of it bellyhold, although there are some dedicated freighters.
There is a mix of network and low cost airlines, but the emphasis is more towards full service/network and regional carriers than LCCs. Air Serbia is dominant with 53.2% of capacity, but not overwhelmingly so.
Belgrade Nikola Tesla Airport capacity, seat share by carrier type
Week of 09 to 15-Mar-2015
Wizz Air is the only significant LCC, with 7.6% of weekly seat capacity. Ryanair has not yet been attracted. While Serbia remains outside the EU the volumes it seeks from expatriate workers, casual VFR passengers and tourists alike are unlikely to materialise and there is as yet insufficient business demand. However easyJet, easyJet Switzerland, Norwegian and Vueling all have a nominal presence.
The airport's top routes by seat capacity are to Podgorica, the capital of Montenegro, and to Moscow's Sheremetyevo Airport although Frankfurt, Zurich, Vienna, Paris and Rome figure in the top ten. So does Abu Dhabi, courtesy of the Etihad connection.
Belgrade Nikola Tesla Airport capacity (seats, all carriers)
Week of 09 to 15-Mar-2015
Belgrade Nikola Tesla Airport top ten international routes by seat capacity
Week of 09 to 15-Mar-2015
Air Serbia equally dominates cargo capacity as well, most of it bellyhold.
Belgrade Nikola Tesla Airport total cargo capacity per week by carrier
Week of 09 to 15-Mar-2015
LCC presence is important as a complement to the full service operators
So growth does appear to be coming from different directions. Firstly, the established network routes and especially the Air Serbia/Etihad Regional route. Secondly from Wizz Air, whose presence runs to 10 routes. And finally from 'toe-in-the-water' western European FSCs (which include TAP Portugal, which doesn't feature in the charts above) and LCCs, supported by new charter flights.
It is important that the latter airline category stays there. There is no certainty even to the established routes.
While Air Serbia increased its frequencies this winter Turkish Airlines reduced its operations in line with the bilateral air agreement between the two countries while Germanwings suspended its flights. During the summer of 2014 a previous CEO was replaced after signing an allegedly "damaging" agreement with Wizz Air.

In what were trying times for the airport business in Europe and indeed across the world Belgrade Airport was able to remain profitable in 2013 (2014 financials not yet available). Over the next three years the airport will invest over EUR40 million into its expansion, mainly on the reconstruction of Terminal 1. The management is now targeting the re-introduction of transatlantic services and making appropriate preparations.
Meanwhile, Airports of Serbia is being corporatised in advance of a likely concession or sale later in 2015 that is attracting the attention of several key players in the business. Belgrade Nikola Tesla Airport is certainly making its mark in the key southeast European region.
Belgrade compares well with competing airports in Central/Southeast Europe

Belgrade has achieved very strong passenger growth and this is even more evident when compared to the bigger (much bigger in one case) Budapest, Prague and Vienna airports.
Airport

Pax traffic 2014 (m)

Growth %

Pax traffic growth %
Jan-2015

4.3

31.9

13.9

9.1

7.4

12.8

11.15

1.76

2.4

22.48

2.18

(5.19)
Comparison of passenger traffic 2014 at Belgrade and three other regional capital airports
Comparison of passenger traffic growth 2014 at Belgrade and three other regional capital airports
Comparison of passenger traffic growth Jan-2015 at Belgrade and three other regional capital airports
While some problems do remain at Belgrade it is certainly going in the right direction, compared with its neighbours:
1 - Vienna Airport: heavily exposed to Eastern European developments
Vienna's passenger growth was minuscule in 2014 and slipped into negative territory in Jan-2015. The airport is exposed to events in the crisis regions of Russia, Ukraine and parts of the Middle East as well as the stalling of the Euro zone economies and passenger numbers are expected to decline in 1Q2015. While things will improve, overall growth for the year will only be in the range 0.2% to 0.4%.
Some of that will be in hub traffic. Vienna has been established as an 'east-west' hub for decades with Austrian Airlines able to take advantage of very low minimum connecting times. Savings on the supply side and advanced revenue generating techniques should ensure EBITDA in excess of EUR250 million and net profit of EUR85 million.
2 - Budapest Airport: suffering the loss of MALEV
Budapest Airport, it could be argued, is still suffering from the loss of national flag carrier MALEV in 2012 along with 33% of seat capacity. Wizz Air (now 25% capacity) filled the gap but plays a different role from a 'national carrier,' while Ryanair accounted for much of the remaining demand then expanded with a base. While Budapest's passenger growth was second only to Belgrade amongst the four selected examples in 2014, a quick examination of the ten-year period 2005-2014 reveals that, even with the presence of Wizz Air and Ryanair, passenger numbers have only increased by 15.4% (from 7.9 million to 9.1 million) throughout that entire period, while air traffic movements declined by 31%.
There is at least a turnaround in progress with 11 new services starting up in the coming months, and with airlines also implementing frequency increases on numerous existing routes. The 2015 summer schedule will feature direct connections to a total of 90 airports in 35 countries. But there will be little 'hub' activity without a dominant home-based carrier and while five of the top six carriers as measured by seat capacity are LCCs.
3 - Prague Airport: CSA's role is uncertain - and being subsidised
Prague Airport's fortunes are influenced by CSA Czech Airlines, which has about 23% of the seat capacity there, but not to the same degree as Vienna Airport, where Austrian Airlines has 44.6%. While it is still a full service carrier (and 44% owned by Korean Air) there is a lack of obvious strategic direction in some of the decisions made by CSA.
Whereas it has an array of budget segment competition to deal with (easyJet, Ryanair and Wizz Air are all present at Prague, with about 17% of seat capacity in total) CSA has not repositioned itself accordingly but neither has it established itself as the go-to network carrier either. Five years ago it withdrew from the UK market altogether for example (including London Heathrow) but now it will resume UK operations at a secondary level airport while launching them in Ireland at another one. These choices appear to identify it as a niche budget airline competing with Wizz Air rather than a global network carrier, a SkyTeam member, with a base/hub slap bang in the heart of Europe.
This may be one of the reasons its scheduled passenger numbers fell by 21% year-on-year to 2.3 million passengers in 2014 and why state parent company Czech Aeroholding, which also owns Prague Airport, provided more than CZK152 million (EUR5.5 million) in funding to CSA to assist the carrier in maintaining its operations during winter 2014/2015.
Irrespective of CSA's dilemma, Prague Airport is short on non-stop flights. It has 73, which compares well with Budapest's 74 but not with Vienna's 131. It also lacks routes to the Americas and Africa and has only one to Asia Pacific and two to the Middle East.
Belgrade Airport is in the right place. Its crossroad role can be enhanced by a resurgent Air Serbia

Belgrade is long established as a road hub for the Southeast European region.
One way in which Belgrade's potential is evident is in the fact that despite being less than half the size of both Prague and Budapest, Belgrade Airport already has 51 non-stop air routes, including services to both Africa (2) and the Middle East (4) although it is short of flights to the Americas and Asia Pacific.
It still lacks a strong home based network carrier as is found in Vienna (but not so much in Prague and not at all in Budapest). Air Serbia has ten code share partners but is not alliance aligned. But as Air Serbia's CEO, Dane Kondic has said, it is planning to turn Belgrade into a hub and it is starting to compete now against the likes of Vienna, the hub of choice in that part of the world, previously the gateway to Central and Eastern Europe. Vienna definitely is a hub, while neither Budapest nor Prague truly fall into that category now.
However, Origin & Destination passengers must take precedence in the interim as Serbia gears up towards rejoining the European community, with all that means for industry, commerce and government.
In five or six years time Belgrade Airport could certainly be in a position to challenge the accepted order in its part of the world but there are many more bridges to cross yet. Much of that future will be closely linked to Air Serbia's development - and there the signs are positive.