Avianca airline group: bracing for changing Colombian market as Latin America starts to recover
Analysis
Latin American airline group Avianca Holdings is welcoming continued improving trends in the region, which started to emerge in 2Q2016 and appear to be gaining strength in 2H2016. The company's yield decreases slowed year-on-year in 3Q2016 to the single digits, and Avianca posted a rise in yields sequentially from 2Q2016 to 3Q2016.

Avianca's optimism rests on robust load factors, particularly on long haul routes from its largest market – Colombia –to the US and Europe. Demand is also picking up in South America as travellers adjust to the effects of currency depreciation that, while improving, have become a mainstay in many markets in the region. Avianca's booking trends for Nov-2016 and Dec-2016 indicate that positive momentum is continuing into 4Q2016.

The company faces changing dynamics in its largest market Colombia in late 2016 when Copa Airlines shifts its business model in the country to a low cost operation in order to compete more effectively. Avianca seems unconcerned about Copa's change in strategy, citing its strong position in Colombia despite increased competition arising in the country's domestic market during the last few years.
Colombia's market should undergo further changes in 2017 when LATAM Airlines Group begins instituting a new pricing model in its domestic markets, including in Colombia.
Improving economic trends fuel optimism for Avianca toward the close of 2016
Avianca has recorded sequential improvements in year-on-year yield and RASK (revenue per available seat kilometre) declines each quarter in 2016. For the third quarter its yield and RASK decreases slowed to the high single digits – from drops in the high double digits during 1H2016.
Avianca Holdings yield and unit revenue performance: 1Q2016 to 3Q2016
| | | |
| --- | --- | --- |
| Quarter | Yield performance | RASM performance |
| 1Q2016 | 19% decrease | 17.4% decrease |
| 2Q2016 | 16.1% decrease | 15.2% decrease |
| 3Q2016 | 7.1% decrease | 7.7% decrease |
Between 2Q2016 and 3Q2016 Avianca posted a positive improvement in yields, which the company declared was its first quarter-on-quarter increase since 2Q2014.

Several factors are coalescing to fuel Avianca's growing optimism about trends in Latin America. From a broad perspective, the company cited stability in oil prices and currency exchange rates, particularly for the COP.

Avianca executives have noted that passengers have accepted the new realities of currency exchange rates, even though there has been some recent stability in depreciation. With economies showing signs of stabilising, business and tourist travel demand is beginning to rebound. Latin America's forecast 0.6% drop in GDP for 2016 is the second consecutive year of economic contraction for the region. Its GDP is expected to rebound to 1.5% growth in 2017.

In South America, Brazil is starting to rebound and Argentina is performing nicely, Avianca has remarked. The company's system-wide traffic increased 5.9% year-on-year in 3Q2016 on a rise in capacity of 3.1%; this resulted in an 83.5% load factor, which Avianca stated was the strongest since the integration of Avianca and TACA completed in 2013.

The company cited load factors above 85% on its long haul routes from Bogotá to Buenos Aires, Los Angeles and Madrid. On two of those routes – Bogotá to Los Angeles and Madrid – Avianca is the only operator. It competes with Aerolineas Argentinas on flights to Buenos Aires, but holds a 60% seat share on the pairing.

Avianca highlighted strong demand to Europe, particularly Spain, where the airline plans to bolster its weekly frequencies from 21 to 35. The company operates flights to Barcelona from Bogotá, and from Bogotá, Cali and Medellín to Madrid. Avianca holds a 61% commanding seat share between Colombia and Spain for the week of 14-Nov-2016.
Colombia to Spain (seats per week, one way): 11-Nov-2013 to 17-Apr-2017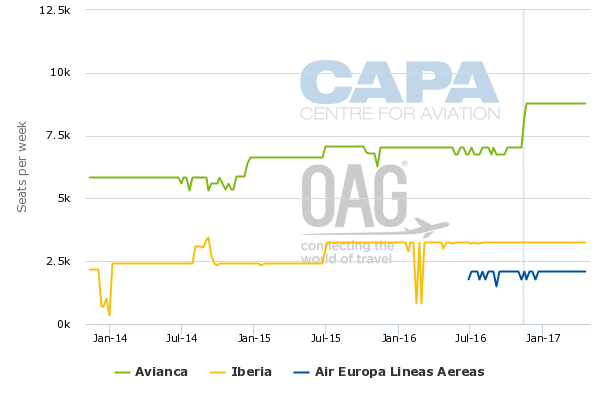 Avianca continues to see favourable booking trends in Nov-2016 and Dec-2016, which should drive further improvement in its yield performance. A return to modest economic growth in Latin America should help to bolster the positive trends that are beginning to return to the aviation sector.
Avianca appears unfazed by shifting dynamics in the Colombian market
As Latin America's overall anaemic economic condition begins to improve, Avianca is facing changing competitive dynamics that will arrive in its largest market Colombia when the LCC Wingo debuts in Dec-2016.
Wingo is the product of Copa's decision to convert Copa Colombia into an LCC to compete better in the still-growing Colombian domestic market. The result is that Colombia's market will feature two LCCs – Wingo and VivaColombia – and two full service airlines – Avianca and LATAM Airlines Colombia.

Avianca is the market share leader within Colombia, holding a 61% market share for the 8M ending Aug-2016. As VivaColombia and LATAM Colombia have built their respective shares during the past four years, Copa Colombia has receded to operating largely international routes. During that same period, it held just a 1% market share.
Colombia's domestic share by airline (% of passengers boarded): Jan-2016 to Aug-2016
See related report: Copa Airlines: branching out with its new LCC Wingo to regain lost ground in Colombia

Wingo is operating four Boeing 737-700s on a mix of international and domestic routes, so it is a fairly small operation; however, the business strategy shift does result in a broader number of low fares in the market place.

Avianca is not concerned about Copa's business model shift, concluding that it has managed to compete effectively with other airlines, including VivaColombia, the country's first low cost airline. Avianca has stated that it has added enough seats in the Colombian market to compete with those airlines. Given Colombia's market growth, those seats and the expansion by other Colombian airlines have been absorbed.

Passengers in Colombia's domestic market have doubled in the past ten years, and "we have been able to capture that growth without losing market share", the company declared.
Colombia's airlines are working to change pricing structures in the market
Much upside remains in Colombia's domestic market. Colombia's middle class continues to grow, and according to data from LATAM Airlines Group – trips per capita in Colombia for 2014 were 0.71, compared with 2.68 for the mature US market and 3.73 for the UK.
For the 8M ending Aug-2016, 17.4 million passengers travelled in Colombia's domestic market, while the country's population is 49 million and growing.
Population of Colombia: 2010 to 2020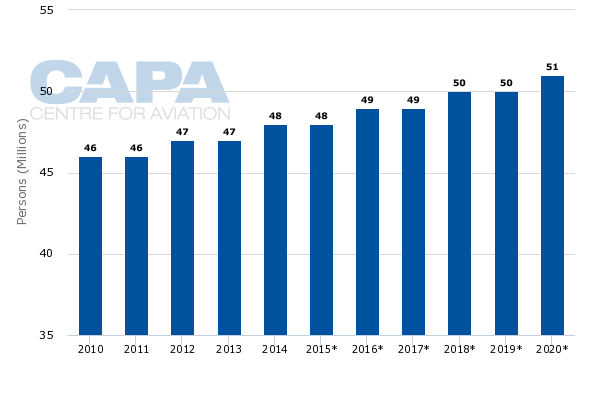 Quite simply, Avianca believes it has capacity share to offer lower cost seats in the Colombian market, and it could enhance that strategy as the business develops further.
Avianca's rival LATAM Airlines Group is also working to change dynamics in several of its domestic markets, creating lower fares and charging for add-ons in order to remain competitive as LCCs work to gain greater penetration in Latin America.
LATAM plans to lower fares in its domestic markets of Argentina, Colombia, Peru, Ecuador, Brazil and Chile. It plans to offer up to 20% lower fares in those markets by 2020, and expects to boost passenger levels by 50% during the same time span. The change in LATAM's structure in its South American domestic markets is driven by potential LCC growth in the region.

The moves by Copa and LATAM obviously generate questions about Avianca's response to changing marketplace dynamics. For now the company has no plans to create a low cost subsidiary but changes in revenue management, and cost refinements, could be necessary as its rivals in Colombia adapt to changing marketplace dynamics.
Avianca feels confident of competing with increasing low cost competition in Colombia
Latin America is welcoming a forecast of modest economic growth in 2017 after two previous years of contraction driven by a severe recession in Brazil. Avianca and other large Latin American airline groups are hoping that positive changes to demand will eventually result in a return of pricing traction.

Avianca, in particular, faces the prospect of shifting dynamics in Colombia, its largest market, as its rivals work to adjust their pricing in order to compete more effectively in one of the few Latin American markets that has true low cost competitors.
For now, the market leader Avianca believes that it has the necessary scale to compete, but keeping its costs at a level that will allow it to match fares will become more crucial during the next couple of years.