Australia-Malaysia market: Malaysia Airlines to regain market share as it expands; AirAsia X cuts
Analysis
Summary
IMPORTANT NOTICE: CAPA will convene the World LCC Summit in Singapore on 1/2 March, 2018. For further details please see CAPA LCC SUMMIT
On 9-Jan-2018 Malaysia Airlines announced the relaunch of flights to Brisbane, from 6-Jun-2018. The airline will initially operate four weekly flights on the Brisbane-Kuala Lumpur route, with 288-seat A330-300s, and is aiming to upgrade the service to daily, eventually.
Malaysia Airlines served Brisbane with a daily A330-300s flight until 2015, when it dropped Brisbane as part of a major network restructuring that also included reductions to Adelaide, Darwin, Melbourne, Perth and Sydney. In 2017 Malaysia Airlines cut capacity to Perth further, and dropped Darwin entirely.
Malaysia Airlines has also unveiled plans to add a fifth weekly frequency from Adelaide, and to expand Kuala-Lumpur-Perth from seven to 12 weekly frequencies. The additional flight to Adelaide will be introduced in Jun-2018, while the Kuala Lumpur-Perth route will be upgraded in phases: an increase from seven to nine weekly 737-800 frequencies on 27-Mar-2018, to 11 frequencies on 2-Jun-2018, and to 12 weekly frequencies on 3-Aug-2018.
Malaysia Airlines' capacity to Australia peaked in 1Q2015, when it operated 74 weekly passenger frequencies. At the time, the airline offered 21 weekly flights to the Melbourne and Sydney routes, 14 weekly frequencies on Perth, seven weekly frequencies to Adelaide and Brisbane, and four weekly frequencies to Darwin. All 74 flights originated in Kuala Lumpur, except two weekly flights from Kota Kinabalu to Perth.
Malaysia Airlines' capacity in the Australia-Malaysia market peaked at 20,204 weekly one-way seats in 1Q2015. At the time, the airline operated 68 of its 74 weekly Australia flights with 283-seat A330-300s and the other six flights, covering the four times weekly Kuala Lumpur-Darwin and twice weekly Kota Kinabalu-Perth routes, with 160-seat 737-800s. (In 2016 Malaysia Airlines retrofitted its A330-300 fleet, from 283 to 288 seats, as a smaller business class cabin with new lie-flat seats was introduced.)

Malaysia Airlines cut seat capacity to Australia by approximately 40% in 2015, with nearly all the cuts implemented in Aug-2015.
See related report: Malaysia Airlines restructuring Part 1: 40% capacity cut to Australia is harsh - but sensible
From Aug-2015 to May-2017 the airline's capacity to Australia was relatively flat. During this period the airline generally operated 14 weekly flights to Melbourne and Sydney, eight weekly flights to Perth, four to Adelaide and three to Darwin.
Malaysia Airlines continued to use the A330-300 on all routes except Kuala Lumpur-Darwin (reduced to thrice weekly) and Kota Kinabalu-Perth (reduced to once weekly), resulting in approximately 11,700 operated seats. There was some variation in capacity as the A330-300 fleet was retrofitted during this period, and in the peak season a small number of extra frequencies were operated to Melbourne and Sydney.
Malaysia Airlines' capacity to Australia declined by another 10% in mid-2017, to 10,496 weekly one-way seats, as Darwin was suspended and Kuala Lumpur-Perth was downgauged to 737-800s.
The airline has since operated 40 weekly flights to Australia, consisting of 14 weekly A330 frequencies to Melbourne and Sydney, eight 737 frequencies to Perth, and four A330 frequencies to Adelaide. There have been no additional seasonal peak period frequencies for the current southern summer season.
Malaysia Airlines' current seat capacity to Australia has been reduced by 48% compared to the same period in 2015. Compared to the same period of 2013 of 2014, the drop in capacity is a more modest 30%.
Malaysia Airlines pursued significant expansion in Australia in late 2013 as it introduced a third daily frequency to Melbourne and Sydney – which was then dropped approximately 20 months later.
Australia-Malaysia one-way seat capacity by airline: Sep-2011 to Jan-2018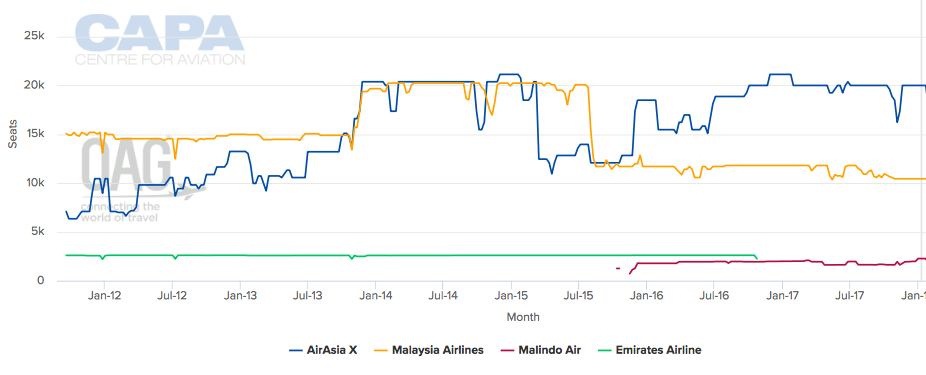 Malaysia Airlines currently accounts for approximately a 32% share of seat capacity in the Australia-Malaysia market, compared to approximately 57% in 2Q2015. AirAsia X currently accounts for a leading 61% share – up from 36% in 2Q2015.
Emirates accounted for the remaining 7% of capacity in 2Q2015, and Malindo accounts for the remaining 7% currently. Emirates dropped Kuala Lumpur-Melbourne service in late 2016, and Malindo launched Kuala Lumpur-Perth in late 2015.
Malaysia Airlines' market share will increase significantly over the next few months as it adds capacity back and AirAsia X implements capacity reductions.
As CAPA highlighted in a Nov-2017 report, AirAsia X is reducing its Australia-Malaysia operation from 53 to 39 weekly frequencies at the beginning of Feb-2018. One-way seat capacity will be cut by 26%, from 19,981 to 14,703 weekly one-way seats. AirAsia X operates all flights using 377-seat A330-300s.
See related report: AirAsia X slashes capacity to Sydney, Perth and Gold Coast as focus shifts from Australia to Asia
Meanwhile, Malaysia Airlines' seat capacity to Australia will increase by 21%, to 12,736 weekly one-way seats: Brisbane is being relaunched with A330s; five weekly flights to Perth are being added, with 737s; and one weekly flight to Adelaide is being added, with A330s.
AirAsia X will still maintain its position as the leading airline in the Australia-Malaysia market – a position that it has held since 2015.
However, in Aug-2018 AirAsia X's capacity share will drop to 50% – its lowest level in three years. Malaysia Airlines' capacity share will increase to 43%, which is the highest level since it slashed capacity to Australia in 2015, and Malindo will account for the remaining 7%.
Australia-Malaysia market has suffered from overcapacity
Australia is a strategically important market for both AirAsia X and Malaysia Airlines. Australia currently accounts for approximately 10% of Malaysia Airlines' seat capacity and 27% of AirAsia X capacity.
However, Australia has generally been an unprofitable market for both airlines over the past few years, due to aggressive competition and overcapacity. Both airlines have, at times, expanded too rapidly – either with new capacity or adding back old capacity. Every time the market seems to be approaching a healthier supply and demand balance again, one of the competitors makes a move.
Malaysia Airlines' decision to add back capacity in Perth, and resume Brisbane, could be partially driven by the AirAsia X cuts. AirAsia X is cutting capacity to Perth by 50% (from 14 to seven weekly flights), which represents the largest of its upcoming Australia cuts.
AirAsia X does not serve Brisbane, but is cutting flights to the nearby Gold Coast by 36% (from 11 to seven frequencies). Local Kuala Lumpur-Gold Coast capacity will decline by broadly 50%, since the four Gold Coast frequencies being cut are turnaround flights, whereas the seven remaining flights are tagged with Auckland.
AirAsia X dropped Adelaide in 2015. AirAsia X has been considering resuming Kuala Lumpur-Adelaide, and Malaysia Airlines may be trying to defend against such a move by adding more capacity on the route.
Malaysia Airlines could struggle to bring the Australia operation into the black
An incentive package supported under Queensland's Attracting Aviation Investment Fund also contributed to Malaysia Airlines' decision to resume flights to Brisbane.
With this package, Malaysia Airlines essentially does not have to assume any risk in retrying the route, which was initially cut due to a lack of local traffic. Kuala Lumpur-Brisbane relied heavily on Europe connections, and in 2015 Malaysia Airlines was concerned that Brisbane could not be supported after the suspension of several European routes.
Malaysia Airlines will again rely heavily on transit traffic as it resumes the Kuala Lumpur-Brisbane route, particularly regional connections within Asia, because London is now Malaysia Airlines' only remaining European destination (with reduced capacity by the time Brisbane is relaunched, since A350s are replacing A380s).
However, AirAsia X's reduction in the Gold Coast should enable Malaysia Airlines to attract more Malaysian travellers. A higher mix of local traffic is critical because transit traffic is typically very low yielding – due to the intense competition with other airlines serving the Brisbane-Asia and Brisbane-London markets.
AirAsia X's reduction in capacity to Australia is aimed at improving its passenger mix and yield on Australia routes. More than half of AirAsia X's Australia traffic connects beyond Kuala Lumpur, but the (lower yielding) transit portion should decline as capacity is reduced.
Most of Malaysia Airlines' Australia traffic similarly now connects beyond Kuala Lumpur, and the airline is timing the new Brisbane and Perth flights to maximise connections.
Malaysia Airlines needs to be careful not to add back too much capacity to Australia or risk a further decline in already low yields. The airline is trying to turn the corner, and cannot afford greater losses in Australia.