Australia domestic airline market outlook: Qantas Group reins in capacity as Virgin continues growth
Analysis
Throughout the global financial crisis, Australia's domestic market defied global aviation trends. Although LCCs made inroads and grew the market, short-haul corporate travel – mostly in premium cabins – remained strong. A domestic market serving 20-odd million people produced profits in excess of AUD1 billion. More recently those profits were slashed during a capacity war between Virgin Australia, seeking a larger position in the market, and Qantas, which fought to defend its position.
Qantas applied the capacity brakes in the first half of fiscal 2015, removing seats across both Qantas and Jetstar for the first time since the capacity growth spurt. Capacity forecasts show the group continuing to remove capacity in 2H2015. Qantas is forecast to end FY2015 with a 3.5% reduction in domestic ASKs and Jetstar a 2.3% reduction. The smaller Virgin Australia will meanwhile grow 2.2% and its smaller LCC unit Tigerair will grow 8.9%.
Brakes on domestic capacity growth have helped Qantas and Virgin Australia
Virgin Australia's large capacity increases in FY2012/2013 tapered in FY2014/2015. Throughout FY2012-2014, Qantas Group responded to Virgin's growth with its own capacity deployment. Qantas mainline's growth, measured in ASKs in the graph below, was smaller than Virgin's. Jetstar's ASK growth frequently exceeded that of LCC Tigerair, although Qantas Group would have deployed Jetstar to combat Tigerair as well as Virgin's leisure segment with its own brand.
In 1H2015, capacity reductions are being made by the Qantas Group for the first time, as both Qantas and Jetstar cut back compared to levels of 1H2014, and the capacity reduction in 2H2015 will increase further. Virgin's capacity increase in 1H2015 was its smallest in recent years but Virgin intends to pick up steam in 2H2015 with stronger growth – perhaps fuelled by Qantas Group's reductions, lower fuel prices or a combination of both.
Tigerair showed relatively strong growth in 1H2015 but will have minimal growth in 2H2015. Since 2H2013, Tigerair has added more domestic ASKs than Virgin Australia but this trend will end in 2H2015 as Virgin adds more ASKs than Tigerair. Note some of Tigerair's growth is actually adding back to the market what it took out following its 2011 grounding.
ASKs added to domestic Australia market by airline, measured year-over-year: 2H2012-2H2015F (fiscal Australian year)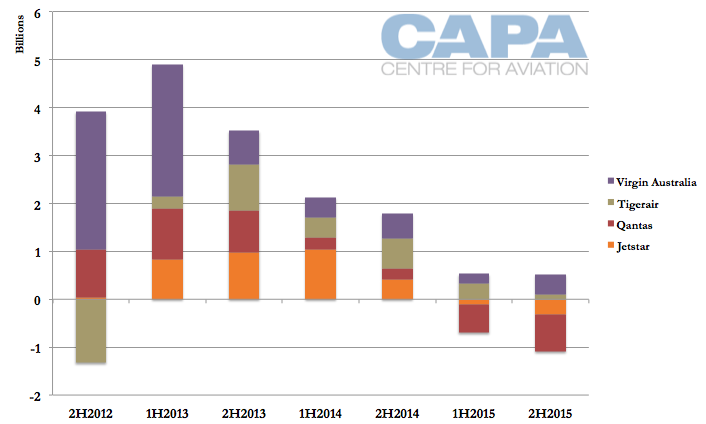 In the reduced competitive environment Qantas and Virgin each posted improvements to their domestic operations during 1H2015. In a presentation at CAPA's recent Airlines in Transition Conference, Qantas Group CEO Alan Joyce flagged the domestic market changes as one of the key elements in the group's transformation.
Qantas Group CEO Alan Joyce discusses the evolution of the group's hybridity: Mar-2015
See related reports:
FY2015: Virgin will grow 2.2%, Qantas shrink 3.5%. Qantas Group market share at 62%
The cumulative impact of 2H2015's capacity changes will see growth rates slow. Australia's four major airlines will all post their slowest growth in recent years: 8.9% for Tigerair, 2.2% for Virgin Australia (down from 2014's 3.5%), Jetstar a 2.3% reduction and Qantas a 3.5% reduction.
Annual domestic Australia ASK growth: FY2013-2015F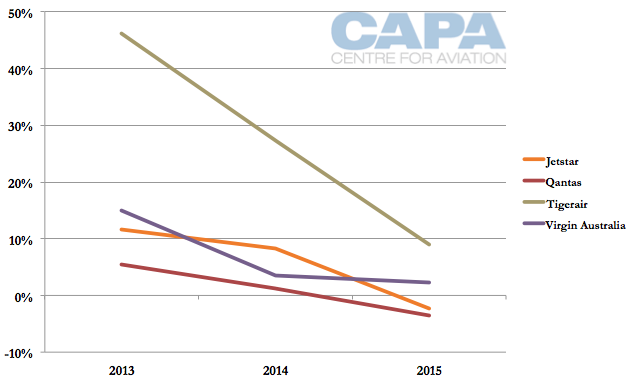 The large capacity reduction by Qantas, and a smaller reduction by Jetstar, will more than offset the growth from Virgin Australia and Tigerair. The domestic market for the first time in recent history will have an annual (fiscal year) reduction in capacity by about 750 million ASKs. This compares to ASK growth of 3.9 billion in 2014 and 8.4 billion in 2013.
Annual domestic Australia ASK changes: FY2013-2015F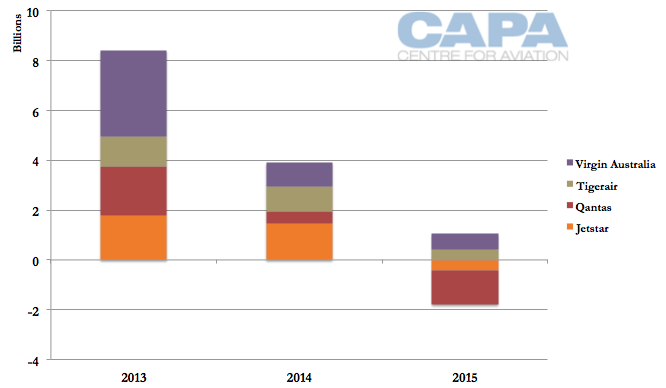 The reduced size of Qantas and Jetstar compared to Virgin and Tigerair will position the Qantas Group at end-FY2015 with a forecast 62% share of the domestic market according to OAG data (this can change as schedules are adjusted).
This is slightly below the group's stated objective of having a 65% market share, although the logic on this has arguably waned and the group has had a market share of less than 65% since FY2013.
Australian domestic capacity by carrier: FY2012-FY2015F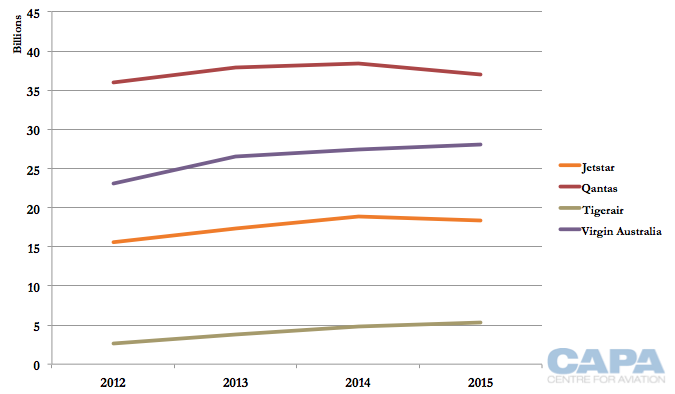 Outlook: Capacity situation not even. There are large variances by route
While the overall domestic capacity decrease is helping to return stability, there are still large variances by route and these may take further time to rationalise.
Looking at Australia's largest routes ranked on ASKs, Brisbane-Melbourne has experienced steady and consistent growth while other routes (Sydney-Melbourne, Sydney/Melbourne-Perth) are tapering.
Annual ASKs on Australia's four largest domestic routes: 2011-2015F (Australian fiscal year)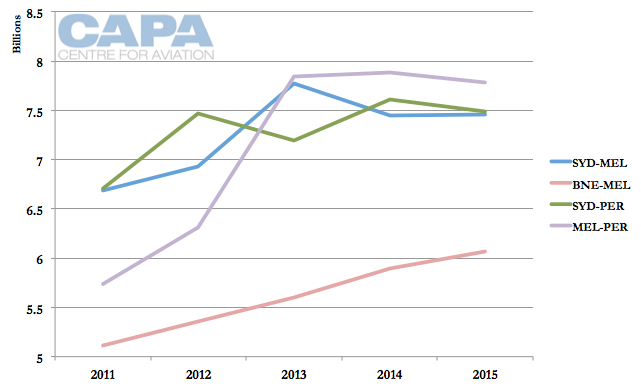 Sydney-Melbourne is seeing slight growth in 2015 after a notable decrease in 2014, although this occurred following large growth in 2012 and 2013. 2015 capacity is 12% higher than in 2011.
Annual ASK change Sydney-Melbourne all airlines: 2012-2015F (Australian fiscal year)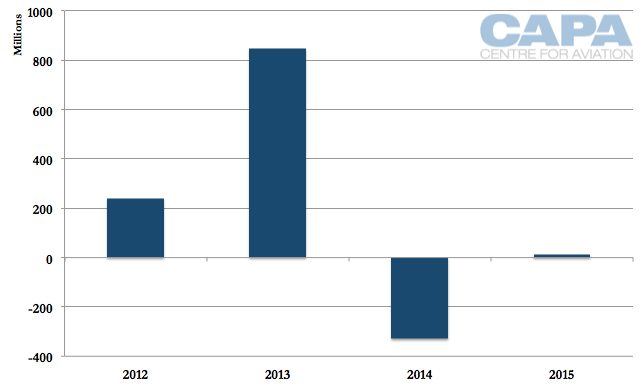 Brisbane-Melbourne is experiencing slower growth, although this was after faster growth in 2014. 2015 capacity will be up 19% compared to 2011.
Annual ASK change Brisbane-Melbourne all airlines: 2012-2015F (Australian fiscal year)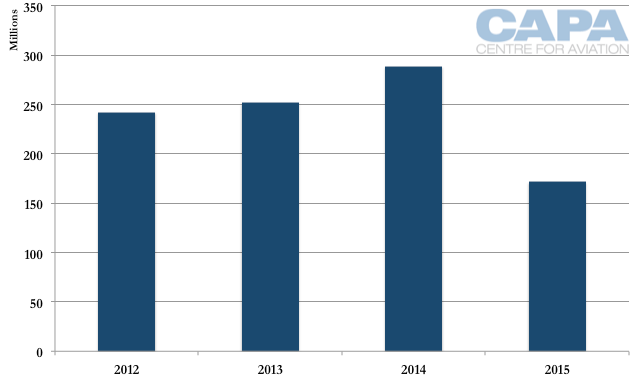 The two large east-west markets, Sydney/Melbourne-Perth, are experiencing decreases in 2015. For Melbourne-Perth, this follows very small growth in 2014 after large growth in 2013. The Sydney-Perth route grew strongly in 2012 but then decreased in 2013.
Sydney-Perth capacity in 2015 will be up 12% from 2011 while Melbourne-Perth 2015 capacity will be up a remarkable 36% compared to 2011.
Annual ASK change Sydney-Perth all airlines: 2012-2015F (Australian fiscal year)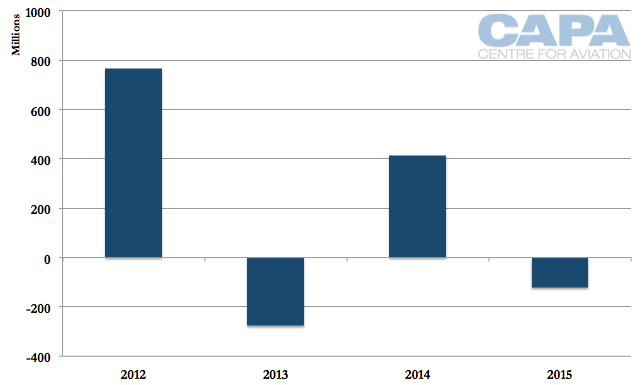 Annual ASK change Melbourne-Perth all airlines: 2012-2015F (Australian fiscal year)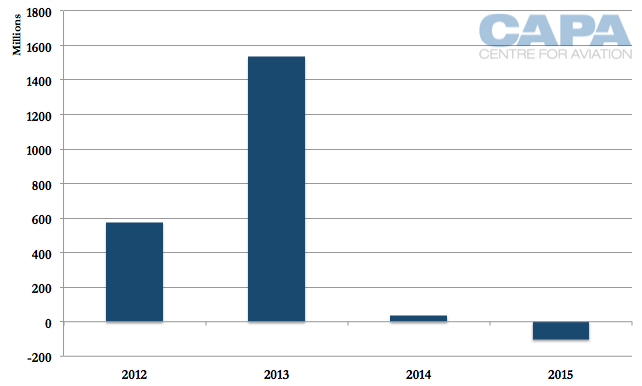 Consumers have benefitted enormously from the flood of discounted capacity and will likely continue to do so. Although capacity is waning and overall the market may be smaller than in 2014, it is still at record highs.
Now the airlines are seeking to benefit as well, finding a balance between growth/market share and profitability.
Topped up by full tanks of much cheaper fuel, the coming months consequently promise to be among the most profitable in Australia's airline history. The only sombre note is a softening domestic economy.