Asiana Airlines seeing continuing yield contractions, Thai Airways lowers 2009 revenue target
Asiana Airlines' shares gained 1.0% on Friday, despite reported continuing yield contractions in the three months to Jun-2009
Asiana's passenger yield slipped 6.3% (as the 6.7% improvement in domestic yield failed to counter the 7.4% slump in international yield) and cargo yield slumped 17.5%. The carrier's load factor was also battered in the quarter, slipping 6.5 ppts to 66.5%.
Asia Pacific selected airlines daily share price movements (% change): 04-Sep-09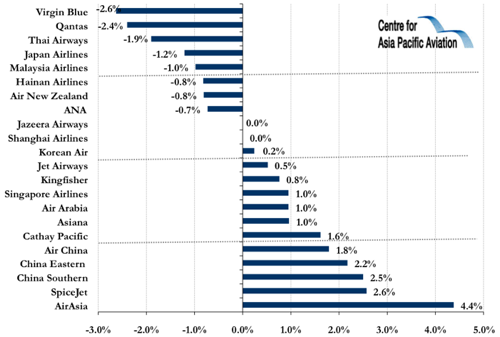 Thai Airways lower FY2009 revenue target….again
Thai Airways' shares slipped 1.9% on Friday. The carrier has again lowered its revenue target for 2009, from a previous target of USD5.3 billion to USD4 billion, after it reduced capacity amid the global financial downturn. The carrier stated it is unsure whether this would affect plans to return to profitability in 2009, adding, "we have to wait and see how the situation will be in the last quarter of the year."
Qantas could lose lucrative Government travel budget tender
Meanwhile, Qantas shares were down 2.4%. The carrier could reportedly lose as much as AUD500 million (USD425 million) in revenue after the Department of Finance put up its annual Australian Government travel budget for tender in three separate tenders (for domestic air travel, international air travel and for travel management services). The tender process may settle complaints from other airlines, including Virgin Blue, that Qantas receives an unfair share of the government travel budget.
JAL seeking further cash injection?
Japan Airlines' shares were also down, by 1.2%, on Friday. The carrier is reportedly considering requesting state-Owned Development Bank of Japan Inc to purchase new shares in the airline to increase the company's capital and credit standing. JAL, which posted its largest-ever quarterly net loss in 2Q2009, aims to launch restructuring measures by the end of this month. The carrier has already received JPY100 billion (USD1.1 billion) from the Development Bank and other Japanese lenders in Jun-2009.