Asiana Airlines operating profit falls sharply in 2Q2011, outlook uncertain
Analysis
Asiana Airlines, South Korea's second largest airline by revenue after Korean Air, reported a sharp reduction in operating profit in the three months ended Jun-2011 (2Q2011) as a result of the combined impact of the 11-Mar-2011 Japan earthquake and tsunami and high oil prices. The carrier however returned to the black at the net level in the quarter.
Also in the South Korean market, Korean Air swung to a net profit of KRW33.7 billion (USD32 million) in 2Q2011 compared with a net loss of KRW196.7 billion (USD187 million) in 2Q2010 (which was due to foreign exchange-related losses). However, a 34% year-on-year increase in fuel costs eroded the bottom-line, the company said. The airline recorded an operating loss of KRW19.7 billion (USD19 million) compared to an operating profit of KRW395 billion (USD375 million) in 2Q2010.
See related article: Korean Air swings to net profit but in the red at operating level
Investors have preferred Asiana Airlines' shares over the past 12 months, sending its stock around 10-20% higher against Korean's 15-20% fall.
Shares price comparison for Korean Air, Asiana Airlines for the past 12 months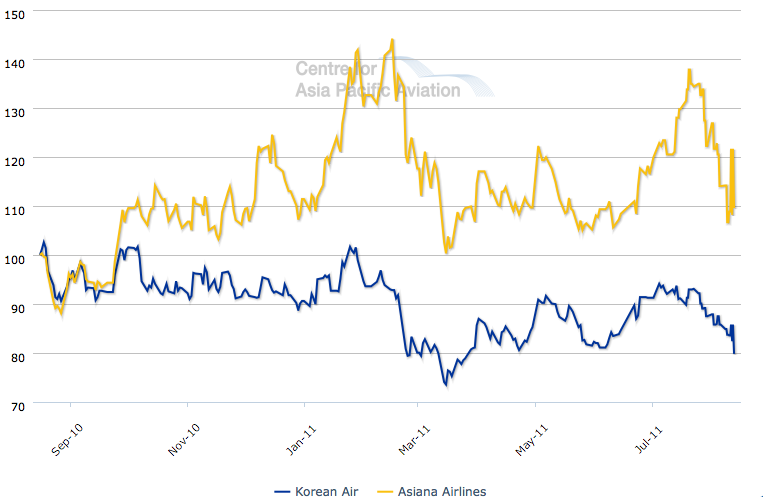 62% slump in operating profit to USD46 mill; Net profit of USD4.3 mill
During 2Q2011, Asiana Airlines' operating profit slumped 64.1% to KRW49.75 billion (USD46.1 million) for an operating profit margin of 3.8%. Net profit stood at INR17.72 billion (USD16.4 million), an improvement from a net loss of INR4.65 billion (USD4.3 million) in the previous corresponding period, and resulting in a net profit margin of around 1.3%. The year-earlier net loss was mainly due to foreign exchange translation losses, the company said.
Asiana's revenues increased 6.6% year-on-year to KRW1.310 trillion (USD1.22 billion) in the quarter. International revenue was the largest contributor to the carrier's revenue base, at 56.1% of the total, followed by cargo revenues, which comprised 28.5% of the total.
Asiana Airlines financial highlights for the 3 months ended Jun-2011
Revenue*: USD1,216.1 million, +6.6% year-on-year;

International passenger: USD666.8 million, +13.8%;
Cargo: USD330.4 million, -0.9%;
Operating costs: USD1,028.8 million, +22.9%;
Fuel: USD434.6 million, +35.7%;
Operating profit: USD46.1 million, -64.1%;
Net profit: USD16.4 million, compared to a loss of USD4.3 million in p-c-p;
International passenger traffic (RPKs): 6,998 million, +3.5%;
International passenger capacity (ASKs): 9,167 million, +8.0%'
International passenger load factor: 76.3%, -3.3 ppts;
International passenger yield: USD9.50 cents, +15.1%;
Cargo traffic (RTKs): 979 million, +5.3%;
Cargo capacity (ATKs): 1,236 million, +7.4%;
Cargo load factor: 79.2%, -1.6 ppts;
Cargo yield: USD33.70 cents, -1.7%.
*Based on the conversion rate at USD1 = KRW1,077.17
Concern over fuel costs
Asiana Airlines' revenue growth was, however, outpaced by a 22.9% year-on-year increase in operating costs, driven by a 36% increase in fuel costs. Fuel costs, as expected, represented the largest operating expense for the carrier in the quarter, at 37.5% of the total. Labour expenses, the second largest cost for the carrier, represented a significantly lower portion of total costs, at 11.0%.
Asiana Airlines revenue/cost composition: Three months ended 30-Jun-2011
The largest market, both in the passenger and freight revenue for Asiana, a predominantly international airline, was the US, contributing 21.4% of passenger and 46.6% of cargo revenues in the quarter. The second largest passenger market for Asiana Airlines, by revenue, in the second quarter was China (19.5%) followed by Southeast Asia (19.0%).
Asiana Airlines revenue composition (%) by route for passenger and cargo business:
Three months ended 30-Jun-2011
International traffic growth of 3.5%; 10% increase in international yields in 2Q2011
Overall Asiana Airlines' international traffic (RPKs) growth stood at 3.5% in the quarter, with actual traffic reaching the third highest quarterly level on record after 1Q2010 and 3Q2010. Inbound traffic and transit passengers have been stronger in the first half of 2011, whereas outbound traffic has been generally weaker.
Asiana Airlines international traffic (RPKs, mill km): 2Q2008 to 2Q2011
Asiana Airlines international passenger market demand: 2008 to 2011
Asiana Airlines' largest international passenger markets by traffic (RPKs) were the USA and Southeast Asia. The fastest growing passenger markets in terms of traffic (RPKs) was the EU, with growth of 17.3%, followed by Southeast Asia (+14.6%) and China (+11.5%).
Asiana Airlines international passenger market demand by country: 2007 to 2011
The overall international traffic growth occurred despite a considerable 21.7% slump in Japan traffic due to the earthquake impact, with traffic to Oceania also considerably weaker, down 17.0% year-on-year.
International network operating performance: Traffic (RPKs mill) and Yield (KRW): 2Q2010 vs 2Q2011
Commenting on passenger demand trends, Asiana noted that "South Koreans chose China and Southeast Asia over Japan in May and June and the company focused more on oil hedging (during the second quarter), which helped keep the quarterly operating profit from falling further". The carrier also noted that due to the passenger demand increment to China and Southeast Asia, international traffic increased by 3.5%, outpaced by a 10% yield increase.
All but two regions – Southeast Asia and China – witnessed double-digit passenger yield in the quarter, led by the EU (+19.3%) and Japan (+16.2%).
Asiana Airlines international passenger yield (KRW) and year-on-year growth: 2Q2008 to 2Q2011
International freight yields weaken; single-digit freight growth
Following the USA, Europe (21.4%) and Southeast Asia (14.8%) were the next two largest freight markets for Asiana Airlines, in terms of revenue generation, with these three markets also being the largest markets by traffic (RPKs).
Overall cargo traffic (RTK) increased by 5% over the same period in 2010 to reach a new high, driven by inbound demand. However, yields declined by 6% due to a strong base for comparison last year.
Asiana Airlines cargo market demand: 2007 through 2011
Asiana Airlines cargo market demand (RTKs) and year-on-year growth (%): 1Q2008 to 2Q2011
The fastest growing region for freight in terms of traffic (RTKs) growth was the EU (+10.5% year-on-year), which was the only region witnessing double-digit growth. China witnessed the largest year-on-year decline in freight traffic, with a 15.2% year-on-year decline.
However, yields were strong on China routes, increasing 19.9% year-on-year. Japan saw the largest yield improvement, of 21.7%, with the US seeing the only double-digit decline in freight yields, of 12.7%.
Asiana Airlines cargo traffic (RTKs, mill) and yield (KRW): 1Q2008 to 2Q2011
The transportation of electric devices and machinery represent the bulk of the carrier's freight business, with the transportation of machinery and chemicals increasing in 1H2011 from FY2010 levels.
Asiana Airlines freight route profile
Fleet of 72 aircraft with A350XWBs and A380s to come
Asiana Airlines' operating fleet stood at 72 aircraft as at 30-Jun-2011, up from 69 aircraft as at 30-Jun-2010. It follows the delivery of two A321s in Jan-2011 and Mar-2011, and one A330 in Mar-2011.
The carrier expects to end the year with 71 aircraft in its fleet, increasing to 79 by the end of 2012. This will be boosted by the addition of seven passenger and one freighter during 2012. The carrier stated it is scheduled to take delivery of six A380s between 2014 and 2017, for deployment on long-haul routes, and 30 A350XWBs between 2016 and 2022, for deployment on mid/long-haul routes.
Asiana Airlines fleet profile: 30-Jun-2011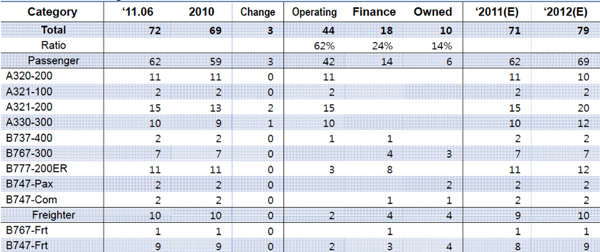 Looking forward ahead, Asiana Airlines has 42 aircraft on order, including 10 A350-1000XWBs, 12 A350-900XWBs, eight A350-800XWBs, two A321-230s, two A330-320s, six A380s and two B777-200ERs.
To benefit from Korea Express Co stake sale; stabilising oil prices in 3Q2011
Looking forward to the peak third quarter, Asiana Airlines will benefit from lower oil prices and a one one-time capital inflow of around KRW570 billion (USD528 million) from the sale of its stake in Korea Express Co, the country's largest logistics company by sales. This will help reduce the carrier's debt levels, which stood at KRW3.1 trillion (USD2.9 billion) at the end of 2010. As at 30-Jun-2011, Asiana Airlines had a debt ratio of 587.7%, down from 603% at Mar-2011 and 636.3% as at the end of 2010.
However, Asiana Airlines, like Korean Air, is facing rising competition from foreign carriers in its international operations. Two thirds of the 19.95 million international passengers to/from South Korea travelled with Korean Air and Asiana Airlines in 1H2011, but international airlines are increasing their presence in South Korea and yields are under pressure.
The cargo market also appears to have softened, reflecting weaker economic conditions in North America and Europe. All eyes will be on the strength of this year's peak cargo period that will start to build in coming months.
Background Information
Asiana Airlines international vs domestic capacity (ASK share, 15-Aug-2011 to 21-Aug-2011)
Asiana Airlines international capacity (seats) by region (15-Aug-2011 to 21-Aug-2011)