Asian premium travel downturn intensifies
Analysis
The International Air Transport Association (IATA) warns of a "significant downward trend" in travel growth, as the economic environment worsens. The industry body added the sharp decline in premium travel most likely reflects a fall in business travel driven by the increasing weakness of major economies.
According to IATA, the Lehman Brothers' bankruptcy "underlines the shrinkage of M&A and other financial sector activity, leading of course to a reduced number of business travellers from financial services", while falling air freight volumes and lower business confidence "suggests that world trade and travel from the manufacturing sector is also in decline".
Worldwide premium demand fell 1% in Jul-08, following a -0.4% fall in Jun-08 and average growth of 1.5% during 1H08. IATA stated there is likely to have been some switch in business travel from premium to economy, "but all the evidence suggests this is a relatively price-insensitive sector".
IATA premium traffic growth by region (% change year-on-year):
Jul-08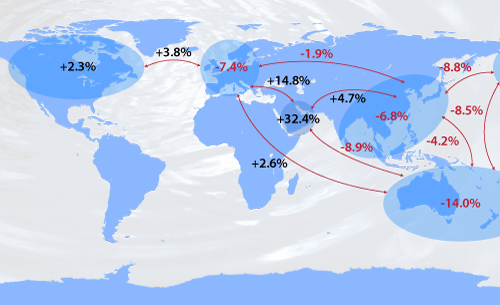 Asian premium travel markets struggled in Jul-08 - the latest month for which data is available - with premium travel within the region falling 6.8% year-on-year.
IATA premium traffic growth on Asian routes (% change year-on-year): Jan-08 to Jul-08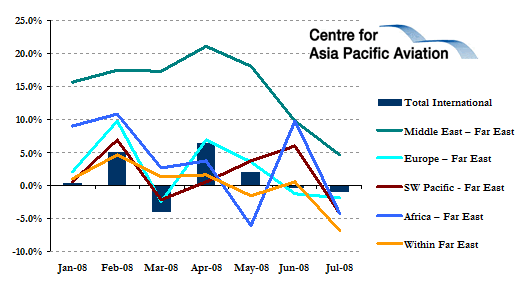 Premium traffic between Asia and Europe and North America was also subdued, despite Asian economic growth (outside of Japan) remaining relatively strong. IATA stated this suggests that the traffic slowdown has been exaggerated by the travel restrictions associated with the Olympics in China, adding "some rebound may occur in the next few months".
Leading economic indicators in the US point to further weakening in economic conditions in the world's biggest economy, while FedEx Corp stated overnight that it expects the US economy will grow by 1.9% in 2008 and by a "similar" rate next year. Tepid growth in the US and recessions in key European economies paint a challenging outlook for premium-focused airlines.