Arik Air orders two 747-8s to continue expansion as Nigeria's largest carrier
Analysis
Arik Air on 06-Oct-2011 was identified as the carrier who anonymously purchased two Boeing 747-8 aircraft on 15-Jun-2011. The purchase injects life into the aircraft programme, which only has two other disclosed airline customers although Boeing has continuously said it expects the freighter variant to be far more successful than the passenger version. More important is the aircraft's affect on Nigerian aviation and cementing the position of Arik Air as the regional leader.
Arik Air says it intends to operate the B747-8s on its "key long-haul routes". Arik Air only currently operates to London Heathrow, New York JFK and Johannesburg. The carrier announced this week its intention to launch thrice weekly service to Abu Dhabi on 29-Nov-2011 with A340-500s. With London Heathrow being Nigeria's largest long-haul market, slot-constrained and facing more competition, the airport has very good chances of receiving Arik Air's B747-8 service.
Politically-linked announcement
The disclosure of Arik Air as the previous unidentified purchaser was made at the Corporate Council for Africa's 8th Biennial U.S.-Africa Business Summit in Washington, DC. In announcing the purchase, Sir JIA Arumemi-Johnson, owner and chairman of Arik Air said what Boeing would undoubtedly like to hear from more airlines: "As we look into the future, the 747-8 Intercontinental is a must have for Arik Air."
Relations between Nigeria and US are strengthening and the two countries share a growing trade partnership. Nigeria is the US' largest trading partner in sub-Saharan Africa and its 50th largest partner in the world. The US is the largest foreign investor in Nigeria. In Apr-2011, Nigeria was the fifth largest supplier of crude oil for the US, supplying 8% of the US' oil imports.
The deal cements a tentative agreement from Jul-2008 that Arik Air would purchase four B747-8s. Delays to the aircraft programme saw Arik Air re-evaluate its purchase, including considerations – or a good bargaining tactic – of purchasing Airbus aircraft, including the A380. Working against Arik Air's favour was that it had purchased and then cancelled an order for B777-300ERs.
Links and economic opportunities between Nigeria and the US became apparent when Continental Airlines announced its intention to launch its first B787 services to Nigeria's most populous city, Lagos, as well as New Zealand's Auckland. The Lagos service, to be operated under the United banner, will commence in Nov-2011 with B777 equipment.
London is Nigeria's largest market
While traffic may be growing between Nigeria and the US, the largest long-haul market is to London Heathrow, where carriers are operating 5,453 seats this week, according to CAPA's ranking tool. A link between London Heathrow and Nigeria's capital at Abuja (the sixth largest long-haul route out of Nigeria) accounts for an additional 2,455 weekly seats. In contrast, the second largest market out of Nigeria is to Dubai, with 4,816 weekly seats. Services to London from Lagos and Abuja are collectively 64% larger than to Dubai, although this will decrease slightly when Arik Air launches flights to Abu Dhabi, near Dubai.
Air Nigeria, born out of the former Virgin Nigeria, has signalled its intent to serve London, but this has yet to occur.
Ranking of largest international (short-haul andlong-haul) routes on seat available basis from Nigeria (Week commencing 7-Oct-2011)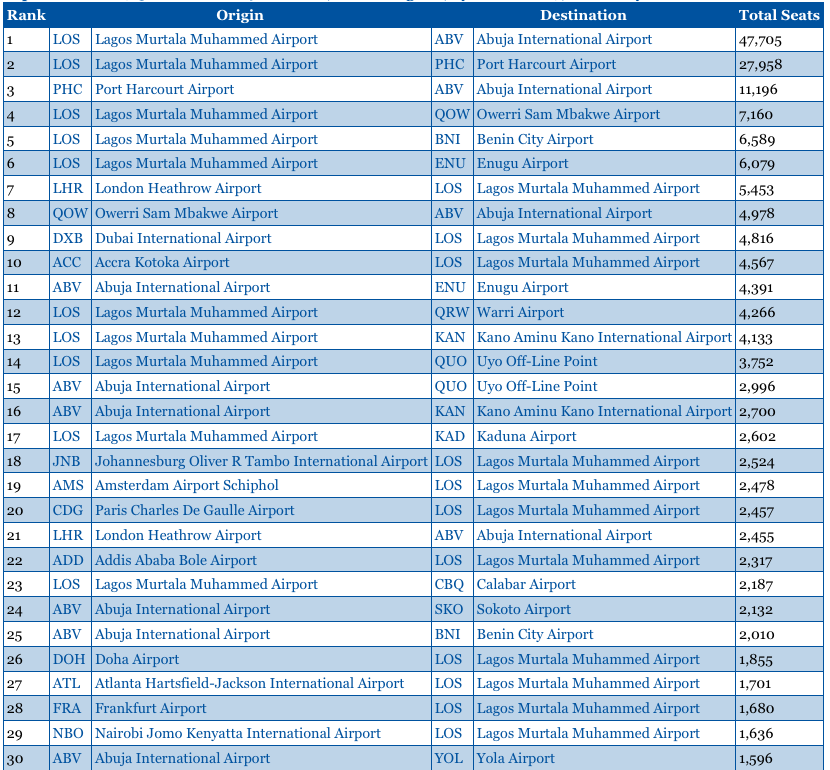 The Lagos-London service has the 12th highest number of weekly seats between Africa and Europe.
Ranking of largest Africa-Europe routes on seat available basis from Lagos (7-Oct-2011)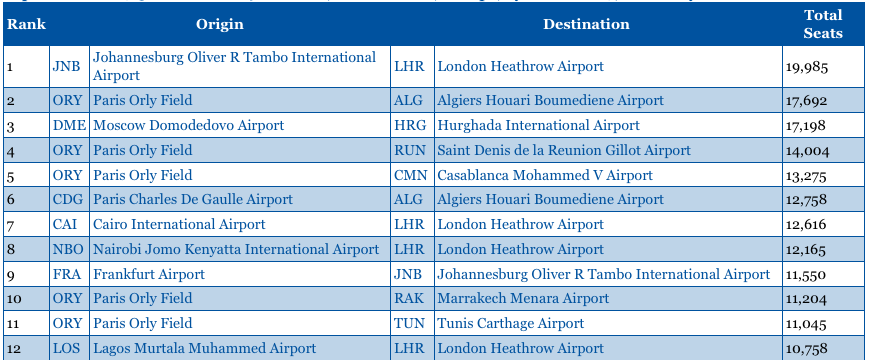 Long-haul routes and aircraft to support regional growth
It is remarked African carriers focus too heavily on prestigious long-haul international routes when what the continent needs from airlines is regional growth, facilitating trade and connections between countries to help them grow. While Arik Air's purchase of the two B747-8s (at a list price of USD635 million before discounts) adds credence to that argument, the carrier has shown an interest in linking Nigeria's outer cities as well as western Africa and further away Johannesburg.
Of Arik Air's local competitors, Arik Air serves the largest number of Nigeria destination and is one destination short of tying with Air Nigeria for most number of regional (west Africa) destinations served.
Arik Air's two B747-8s, to be powered by sole engine choice GEnx, have not been given delivery dates yet. The carrier has eight B737-800 and seven B787-9s on order.
For more on Nigerian aviation, see related article: Air Nigeria re-establishes long-haul routes in competitive market