American Airlines launches Dallas-Beijing, accelerating US airlines' refocus on China over Japan
Analysis
15 North American airports have service to China
In the space of a year, Dallas has gained three greater China services, all from American Airlines as it builds up its Asian presence from Dallas, its mega hub. Beijing, Hong Kong and Shanghai join previously existing Asian services to Seoul and Tokyo Narita.
Dallas/Ft Worth Airport CEO Sean Donohue spoke to CAPA TV about DFW's recent international transformation. In addition to the growth in Asian services, DFW has all three Gulf network carriers. DFW is now talking to American and European airlines about increasing flights to Europe; DFW sees service to only five European points.
Dallas/Fort Worth International Airport CEO Update at CAPA Americas Summit: Apr-2015
15 North American airports have service to greater China, including Hong Kong. Dallas is the 10th North American airport to have service to three points. Four airports have service to more than those three points: New York JFK (Guangzhou as well), Los Angeles (Guangzhou and Nanjing), Vancouver (Guangzhou and Shenyang) and, with the most points, San Francisco (Chengdu, Guangzhou and Wuhan).
Two China-North America routes have been announced for 2015 but not yet scheduled. These are Air China's Beijing-Montreal and Hainan's Changsha-Los Angeles. If the Hainan route is offered, Los Angeles will have as many Chinese destinations as San Francisco.
See related report: Montreal receives first Asian service with Air China's Beijing flight, and hopes others will follow
North American airports with service to greater China: 2015, schedules filed as of 08-May-2015
| | |
| --- | --- |
| North American Airport | Chinese Airport |
| Boston | Beijing, Hong Kong, Shanghai |
| Chicago | Beijing, Hong Kong, Shanghai |
| Dallas | Beijing, Hong Kong, Shanghai |
| Detroit | Beijing, Shanghai |
| Honolulu | Beijing, Shanghai |
| Houston | Beijing |
| Los Angeles | Beijing, Guangzhou, Hong Kong, Nanjing, Shanghai |
| New York JFK | Beijing, Guangzhou, Hong Kong, Shanghai |
| Newark | Beijing, Hong Kong, Shanghai |
| San Francisco | Beijing, Chengdu, Guangzhou, Hong Kong, Shanghai, Wuhan |
| San Jose | Beijing |
| Seattle | Beijing, Hong Kong, Shanghai |
| Toronto | Beijing, Hong Kong, Shanghai |
| Vancouver | Beijing, Guangzhou, Hong Kong, Shanghai, Shenyang |
| Washington Dulles | Beijing, Shanghai |
American has technically been larger in mainland China than Japan since Jun-2014 when it launched Dallas-Shanghai Pudong service. That was American's fourth flight into mainland China, with all flights offered daily. American also had four flights into Japan, but one – Chicago-Tokyo Narita – was reduced from daily to five weekly in late 2013.
It has mostly remained at five daily since, but the chance of daily restoration meant the two countries were similar in size. (Tokyo Narita-Chicago will be American's third international 787 route. The reduced frequency perhaps indicates the route needs greater efficiency, which the 787 brings.)
The new Dallas-Beijing service cements China's lead. This comes after American commenced services to China in only 2006. Although American has more seats to China than Japan in 2015, its reductions in past years in Japan means American's China network is still some way from being larger than its historical peak size in Japan.
American Airlines annual available seats into China and Japan: 2005-2015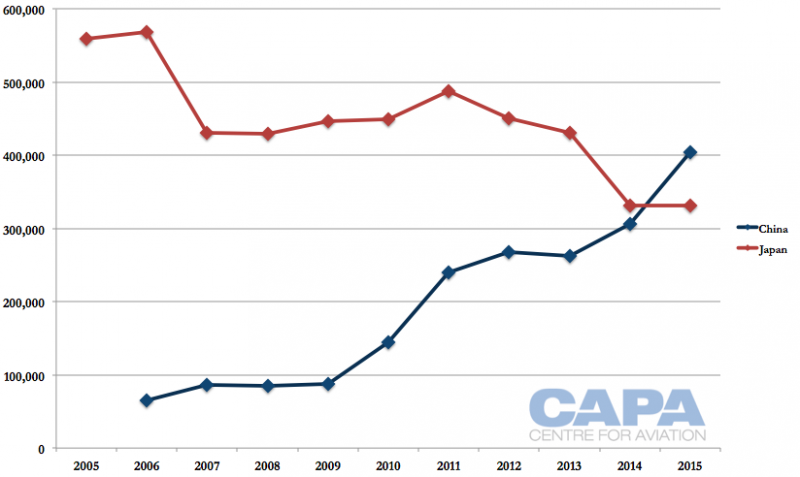 Growth opportunities in Japan are limited, compared to China
The opportunity for growth in China needs no explanation, although there are questions of tension as Chinese carriers overtake US airlines. A few years ago, the growth concern for US carriers was not having enough traffic rights, as Chinese airlines were given time to grow into the available capacity limits. They are now reaching that and the US airlines' concern is having strong competitors which will in the future be even more formidable as they make much overdue restructurings to become more efficient.
See related report: Chinese airlines overtake US carriers across the Pacific. The big dilemma: US-China open skies?
Growth in Japan is not so certain. Indeed, the trend of US airlines has been one of declining growth. American applied for Los Angeles-Tokyo Haneda service, which was awarded to Delta in the end. The Haneda service however would probably have replaced the Los Angeles-Tokyo Narita service rather than supplement the existing flying programme.
Upcoming daytime Haneda slot allocations for US carriers will lead to another round of bidding. A Miami-Tokyo Narita service has been mooted, which could lead to growth from its current position. However, Japan Airlines in 2014 said it was considering taking over one of American's two daily Tokyo Narita-Dallas Ft Worth flights. That would mean
little change at the AA/JAL JV, but would mean a decrease for American's flying.
2015 marks the first year American and United will be larger in Japan than China for non-stop services from the mainland US. United in 2014 had 8% more seats to Japan than China, but its Chengdu route (launched mid-way through 2014) and additional Shanghai service will mean United has 11% more seats to China than Japan in 2015, according to OAG data.
American is also turning the corner in 2015: it had 8% more seats to Japan than China in 2014 but in 2015 will have 22% more seats to China than Japan. Although American will have a larger proportion of its capacity into China than United, United is more than twice as big in China as American.
Size of China-US seat capacity relative to Japan-US seat capacity for American, Delta and United: 2005-2015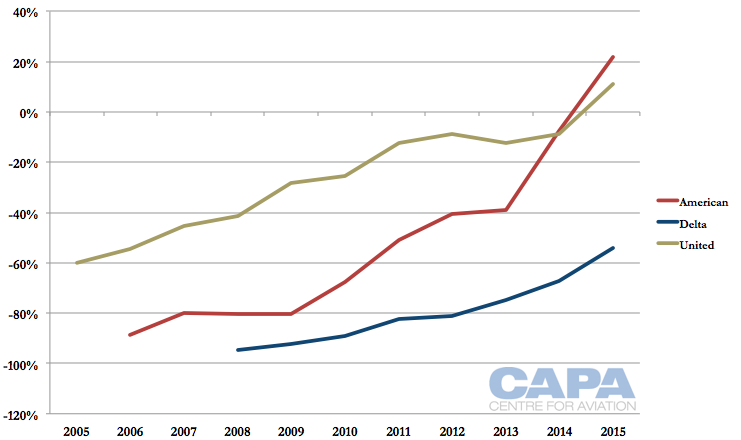 Delta is still anchored on Japan and specifically its Tokyo Narita hub. It will have 54% more seats into Japan than to China in 2015, down from 95% in 2008 (when non-stop China service commenced; previously China was accessed via Tokyo). Delta will continue to narrow the gap as it grows in China and looks to reduce its Tokyo hub, partially by down-gauging aircraft. Delta hopes to establish a hub in Shanghai, but this is a long-term vision.
See related report: Delta Air Lines' Shanghai hub plans: replicating the Amsterdam-KLM relationship will be difficult
US carriers have physical size in China but strategic anchoring in Japan
As China takes on increased importance for the US carriers, and for American and United China becomes larger in seat volume than Japan, the strategic Asian anchoring of US carriers remains in Japan. It is there that American and United have joint ventures (with JAL and ANA respectively), while Delta has a large hub, inherited from its Northwest Airlines history.
The US-Japan JVs can include accessing other Asian countries, but China has not authorised them and may not do for a while.
American, Delta and United share of non-stop US-Asia seat capacity by market: 2H2015
The times are changing, but although American and United may now be larger in China than Japan, the transition has only started. It will be some more time before they have the strategic strength in China that they possess in Japan.
And much of that will ultimately depend on the alliances that they are able to develop. In Pacific markets the US airlines are unlikely to be able to assert the sort of dominance they have domestically or on the North Atlantic, so partnerships will be critical.