American Airlines' growing trans-Pacific hub at Los Angeles will overtake Delta's Seattle hub
Analysis
As a US hub for trans-Pacific services the uncontested winner is United Airlines, with its San Francisco gateway. The battle between American Airlines and Delta Air Lines is for second position.
Delta has built up a hub at Seattle, while American has been growing in Asia from Dallas, but Dallas is far from being geographically close to the Asia Pacific, so American is turning its focus to building a trans-Pacific hub at Los Angeles. American has announced services from Los Angeles to Auckland, Sydney and Tokyo Haneda in recent months, complementing existing services to Shanghai and Tokyo Narita.
Beijing could be American's next destination from Los Angeles, giving American more Asia Pacific destinations, and more flights and seats from Los Angeles than Delta has in Seattle. Delta's Seattle hub is focused on Asia (it serves Australia/New Zealand from Los Angeles) and Delta serves five Asian cities from Seattle, whereas American has only two, and possibly soon a third, Asian service from Los Angeles.
American has built up domestic and Latin American flights at Los Angeles to feed its trans-Pacific network, but for now, Dallas remains American's biggest trans-pacific hub.
This is the second report about American's Asia-Pacific operation. The first part can be found below:
American Airlines, earlier in Nov-2015, opened bookings for a new daily Los Angeles-Tokyo Haneda 777-200 service. The startup has been a drawn-out affair. American's award of Haneda slots originated with Delta making significant cutbacks to its Seattle-Tokyo Haneda service. Carriers including American argued this was squandering the slot. A long, and often amusing, regulatory debate ensued about whether Delta should keep or lose its authority to operate to Haneda. Delta won, but on the condition it meaningfully serve Tokyo Haneda. Delta subsequently gave up the slot in Jun-2015, which saw American eventually awarded the service.
American had significant trouble securing slots at Tokyo Haneda even though it was effectively picking up the slots that Delta relinquished (and which US carriers were entitled to by the Japanese government). The issue was large enough that the US government had to intervene, but Delta argued that American should lose the Haneda authority.
American's final award of slots was followed by the service going on sale for a Feb-2016 launch, bringing this over-blown chapter to a close. American will have about a one third share of the Los Angeles-Tokyo Haneda market (Delta and ANA also operate from Los Angeles to Tokyo Haneda).
Los Angeles International Airport to Tokyo Haneda Airport (seats per week, one way): 19-Sep-2011 to 1-May-2016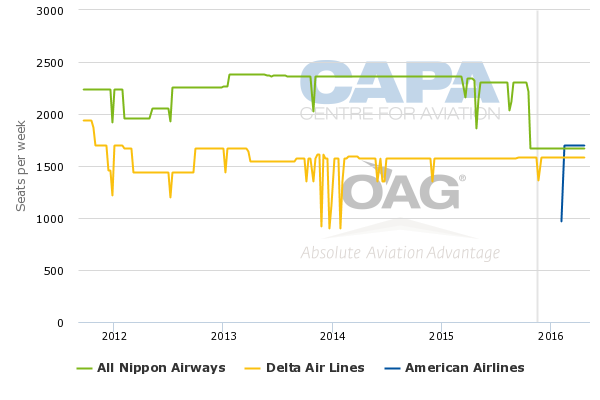 American's Los Angeles-Tokyo Haneda flight will complement its existing Los Angeles-Tokyo Narita service (also daily with a 777-200). American's initial proposal for a Haneda service was to have the same flight number as its existing Los Angeles-Tokyo Narita service. This prompted Delta to argue American would merely shift its Los Angeles service from Narita to Haneda, which would generate minimal additional benefit compared with a proposal (such as by Delta) for an all-new service. American responded that it would make Haneda a new service and would not cut back on Narita.
American has affirmed to CAPA that the Haneda service will not replace Narita. US carriers have generally been decreasing their presence in Tokyo (see graph below). It could have been tempting to shift the Los Angeles flight from Narita to Haneda rather than add more capacity in what is generally a declining market. American's growth to other countries in Asia in recent years also lessens the need to rely on Tokyo as a transfer point to other Asian markets. It is unknown if the US DOT awarded American the Haneda rights on the expectation that existing Narita services would be maintained.
American has made the smallest volume reduction between the US and Japan (excluding beach markets) but this is because it has had the least capacity of the US carriers. Proportionally, it has decreased about the same as Delta while both American and Delta have decreased faster than United. In 2Q2016 (the first full quarter when American will operate Los Angeles-Tokyo Haneda), American will be the only US carrier to increase Japan capacity – this is also occurring as American retrofits 777-200s with more seats. American will grow by about 30%, while Delta decreases by 6%, and United by 4%, according to OAG data.
American Airlines, Delta Air Lines and United Airlines annual mainland US-Japan seat capacity (left axis, 2005-2015) and 2Q capacity (2015, 2016)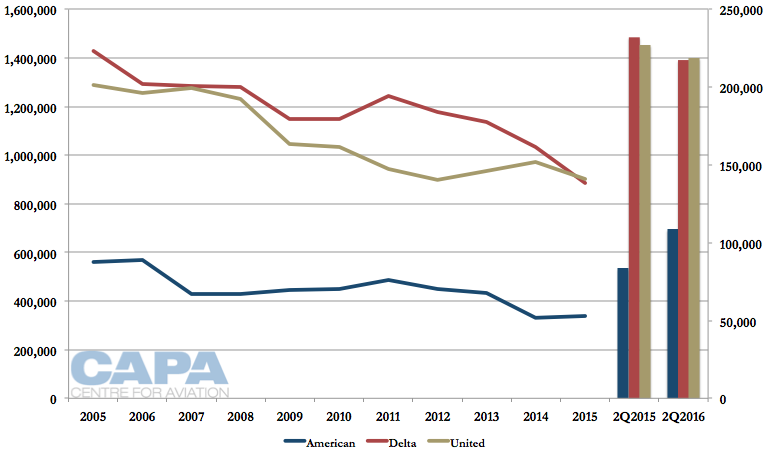 With its second Tokyo area flight, American will go from being about the fourth largest in the Los Angeles-Tokyo market (all airports) to the largest, although ANA and Delta will not be far behind. American will have an approximate 20% share of the Los Angeles-Tokyo market.
Los Angeles International Airport to Tokyo (Haneda and Narita) (seats per week, one way): 19-Sep-2011 to 1-May-2016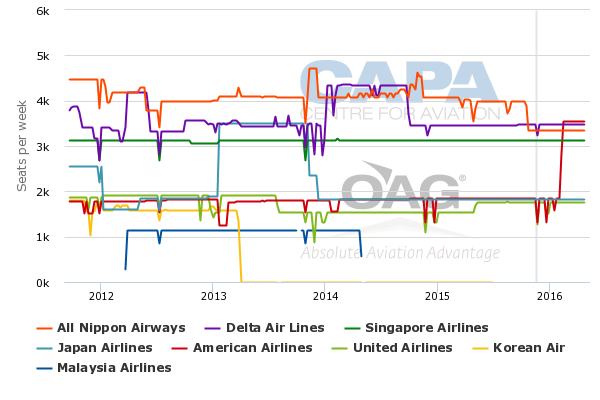 Los Angeles-Beijing services could give American more Asia-Pacific destinations from LAX than Delta has from Seattle
American Airlines has been quickly adding Asia-Pacific destinations to its Los Angeles hub. In Jul-2015 there were services to two points (Shanghai Pudong and Tokyo Narita) while in Jul-2016 there will be services to three more airports (Auckland, Sydney and Tokyo Haneda), for a total of five. While American has not flagged specific routes that could be added from Los Angeles, industry sources expect American to open a Los Angeles-Beijing service. American has been serving Beijing from Chicago, and in May-2015 they added Beijing service from Dallas. Shanghai already has service from all three of American's Asia gateways, making Los Angeles-Beijing a logical addition.
See related reports:
American's announced schedule for Jul-2016 will then offer as many Asia-Pacific airports from Los Angeles as Delta has from Seattle (five). American and Delta each plan to serve their respective destinations daily, giving them an equal number of frequencies. This can change in winter, as evident over 2015/2016, with Delta not offering Seattle-Hong Kong and Seattle-Seoul daily. Delta's Jul-2016 presence at Seattle is reduced compared with Jul-2015, because of its exit from Seattle-Tokyo Haneda. American will also overtake Delta's Los Angeles hub, which has service to Shanghai Pudong, Sydney, Tokyo Haneda and Tokyo Narita.
In the graphs below, the changes between American at Los Angeles and Delta at Seattle are most pronounced when looking at Jul-2016 capacity (the first full month of American's Auckland service). There is little reflection of American's Los Angeles build-up in annual totals, since Sydney is only being added in Dec-2015, while Tokyo Haneda and Auckland will be added during 2016.
Comparison of Asia-Pacific frequencies from American Airlines at LAX and Delta at Seattle and LAX: 2005-2015 (left axis), Jul-2015 to Jul-2016 (right axis)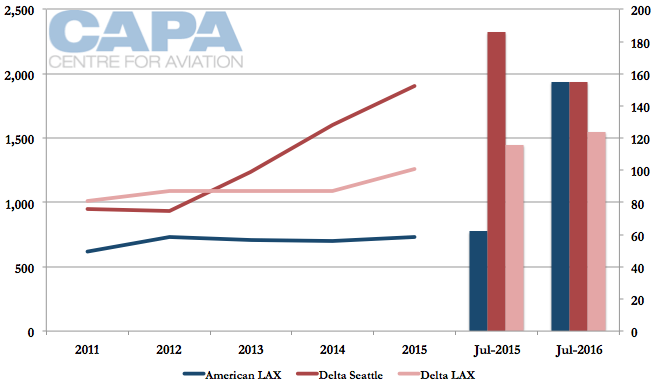 American will have larger Asia-Pacific capacity from Los Angeles than Delta will have from Seattle. However, this is partially necessitated by aircraft performance; Seattle is closer to Asia than Los Angeles is, which means Delta can fly 767s.
Comparison of Asia-Pacific seat capacity from American Airlines at LAX and Delta at Seattle and LAX: 2005-2015 (left axis), Jul-2015 to Jul-2016 (right axis)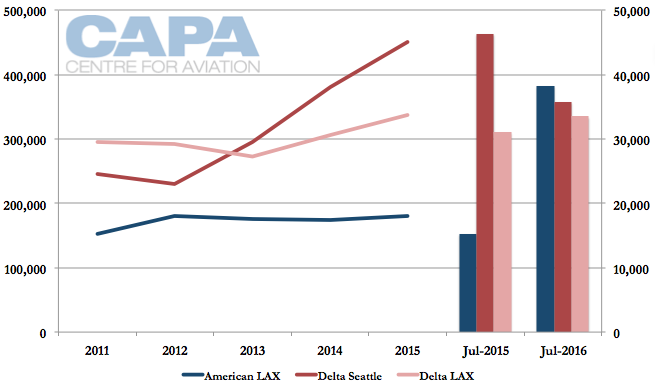 American adding Beijing – or another Asia-Pacific destination from Los Angeles – would result in it also having more destinations and frequencies in the region than Delta in Seattle.
The comparison between Delta in Seattle and American in Los Angeles is not exact, however. Although these are trans-Pacific hubs, the North Pacific (Asia) region that Delta focuses on from Seattle is different from Asia and the South Pacific (Australia/New Zealand), which American focuses on from Los Angeles.
Even if American adds another Asian point, Delta will serve more Asian cities from Seattle (five: Beijing, Hong Kong, Seoul, Shanghai and Tokyo) than American at Los Angeles (two: Shanghai and Tokyo, counting Haneda and Narita destinations as one city). Adding three more Asian cities from Los Angeles would be a tall order for American – but not out of the question in the long term.
US carrier services from major west coast trans-Pacific gateways: as of 16-Nov-2015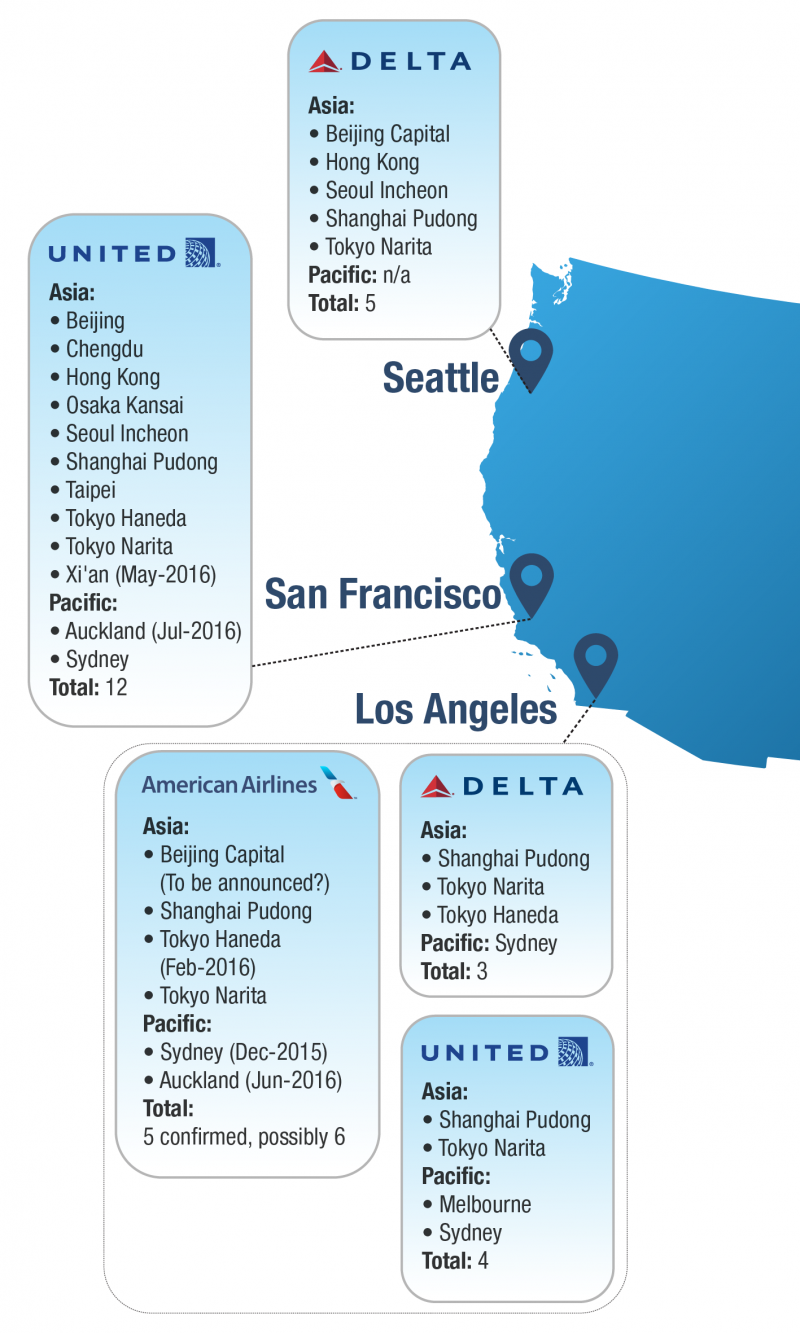 US carrier services from major west coast trans-Pacific gateways: as of 16-Nov-2015
Asia

Xi'an (May-2016)

Pacific

Sydney (Dec-2015)

Auckland (Jun-2016)

n/a
Sydney

Auckland (Jul-2016)

Total
5 confirmed, possibly 6
5
3
4
12
Region

LAX

Seattle

LAX

LAX
American Airlines has been growing at Los Angeles in order to develop point-to-point markets and short haul connections, but this growth also helps to sustain connections for their long haul services. Between 2011 and 2015, American has increased domestic/Canada destinations from 38 to 53. Frequencies have been added to existing large markets, such as New York. Most growth was between 2012 and 2013, before heavy integration of legacy American and their merger partner US Airways.
Caribbean and Central American destinations have grown from three to six, while a single South American point (Sao Paulo) has been added. These are all potential connecting markets from Asia.
American Airlines short haul and South American destinations from Los Angeles: 2011-2015
717" height="427" />
This 38% increase in North American destinations is greater than the 16% increase in American's North American frequencies from Los Angeles, reflecting how the destinations are mostly in smaller markets that do not need high frequency service.
Outlook: Domestic market matured, US big three look to long haul markets
The Asian networks of US carriers stand in stark contrast to their domestic position, where consolidation has created maturity and capacity discipline. The favourite phrase of Wall Street – "capacity discipline" – may have lost some shine in the domestic market as well as trans-Atlantic this year, where near consolidation via joint ventures has reduced competition, but "capacity discipline" has not existed in Asia in recent times, and is unlikely to. Although trans-Pacific services may only constitute a handful compared with the American domestic market, they clock up ASMs/ASKs quickly. The cost of flights to Asia can represent only a proportion of the cost of going to Europe, despite being double or even potentially triple the distance.
The vision at US carriers remains their long term objective, as seen with Delta constructing an entirely new hub at Seattle, and American building up in the very competitive Los Angeles market. Nevertheless, there is criticism that US carriers are not being more ambitious: with more flying to China, serving a wider network of secondary cities, and being more aggressive with partnerships.
The US and its carriers have shaped much of international aviation, including open sky agreements. The risk is now to be shaped by developments in Asia, rather than actually to exert influence themselves.