Allegiant down again. WestJet loses. Air Canada and TAM, GOL, LAN all up - Share Wrap
Air Canada shares soared (+48.9%) and Latin carriers, TAM (+7.8%), GOL (+6.5%) and LAN (+1.6%) each again chalked gains as the world economy seemed to be signaling recovery.

Allegiant's 2.3 million share offering is to be priced at USD50. The impending sale, by several key shareholders, is perhaps seen as a negative by investors.
For daily updates on American aviation stock prices and a complete wrap of the day's breaking news, sign up now for a complimentary subscription to America Airline Daily.
North & South America selected airlines daily share price movements (% change): 06-May-09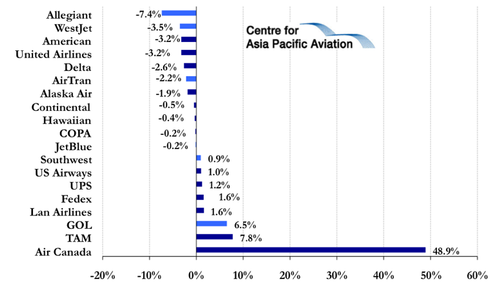 WestJet continues its aggressive expansion, despite economic conditions
WestJet added two B737-800-series aircraft in the first quarter. In April, it took delivery of its only aircraft scheduled to arrive in the second quarter, bringing its fleet size to 79. The carrier will add another seven aircraft in the second half, for a total of 86 aircraft.

According to CEO, Sean Durfy, "The flexibility of our fleet deployment strategy allows us to react to changes in market demand by adjusting our schedule for more favourable flying. In the second quarter, we have adjusted our flight schedules to reduce some of our flying as we take into consideration the current demand environment.

"This will lower our previously planned second quarter capacity growth to between one and two per cent. We anticipate that competitors will continue to withdraw capacity, which we believe will allow us to capture additional market share as we continue to grow into domestic, transborder and international markets."
The outlook according to WestJet
"In spite of the unprecedented events, we remain confident that we will effectively manage through the economic challenges as they are presented in 2009. We are well positioned to adapt our capacity during this period, with our seasonal deployment strategy, a number of newly-introduced destinations and the opportunity to increase our market share in a number of markets.

"Moreover, during these challenging times, our WestJet brand has remained strong, making us the airline of choice for many travellers who are seeking stability in their travel plans, which has in turn resulted in market share gains. We continue capitalizing on our low-cost structure, maintaining a strong balance sheet and delivering high-value service to our guests.

"With our airline's healthy underlying fundamentals, including continued profitability, a healthy cash position, enviable corporate culture and people providing an award-winning guest experience, we believe that 2009 will be another successful and profitable year for WestJet."