Alitalia's new strategy. Part 2: Asia - Korean Air doubles Italy and Hainan Airlines grows to Rome
Analysis
Alitalia's new-found Asia strategy appears to be stimulating competitive responses. Alitalia has announced new services to Seoul, a return to China and expanded services to Japan. More Asian markets could be on their way. After much delay, Korean Air will double its presence in Italy by de-coupling Milan and Rome, served on a triangular routing, and then increasing capacity.
Korean Air has carried 25% of the Korea-Italy market, so it has left much traffic to others, mostly to sixth freedom airlines like Lufthansa and other Europeans. Alitalia part owner Etihad hopes Alitalia's eastwards expansion will allow it to claw back at the gains Lufthansa and other carriers have made in Italy.
Growth from China to Italy looks more organic than competitive. Air China will become the largest airline in the Italy-Asia market while the China-Italy market will welcome a third Chinese player as Hainan Airlines starts twice-weekly Chongqing-Rome service.
This is Part 2 of a report on the impacts to the Italian market since Alitalia and Etihad forged their partnership. Part 1 looked at growth in the Italy-Gulf market.
See related report: Alitalia and Etihad complete deal as Emirates and Qatar add seats. Record growth for Italy-Gulf
Korean Air's presence in Italy had been on the wane. Over the last decade Korean Air typically operated three return flights a week from Seoul Incheon to Rome. In 2008, Milan was introduced on a triangular Seoul-Milan-Rome-Seoul routing with frequency closer to four weekly but reverting to three weekly in 2009. Three weekly flights were offered through early 2015 with 747s used during the northern summer schedule. A handful of supplementary Seoul-Rome services were offered in 2009 and 2011 during the peak season. However, overall capacity decreased as Korean Air down-gauged services.
A series of changes between 25-Feb-2015 and Jul-2015 will mean Korean Air almost doubles its presence in Italy compared to 2014, which was mostly identical to its frequency/capacity offering in 2013.
On 25-Feb-2015, Korean Air will de-couple Milan and Rome, offering a dedicated service to each city that returns non-stop to Seoul. Each city will initially see three weekly flights, Rome with a 291-seat 777-300ER and Milan with a 218-seat A330-200. This is 75% growth over its previous schedule.
From 29-Mar-2015, Rome will be up-gauged from 777-300ER to 363-seat 747-400 while Milan will gain a fourth weekly service, also with the A330-200. From 15-Jul-2015, all four Milan services transition to a 248-seat 777-200ER. Korean Air's past northern summer schedule was three weekly 747 services so this will give Korean Air's Italy network 91% growth. Korean Air's summer 2015 new schedule will be 63% larger than in 2008, when Korean Air peaked in the Italian market.
In northern winter 2015/2016, Korean Air will revert to the 777-300ER on Rome and A330-200 on Milan which are being introduced from 25-Feb-2015. However, the fourth weekly Milan frequency introduced on 29-Mar-2015 will remain in the winter season. This off-peak schedule will be twice the size (99%) of its previous schedule.
Europe is a relatively small play for Korean Air, accounting for about 5% of international seat capacity and 12% of ASKs; its presence in North America is far larger.
Korean Air international available seats by region: 6-Jul-2015 to 12-Jul-2015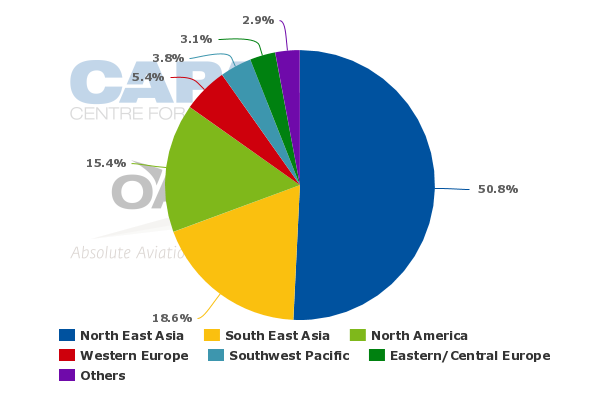 Korean Air's largest European markets are Paris, London and Frankfurt.
Korean Air top 10 hubs/bases/stations in Europe ranked on available seats: 6-Jul-2015 to 12-Jul-2015
Alitalia will also offer Rome-Seoul service
As part of its transformation under the minority ownership of Etihad Airways, Alitalia is focusing on Asia, where it had been weak. Alitalia CEO Silvano Cassano told The National on 20-Jan-2015: "Historically Alitalia is strong in North America and South America. But the great development will be East Asia. We need to fill the gap where Alitalia has been historically weak, because it takes financial resources to buy long-haul planes."
In Jan-2015, Alitalia announced it would launch a new flight from Rome to Seoul, in addition to a new Rome-Beijing service, a new Milan Malpensa-Shanghai flight and additional services to Tokyo. Alitalia has not announced its exact schedule for Rome-Seoul, but intends to operate the service non-stop and not via Abu Dhabi.
See related report: Alitalia's "new" strategy realigns it to feed Etihad, but needs to change loss-making mindset
Alitalia will theoretically have access to Italy via Etihad's Abu Dhabi-Seoul service, offered daily with a 777-200LR. Etihad would likely want more traffic rights but faces constraints from the Korean government (as does Emirates, which offers a daily A380 service). Alitalia could gain by piggybacking on Etihad's existing Italy-Korea traffic flows rather than having to start from scratch. But data from OAG Traffic Analyser indicates Italy is a small connecting market for Etihad (unlike for Emirates). Any traffic between Italy and Seoul that Alitalia carries instead of Etihad would free up only incremental space for Etihad to sell to/from other markets.
The growth from Korean Air and Alitalia risks over-capacity in the Korea-Italy market, although this excludes the possibility that competition will lower fares and stimulate growth. Korean Air in the 11 months to Nov-2014 carried about 25% of the Korea-Italy market, according to OAG Traffic Analyser.
Korean Air's growth will see it go from 873 weekly seats to 2,081 – an addition of about 1,200 weekly seats to the Korea-Italy market. A possible daily Alitalia 777-200ER service between Rome and Seoul would add about 2,050 seats, meaning the Korea-Italy market could very quickly grow from 873 weekly seats to over 4,100.
This will see Korean Air nudge up from being the smallest to second-smallest carrier (after China Eastern) in the Italy-Asia market until Hainan enters in Apr-2015 with the smallest capacity of market players.
Italy to NE/SE Asia (seats per week, one way): 07-Jan-2013 to 03-Jan-2016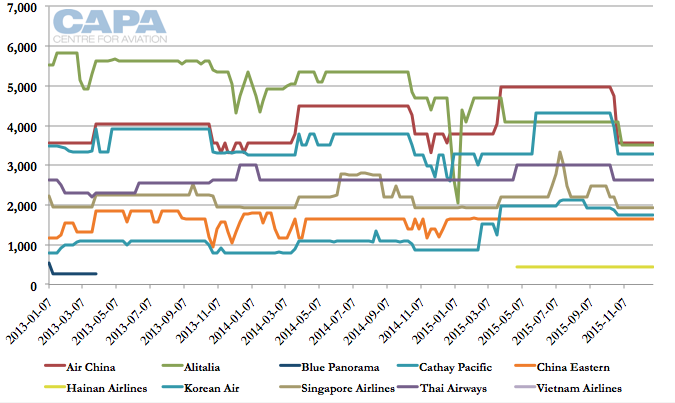 The exact outcome of the Korea-Italy market depends on many factors, including Alitalia's frequency as well as how much sixth freedom traffic Korean Air and Alitalia plan. As well as wresting back other airlines' sixth freedom traffic into Italy, Alitalia could carry traffic beyond Italy while Korean Air looks beyond Korea, to Japan for example. From its intercontinental hub at Seoul Incheon, Korean Air serves 12 Japanese airports.
The Japan-Italy market is three times the size of Korea-Italy, according to OAG Traffic Analyser. The only non-stop flights between Japan and Italy in summer 2015 are a daily Alitalia flight from each Milan and Rome to Tokyo Narita and twice weekly service from Venice to Tokyo (collectively, 16 weekly flights from Italy to Japan). ANA and JAL do not serve Italy, although JAL has offered limited charters and ANA, in expansion mode, could look to Italy. Despite the greater capacity from Italy to Japan than to Korea, only about a quarter of the Japan-Italy market travels non-stop, as observed in the Korea-Italy market.
Growth in Korea-Italy non-stop capacity will impact sixth freedom operators. The largest is Lufthansa, which according to OAG carries about half as much Korea-Italy traffic via Germany as Korean Air carries non-stop, giving Lufthansa a 13% share of the overall Korea-Italy market. Aeroflot is the second-largest indirect operator while Air France, KLM and Emirates are the next largest. Alitalia and Etihad have highlighted the way in which Alitalia's weakness has benefitted other European carriers.
As Etihad CEO James Hogan remarked in Aug-2014 when announcing the Alitalia partnership: "A key part of what we're going to be doing is ensuring in the north of Italy – which is dominated by another German carrier – (is to) have the ability with airberlin to stretch the network," Mr Hogan said. "So instead of people flying to maybe Germany or Switzerland airports, they fly into Italian airports to fly within Europe and long-haul."
See related report: Etihad & Alitalia agree and affirm their partnership vision. Protectionist voices will become louder
Also at play is the opportunity for Korean Air to route Korea-Italy passengers via Prague. Korean Air in 2013 acquired a 44% stake in Prague-based CSA Czech Airlines. Korean Air had previously served Prague while Czech Airlines launched Seoul service following Korean Air's stake. In Jul-2015, Korean Air will offer four-weekly 777-200ER flights while Czech Airlines will offer four weekly A330-300 flights.
A spot check on fares show a routing from Korea to Italy on Korean Air codeshares operated by Czech Airlines are cheaper than Korean Air's non-stop flights.
See related report: Korean Air sees success from CSA Czech Airlines acquisition while growing its Etihad partnership
Italy in northern summer 2015 is Czech Airlines' eighth-largest market.
CSA Czech Airlines international international seat capacity by country: 6-Jul-2015 to 12-Jul-2015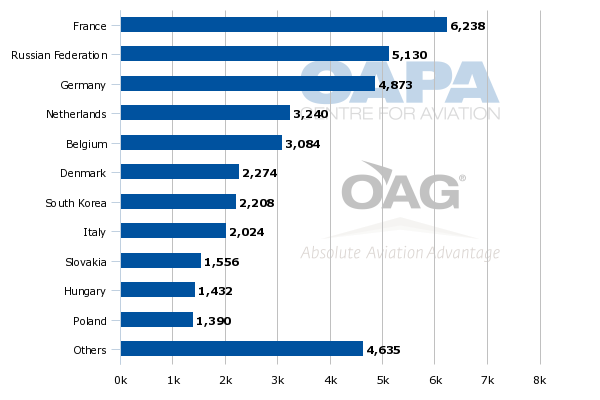 Alitalia is returning to the mainland China market with a Milan-Shanghai Pudong and Rome-Beijing service. Alitalia previously offered both of those flights: Milan-Shanghai from 2005 to 2008 and Rome-Beijing from 2011 to 2013. Alitalia's return to that exact combination suggests it knows what failed those routes previously and can now correct the failings. At the time, Alitalia had limited resources and a stretched fleet. Under Etihad, those pressure points are alleviated. In its previous attempts in the Chinese markets, Alitalia did not receive a warm welcome from Chinese carriers and did not have adequate connections. It is unclear if the Chinese carriers have a different mindset now.
Alitalia's exact schedule is also undisclosed, but on Milan-Shanghai it will compete in the peak northern summer with a daily Air China flight (local carrier China Eastern in the peak season has a daily flight from Shanghai to Rome). Air China has a daily flight from Beijing to each Milan and Rome.
Air China in 2015 is growing in Italy by about 7% by offering more flights between Milan and Beijing. Air China is the largest airline between Asia and Italy, but Italy is only Air China's eighth largest international/regional market. It is, however, Air China's third largest long-haul market after the US and Germany. Elsewhere in the Asia-Italy market, growth from Cathay Pacific and Singapore Airlines sees the two return to recent peaks. Thai Airways' capacity remains flat year-on-year but down from previous peaks.
Air China top 10 international/regional markets ranked on available seat capacity: 6-Jul-2015 to 12-Jul-2015
On 06-Feb-2015, Hainan Airlines announced it would launch twice weekly A330-200 Chongqing-Rome service from 27-Apr-2015. Hainan will be the third mainland Chinese airline in the China-Italy market and will offer the only active non-stop Italy service from a city other than Beijing or Shanghai (China Eastern previously offered Wenzhou-Rome non-stop service). The service is likely subsidised by the Chongqing government.
Korean Air could be responding to Alitalia while Air China/Hainan seek new growth areas
After a period of stagnation, Korean Air's rapid growth in Italy certainly may be more than coincidental as the timing overlaps with Alitalia's entry in Seoul (and pressing for more Korean traffic rights from Gulf carriers, which connect Korea to Italy). It is likely Korean Air is responding to this development and there appear to be no signs of planned cooperation between Korean Air and Alitalia despite their mutual SkyTeam membership, as well as Etihad's relatively warmer relationship with some SkyTeam members.
The Chinese carriers however are more likely growing independently of Alitalia's developments. Hainan especially will be in a market (a secondary Chinese city) where Alitalia will not reach.
Based on schedules filed so far (excluding planned but unspecified growth to China and Korea) in the peak of northern summer 2015, Alitalia will have about an 18% marketshare of the Italy-North Asia/Southeast Asia market. It still has some way to go if it wishes to make up for lost opportunities. But already its expansion is being questioned and Alitalia is being asked if stricter cost control and synergies under Etihad will make a difference.
If Alitalia can prove the naysayers wrong, it will certainly find a new corner to expand into. Existing markets could see further growth while new ones are launched: of the markets where Asian carrier service to Italy exists, Singapore is likely too small while Bangkok and Hong Kong are sizeable, but perhaps Bangkok is too competitive.
Wherever Alitalia goes, it would ideally be supported by its numerous Asian SkyTeam members. So far they seem to be remaining aloof. Foregoing cooperation with alliance members in many key markets may be a partial tradeoff for being taken under Etihad's wing – but then again, without that partnership, Alitalia would only be able to dream of such expansion.
One thing does appear certain: while the new services will inevitably stimulate new traffic by their very nature, including the added specific marketing of the respective markets, the main losers will be those sixth freedom carriers which have been so adept at exploiting the Italian flag carrier's weakness over recent years.