Alaska Airlines responds to Delta's domestic expansion in Seattle stepping up competition
Analysis
Seattle is emerging as a confronting new battleground for partners Alaska Air Group and Delta Air Lines as Alaska Airlines appears to be quickly answering Delta's latest moves in key US domestic markets by fortifying its leading position on those routes – Las Vegas, Los Angeles and San Francisco.

Alaska appears poised to add frequencies on those routes beginning in Mar-2014 and continuing through Jun-2014. The move follows Delta's declaration of launching new service from Seattle to San Francisco in Mar-2014 and adding frequencies in Los Angeles and Las Vegas during 1H2014.

The build-up in those markets by both carriers is occurring even as Alaska remains a key strategic partner for Delta in Seattle, and as Delta adds more international service from the airport buoyed by feed from Alaska's vast domestic network. The heightened competition between the two carriers alongside their powerful partnership reflects the reality that loyalty only goes so far when revenue maximisation is the ultimate end game for any carrier, and Alaska's efforts to maintain its passenger concentration in key west coast markets shows that it is willing to strike back at any carrier's encroachment – even if its originates from an important revenue sharing partner.
Competition has strengthened between Alaska Airlines and Delta throughout 2013
Delta began to increase its direct competition with Alaska in Seattle earlier in 2013 when it launched service on the heavily served Seattle-Los Angeles market. Alaska answered those flights with its new service from Portland to Atlanta, Delta's mega-hub and obviously a route served by Delta. Alaska also competes with Delta (and Southwest) on flights between Seattle and Delta's hub in Salt Lake City as well as flights to Delta's Atlanta and Minneapolis hubs.

Delta stepped up its competition with Alaska with the announcement that it would launch new flights from Seattle to San Francisco and add frequencies from Seattle to Los Angeles and Las Vegas beginning in Mar-2014 and continuing through Jun-2014.

The launch of Seattle-San Francisco service in Mar-2014 appears to be coinciding with Delta's axing of its service between San Francisco and Tokyo Narita during the same month. It makes sense for Delta to end service between San Francisco and Tokyo given San Francisco is a major hub for Star Alliance partner United. The pairing is served by United and its joint venture partner All Nippon Airways, who together account for approximately 85% of the roughly 7,355 one-way seats on offer in the market.
San Francisco International to Tokyo Narita (seats per week, one way): 19-Sep-2011 to 30-Mar-2014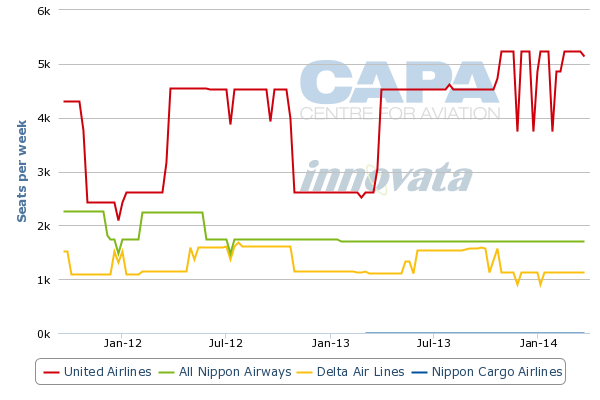 By launching service from San Francisco to Seattle, Delta can feed passengers onto its service from Seattle to Tokyo Narita and Haneda (the preferred airport for business travellers since it is closer to Tokyo's city centre).
While United and ANA both serve Seattle-Tokyo Narita, Delta's positioning as the second largest carrier from Seattle in terms of seats on offer together with the feed it will gain from its new service from San Francisco, and Alaska's Seattle-San Francisco services, makes the logic to cut San Francisco-Tokyo seems reasonable enough.
See related reports:
A tit-for-tat is emerging in Seattle's largest west coast markets
But at the same time Delta and Alaska will also become competitors on yet another route pairing from Seattle, once Delta's six daily flights to San Francisco begin in Mar-2014. Alaska is countering Delta's move with the addition of three daily departures on the pairing for a total of 11.

Here Delta is entering a fairly crowded market place, and will no doubt be aggressive in its promotional campaign at the time it launches the route. The result could be to pressure other carriers on the busy Seattle-San Francisco route in the short term, including its partner Alaska.

It seems Alaska is bolstering service to ensure it keeps its edge as the leading carrier on the pairing in terms of seats on offer. Presently, Alaska represents a 40% share between Seattle and San Francisco, followed by United at 37% and Virgin America at 23%.
Seattle/Tacoma International to San Francisco International (seats per week, one way): 19-Sep-2011 to 30-Mar-2014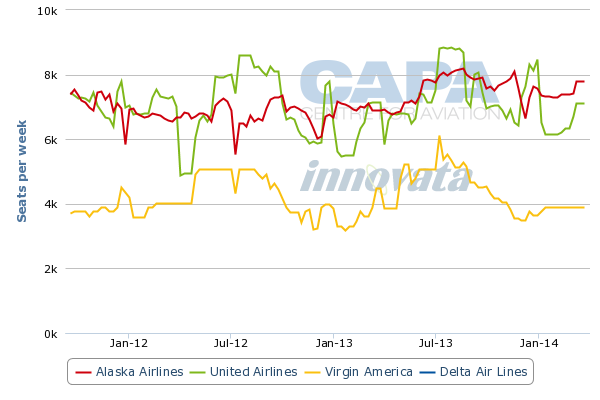 Alaska also appears to be fortifying its position from Seattle to Los Angeles and Las Vegas as Delta gears up to add two additional daily flights to Los Angeles for a total of seven and two daily frequencies to Las Vegas for a total of three daily flights.

Alaska is responding by adding two daily departures from Seattle to Los Angeles for a total of 14, and increasing daily departures to Las Vegas by four for a total of 12.

Presently, Alaska has a 57% commanding share of the roughly 19,178 one-way weekly seats between Seattle and Los Angeles followed by Virgin America at 19%, Delta with a 17% share and United's 7% share.
With Delta and Alaska aggressively adding service from Los Angeles to Seattle, Virgin America could feel the heat as the combined domestic and international networks of Alaska and Delta, coupled with the ability to earn miles in each carrier's respective loyalty programme, could lure some passengers away from the premium LCC. Of course that theory rests on the assumption that cooperation will continue between Alaska and Delta to manage the feed generated by each carrier even as they intensify competition on the pairing.
Seattle/Tacoma International to Los Angeles International (seats per week, one way): 19-Sep-2011 to 30-Mar-2014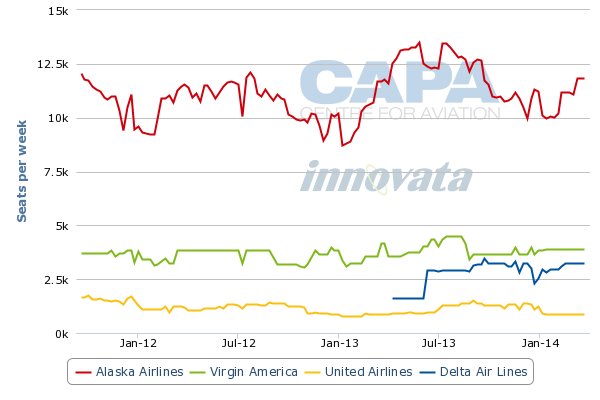 Alaska's leading seat share from Seattle to Las Vegas is 65%, followed by Southwest at 27% and Delta at 8%. Delta's three daily flights will do little to change the seat dispersal in that market, but again, does signal that Delta's main goal with its Seattle expansion is maximising revenue.
Seattle/Tacoma International to Las Vegas McCarran International (seats per week, one way): 19-Sep-2011 to 30-Mar-2014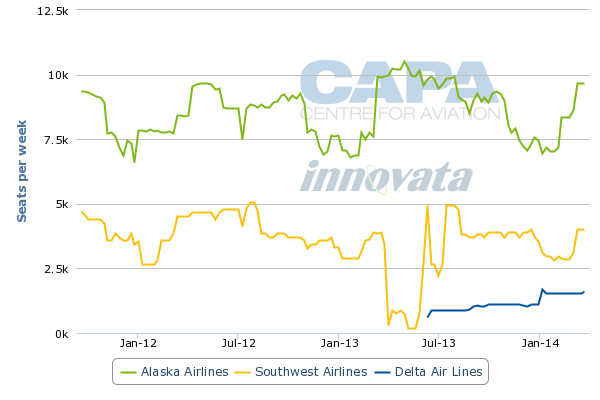 Alaska also adds more service to Boise – a top market from Seattle
Alaska is also increasing its frequencies from Seattle to Boise by Jun-2014 from 10 daily departures to 13. Boise is not currently a market served by Delta, but it is one of the top 25 markets from Seattle in terms of departures.
It is not clear if this is a pre-emptive strike by Alaska to build-up Boise should Delta decide to enter the market, or if it is simply a means to increase the feed for Delta's long-haul service.
Top 25 markets from Seattle (based on number of departures): 2012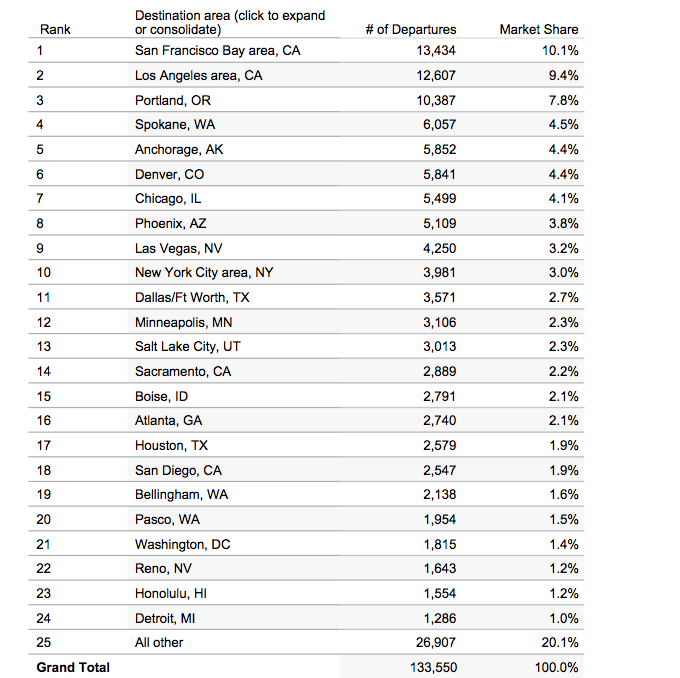 Delta hints at further expansion in Seattle
Shortly after Delta revealed the latest domestic additions to Seattle the carrier's VP of Seattle Mike Medeiros told the Puget Sound Business Journal that the carrier in essence was looking to both grow at Seattle and its relationship with Alaska; however, he also remarked the two carriers were fierce competitors.
The reality is Delta will jump on an opportunity to keep its revenue within its own network, and having its own service from the top domestic markets to Seattle underpins that goal. The feed from Alaska is also important, but perhaps Delta has decided that in those key markets it needs to have its own brand front and centre.

Mr Mediros also noted that more expansion was planned by Delta in Seattle, which could mean even more company for Alaska.
If Delta is looking to maximise feed under its own brand then Portland is likely a strong candidate for service as it is the third largest market from Seattle. Presently, Alaska accounts for roughly 89% of the approximately 13,190 one-way seats on offer in the market while United compromises the remaining 11%. Delta may see an opportunity to break Alaska's powerful hold on the route.
Despite heightened competition, Alaska and Delta still need each other
While much has been made of the increasing competition between Alaska and Delta, the reality is not much will change within their relationship any time soon as they each have a certain reliance on the revenue generated from their partnership in Seattle through Alaska's feed to Delta's international network.
The latest round of competitive tit-for-tat in many ways is just the normal course of business. But it also illustrates that partnerships in the airlines business have their limits, and in this case, each carrier seems willing to endure fierce competition while continuing to enjoy the revenue benefits the Alaska-Delta tie-up produces.
Delta is inevitably the dominant partner in this relationship and it is increasingly willing to exert the influence that size brings; meanwhile Alaska Airlines has little option but to enjoy the synergies while they last.