Alaska Air Group maintains Seattle market share while hinting at reduced 2016 capacity growth
Analysis
Although Alaska Airlines continued to post negative passenger unit revenue growth in 2Q2015, it is narrowing the gap with the US industry average. Seattle is one of the markets where industry capacity has been growing over the past two years as Delta Air Lines has made an aggressive push from the airport.

Alaska has responded by taking steps to preserve its market share in Seattle, and concludes that its position at its largest hub for YE2015 remains unchanged from YE2012. The airline has sustained its share by fortifying Seattle with additional frequencies in some markets, and new route additions.

The airline is facing some pockets of capacity pressure in addition to its planned 10% increase in supply during 2015. As it looks to 2016, it seems that Alaska has refined its outlook, and is examining growth targets below its 2015 expansion.
Alaska Airlines closes its unit revenue gap and preserves market share in Seattle
Alaska's consolidated passenger unit revenues fell 5.3% in 2Q2015, largely driven by a 13% capacity increase in some of the airline's markets. Unit revenue trends at Alaska began turning negative before the rest of the US airlines due to Delta's push from Seattle both internationally and domestically. It has opted to reduce its codeshare with Alaska, and instead launch competitive service against Alaska in numerous markets from Seattle. Previously, Alaska has stated that its competitive overlap with Delta should reach 50% in the summer of 2015.

See related report: Alaska Air Group continues to face investor trepidation as Delta's growth in Seattle continues

There are some positive signs emerging in Alaska's unit revenue trends, although it is not clear when the airline's PRASM will reach flat to positive growth. Alaska EVP and chief revenue officer Andrew Harrison recently declared that the company's PRASM gap to the industry narrowed by 300 basis points during 2Q2015 to 2.1%. Alaska's Jun-2015 PRASM was 2.1% better than the US industry average despite an increase in capacity of 7.2% year-on-year.
Alaska is also maintaining its market share in Seattle. Mr Harrison estimated that given current booking schedules Alaska's market share at the airport for the 12M ending 31-Dec-2015 is 51%, which is unchanged from YE2012. Data from CAPA and OAG for the week of 28-Dec-2015 to 3-Jan-2016 show that Alaska represents 51% of Seattle Tacoma International Airport's seats and 37% of its ASMs.
Seattle/Tacoma International Airport capacity by airline (% of seats): 28-Dec-2015 to 3-Jan-2016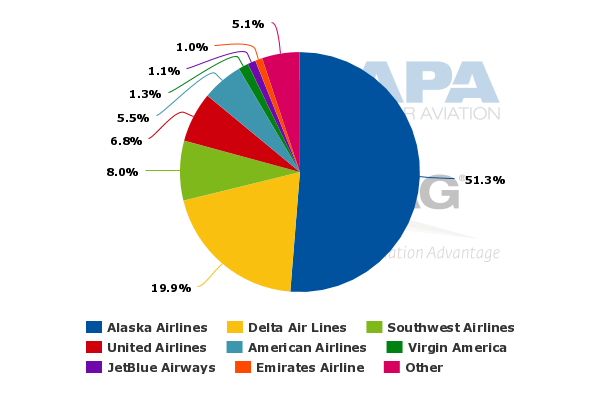 Seattle/Tacoma International Airport capacity by airline (% of ASMs): 28-Dec-2015 to 3-Jan-2016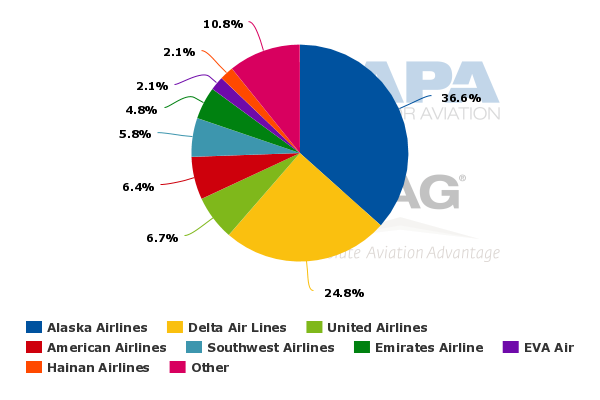 Although Alaska has faced some unit revenue degradation as it worked to maintain its share in Seattle, it has continued to generate strong top-line financial results, evidenced by a nearly 42% rise in 2Q2015 profits to USD234 million. Its ROIC for the 12M ending 30-Jun-2015 was 22% compared with 16% the year prior.
Alaska Airlines is making a new route push in 2H2015 as other markets reach maturity
Alaska plans roughly 8% capacity growth in 3Q2015 and 11.4% in 4Q2015. It estimates that increased stage length and new market additions should account for 3ppt of the rise in 3Q and 8ppt of the increase in 4Q2015. Beginning in Sep-2015 Alaska is adding service from Seattle to Raleigh-Durham, Nashville and Charleston, South Carolina.
From Los Angeles it is introducing service Baltimore, Crested Butte, Monterey, and San Jose and Liberia, Costa Rica. Other new markets include Eugene to San Jose, California, Boise to Reno and Portland to Austin. It recently launched the Embraer E175 on service from Seattle to Milwaukee and Oklahoma City, and from Portland to St Louis.

Alaska has also launched 18 new markets since 2Q2014, said Mr Harrison, who stressed that 70% of those markets were profitable within their first year of operation. "Additionally, half of those markets would be profitable if fuel were USD3 a gallon," said Mr Harrison. Over the course of 2H2015, Alaska is introducing 18 additional markets.

See related reports:

Mr Harrison explained that Alaska has freed up five aircraft in 4Q2015 by reducing day of week and frequencies in some markets where supply and demand were not aligned. The airline plans to use those freed up aircraft to accelerate the launch of new markets.
Alaska Airlines highlights competitive pressure in Hawaii and Alaska, Delta steps up competition
During 3Q2015, Alaska is seeing continued pressure from competitive capacity additions in Hawaii and Alaska. Hawaii will represent roughly 17% of Alaska's allotted capacity in 2015. Company executives highlighted yield pressure in 2Q2015 was most acute in those two regions and continues into 3Q2015. Delta is stepping up competitive pressure on Alaska between Seattle and Kona when it starts new service in 4Q2015.
Virgin America is also gearing up to enter the west coast to Hawaii market in late 2015 with new flights from San Francisco to Honolulu and Maui. Alaska operates service from nearby Oakland and San Jose to Honolulu and Maui.
Alaska Air Group capacity allocation by geographical region: 2005 vs 2015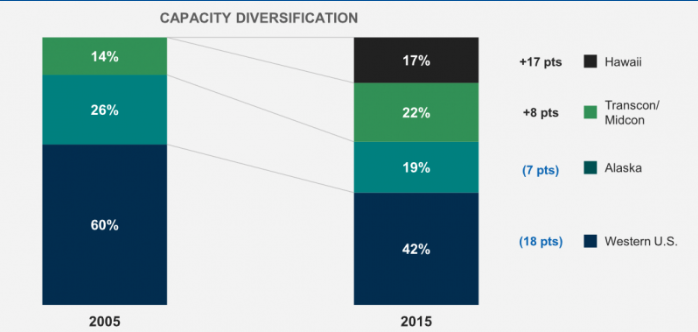 Alaska estimates that competitive capacity is increasing 12 points year-on-year in 3Q2015 and eight points in 4Q2015. In addition to Kona, the company cited new competitive pressure in Pasco, Missoula, and Orlando. Delta is launching service to all of those markets from Seattle in 2015, and from Seattle to Ketchikan and Sitka, Alaska.
Alaska Airlines shows a bias towards lower year-on-year capacity growth in 2016
Alaska has not outlined its planned capacity growth for 2016. But Mr Tilden stated that Alaska's mindset on capacity for 2016 has "moved a little bit the last couple of months". Two months ago, the airline was considering more robust capacity numbers for the year, said Mr Tilden. "We haven't actually shared that number with the [Wall] Street yet, but our mindset has come down by two or three percentage points from where it would have been, let's say just 60 days ago..."

Offering a very preliminary assessment, Mr Harrison stated that Alaska's capacity growth in 2016 should trend somewhere in the high single digits, which is well below the 10% growth in 2015.
Alaska Airlines perseveres in Seattle, but there may be investor overhang from falling PRASM
Alaska's drop in capacity growth for 2016 should please investors, who have been concerned about a capacity uptick in the US domestic market. The company stressed that owning 80 aircraft outright provides ample flexibility if fuel prices fluctuate or the US economy weakens. Alaska is forecasting some choppiness in its unit cost performance excluding fuel, a 5.5% rise in 3Q2015 and a 2.5% drop in 4Q2015. Overall Alaska is sticking to previous estimates of a rise of 0.5% in 2015.
Alaska Airlines Fleet Summary as of 29-Jun-2015
Overall, Alaska has fared well in face of a massive competitive incursion into its major hub during the last two and a half years. Although lower fuel has been a boon to its earnings while Delta amped up competition in Seattle, Alaska has moved to protect its position in the market, even if that means some short to medium pressure on its passenger unit revenue and yields.
There is definitely some lingering investor trepidation over negative PRASM, but Alaska's shares are currently trading at a premium over the four major US airlines. Perhaps it is a vote of confidence in the innovative and relatively nimble airline's ability to sustain its leading position in Seattle.