Alaska Air Group and Virgin: Running two brands is a growing trend. Working them is the hard bit
Analysis
One of the most discussed aspects of the pending merger between Alaska Air Group and Virgin America is how Alaska would navigate the sensitivities of dissolving the Virgin America brand, given the fierce brand loyalty that Virgin America engenders among higher-yielding passengers. Now it appears that Alaska is giving serious consideration to retaining the Virgin America brand.

Although sustaining two brands post-merger is rare in the US industry, the combination of Alaska and Virgin America is unique in many aspects – most notable is that both brands generate strong positive sentiment among customers. That has not been the case for some US airline mergers, where in some cases a less popular or less prominent brand was retired.

Despite the complexities inherent in running separate brands, there are valid business reasons for Alaska to seriously evaluate the pros and cons of adopting that strategy. One important factor is preserving the levels of revenue that made the deal attractive in the first place.
Alaska Air now seems to understand the inherent revenue value of Virgin America's brand
Alaska CEO Brad Tilden, during a Jun-2016 speech at the Wings Club, stated that Alaska was studying European merger models that entail retention of both brands, citing Air France-KLM as an example. Later Mr Tilden told the news outlet the Associated Press that Alaska was looking at running two brands for a period of time – perhaps permanently.

During his speech Mr Tilden acknowledged that the Alaska and Virgin America brands are a bit different, but there is huge loyalty to both airlines among their customers. Alaska's loyalists are concentrated in the company's largest origin markets in the US states of Washington, Oregon and Alaska, while Virgin America's brand strength is centred among origin passengers in California and, to a lesser extent, New York.

Mr Tilden stated that Alaska, which is purchasing Virgin America for USD2.6 billion in equity and USD1.4 billion in net debt, needs to determine how to bring the two brands together in order to "hang on to revenue" and grow for the future. He stressed that Alaska does not want to lose all the existing loyalty and revenue.
Although Virgin America represents a small fraction of the US market – transporting just seven million passengers in 2015 – it has won numerous awards and accolades, and it has fierce loyalty among its passengers. As previously reported by CAPA:
One prominent issue that emerged when Alaska outlined plans to acquire and enter into a merger with Virgin America was the loyalty Virgin America's brand engendered among its customers.

The presumed elimination of Virgin America's brand is something Alaska needs to handle carefully if it wants to retain those passengers, which in many cases are higher-yielding corporate clients. The Virgin America SVP planning and sales, John Macleod, recently stated the airline is well entrenched with tech companies in California's Silicon Valley and spend is trending up. During 1Q2016 Virgin America recorded 27% growth year-on-year in its top ten corporate accounts.

See related report: Virgin America leaves a lasting product legacy as it readies for absorption by Alaska
That is the type of revenue that Alaska is hoping to capture and build on with its acquisition of Virgin America, and arguably adopting some of the elements of Virgin America's product evolution philosophy is key to preventing those accounts from jumping to other airlines.

Using 2015 operating revenue results for each airline, adding Virgin America's USD1.5 billion to Alaska's USD5.6 billion would result in a 26% increase in revenue for Alaska, to USD7.1 billion. Alaska on a stand-alone basis grew its operating revenue 4.3% year-on-year in 2015.
Alaska Air Group annual operating revenue: 2008 to 2015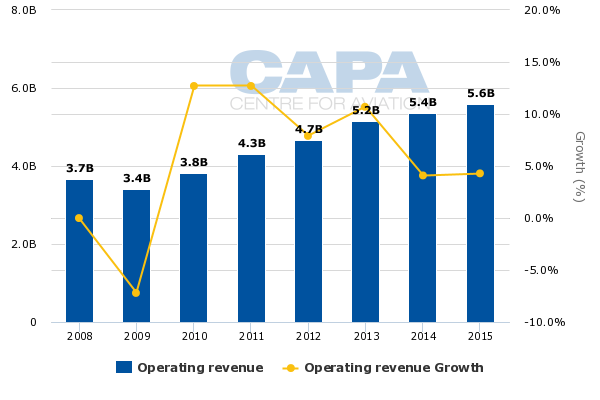 There are many factors for Alaska to weigh as it evaluates keeping the Virgin America name
In its evaluation of whether it will ultimately retain the Virgin America brand Alaska needs to complete due diligence on the current monetary value of the name, and its potential future revenue generation.
Virgin America's revenue grew 2.7% year-on-year to 1.5 billion in 2015. In 1Q2016 its revenue increased 11.5% to USD364 million. The company's operating margin in 1Q2016 grew 4.1ppt to 8.8%.
Virgin America annual operating revenue: 2008 to 2015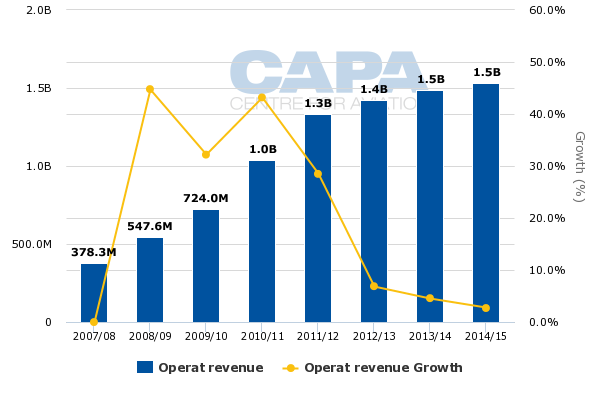 There are many variables on the cost side of retaining the Virgin American brand, which would presumably mean keeping the Airbus A320 fleet and all the cabin product attributes that have made Virgin America so popular among the younger travel set.

The majority of Virgin America's aircraft are leased (87% as of 23-Jun-2016), and previously the ratings agency Fitch has calculated that Virgin America's aircraft rent expense in 2015 on its narrowbodies was USD219.8 million, which would equate to USD1.76 billion in off-balance sheet debt.
Alaska's investment grade credit rating could allow for the negotiation of more favourable leasing deals, or better terms to purchase the aircraft off lease, but it is a risky proposition for an airline that has enjoyed years of financial stability.
Virgin America owned vs leased for aircraft as of 23-Jun-2016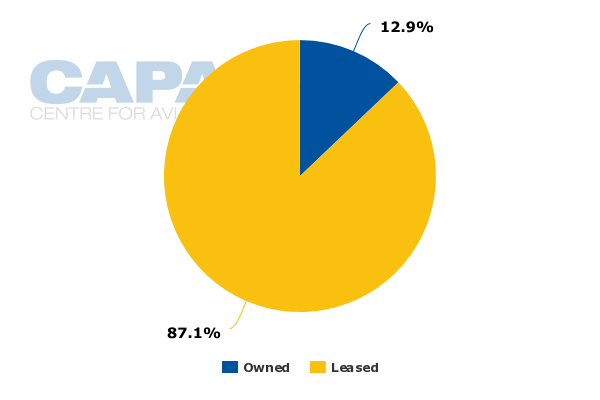 See related report: Alaska Air Group-Virgin America: Alaska deleverages to expand US market share

Another cost element is the licensing fees that Virgin America pays to the Virgin Group, which totalled USD22 million during the last three years, according to the Associated Press. At USD7.3 million a year that is a fairly small expense for ensuring that the benefits associated with the Virgin America brand continue for its new owner.
Questions arise over the effect on labour and government approval if Virgin America is operated separately
A favourable view from US regulators is one benefit that Alaska could garner from deciding to operate Virgin America as a separate entity. The government regulators are in the process of reviewing the proposed merger and have asked for additional information from the airlines, which is pretty standard in the review process.
Although the merger is likely to be approved, the current Presidential administration has scrutinised the aviation industry heavily, and the US Department of Justice attempted to block the merger between American and US Airways.
If the Virgin America brand stays in existence, that could allay some fears posed by the US government over diminishing consumer choice.

It is impossible to determine if a political agenda is governing the DoJ's review of the merger. But as Virgin America CEO David Cush has pointed out, the combined airlines represent less than 6% of domestic capacity and have less than 7% network overlap.

There are also questions over employee seniority integration if Virgin America remains a separate brand. The collective bargaining agreements of Alaska's pilots and flight attendants are not amendable until 2018 and 2019, respectively.
Virgin America's pilots voted to join the Air Line Pilots Association in 2015 and are working toward a collective bargaining agreement. The airline's flight attendants voted to join the Transport Workers Union in 2014, and the union is also engaging in collective bargaining with management. Alaska's flight attendants are represented by the Association of Flight Attendants (AFA).
There is a possibility - to be explored - whether the operation of Virgin America as a separate entity eliminate the need for an integrated workforce.
Alaska makes an interesting move to evaluate operating two highly distinct brands
The Alaska-Virgin America merger may be one of the few in the history of US airlines where both brands carry a high level of value, creating an intriguing scenario for Alaska as it evaluates the concept of retaining the Virgin America brand.

Alaska is not the type of company that would give mere lip service to the concept of potentially retaining the Virgin America brand. Alaska astutely recognises that there is value in the Virgin America name.
Now it just needs to conduct the proper arithmetic and analysis to determine whether the benefits of holding onto the Virgin America brand outweigh the complexity of operating two distinct brands. Assuming no insurmountable regulatory or labour issues, Alaska will almost certainly opt for the latter.