Airports of Thailand revenue up 12%; ACS receives approval for Hochtief bid
Airports of Thailand (+0.7%) revenue was up 12% in financial highlights for the 12 months ended 30-Sep-2010:
Total operating revenue: USD795.1 million, +11.8% year-on-year;
Landing and parking charges: USD112.7 million, +9.4%;
Passenger service charges: USD336.8 million, +17.3%;
Aircraft service charges: USD3.8 million, +1.8%;
Office and state property rents: USD53.5 million, -4.9%;
Service revenue: USD103.5 million, +7.8%;
Concession revenues: USD174.8 million, +12.4%;
Operating costs: USD671.1million, +9.4%;
Operating profit: USD124.0 million, +26.7%;
Profit before tax: USD72.0 million, +241.4%;
Net profit: USD72.0 million, +97.4;
Total assets: USD4825 million, -2.1%;
Cash and cash equivalents: USD116.4 million, +5.1%;
Total liabilities: USD2374 million, -5.3%.

*Based on the conversion rate at USD1 = THB30.2246
Hochtief's shares dropped 6.3% on Monday (29-Nov-2010). On the same day Actividades de Construccion y Servicios SA (ACS) received approval from Germany's financial regulator for its EURO2.7 billion (USD3.6 billion) bid for Hochtief AG, which sought to fight the offer.
Selected airport operators/investors daily share price movements (% change): 29-Nov-2010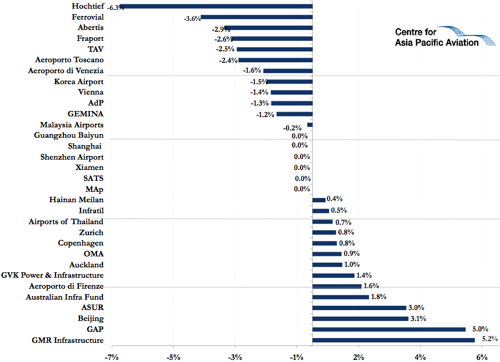 Autogrill increased 1.1% to EUR10.15, advancing for a second day. Deutsche Bank AG initiated coverage of the world's biggest manager of airport and highway restaurants with a "buy" rating. The brokerage set a price estimate of EUR12.5, saying in a note that "due to its consolidated presence in travel locations in the US and western Europe, Autogrill is well positioned to benefit from the likely 230 million additional tourists in those regions by 2020".
Selected airport suppliers daily share price movements (% change): 29-Nov-2010