Airlines flying aircraft less. Aircraft valuation black hole looms?
The world's airlines are responding to the economic downturn by increasing their operational flexibility. The economic crisis has heightened demand volatility and made the process of forecasting demand an extremely challenging task.
Airlines are keeping their options open not only by reducing fleet levels, but also by flying their aircraft less.
Fleet data from Ascend shows that, since fuel prices slumped from their previously prohibitive levels, airlines have virtually stopped putting their aircraft into storage in the past three months. It follows a surge in the mothballing of older aircraft between Sep-2008 and Nov-2008.
Aircraft Retirements and Deliveries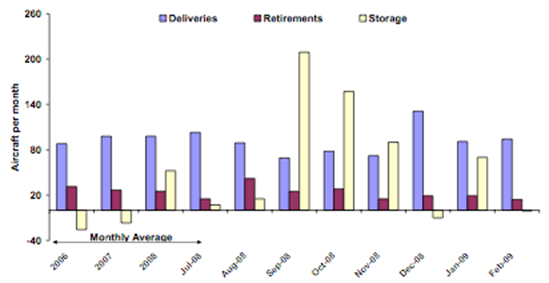 The fall in fuel prices makes it cheaper to operate older aircraft. By making them available for service, airlines can add more capacity to routes that are showing reasonable levels of demand and/or seize on a rival's weakness or withdrawal from a route.
IATA observed in its recent Financial Health Monitor, "now that fuel prices have fallen, relative to mid-2008 levels, the option of parking less fuel-efficient aircraft is not so clear cut".
The industry body stated over 90 new aircraft were delivered, while only a handful of the global fleet was retired, meaning the global aircraft fleet expanded in February.
IATA added, "the 5.9% fall of international ASKs was achieved through lower utilisation of the fleet, another negative for profitability".
Beneath this global trend there are also regional variations. Asia and the Middle East account for the great bulk of new aircraft orders. These airlines also typically already operate younger fleets than their European and - especially - American counterparts.
As a consequence, the practice of reducing flying is having to be accompanied by actual groundings, of sometimes relatively new aircraft. And, as we proceed deeper into the dark tunnel of the 'Great Recession", delays and cancellations of orders become more real.
Asia has suffered the steepest downturn in traffic in recent months and its airlines have been particularly badly hit by premium traffic declines. It is no secret that many airlines in this region are parking parts of their fleets and The Centre has estimated that up to 10% of current fleets may be grounded, unless conditions improve in 2Q2009. Whether this effect is achieved by lower utilisation, order delays or actual groundings, the effect on revenues and profitability is similarly negative.
Aircraft lessors also affected by the demise of traditional financial markets
Meanwhile, trouble is brewing in the valuation of new aircraft, as aircraft lessors struggle to gain access to finance for their aircraft orders. The Association of European Airlines (AEA) observed this week that the stock of 'white-tails' (new production aircraft whose buyer's finance has fallen through) and aircraft entering the market from bankruptcies will depress the asset value of aircraft.
Access to capital - for airlines and lessors - is looming as an issue that could plunge the airline industry into further crisis. Two substantial lessors, RBS Aviation Capital and the struggling ILFC, are for sale.
The sale of these two companies is being watched with some fear and trepidation by the rest of the industry. Depressed sale prices will have an implication for airline and lessor balance sheets around the world.
Aircraft lessor fleet orders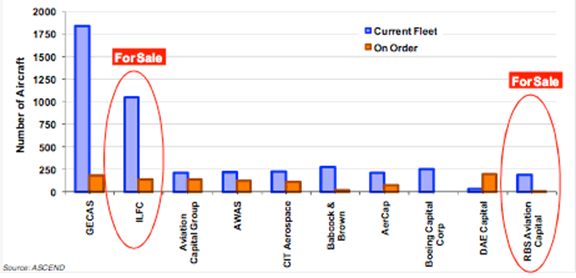 According to the AEA, approximately USD70 billion of new aircraft need to be financed worldwide in 2009. European banks are by far the largest source of credit for airlines (accounting for around 50% of all the sector), but will contribute an estimated 30% less in 2009 than last year, according to the airline group.
AEA added that credit margin on the recent deals "go well beyond a LIBOR rate of + 100 points" (against 50-70 points in 'normal' conditions). The industry body has made urgent calls for European Investment Bank (EIB) loans to be made available to European carriers, to enable them to finance their aircraft orders
And, while Export Credit Agencies in the US and Europe have been making soothing noises, there is little likelihood of their injecting more than a few billion dollars in critical cases.