Airbus off to a mixed start in 2023 – bumper order, but low delivery levels
Analysis
The start of 2023 can only be described as 'mixed' for the European aircraft manufacturer Airbus.
On one hand, the OEM has won headlines in Feb-2023 with a huge order for 250 aircraft from Air India, in addition to securing 37 orders for narrowbody aircraft in Jan-2023.
However, Airbus also delivered just 20 aircraft in Jan-2023, which was the lowest level of monthly shipments for the aircraft-maker since the onset of the COVID-19 pandemic.
Summary
The delivery total was down 33% compared to Jan-2022, and the slowest rate of monthly deliveries for Airbus since Apr-2020.
Airbus expects to deliver 'around 720' aircraft in 2023 as problems across the global supply chain meant that in 2022 it 'lost a year" in its recovery.
Deliveries are expected to be weighted to 2H2023, with narrowbodies accounting for most of the 2023 increase.
Bumper Air India order underlines positive 2023 outlook for manufacturers.
Early 2023 performance disappointment after Airbus misses 2022 delivery targets
Airbus deliveries for Jan-2023 comprised two A220s, 16 A320s, one A330 and A350. This was down 33% compared to Jan-2022, and the slowest rate of monthly deliveries for Airbus since Apr-2020.
The slowdown was not unexpected – January is historically the slowest month of the year for Airbus in terms of deliveries – but it came after Airbus had finished 2022 with a flurry of activity, managing to deliver 68 aircraft in November and 98 aircraft in December.
Airbus CEO Guillaume Faury was reportedly displeased with the performance. The European OEM has been hoping to avoid a repeat of its disappointing 2022, when it shipped 661 aircraft.
Although this was up 8% compared to 2022, it was significantly below the targets that Airbus had set itself through the year.
Airbus monthly deliveries: Sep-2015 to Jan-2023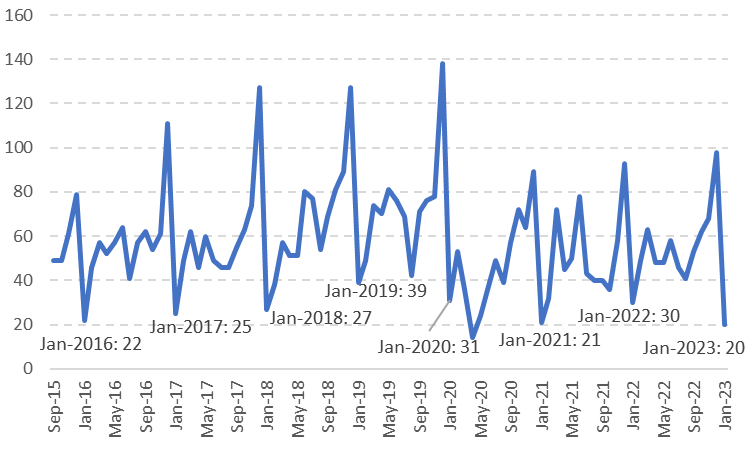 Airbus had initially expected to deliver around 720 aircraft for 2022. However, events over the early part of the year – particularly the OMICRON COVID-19 wave and subsequent lockdowns in China, along with the Ukraine-Russia conflict – meant that Airbus had revised this target down to "around 700" as of the middle of the year.
Interconnected aerospace supply chain issues continued to bubble up through 2022. These created ongoing production challenges for Airbus through the year, forcing the OEM to divert resources into smoothing out problems and to adapt production plans to match supply.
The most noticeable were delays in deliveries of engines for the popular A320 and A220 narrowbody aircraft families. CFM International and Pratt & Whitney also faced supply chain challenges, reporting delays in parts deliveries of two months or more, with shortages of trained staff and industrial unrest contributing to operational difficulties.
As well as this, Airbus also reported computer chip shortages reduced supply for a range of electronics items. Sections of the supply chain were also affected by high energy prices and shortages of certain raw materials – particularly titanium – which led to delays with deliveries of castings, forgings, and even carbon fibre composites.
2023 production outlook a 2022 redo
On 16-Feb-2023 Airbus announced a familiar target of "around 720" deliveries for the new year.
Mr Faury noted that while things had "stabilised" in Dec-2022, problems across the global supply chain meant that Airbus had "lost a year" in its recovery.
The supply chain still has not recovered as anticipated, and Airbus has taken this into consideration with its revised plans. The OEM now has a "very deep and granular" understanding of the problems faced with its ramp-up, according to Mr Faury.
Deliveries are expected to be weighted to 2H2023, with Airbus projecting that its production activities will ramp up through the year as supply chain problems are progressively resolved.
Narrowbodies will account for most of the increase in deliveries for 2023
A320neo production is expected to increase from approximately 43 per month to 50 per month by the end of 2023, before going to 60 per month in 1H2024.
Airbus had been targeting an increase to 65 A320 deliveries per month by around mid-2024, but this has now been pushed back to a late 2024 target.
A320 production (6 month rolling average): Jan-2016 to Jan-2023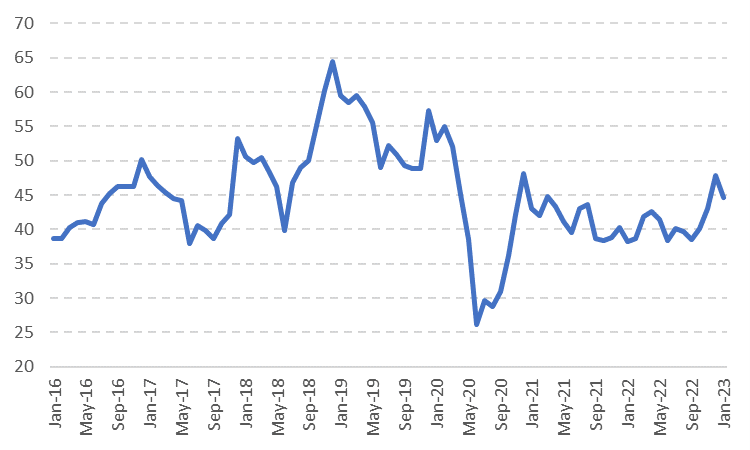 Airbus has also pushed its timeline for the ramp-up of A320neo production to 75 aircraft per month from the "middle of the decade" to 2026. This will be supported by converting the old A380 production line in Hamburg to produce A321neo aircraft, with the first deliveries from this site expected by the end of 2023.
Widebody aircraft output will also be increased
The OEM has also announced plans that widebody aircraft output will be increased.
This is something that the manufacturer had been signalling by late 2022 – thanks to a better-than-forecast return of long haul travel and anticipation about the reopening of the Asia Pacific.
A330 production will be raised by 25%, going from three to four per month during 2024.
A350 output will be lifted by 50% by the end of 2025, going from six to nine per month.
The decision on increased output was made "following a feasibility study with the supply chain" according to Airbus, although this rate is still short of the 10 per month the OEM was producing before the pandemic.
Airbus annual deliveries: 2012 to 2022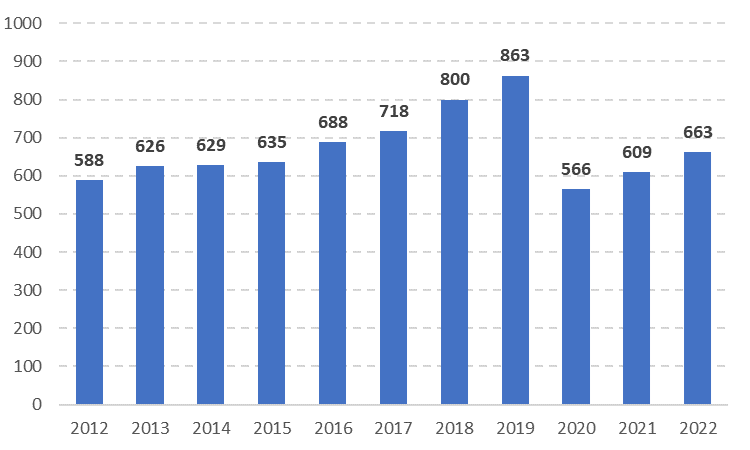 Air India's blockbuster order underlines positive 2023 outlook for manufacturers
While Airbus gets its production activities and supply chain in order, the manufacturer continues to enjoy a strong environment for ordering.
Airbus won 1078 orders in 2022 (2021: 771 aircraft), although this fell to 820 after cancellations (2021: 507 aircraft).
Airbus started the year with 37 new orders for Jan-2023, all for A320neo and A220 narrowbody aircraft.

However, it was Air India's blockbuster commitment to order 470 aircraft – 250 from Airbus and 220 from Boeing – that won all the attention in Feb-2023.
From Airbus, Air India plans to order 140 A320neo and 70 A321neo narrowbody aircraft, as well as 34 A350-1000 and six A350-900 widebodies. Deliveries will start in late 2023, with A350-900s.
As of the end of Jan-2023, Airbus firm order backlog was 7255 aircraft, back up from an Oct-2021 low of around 6850 aircraft.
As orders have risen and airlines have seen passenger traffic come back, ordering has also returned (and pressure to raise output has also increased).
Airbus: commercial aircraft order backlog (Jan-2019 to Jan-2023)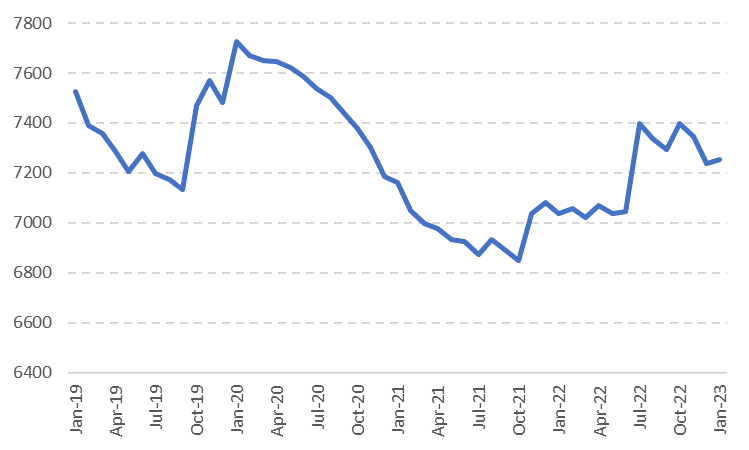 With global passenger demand persisting despite a dark macroeconomic outlook, and China reopening its borders to travel, Airbus is confident of a "solid" 2023.
Mr Faury believes the outlook for ordering is "really good", and the aircraft market has now shifted to one where demand is stronger than supply – a position that seemed unlikely as little as 12 months ago.
Airbus will need to live up to expectations though – as global air travel closes in on full recovery, airline and leasing company customers are becoming increasingly frustrated with the slow ramp-up in output.