Airbus and Boeing: China aircraft cancellations may just be the first cut
China's regulator has "suggested" to the nation's airlines that they either cancel or delay delivery of existing aircraft orders.
President-elect Obama is surely already booking Air Force One for a Beijing trip. Among the many issues facing the two governments including the global economy, he will be working hard in Beijing to support Boeing's future and to offset the inevitable impending visits by President Sarkozy and Chancellor Merkel, who will have Airbus' interests closer to their hearts.

Airlines worldwide (except the US, whose airlines are being unjustly rewarded for their profligacy in not preparing for the future) are suffering hangovers from the binge buying they have engaged in over the past five years. As demand slows and the new orders arrive, yields and loads become uncontrollable.

A number of cancellations, negotiated delays and simple airline collapses have already shortened the delivery list for next year. And things are unlikely to improve quickly, with credit constraints adding to the airlines' reluctance to expand capacity.

As IATA's Director General and CEO, Giovanni Bisignani, observed this week: "The financial market is not very keen on financing those kinds of operations. [There will be a reduction in deliveries] not just because of the fall in demand but also because of the lack of financing,"

But when China's regulatory authority advises airlines to delay or cancel orders due for 2009, the impact becomes deafening.

Airbus has reportedly stated that it had not received any formal indication from Chinese authorities of proposed cancellations or delay requests. Boeing, rather less firmly, was only prepared to say that the company was continuing to work closely with its Chinese customers.

China's economy is slowing quickly, according to recent trade data, which show a rapid decline in both exports and imports. Despite that, recent domestic air traffic data have been relatively positive, as growth returned quickly in October and November months.
Chinese Mainland carriers' passenger numbers growth in 2008: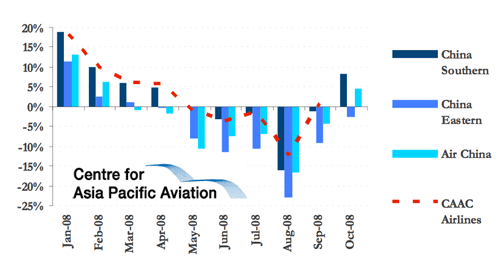 But international growth is still very much in negative territory. And the last thing that domestic airlines want right now is more seats. Most are in perilous financial state, a situation which has deteriorated alarmingly in the past quarter. China Eastern in particular is trading with effectively no equity.
Chinese carriers' profit margin: 3Q08 and YTD3Q08
And their share price trend - even worse than other airline stocks globally - reflects this. Although Air China has maintained a solid financial base, it too has been dragged down. And a 22.1% rise in its share price yesterday, on news of the likely delay of some of its orders, only illustrates its exposure otherwise to excess capacity in the market.
Chinese Major carriers share price comparison: index 28-Jul-07 = 1
The commercial and political imperatives

Aircraft orders are big business. They are worth billions in exports and - as we saw recently with the Boeing machinists' strike, highly politically sensitive, as the manufacturing supply chain is so economically pervasive.

China's airlines have some significant advantages over other airlines when it comes to delaying or cancelling orders (although, whatever the reality, any formal announcements are likely to talk only of postponement or rescheduling of deliveries).

Their advantages are in both scale and politics. The China market for aircraft is massive. And the Chinese airline industry is much commercially closer to the government than elsewhere - and that is saying a lot. Thus when Beijing issues a statement of this nature, it already has a ring of finality about it.

So, when any manufacturer looks to enforce an otherwise firm purchase order - and perhaps to threaten penalties for non-compliance, as it would with any independent airline - the equation is not so simple in China.

Future sales, estimated in hundreds of billions of dollars over the next decade, may be jeopardised by taking too forceful a position at this time. It's a twist on the old adage: when you owe the bank a thousand dollars, you have a problem; when you owe it a billion, it's their problem.

And, so long as the predictable discussions between heads of state occur, the issue becomes mightily tangled in political compromises. In matters like this, China tends to win.
A long order list

Both Boeing and Airbus have high expectations for future orders.

And they already have a significant part of their manufacturing capability geared towards the China market.

The current orders are widely spread across a large number of airlines. Between the two manufacturers, they have 766 orders outstanding for Chinese carriers, according to Ascend.
Current Chinese airline fleets (Boeing and Airbus): at 10-Dec-08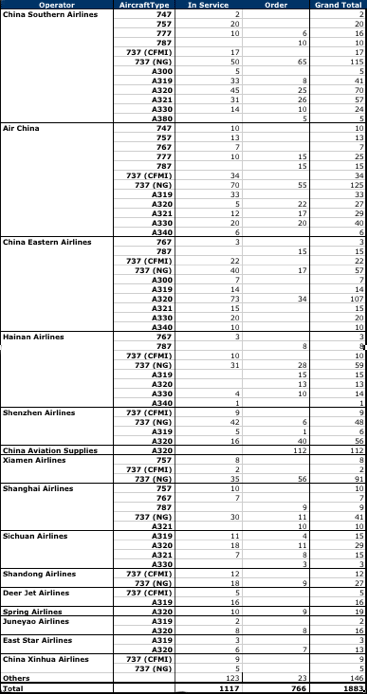 And the list for 2009 delivery - where much of the preparatory work, at least, is under way - is already long. A total of 219 jet aircraft are due to be delivered in 2009, including Embraer regional jets. Most are short haul, single aisle aircraft, with the occasional widebody, emphasising the Chinese carriers' reliance on the domestic market.
Aircraft deliveries scheduled for 2009: at 10-Dec-08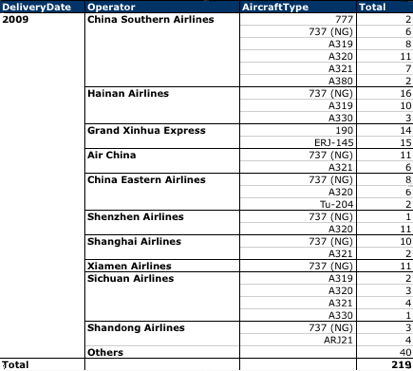 The spinoff. Accelerating China's large aircraft manufacturing?

As both Airbus and Boeing are deeply reliant on the Chinese market for their futures, they are exposed in ways that they would prefer not to be.

One of the negotiating gains Beijing will be looking for in the talks is one very close to its heart: developing its own large aircraft manufacturing capability.

It will not have escaped their notice that large Airbus customer, Etihad, last week, along with its Abu Dhabi owner's investment arm, Mubadala, was able to gain (as yet unconfirmed) rights to assemble widebody aircraft in the emirate.

In this respect, Airbus has already gone a step further than Boeing and established a manufacturing facility in Tianjin, near Beijing and that final assembly line started production of A320 jets in Sep-08.

The pressure will surely be on Boeing as well to follow suit - and even to go a few steps further. Not something that the new President Obama will welcome, especially following his support for the Boeing machinists' concerns about offshoring.

Meanwhile, the immediate issue is to shore up the respective manufacturers' cashflows. Neither manufacturer is in great shape at present in market terms, as their respective share price declines illustrate.

Boeing has been suffering most recently. Its costly confrontation with the machinists' union was really only one battle in a wider war - and there may be more to come. Continuing problems with the B787 and uncertainty about the future of the B747-8 have not helped its market perception, nor has a stronger US dollar.
Airbus and Boeing share prices: 1-OCT-08 to 10-Dec-08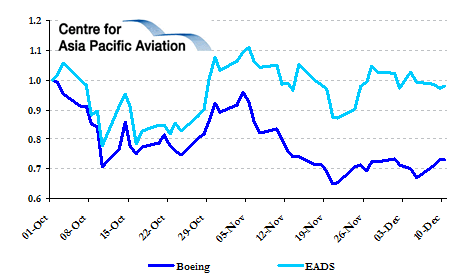 Meanwhile, Airbus/EADS, now emerging from its long tunnel, as the A380 production line rolls on and, given a tailwind from the declining Euro, its share price has happily performed better over recent weeks.
But neither now needs the public headache of being forced to renegotiate already-closed deals with a powerfully equipped negotiator in the Chinese marketplace. Particularly if that negotiator is accompanied by a single-minded long term intention to become a serious competitor for both of them.

One outcome, apart from the short term cost pain, is likely to be that the previously long term Chinese goal of developing a widebody aircraft manufacturing capability becomes just that bit less long term.