Airberlin makes network cuts, refocusses on North America long haul and new premium product
Analysis
Despite low fuel prices that have carried the global airline industry to record margins, airberlin's 2Q2016 losses have widened. This was its fifth successive quarter of unit cost growth outpacing unit revenue growth (they both fell, but unit revenue fell faster). Airberlin improved its cost structure, but CEO Stefan Pichler said that 2Q "was more challenging than expected on volumes and yield". It now seems likely that 2016 will be yet another year of red ink for airberlin, which is 30% owned by Etihad.
Airberlin's ongoing restructuring continues to involve capacity and headcount cuts to improve cost efficiency. In addition, airberlin is seeking cost synergies by coordinating some support functions with Etihad Airways Partners airlines.
Still predominantly a short/medium haul operator, airberlin is expanding its long haul network with new routes in the US and the Caribbean. This long haul expansion, accompanied by the launch of a short/medium haul premium product, attempts to position airberlin more squarely as a full service network airline. This is a further move away from its LCC past, just as LCCs are encroaching on long haul in addition to short haul.
In 2Q2016 airberlin's net loss widened by 138% to EUR89 million, versus a loss of EUR38 million a year earlier. This more than offset the narrowing of the net loss in 1Q2016, so that the 1H2016 net result was a loss of EUR235 million – 10% worse than in 1H2015.
The 2Q2016 operating result was a loss of EUR70 million, 51% wider than in the same period of 2015 (note that this operating result differs from airberlin's published EBIT figure in that it excludes the line item 'other operating income'. Revenue fell by 9% to EUR971 million and the operating margin declined by 2.9ppts to -7.2%.
Air Berlin PLC highlights 2Q2016 and 1H2016
| | | | | | | |
| --- | --- | --- | --- | --- | --- | --- |
| | 2Q2015 | 2Q2016 | Change | 1H2015 | 1H2016 | Change |
| Revenue | 1,071.0 | 970.6 | -9.4% | 1,864.7 | 1,707.7 | -8.4% |
| EBIT | -15.9 | -62.7 | 294.3% | -175.8 | -234.9 | 33.6% |
| Operating result* | -46.1 | -69.6 | 51.0% | -222.7 | -245.6 | 10.3% |
| Operating margin | -4.3 | -7.2 | -2.9ppts | -11.9 | -14.4 | -2.4ppts |
| Net income | -37.5 | -89.1 | 137.6% | -247.6 | -271.5 | 9.7% |
| ASK billion | 14.87 | 14.3 | -3.7% | 26.7 | 25.3 | -5.2% |
| Load factor % | 82.0 | 81.6 | -0.4ppts | 82.6 | 82.4 | -0.2ppts |
| RASK EUR cent | 7.20 | 6.78 | -5.9% | 6.98 | 6.75 | -3.4% |
| CASK EUR cent | 7.51 | 7.26 | -3.3% | 7.82 | 7.72 | -1.2% |
| CASK ex fuel EUR cent | 5.82 | 6.02 | 3.3% | 6.14 | 6.46 | 5.3% |
1H2016 margin remains the weakest among Europe's listed airlines
For 1H2016 airberlin's operating margin declined by 2.4ppts to -14.4%. This was, by some distance, the lowest margin among listed European airline groups that have so far reported results for the period.
Airberlin was one of only two European airline groups to have reported an operating loss for 1H2016 (the other was SAS, whose half year is the six month period ending in March). It was also one of only three so far to report a year-on-year decline in its operating margin for 1H2016 (the other two were SAS and easyJet).
Operating margins for listed European airline groups (% of revenue): 1H2015 and 2016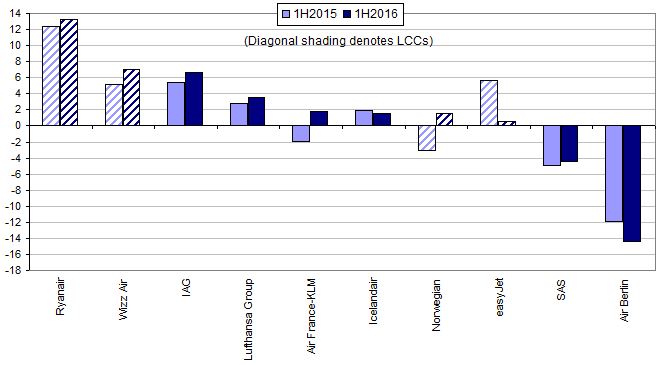 ASKS drop 3.7% as capacity cuts continue
Airberlin reduced its ASKs by 3.7% in 2Q2016, a lesser cut than the 7.2% paring of 1Q2016. Load factor was just below flat at 81.6% (-0.4ppts). Passenger numbers fell by 4.7% to 7.8 million.
Although airberlin increased its ASKs modestly in 2014, when they grew by 3.1%, it has been in restructuring mode since Etihad's investment in its equity in 2011. The capacity cut in 2Q2016 demonstrates its continued network restructuring.
Airberlin operating figures: 2Q2016

Revenue falls by 9%, in spite of ancillary growth
Airberlin's revenue fell by 9.4% in 2Q2016, faster than the drop in ASKs. This reflected weak pricing, together with the small dip in load factor, with flight revenue dropping by 10%.
This was only partly offset by a 21% increase in ancillary revenue, whose share of the total grew to 6%, versus 4% in 2Q2015. Ancillary revenue per passenger jumped by 27% to EUR7.42.
Other revenue fell by 18%.
Airberlin revenues (EUR million) 2Q2016
| | 2Q2015 | 2Q2016 | Change | % of 2Q2016 total |
| --- | --- | --- | --- | --- |
| Flight revenue | 955.6 | 857.4 | -10.3% | 88% |
| Ancillary services | 48.1 | 58.2 | 21.0% | 6% |
| Other | 67.3 | 55.0 | -18.3% | 6% |
| Total revenue | 1,071.0 | 970.6 | -9.4% | 100% |
Competitive pricing pressure weighs on RASK, exacerbated by overcapacity in Spain
The competitive pricing environment in airberlin's markets was visible in all of its unit revenue measures. Average fare fell by 5.8%, in spite of a slight increase in average trip length (+0.5% to 1,470km), and traffic revenue per RPK was down by 6.4% in 2Q2016. Total revenue per ASK (RASK) fell by 5.9%.
Airberlin development of unit revenue measures: 2Q2016 vs 2Q2015

The downward pressure on pricing was the result of a number of factors, exacerbated by geopolitical events. Terrorist activity contributed to lower demand for tourist destinations in the Eastern Mediterranean, resulting in a number of airlines' moving their capacity to the Western Mediterranean.
This has led to overcapacity, particularly in Spain, which is airberlin's biggest international market (Spain represents 40% of its international seats, according to OAG data for the week of 15-Aug-2016). The pricing pressure felt in Spain has also been transmitted to other markets.
See related report: Spain aviation and LCCs: 2016 traffic above pre-crisis levels, but capacity surplus unsustainable
Airberlin international seat capacity by country: 15-Aug-2016 to 21-Aug-2016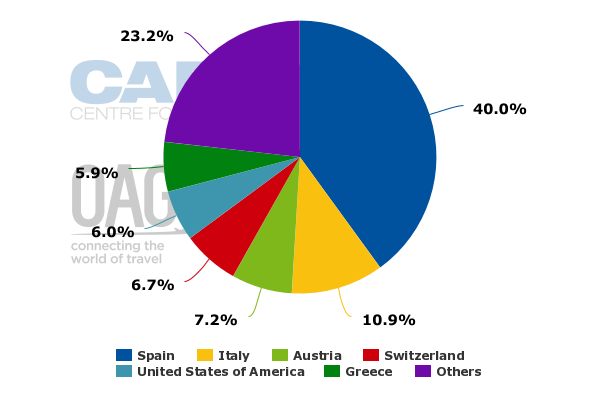 Costs cut by 7% thanks to lower fuel prices (but ex-fuel CASK increases)
Operating costs fell by 7%, more than the decline in ASKs, but less than the fall in revenue in 2Q2016. Fuel costs were lower by 29%, as a result of lower fuel prices (partly offset by USD strength versus EUR), while non-fuel costs were only just below their level of a year earlier (-0.5%).
Labour costs were reduced by 11% and headcount was 5% lower at the end of the quarter than it had been at the end of 2Q2015, reflecting airberlin's restructuring efforts. Excluding labour and fuel all other costs grew by 1.5%, in spite of the capacity cut.
Cost per ASK (CASK) declined by 3.3%, but ex fuel CASK grew by 3.3% and the overall unit cost reduction was less than the RASK decline.
Airberlin cost per ASK by category (EUR cent): 2Q2016 vs 2Q2015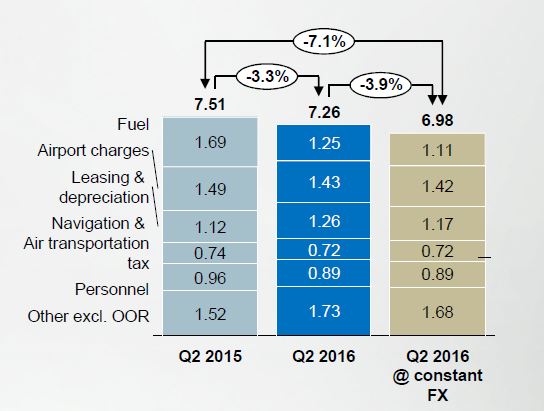 Five quarters in a row of RASK underperformance vs CASK
The decline in CASK was muted by exchange rate movements – without which it would have fallen by 7.1%. However, currency effects also have an impact on unit revenue and it is the difference in the rate of change of RASK compared with CASK that drives operating margin.
2Q2016 was the first time since 3Q2014 that both RASK and CASK fell in the same quarter. However it was the fifth straight quarter when the growth in RASK was weaker than the growth in CASK (this has also happened in seven of the past eight quarters), in spite of falling fuel prices. Ex fuel CASK has increased in each of the past seven quarters.
Broadly speaking RASK follows developments in CASK, of which the most variable element is fuel costs. However, the two do not move in perfect harmony. When CASK falls, there is insufficient pricing power for airberlin to hold onto its RASK, which then also falls.
Similarly, when CASK increases airberlin increases its RASK, but not enough to offset the rise in unit cost in full. The situation is further troubled by the fact that, in absolute terms, airberlin's RASK is lower than its CASK for three quarters of the year (the exception being 3Q).
Airberlin year-on-year change in RASK and CASK: 1Q2014 to 2Q2016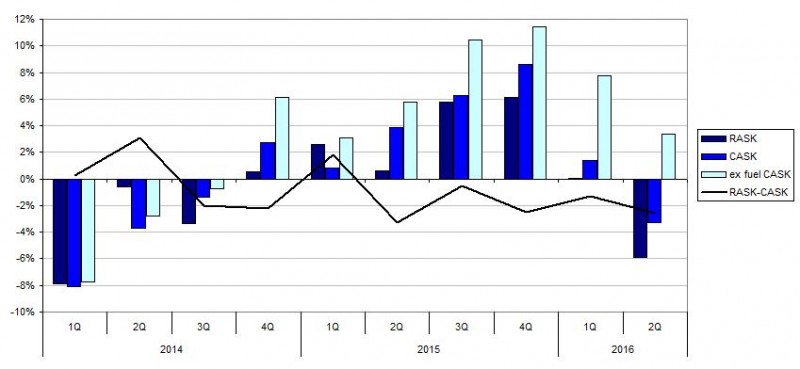 FY2016: no profit guidance, but another year of losses is likely
Looking ahead to FY2016, airberlin does not have a profit target for the year nor any details of planned capacity growth. Its 1H2016 losses make it highly unlikely that it can reach break-even this year, in spite of the low fuel prices that have boosted operating margins for the world airline industry to record levels. 2016 now looks set to be airberlin's ninth successive year of operating losses.
See related reports:
Airberlin's 2Q2016 report stresses that it continues to do "everything possible" to improve load factor, particularly in the holiday season. These measures include offers to "several attractive holiday destinations" in all parts of its network, including new long haul flights to the US and Caribbean. This now includes planned new services in summer 2017 from Düsseldorf to Orlando, and from Berlin to San Francisco and Los Angeles.
At the same time airberlin acknowledges that pricing pressure is set to continue, particularly in the face of global political uncertainty. Indeed, its leisure route offers are likely to contribute to such pressure.
Restructuring to continue, plus long haul expansion and a new short haul premium product
Airberlin intends to continue with its restructuring programme to improve efficiency and reduce costs. The challenge for airberlin is that although capacity cuts reduce costs in absolute terms and help to bolster load factor, they make CASK reduction more difficult.
Airberlin is expanding its long haul network, which may increase its appeal to some passenger market segments. All other things being equal, this should also lead to lower CASK (which falls as average trip length increases). However, longer average trip length also lowers RASK. Airberlin is attempting to target higher-yielding traffic by introducing a new short/medium haul business class, which will complement its long haul premium product.
Airberlin is tilting towards legacy airlines, rather than LCCs, but low costs remain crucial
As CAPA observed in a Jun-2016 report on airberlin, it has a similar average trip length to those of many European LCCs, but it is not competitive with LCCs on unit cost. It does have a unit cost advantage versus most legacy airlines, but currently has neither the long haul network nor the premium positioning to be fully competitive with them.
See related report: airberlin continues to shrink. Etihad remains supportive, but internal solution is needed
Faced with the choice of making significant unit cost cuts to compete with LCCs in short haul, or expanding its long haul network and premium product to compete with legacy airlines, airberlin appears to be attempting the latter. Given its unit cost advantage against the legacies, this looks like the more appealing choice.
However, as noted in the above-referenced report, long haul expansion is not without its challenges, particularly on the more price-sensitive leisure routes that form much of airberlin's focus. The long haul LCC model continues to expand on such routes; yet for now, airberlin's network is still heavily weighted towards short/medium haul.
Airberlin itself has been through many different business models in the past, from charter to LCC to long haul full service airline, but has never entirely moved away from its leisure origins.
See related report: airberlin: in need of a cap that fits after another underlying loss
Whichever direction airberlin follows it is likely to experience price competition, and this can only be withstood if unit costs are as efficient as possible.
Closer integration with Etihad and other airlines in the Etihad Airways Partners grouping should help with cost efficiency, but airberlin still also needs internal solutions. There are obviously still some new chapters to be written in the airberlin story.