AirAsia shares slump following share sale, Virgin Blue considering big aircraft order
Analysis
AirAsia's shares fell the most in six weeks in Kuala Lumpur trading yesterday, after the carrier sold shares at a discount of 5.7% from the previous close (and approximately 6.7% lower than the five-day volume-weighted average price up to and including 14-Sep-09) in a private placement aimed at reducing the carrier's debt levels.
The carrier raised approximately USD145 million from the share placement, lower than the originally expected USD190 million.
The carrier's shares ended the day 3.6% down to MYR1.36, on heavy volume of approximately 12 million shares, but fell by as much as 5% during the day. AirAsia's shares have surged 55% so far in 2009.
AirAsia share price growth: Jan-2009 to Sep-2009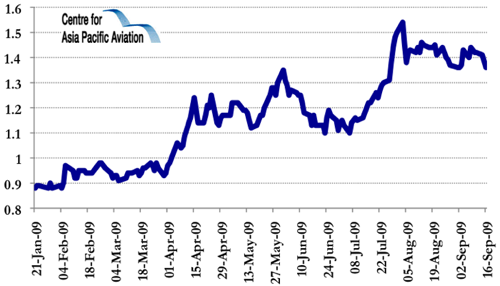 Meanwhile, RHB Research maintained an "underperform" rating on the stock "to reflect concerns on AirAsia's still relatively high net gearing, as well as the still tough operating conditions of the airline industry." Similarly, OSK Research maintained its 'neutral' rating with a target price of MYR1.48, stating it remains cautious on the carrier's prospects.
Virgin Blue maintains breakeven forecast for FY2009, could order 50 B737s
Virgin Blue's shares jumped 5.5% yesterday, as the carrier stated it still expects to break even in FY2009-10, despite this year being "the most taxing, the most complex, the most challenging, the most vexing and quite frankly the most unexpected" period its CEO, Brett Godrey had experienced. Mr Godfrey added the carrier is yet to see significant signs of a recovery in demand and one of the biggest challenges ahead for the industry would be the possibility of speculators increasing oil prices.
Mr Godfrey also indicated Virgin Blue is currently in talks with Boeing for the purchase of up to AUD4 billion in new aircraft, to replace 25 of its B737 aircraft whose leases are set to expire from 2011. The carrier plans to purchase between 35 and 50 new aircraft.
In the US, Southwest's shares gained 1.9%, while in Europe, easyJet and Ryanair shares gained 4.3% and 1.1%, respectively.
Selected LCCs daily share price movements (% change): 16-Sep-09