AirAsia completes share issues, raises less than expected; JetBlue gain most overall
Analysis
AirAsia's shares remained suspended yesterday, as the LCC announced the successful completion of private placement exercise, with gross proceeds from the offering expected to amount to USD144 million, lower than the originally expected USD190 million.
The shares were sold at an issue price of MYR1.33, representing a discount of approximately 6.7% from the five-day volume-weighted average price of AirAsia shares up to and including 14-Sep-09 of MYR1.4257/share. According to AirAsia, the placement has raised the foreign shareholding level in the carrier to 46.1%.
GOL feeling pressure from influx of start-ups, US LCC share prices gain on speculation
GOL's shares slipped 1.2%, upon the release of traffic data that revealed that GOL and TAM are facing increased pressure from start-up carriers in the Brazilian market.
Smaller Brazilian airlines have increased their market share from 8% to 14% over the past year, led by Azul Linhas Aereas Brasileiras, which commenced operations in Dec-2008. TAM and GOL, however, still remain the dominant players, controlling 44% and 41%, respectively, of the domestic market.
US LCC share prices up on speculation of economic rebound
In North America, airline stocks rallied for a ninth day, the longest streak since 1995, following forecasts by JPMorgan Chase & Co and Delta Air Lines that the economic rebound will boost travel spending.
JetBlue's shares had the largest gain yesterday among the US LCCs, up 5.8% yesterday, and have gained 20% in the past month alone.
Jetblue share price growth: Jan-2009 to Aug-2009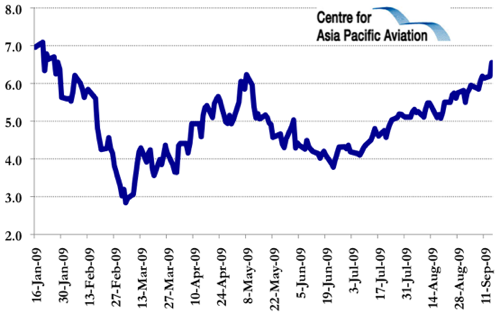 Selected LCCs daily share price movements (% change): 15-Sep-09