21-Jun-2011 2:28 PM
Air travel chaos as airlines cancel Sydney services due to ash cloud
The ash cloud crisis in Australia intensified today as airlines cancelled services to/from Sydney due to ash from the Puyehue-Cordon Caulle volcano in southern Chile. The plume will cause "major disruptions in the next 20 to 48 hours", according to Airservices Australia spokesperson, Matthew Wardell. Qantas and Virgin Australia cancelled all domestic Sydney services from 15:00 and 16:00 today, respectively, and further cancellations are now being announced for tomorrow, 22-Jun-2011.
The closure of services on the Sydney-Melbourne route, one of the top five air corridors worldwide, will result in significant inconvenience for air travellers and disruption to airline schedules for the coming days as displaced passengers are rebooked on flights once the shutdown is lifted. Airlines have some 185,000 seats (return) scheduled on the Sydney-Melbourne route alone this week.
Sydney's Top 10 domestic routes (seats per week, return): 20-Jun-2011 to 26-Jun-2011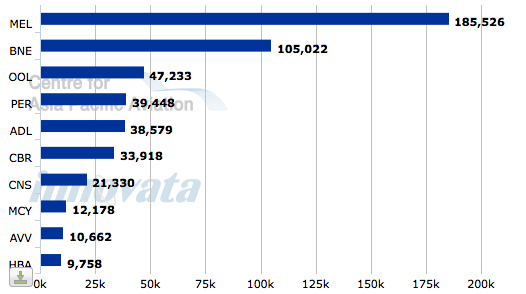 The Top 10 non-stop routes internationally from Sydney include Auckland, with over 40,000 seats (return) this week, Singapore, Hong Kong and Los Angeles.
Sydney's Top 10 international non-stop routes (seats per week, return): 20-Jun-2011 to 26-Jun-2011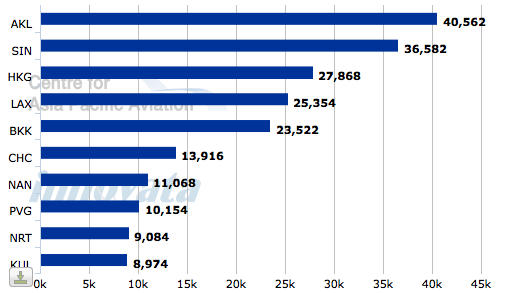 The financial cost for the airlines, on the back of a summer of extreme weather events, is mounting. In mid-afternoon trade on the Australian stock exchange, Qantas' shares were up 1c, but near multi-year lows at AUD1.83, Virgin Australia was flat at AUD0.28 and MAp, owner of Sydney Airport, was down 1c at AUD3.26.
Airline schedule updates
Qantas services to/from Canberra, Melbourne and Sydney have been cancelled for Wednesday 22-Jun-2011. Canberra and Sydney services are cancelled for the remainder of Tuesday 21-Jun-2011.
The following services on 22-Jun-2011 have also been cancelled because of the impact of ash on flight paths.
Three Perth-Melbourne flights (QF776, QF802, QF768) and one Melbourne-Perth flight (QF777).
Four Brisbane-Melbourne flights (QF623, QF625, QF627, QF631) and two Melbourne-Brisbane flights (QF624, QF626).
International services to and from Sydney and Melbourne on Wednesday 22-Jun-2011, including trans-Tasman flights, will be delayed in light of the impact on these ports.
Jetstar cancelled all flights to/from Adelaide on Tuesday 21-Jun-2011 and all services to/from Sydney (including Trans-Tasman services) and Newcastle scheduled after 1500 AEST have been cancelled for the rest of the day. A select number of flights between Melbourne and Perth on Tuesday afternoon have been cancelled.
Virgin Australia Group of Airlines suspended all flights to/from the following airports on Tuesday 21-Jun-2011:
Adelaide;
Mildura;
Canberra from 1.00pm (AEST);
Melbourne, Sydney, Newcastle, Hobart and Launceston from 4.00pm (AEST).
Tiger Airways Australia cancelled all domestic flights on Tuesday 21-Jun-2011.