Air New Zealand's focus on quality should benefit corporate travel buyers - and travellers
Analysis
Air New Zealand's healthy profit report contained a pledge to continue to improve the airline's offerings – domestically and internationally. The positive performance will be reassuring to the airline's corporate customers, who are still very much aware of the 2001 government bail-out which saved the airline from being dragged under by the collapse of its Ansett Australia subsidiary.
New Zealand businesses, known for their external focus, depend on safe, reliable and affordable air services, especially with the country's main trading partners in Australia, China, the United States and Japan. Customers will be buoyed by the solid performance of Air New Zealand's international operations as well as by the increased competition in the market which is keeping a lid on fare growth.
Customers will also be encouraged by the airline's commitment to product improvement, through airport lounge enhancements, fleet refurbishments and added premium economy capacity. In turn, this should help ensure healthy competitive offerings from other airlines on key routes.
For the year to 30 June 2016, Air NZ reported record earnings before taxation of NZD806 million - an increase of 70% on the 2014/15 year. Operating revenue was NZD5.2 billion, an increase of 8.2% after adjusting for the impact of divestments.
Earnings before significant items and taxation were NZD806 million (prior to adjusting for the impact of Virgin Australia and a longstanding legal claim). Net profit after taxation was NZD463 million, an increase of 42%.
Air New Zealand annual net profit and net margin: FY2008-2016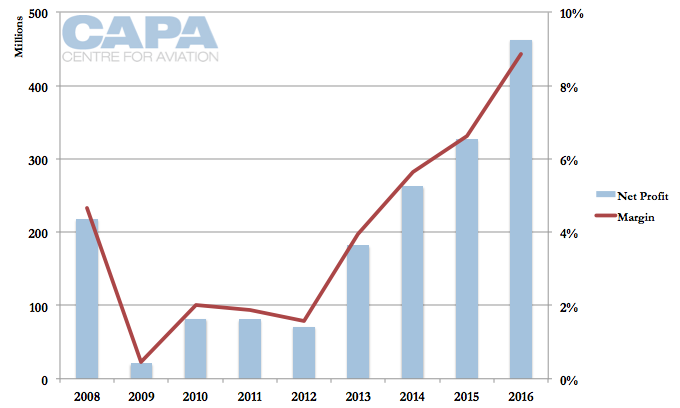 While domestic operations represent a minor part of the airline's business, that sector recorded increased passenger revenue (up 8.9%), resulting from a 12% increase in capacity that was closely tracked by demand growth of 11%. This is significant because it shows that the airline is holding its own, despite the growing challenge from Jetstar on select regional routes.
Capacity on the crucial Tasman and Pacific Islands routes grew 5.1% in the year, mainly due to increased frequency of the wide-body aircraft as well as up-gauging to the larger 787 aircraft on the Honolulu service. However, demand failed to meet the capacity increase, rising just 3.8% on the competitive routes.
Growth was also recorded on international long-haul routes driven by the entrance into the new markets of Houston, Buenos Aires and Ho Chi Minh City, as well as changes to services to Singapore.
Air New Zealand concedes that competition is taking its toll on airfares, and corporates are no doubt benefiting from keener pricing.
For more detail and comment, please see also: Air New Zealand FY2016: record profits. Growing competition means it is time to move upmarket
The trans-Tasman market has been stable for the past two years
Analysis from 4th Dimension shows very little movement in trans-Tasman fares in the past two years, with most economy and business class fares falling between June 2014 and June 2016.
International Tickets and Average Fare

Economy Class, Adult, Return, Gross Fare plus Tax

Ticketing Month

BNE-AKL

MEL-AKL

SYD-AKL

SYD-CHC

Jun 14

$548

$596

$565

$590

Jun 15

$533

$559

$567

$572

Jun 16

$535

$569

$567

$561
International Tickets and Average Fare

Business Class, Adult, Return, Gross Fare plus Tax

Ticketing Month

BNE-AKL

MEL-AKL

SYD-AKL

SYD-CHC

Jun 14

$1,564

$1,834

$1,940

$1,686

Jun 15

$1,414

$1,761

$1,778

$1,475

Jun 16

$1,660

$1,779

$1,638

$1,633
Airline's advantages benefit corporate customers
Explaining the results, CEO Christopher Luxon flagged several unique competitive advantages that he maintained set Air New Zealand apart:
Secondly, customers – and corporates in particular – are benefiting from the airline's investments in upgrading the customer experience.
Thirdly, according to Mr Luxon, the depth and breadth of the domestic network is a cornerstone to the business and has benefited from improved schedules, increased frequency and more modern aircraft. This also adds frequency, comfort and convenience for corporate travellers.
Fourthly, the Airpoints program continues to incentivise customers and provides valuable customer data.
And finally, the simplified and modern fleet with an average age of seven years by the end of 2017 is contributing significant efficiencies to the business.
Corporate-friendly focus on quality rather than quantity, including refurbished premium economy

Air New Zealand has committed to refreshing its lounges in Melbourne, Wellington and Queenstown, and to refurbishing the interiors of its Boeing 777-300 aircraft, all of which will appeal to business travellers, especially on long-haul.
Also relevant to the corporate market is the planned upgrade of B777 premium economy seats to match the style deployed on Air NZ's Dreamliners. The refurbished premium economy will result in 10 additional seats, an increase of over 20% in that class compared to the current configuration.
The move should meet growing corporate use of premium economy when budgets won't stretch to business class, but the trip length requires better-than-economy-class facilities.
Air New Zealand 777 and 787 configuration: as of Aug-2016
| | | | | | |
| --- | --- | --- | --- | --- | --- |
| Aircraft | Business | Premium Economy | Economy | Premium Share | Regular Economy Share |
| 777-200ER Old Config | 26 | 36 | 242 | 20% | 80% |
| 777-200ER Retrofit | 26 | 40 | 246 | 21% | 79% |
| 777-300ER | 44 | 44 | 244 | 27% | 73% |
| 787-9 Old | 18 | 21 | 263 | 13% | 87% |
| 787-9 New | 27 | 33 | 215 | 22% | 78% |
Corporate travel prospects in New Zealand: quality product and more competition

As noted, Air NZ's international strategy appears to be pragmatically shifting away from the mass market and towards the higher-yielding segments. This is consistent with the profile strategy that New Zealand's tourism body has adopted.
While this may be targeted primarily at the leisure market, there is no doubt that corporates will take advantage of the premium offerings, especially as the New Zealand economy grows and business travel increases.
Travel procurement professionals are well positioned for the next round of fare negotiations. They will be buying in a market with more suppliers and an apparent surplus of supply over demand.
At the same time, they will be aware of the stability of Air New Zealand's cost base, with fuel prices tipped to continue on their current path for the medium term.
And they will be aware that they are negotiating with a profitable supplier, focused on quality rather than quantity.
Those factors, combined with an intensification of competition in the market, bode well for corporate airfares in 2017. But it's not all about cost, and the upgrade programme already in progress spells improved product, increased frequency to popular destinations and an enhanced traveller experience – all of which tick boxes for travel managers.
- Allan Leibowitz
CAPA - Centre for Aviation and ACTE will hold a New Zealand Aviation & Corporate Travel Summit at The Langham Hotel on 13-Oct-2016.
For further information and to register, please see: New Zealand Aviation & Corporate Travel Summit