Air New Zealand to sell Virgin Australia stake to fund expansion: Chengdu could be next after Manila
Analysis
Air New Zealand has been on a long haul growth streak, opening five destinations since 2015. Manila was most recently announced and Chengdu could be next, once again giving Air NZ two destinations in mainland China after exiting Beijing. Chengdu as a destination – or another city – would mean that Air New Zealand would serve more points in Asia than Qantas.
Globally, Air NZ is catching up to Qantas for destinations outside Australia/New Zealand/Pacific Islands. In 2006 Qantas served 21 points outside the region and in 2016 serves 18, although this is an increase from the situations in recent years. Where Qantas has cut, Air New Zealand has grown, increasing from 10 long haul destinations in 2006 to 16 (if Chengdu is included) in 2016. With Air New Zealand due to receive nine 787-9s through 2019, with only some of those due to replace existing aircraft, the airline could serve more points than Qantas. A sale of Air NZ's stake in Virgin Australia could pay the cost of three widebody aircraft and possibly accelerate Air NZ's growth even more. Qantas will remain bigger for number of flights and seats. Qantas offers upwards of five daily flights to Singapore whereas Air NZ offers just one.
Air New Zealand announced Manila as its latest long haul point on 06-Apr-2016: three weekly 767-300 flights are to commence from Dec-2016. Air New Zealand will be the only nonstop operator; Philippine Airlines operates four weekly flights between Auckland and Manila via Cairns on an A320. Other operators offer one-stop connections with backtracking involved.
Air NZ could potentially announce another long haul route in 2016: Chengdu in western China. The Chengdu City Vice-Mayor, Liu Shoucheng, met with the New Zealand Consul-General in Chengdu and the Air New Zealand network and strategic alliance president, Stephen Jones, on 30-Mar-2016 to discuss the opening of a direct Auckland-Chengdu flight. New Zealand opened a visa centre in Chengdu in 2015, facilitating relatively easy visa formalities for passengers.
Outbound Chinese passengers would make up most of the flight complement.
Given the leisure and often group booking nature of the outbound market, flights can be launched at relatively short notice. Air New Zealand could potentially open the service before the end of 2016, in time for the start of its peak tourism scene in southern summer (northern winter), although the peak Chinese visitor period is around Jan/Feb, coinciding with the Lunar New Year.
New Zealand monthly tourist arrivals from China: 2009-2016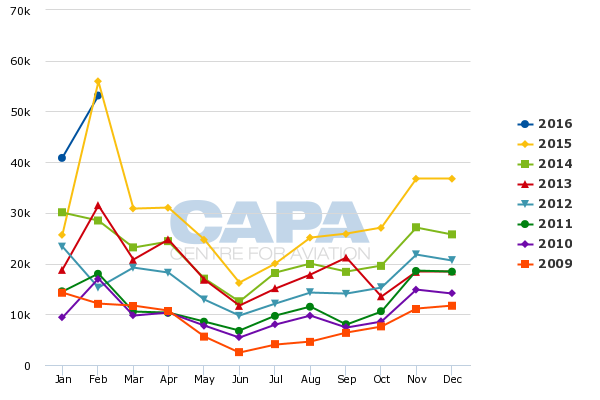 Chengdu would be Air NZ's second point in mainland China after Shanghai. Air NZ has previously served Beijing-Auckland, which is now served b its JV partner Air China; Air China has a hub in Chengdu but connections would likely be minimal. Chengdu is a major city and has been growing rapidly; China considers Chengdu one of four international hubs (along with Beijing, Guangzhou and Shanghai).
The city will host the World Routes Conference in 2016, having hosted the regional Asia Routes conference in 2012. Chengdu is one of many Chinese airports offering subsidies for long haul routes, and Air New Zealand could be expected to receive a subsidy for its service.
Auckland-Chengdu is 10,505km – slightly longer than Los-Angeles at 10,467km. Air New Zealand is opening thinner Asian routes – Manila, Ho Chi Minh – with 767-300s but for a nonstop Chengdu service will need an aircraft with more range. It is unclear whether Chengdu would be nonstop or year-round; Ho Chi Minh is seasonal, and Air NZ has not firmly indicated Manila either way.
Air New Zealand planned to have its 767 exit the fleet by the end of 2017. Air NZ's widebody deliveries are three 787-9s in each of 2016 and 2017, a further two in 2018, and one in 2019. Even accounting for 787s replacing 767s, there is considerable growth in this fleet plan. Air NZ is not planning to remove any 777s from service.
Chengdu and nearby Chongqing do not have existing services to New Zealand, but do have flights to Melbourne and Sydney operated by Sichuan Airlines. Qantas only serves Shanghai, although its wholly owned subsidiary Jetstar operates from the Gold Coast to Wuhan (which, like Chengdu, is an interior city). The Jetstar flight carries almost entirely outbound Wuhan passengers, in partnership with a travel agency.
Chengdu/Chongqing routes to Australia: 2016
Most of New Zealand's China services are to Auckland, but there is a service to Christchurch. New Zealand is already linked to Beijing, Guangzhou and Shanghai. Hainan Airlines has applied for Shenzhen-Auckland service (excluded on the map below).
See related report: Shenzhen Airport adds six long haul flights in a bid to win back traffic from Hong Kong
Mainland China routes to New Zealand: 2016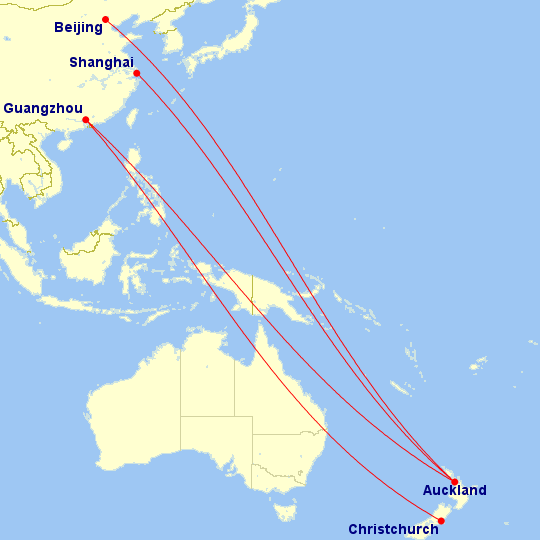 Air New Zealand has opened five long haul destinations since 2015
Chengdu would be the sixth long haul destination Air New Zealand has opened or resumed since the beginning of 2015. Since 2015 Air New Zealand has opened services to three: Singapore (resumed after being suspended in 2006), Houston and Buenos Aires. Air New Zealand has previously announced Ho Chi Minh service from Jun-2016, while Manila has been announced but is not yet on sale. These routes are all part of Air NZ's 'Pacific Rim' strategy, which is actually relatively broad – it essentially excludes Europe, a market well captured by Gulf and Asian intermediary operators.
See related reports:
Air New Zealand will serve almost as many long haul destinations as Qantas
Air New Zealand, under CEO Christopher Luxon, has undertaken long haul market growth after the previous CEO Rob Fyfe oversaw a restructuring that brought stability to long haul while delivering record profits. The growth since 2015 means that Air New Zealand is close to serving as many long haul destinations (points outside Australia/New Zealand/Pacific Islands) as Qantas. This excludes long haul points from the subsidiary Jetstar that are not served by Qantas.
In 2010 Air New Zealand served 10 destinations while Qantas served 21. Over the following decade, Qantas cut 10 points (mostly around the global financial crisis) and added seven (mostly post-2011). Qantas expects to end 2016 with 18 destinations, a decrease of three from a decade ago. In contrast, service to Chengdu could give Air NZ 16 destinations. These tallies include points like Vancouver that have been cancelled and re-opened over the last decade, but the net effect is the same.
Air New Zealand and Qantas destinations outside Australia/New Zealand/Pacific islands (* denotes planned/possible): 2006-2016
Airline

Destinations 2006

Withdrawn

Added

Destinations 2016

10:

London

Los Angeles

Nagoya

Osaka

Shanghai

Tokyo

4:

Beijing (2012)

Nagoya (2006)

Osaka (2014)

Singapore (2006)

10:

Beijing (2008)

Buenos Aires (2015)

Chengdu (2016)*

Denpasar Bali (2012)

Ho Chi Minh (2016)

Houston (2015)

Manila (2016)*

Osaka (2014)

Singapore (2015)

Vancouver (2007)

16:

Buenos Aires

Denpasar Bali

London

Los Angeles

Osaka

Shanghai

Tokyo

21:

Denpasar

Jakarta

Johannesburg

London

Los Angeles

Nagoya

New York

Osaka

Seoul

Shanghai

Tokyo

10:

Beijing (2009)

Buenos Aires (2012)

Denpasar (2008)

Frankfurt (2013)

Mumbai (2012)

Nagoya (2007)

Osaka (2007)

(2011)

Seoul (2008)

Vancouver (2008)

7:

Buenos Aires (2008)

Dallas (2011)

Denpasar (2015)

Dubai (2013)

(2015)

Santiago (2012)

Vancouver (2015)

18:

Denpasar

Jakarta

Johannesburg

London

Los Angeles

New York

Santiago

Shanghai

Tokyo
Qantas is still larger than Air New Zealand for flights and seats
Qantas and Air NZ each intend to serve eight destinations in Asia by the end of the year. Chengdu could make it nine for Air NZ. Despite this parity in destinations, Qantas remains significantly larger in terms of seats and flights offered. For example, Qantas offers five daily flights to Singapore compared with Air NZ's one. On average in 2016 Air New Zealand will offer approximately 1,400 daily seats to Asia compared with Qantas' 4,300. Both had a capacity peak in 2008 and subsequently cut capacity.
Air New Zealand rebounded in 2015 and is now larger than it was before the global financial crisis. Qantas decreased capacity more than Air NZ – Qantas had been ambitious in Asia whereas Air NZ was perhaps too conservative – and still operates its fleet below GFC levels.
Index of Air New Zealand and Qantas annual seat capacity to Asia from the home country: 2006-2016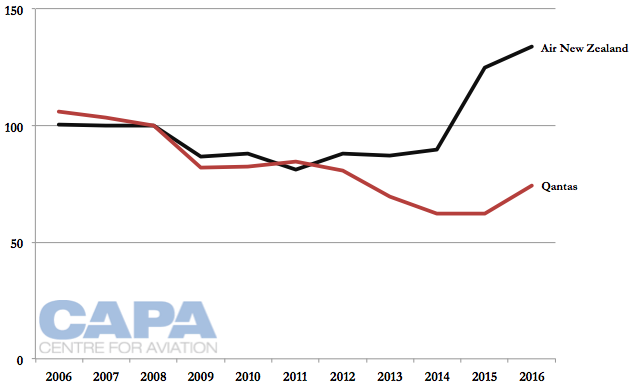 Comparing flights, in 2016 Air NZ will have approximately five daily to Asia to Qantas' 15. Air NZ has generally offered approximately three daily flights to Asia from 2007 through 2014. Growth in 2015 resulted in an increased offering.
Qantas, however, offers fewer flights to Asia than in the past. In 2007 and 2008 it offered 20 daily flights to Asia. This decreased to 11 in 2014, the period right after Qantas' European restructures. The restructuring meant that fewer flights were offered, and ultimately Qantas moved its stopover hub from Singapore to Dubai.
This resulted in fewer Asia flights (there were other reasons, too) but Qantas has now rebounded in Asia to its pre-Emirates-restructuring size. 2016's average of 15 daily Qantas flights to Asia is the highest since the 19 flights of 2008.
Average daily Air New Zealand and Qantas flights to Asia from home country: 2006-2016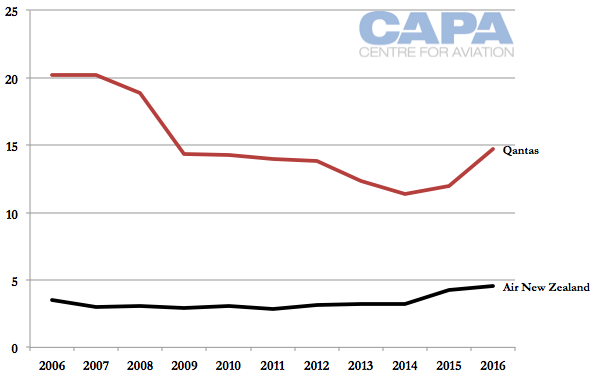 Air NZ sale of its Virgin Australia share could further fund expansion
Air NZ's sale of its stake in Virgin Australia could further fund its expansion. On 30-Mar-2016 Air NZ disclosed that it was exploring options for its stake in Virgin Australia. Air NZ's 25.9% stake makes it Virgin's single largest shareholder; this is followed by Etihad with 25.1%, Singapore Airlines with 22.2% and Virgin Group with 10%. Collectively the four airlines/groups own just under 85%. Air NZ's stake is valued at AUD350 million (USD268 million) – perhaps a small sum to other shareholders, but substantial to Air NZ.
The airline said in a statement: "Air New Zealand will undertake a review of its financial investment in the Company, including possible alternate uses of capital currently deployed in Virgin Australia. [Air NZ Chairman] Mr Carter says Air New Zealand does not want a large minority equity position in Virgin Australia as it focuses on its own growth opportunities".
See also: Virgin Australia explores a post-Air NZ future. Singapore Airlines favourite to increase investment
Air NZ has not yet specified what type of growth this could be. In recent years the airline has shed non-flying businesses, seemingly making a return to this area unlikely.
Other non-flying areas could receive investment; some airlines are establishing and funding future teams to consider more broad growth. But these areas would be unlikely to use a substantial portion of proceeds from a stake sale. Further, Air NZ's profits provide a stream for additional investment.
So, organic growth seems the likely path. Air NZ's opening of destinations over the last two years shows its ability to enter mature markets (USA) and developing ones (Manila). Its long haul routes are typically backed by a network of JVs or they are monopolies, helping to ensure success. Air NZ has shown flexibility, offering seasonal services and reinvigorating its 767-300 fleet. Each development gives Air NZ that much more confidence about realising opportunities previously written off, for the short- or long-term, or not yet considered.
At a time when Air NZ's core domestic network is under renewed competition from Jetstar, and increasingly on the US route, diversification may be welcome. But these international routes are unlikely to change the balance seismically. The more beneficial outcome would be for domestic to benefit from the fresh look that international is receiving. And it seems that is the case, with a large domestic network revamp.
Air NZ has not been an airline to sit still. Air NZ finds itself at the point where a strategic investment in Virgin Australia is not paying significant dividends in any form. The original intention was to be a substantial minority owner of the Australian carrier, guaranteeing front row access to its domestic market. But other shareholders have been slowly increasing their stake, greatly diluting that potential value. Now, instead of a strategic value, a premium could be obtained on its own stake, as new opportunities emerge for organic growth. Best to continue a history of not sitting still. For Air New Zealand, versatility is crucial to success.