Air New Zealand sees early signs of demand recovery, Thai Airways benefits as competitors downsize
Air New Zealand's shares gained 3.3% yesterday, following the release of its Aug-2009 traffic results, which revealed the rapid deterioration in the carrier's yields paused in Aug-2009, with Group yields down 10.9%, following an 11.3% contraction in Jul-2009.
CEO, Rob Fyfe, separately stated that "although there are some early indicators that the slump in travel demand may be showing signs of having bottomed out, it would be naive to think that there won't be bumps on the road to economic recovery".
The carrier's Chairman, John Palmer, added, "the current operating environment remains turbulent", with the difficult conditions to continue in 2010. He added that the Australasian market is "not immune from this and until supply is aligned with demand, the airline sector will not achieve a satisfactory commercial performance".
See separate article: Have Air New Zealand's yields bottomed?
Thai Airways' shares jumped 5.9% yesterday, as the carrier's competitors (with the notable exception of Thai AirAsia and Thai's subsidiairy, Nok Air) continue to downsize.
Most recently, Bangkok Airways has commenced its rehabilitation plan, which includes drastic capacity/fleet, cost and job reductions, to make the carrier "stronger and leaner". The carrier expects the strategies to cut costs by approximately USD3 million per month.
Last week, Orient Thai Airlines also announced it has cut domestic capacity of its unit, One-Two-Go, halving the number of daily services to 14, due to weak demand, and will focus more on charter operations, as part of business plan revisions.
Asia Pacific selected airlines daily share price movements (% change): 23-Sep-09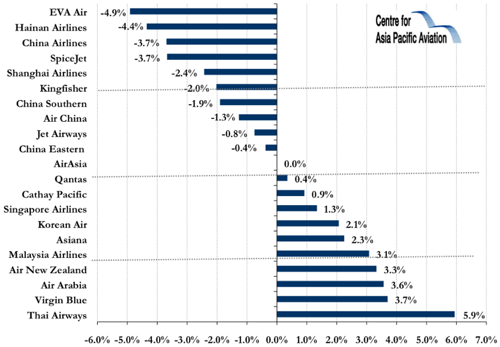 Bank of Japan sees signs that economy is on the recovery road, JAL to discuss restructure options with Government today
In Japan, the stock market was closed yesterday, the Bank of Japan stated it is encouraged that the Japanese economy may finally be on the recovery road, but acknowledged that the fundamentals are still weak amidst the worsening employment and income situation. The BOJ is projecting that the economy will start recovering from FY2H2009.
Separately, Japan Airlines (JAL) is expected to meet with Transport Minister, Seiji Maehara, today, to discuss options available for the struggling carrier. Mr Maehara has stated he plans to "go back to the drawing board" on the current approach to the carrier's rescue plan. Mr Maehara has, however, ruled out the option of allowing the airline to become bankrupt, saying such a scenario "must never happen."