Air New Zealand losing its shirt, as yields slump
Air New Zealand has launched a new ad campaign featuring cabin crew conducting their duties in nothing but elaborate body paint. It comes as the airline's management disclosed yield data for April that show the party is well and truly over - the airline could be losing its shirt in more ways than one. Air NZ's "nothing to hide" campaign aims to promote the airline's fares strategy, as it strives to differentiate from LCC competitors that charge for services including in-flight meals and baggage services.
Air New Zealand cabin crew drop their pants and lose their shirts to help make some adverts designed to get bums on (an increasingly limited supply of) seats.
But Air NZ is fighting an uphill battle. As documented in Peanuts! Weekly, LCCs worldwide have taken the commoditisation of air travel to the next level, unbundling the product to drive strong revenue growth in ancillary services, while driving actual fares lower, at the expense of incumbent carriers' market share.
The "nothing to hide" campaign launch coincides with the release of April traffic/yield data, which shows Air NZ has nowhere to hide. Demand is under pressure across its portfolio of routes. Like Qantas, Air NZ attempts to disguise its month-by-month yield movements by providing only financial year-to-date data. According to The Centre's estimates, Air New Zealand's Group yields slumped last month, as the carrier's pricing succumbed to increasing competition, particularly from Jetstar, Pacific Blue and Emirates, despite a massive pull-back in Air NZ's capacity.
Excluding exchange rate benefits, Air NZ's group yield fell 4.8% last month, as a bloodbath on short-haul markets intensifies and the carrier's long-haul markets become more difficult.
Air New Zealand Group yields (% change year-on-year): Jul-08 to Apr-09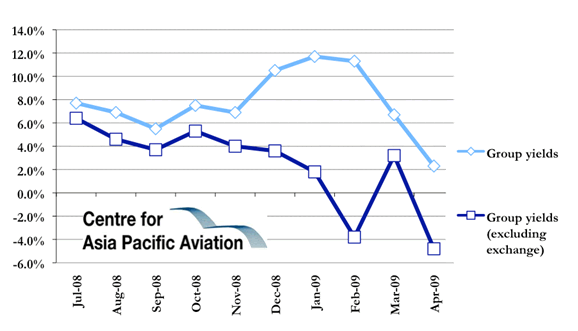 Long-haul yields, excluding exchange, have come down sharply from growth levels above 20% at the start of 2009, when the airline's management (and a few market analysts) became very bullish about the outlook.
Short-haul yields, excluding exchange, have been on a downward spiral since Pacific Blue entered the New Zealand domestic market in Nov-2008, falling 4.2% last month, according to The Centre's estimates. Weakness in the NZ dollar earlier this year would have bolstered Australian-sourced revenues, but an uptick in the NZ dollar lately could exacerbate the yield deterioration this month, while continued weakness in premium markets will pressure pricing across all route groups.
Air New Zealand short- vs long-haul yields (% change year-on-year): Jul-08 to Apr-09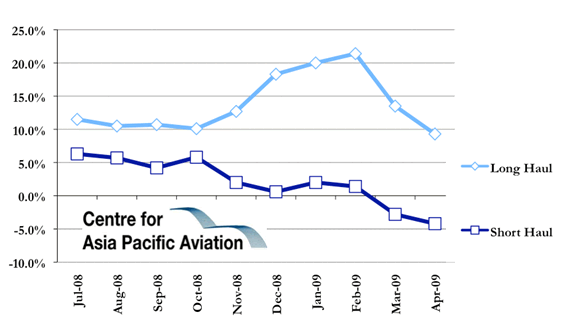 Market share also collapsing
Yields is only one - but a significant - part of the story. Also of concern for Air New Zealand, and its majority shareholder, the New Zealand Government, is the carrier's significant reduction in market share. Its capacity reduction strategy, designed to keep yields at acceptable levels to protect earnings, is clearly fraying.
In the meantime, the task of spurring inbound tourism volume (while Air New Zealand chases higher yielding passengers) is shouldered by Pacific Blue, Jetstar and Emirates and others - an outcome the New Zealand Government must consider at some point, given its heavy financial exposure to the flag carrier.
In April, Air New Zealand carried 971,000 passengers, down 5.7% on the same month last year. The airline's capacity was reduced by 12.7% year-on-year and the Group's passenger load factor increased by 4.5 ppts. The April numbers were flattered by Easter falling in April this year. In short-haul markets, Air NZ flew 4.7% less passengers in April and reduced capacity by 7.3%, lifting load factors by 5.2 ppts. The carrier's long-haul passenger numbers decreased by 12.0% year-on-year, while capacity was reduced by a massive 16.3%, resulting in a passenger load factor increase of 3.9 ppts.
The Centre's recently released Asia Pacific Aviation Outlook 2009 report noted, "because of its market advantage in dominating domestic regional and locally originating international business traffic, Air New Zealand has performed relatively well and its strategy of cutting capacity to remain profitable has worked up to the early part of 2009. But whether this strategy can continue to keep the airline intact during what looks like being a prolonged downturn for the New Zealand economy will depend on just how long and deep that proves to be. Unless there are more positive new developments for Air New Zealand, and with current consensus that recovery is unlikely before 2010, it seems likely that merger talks will again be on the table by the end of this year".