Air New Zealand: long haul network grows to record highs, adding Ho Chi Minh, Houston & Buenos Aires
Analysis
Air New Zealand continues to expand into new long haul markets. Air NZ in Dec-2015 launched a service to Houston in its core North America market and opened its first South American flight, to Buenos Aires. Its next long haul destination – Vietnam's Ho Chi Minh – is also a more peripheral market for which Air NZ will have to stimulate interest, rather than accommodate existing demand.
Inbound tourism is a staple for New Zealand's economy and Air NZ supports this, but at the same it has an undeniably strong outbound market that will fuel Buenos Aires and especially Ho Chi Minh. Air NZ will be Vietnam's 16th long haul service and only the eighth by a foreign carrier. Often forgotten in the shadow of China and tourism boom elsewhere in Southeast Asia, Vietnam with its 90 million population is ripe for international growth.
After restructuring its long haul network, Air NZ in 2015 had more long haul flights and capacity than prior to the restructuring. Its new routes will see it grow even further. There will be 15% more long haul flights in 2016 than a past recent high in 2005.
Air NZ will seek to change New Zealand's under-representation in Vietnamese tourism
Air NZ will launch Auckland-Ho Chi Minh service three times a week in between Jun-2016 and Oct-2016 with 767-300s. These months tend towards about average visitor arrivals, excluding the massive peak in January and February, which coincides with New Zealand's popular summer and holiday travelling season. This will be the first non-stop link between New Zealand and Vietnam. The service is similar to Air NZ's Auckland-Denpasar (Bali) service, which is seasonal with 767s between May and October. Although it is unusual for flag carriers to have seasonal long haul service (which does not increase and decrease but entirely stops), this reflects the limited market demand as well as Air NZ's confidence in its ability to nimbly manage the market.
Air NZ CEO Christopher Luxon, speaking to CAPA at the recent Star Alliance CEB meeting in Chicago in Dec-2015, expected the market would remain seasonal for some time but the long term objective would be to offer it year-round. There has been industry discussion that the New Zealand government is providing significant financial support to the service as part of its growing ties with Vietnam, but this has not been confirmed.
New Zealanders are under-represented in the Vietnam market. Approximately 33,100 visited in 2014 compared to 321,100 Australians. This equates to 91 daily New Zealand arrivals compared to 880 Australians. Even adjusting for the difference in population (23m in Australia versus 4m in New Zealand) there is a significant gap. 11M2015 visitor figures are down about 5% for each Australia and New Zealand.
Australian and New Zealand visitor arrivals to Vietnam: 2010-11M2015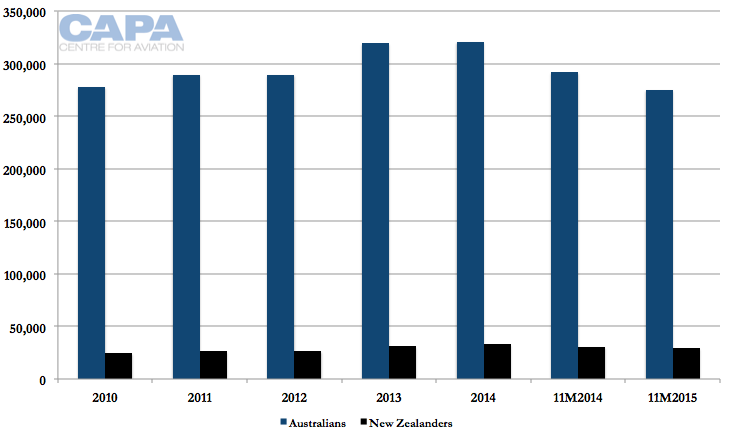 Australia accounts for only 4.1% of Vietnam's tourist arrivals, giving some indication how small the New Zealand market is. As expected, regional Asian visitors comprise most of the market. Vietnam's three largest markets – China, Korea and Japan – account for 44% of inbound visitors.
Vietnamese arrivals to New Zealand are exceptionally small. While Mr Luxon ultimately wants to see Vietnamese point of sale grow to support New Zealand's tourism industry, this is a long-term objective; Vietnam will be a heavily outbound market for New Zealand. The 2013 New Zealand consensus counted fewer than 7,000 Vietnamese compared to significantly larger numbers in Australia, where Vietnam Airlines flies.
The Ho Chi Minh route will be different from Air NZ's recent long haul launches. Its expansion to Buenos Aires and Houston has been able to rely on Australia as a key source market of traffic, while Houston also gives large point of sale in North America. Air NZ's Singapore service, which commenced in Jan-2015, was part of a JV with Singapore Airlines and thus carried significantly less risk. Ho Chi Minh will neither be part of a JV nor able to tap the Australian market.
See related reports:
Air NZ has tended to form significant partnerships in its long haul markets. Vietnam Airlines serves Melbourne and Sydney but no point in New Zealand. While SkyTeam has loosened the ability for members to partner with non-SkyTeam carriers, Vietnam Airlines could have too much overlap with the Singapore Airlines JV for Air NZ to form another JV with it.
Some of Air NZ's few codeshares on Singapore Airlines subsidiary SilkAir are to Vietnam (Star Alliance codeshares on Silk Air are exceptionally limited, demonstrating the close relationship between Air NZ and SIA/Silk Air). The SIA JV will enable Air NZ to access the Vietnam market when it does not fly (season or day of the week) and also provide offline access to other Vietnamese destinations.
Air New Zealand's entry to Ho Chi Minh will see it give Vietnam its 16th long-haul route (seasonal or year-round, excluding limited charters). Half of these are from flag carrier Vietnam Airlines. The remaining eight are from Air France, Finnair (seasonal), Aeroflot (two routes) and then the three Gulf carriers: Emirates, Etihad and Qatar. Emirates and Etihad serve Ho Chi Minh (their only point) non-stop while Qatar serves Ho Chi Minh non-stop with a tag (in both directions) to Cambodia's Phnom Penh, but will likely look to introduce a non-stop to Phnom Penh. Qatar also serves Hanoi via Bangkok.
Air New Zealand becomes the first long-haul carrier outside of Europe and the Middle East to serve Vietnam. (No Australian carrier serves Vietnam.) Air NZ's Auckland-Ho Chi Minh route will be the seventh longest route into Vietnam.
10 longest long-haul routes into Vietnam: 2016
| | | | |
| --- | --- | --- | --- |
| Route Rank | Distance (km) | Carrier | Route |
| 1 | 10,213 | Vietnam Airlines | Ho Chi Minh-London Heathrow |
| 2 | 10,100 | Air France | Ho Chi Minh-Paris CDG |
| 3 | 10,100 | Vietnam Airlines | Ho Chi Minh-Paris CDG |
| 4 | 9,651 | Vietnam Airlines | Ho Chi Minh-Frankfurt |
| 5 | 9,233 | Vietnam Airlines | Hanoi-London Heathrow |
| 6 | 9,154 | Vietnam Airlines | Hanoi-Paris CDG |
| 7 | 8,854 | Air New Zealand | Auckland-Ho Chi Minh |
| 8 | 8,708 | Vietnam Airlines | Hanoi-Frankfurt |
| 9 | 8,502 | Finnair | Ho Chi Minh-Helsinki |
| 10 | 7,723 | Aeroflot | Ho Chi Minh-Moscow |
Vietnam Airlines in 2015 placed new A350s and 787s into service, becoming the second airline (after Qatar Airways) to deploy both types. Due to aircraft programme delays, Vietnam Airlines ended up placing both types into service in a relatively short time frame. Despite the new widebody aircraft, notable long haul expansion is not expected until the end of the decade.
As CAPA previously stated of Vietnam Airlines in Sep-2015:
Overall there will be limited opportunities to expand the long haul network in the short to medium term as nearly all the widebodies being delivered over the next three years are earmarked as replacements. Hanoi-Sydney could be the only new long-haul route launched in 2016.

But there will be opportunities to pursue faster expansion when the eight 787-10 are delivered in 2019 to 2021. The 787-10 could be used on existing flights to Europe, freeing up the 787-9 for new European destinations.

The Vietnam Airlines IPO prospective identified Berlin as the next European route and stated that Amsterdam, Milan and Prague were also under evaluation. It also identified Doha and Dubai in the Middle East and Delhi and Mumbai in India as potential new destinations.

…

Vietnam Airlines also has been keen for several years to launch flights to North America, starting with Ho Chi Minh-Los Angeles. San Francisco, Washington Dulles and Vancouver are also in its network plan. All four cities have large Vietnamese populations.

Plans to begin trans-Pacific services were initially pushed back due to delays with the 787. But Vietnam Airlines has now determined the 787s and A350s that it has started operating are unable to serve the US non-stop without payload restrictions.
See related report: Vietnam Airlines begins new chapter with A350s, 787s. Are 777-8Xs and a strategic investor next?
Air NZ phasing out its 767s. Long haul to be served by 777/787s
Air New Zealand has largely completed its re-fleeting. 747-400s exited in 2014 while in 2015 its eight 777-200ER were retrofitted to have an updated business seat (as on the 777-300ER and 787-9), premium economy was introduced (with a more conventional seat than the bespoke design on 777-300ER) while economy class moved to 10-abreast.
Mr Luxon believes this more streamlined fleet giving Air NZ greater operational flexibility given the consistent product. Air NZ can more easily swap equipment to match the demand of the market. The 777-300ERs for example have not just the most number of business seats (44) but also the highest share (13%) across the main widebody count. This is however still relatively low for a long haul aircraft, reflecting Air NZ's main leisure segments.
Air New Zealand 777/787 configuration: Dec-2015
| | | | | | | |
| --- | --- | --- | --- | --- | --- | --- |
| Aircraft Type | Business | Premium Economy | Economy | Total | Business Share | Economy (PY/Y) Share |
| 777-200ER | 26 | 40 | 246 | 312 | 8% | 92% |
| 777-300ER | 44 | 44 | 244 | 332 | 13% | 87% |
| 787-9 | 18 | 21 | 263 | 302 | 6% | 94% |
Air NZ operates five 767-300s and will start to retire them in Feb/Mar-2016, with a final exit in 2017. Air NZ's widebody order book as at 26-Aug-2015 comprises nine 787-9s. The 767s are deployed to Australia and points in the Pacific Islands.
Air NZ projected aircraft in service: 2016-2019
Air NZ's 777-200ERs are 9-10 years old, having been delivered between Oct-2005 and Jan-2007 according to CAPA's fleet database. Mr Luxon expects them to remain in service for the long term. This is different from earlier expectations that the 787-9s could replace Air NZ's 777-200ERs. But with Air NZ reducing costs and bringing its long haul network to profitability (largely through JVs), growth opportunities have been opened up.
This has required widebody deliveries be used for net growth rather than replacement. The retrofit programme on the 777-200ER fleet gives a refreshed product for the medium/long-term, while the capital commitment of the retrofit indicates Air NZ will not dispose of the aircraft anytime soon.
Mr Luxon does not expect to order additional widebody aircraft soon. Air NZ is due to receive three 787-9s in 2016, three in 2017 and two in 2018. Mr Luxon expects Air NZ can acquire new widebody aircraft on relatively short notice given its strong financial standing: it is one of 15 investment-grade rated airlines, and in the top tier of those carriers, Mr Luxon says.
Air NZ fleet deliveries: 2016-2019

A321neos will be used on trans-Tasman routes
With the widebody re-fleet programme drawing to a close, the focus shifts to the trans-Tasman market between Australia and New Zealand. Air NZ typically deploys widebody aircraft on morning departures from Auckland to major Australian cities, with the aircraft returning to Auckland in the late afternoon. This utilises the aircraft during downtime; Air NZ's long haul network largely departs at night and returns in the morning, creating ground time during the day. The widebody usage also allows Air NZ to deliver a more premium market to the corporate demand at peak times.
Supplementary services to major Australian cities, and services to secondary Australian points, are provided by A320s. Air NZ expects its first A321neo in 2018, and Mr Luxon says this type will be deployed to Australia. A theoretical one-for-one-replacement of A320s with A321neos will create volume growth while reducing unit costs. The trans-Tasman market is showing more signs of competition with greater fifth freedom services while Qantas becomes more nimble in the segment and considers transferring capacity to lower cost partner Emirates (the two have a regulatory commitment to maintain a certain threshold of capacity).
The A320 flies 89, or 61%, of Air NZ's trans-Tasman services in a sample week in Feb-2016. This includes secondary markets.
Air New Zealand aircraft type by frequency New Zealand-Australia: 15-Feb-2016 to 21-Feb-2016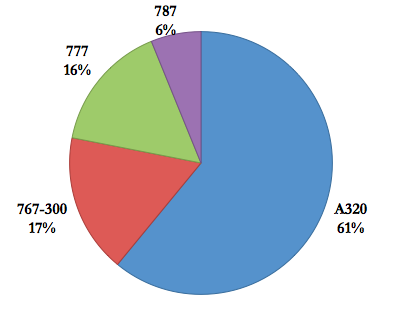 With the exception of two weekly Christchurch-Perth 767 services, all of Air NZ's widebody Australian flights depart Auckland.
The following data set considers only Air NZ's flights from Auckland to Brisbane, Melbourne and Sydney. (This excludes Perth, which cannot be served by narrowbody aircraft from New Zealand.) On these three routes, the A320 comprises only 34% of frequencies compared to 61% of Air NZ's overall Australia-New Zealand market, reflecting the widebody aircraft deployment.
Air New Zealand aircraft type by frequency Auckland-Brisbane/Melbourne/Sydney: 15-Feb-2016 to 21-Feb-2016
The A321neo replacement of A320s will enable A320s to be re-deployed to the domestic New Zealand market, or exit the fleet. Air NZ leases and owns its A320 fleet.
Outlook: Air New Zealand long haul at record highs as competition grows in all markets
Much focus in recent months has been on Air New Zealand's growing competition in core markets: in the highly profitable domestic (and especially regional) New Zealand market, Jetstar has commenced regional services while in North America competition has returned with a planned service from American Airlines.
See related report: Outlook: Domestic Australia airline capacity truce; NZ prepares for new entry on regional routes
United's re-entry to New Zealand will probably preface a JV with Air NZ. (The two already have regulatory approval.)
For long haul, Air New Zealand is on the upswing. During the global financial crisis and spike in fuel prices, it restructured its long haul network, which involved a decrease in loss-making flights and capacity. In 2015, Air NZ has surpassed 2005's long-haul sectors by 7%, according to OAG. 2016 will see 15% more long haul flights and approximately 25% more ASKs (this excludes Ho Chi Minh, which has not yet been filed).
Air New Zealand long-haul (over 6,500km) frequencies (left axis) and ASKs (right axis): 2005-2016F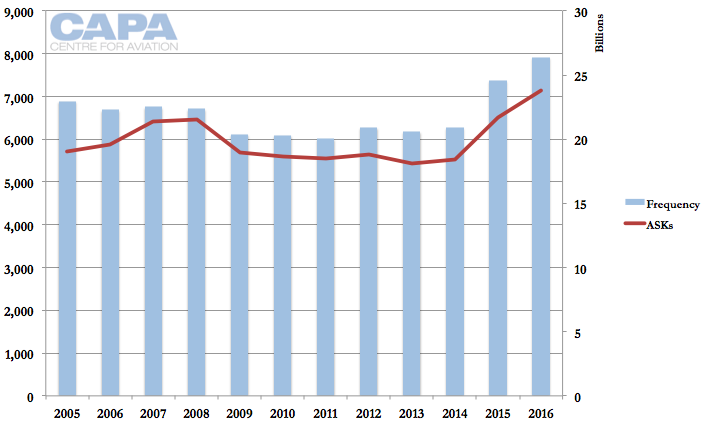 Air NZ surpassed its previous long haul size in 2015, which included only a negligible contribution from the Buenos Aires and Houston routes (they were launched only in Dec-2015). Their launch with Ho Chi Minh in mid-2016 and other new long haul routes (Manila is rumoured) will allow continued growth. These are in new markets that will require a longer spool-up period and will probably not deliver the profits of Air NZ's main North American market, let alone domestic. But Air NZ is committed to expansion, noting earlier in 2015 the carrier is in "strong growth mode".
See related report: Air New Zealand 1H2015: stronger 2H fuel gains will support 12% "strong growth mode"
In its expansion, New Zealand's strategy has parallels to Qantas restoring its Asian presence since its European restructure and JV with Emirates. However, this is only for Qantas' Asian network and its past historical size was much larger. Air NZ has added new markets – its first Latin American service, its first in North America beyond the West Coast – although Qantas has already had a presence in these geographies (Santiago, and prior to it Buenos Aires; as well as New York JFK).
See related report: Qantas shifts widebodies to international, restoring Asian presence despite no European connections
Air NZ says its focus is on the Pacific Rim, but this wide stretch essentially excludes Europe and Africa. After much growth focus on North America, Air NZ is turning to other markets, in particular Asia. However, expanding mainland Chinese carriers are a concern. While for now they focus on their immediate geographies, in time they will flex their muscles into other Northeast Asian geographies and beyond. A JV with Air China may not be adequate for this large market.
It is JVs that arguably define Air NZ's international markets, with such deep partnerships covering almost all of its markets. Existing and new JVs should continue to fuel growth.
Air New Zealand growth regions: FY2016