Air India doubles bailout plea to USD800 million. Has India's domestic market bottomed?
Analysis
Air India has almost doubled its bailout request from the Indian Government, in the form of an equity injection and a soft loan (30:70 split), to USD813 million from USD467 million requested just two months ago. The amount is roughly equivalent to the revised expected losses for the carrier this financial year.
The request puts the Indian Government into a difficult position, as support for the national carrier would distort the competitive environment for India's troubled private carriers. Jet Airways and Kingfisher have resorted to an operational merger in an attempt to stem losses and both are seeking to raise fresh debt and equity from domestic and offshore sources.
Earlier this week, Pakistan International Airlines requested USD683 million in an emergency government support package amid mounting losses.
Air India's losses have been caused by its slow integration with the former Indian Airlines, weak demand and excess industry capacity. The carrier, which was reported to be making losses on 200 of its 207 routes, has recently cut back its network and is seeking to raise cash from the sale-and-lease-back of aircraft.
Domestic travel demand has been on a downward spiral since May-08 (3.9 million passengers) until Sep-08 (2.7 million passengers), as a result of slowdown in demand caused by high fuel prices and a slowing economy.
Total passenger numbers fell a significant 13% year-on-year compared to last year's 3.6 million. Encouragingly, traffic appears to have bottomed in Sep-08, but the sector is far from being given the all clear.
Indian domestic passenger numbers and passenger numbers growth:
Jan-07 to Oct-08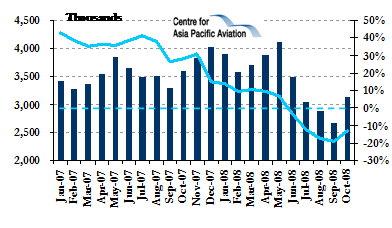 Air India's domestic passenger numbers fell 10.6% year-on-year to 565,000 in Oct-08, giving it a market share of 18.2%, up from 17.6% in Oct-07. The carrier's load factor was also an anemic 59% in Oct-08.