Air France-KLM SWOT: more boldness needed to develop partnerships and to grow Transavia
Analysis
Air France-KLM's 6M2015 passenger traffic figures indicate RPK growth of just 0.7% for the group, compared with 5.8% for IAG and 3.6% for the Lufthansa Group. With a passenger load factor of 84.2% for the period, Air France-KLM is filling more of its seats than IAG (79.3%) and the Lufthansa Group (78.3%). Its capacity discipline is welcome, but has been forced on it by successive losses.
Moreover, its poor financial track record highlights the challenges faced by Air France-KLM in making a profit from these seats - and cost cutting remains a priority. Key to this is labour productivity improvement. A recent agreement signed by KLM pilots is a positive step in this regard, by contrast with ongoing deadlock between Air France and its pilot union.
In this report, we consider Air France-KLM's main strengths, weaknesses, opportunities and threats.
We suggest that Air France-KLM should be more positive in developing commercial relationships with Etihad and Chinese partner airlines and more aggressive with the growth of its LCC subsidiary Transavia (if pilots allow it).
STRENGTHS
1. Air France-KLM has a balanced global network
Compared with the other two of Europe's Big Three legacy airline groups, Air France-KLM has a better balanced network in terms of its global coverage. Measured by ASKs to the principal global regions for the week of 6-Jul-2015 (source: OAG), Air France-KLM has an almost equal proportion (22% to 23%) in each of Europe, Asia Pacific and North America, which together account for two thirds of its ASKs.
It also has only a slightly smaller proportion of its ASKs in Latin America (17%), where it is the leader from Europe, and is the only one of the Big Three with a double digit percentage of its ASKs in Africa (13%). By contrast, both IAG's and the Lufthansa Group's ASKs are more dependent on Europe and North America (although Lufthansa is only just behind Air France-KLM in Asia Pacific ASKs).
Air France-KLM, IAG and Lufthansa Group: ASKs by region week of 6-Jul-2015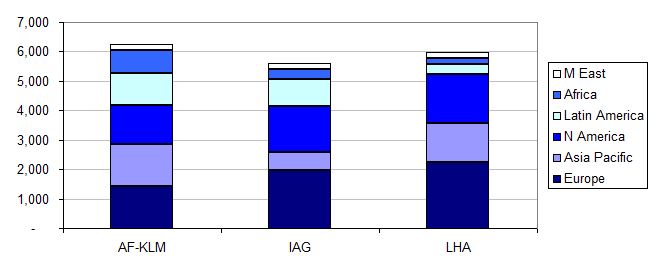 2. Air France-KLM's CDG and AMS hubs are both among Europe's top five airports
Air France-KLM's two main hubs, Paris CDG and Amsterdam Schiphol, are both among Europe's top five airports by total seat numbers. It is the only group to have two hubs in the top five European airports (see table below). Air France-KLM has the leading share at both of these airports, with more than half of seats.
KLM is one of the industry's pioneers of the hub and spoke model and its expertise has helped to devise a well integrated twin hub system since its merger with Air France in 2004. Both CDG and AMS have room for growth and their proximity to one another means that Air France and KLM can offer well coordinated schedules, where passengers are indifferent to which hub they use for connections.
Top 5 Airports in Europe ranked by weekly seats 6-Jul-2015 to 12-Jul-2015
Rank

Airport

Total Seats

Leading airline (% of seats)

Leading airline Group (% of seats)

1

1,926,152

British Airways (47.0%)

IAG (47.8%)

2

1,685,450

Air France (51.5%)

Air France-KLM (51.9%)

3

1,678,925

Lufthansa (65.4%)

Lufthansa Group (66.7%)

4

1,584,008

Turkish Airlines (75.7%)

Turkish Airlines (75.7%)

5

1,437,448

KLM (50.1%)

Air France-KLM (58.2%)
3. Air France-KLM owns well established brands
The Air France-KLM group's two main operating airlines have well established brands. KLM, approaching its 96th birthday later this year, is the world's oldest airline still operating. Air France will be 82 years old this year. The longevity of both brands, together with their positioning as full service airlines and recent investment in cabin upgrades, are assets to the group.
On the other hand, last year's pilot strike at Air France damaged the brand and a number of global competitors, particularly in the Middle East and Asia Pacific, have overtaken both Air France and KLM in terms of perceived service quality.
4. Air France-KLM's North Atlantic join venture within SkyTeam helps pricing
KLM developed the world's first metal neutral joint venture to be granted antitrust immunity with its partner Northwest Airlines. Building on this experience, Air France-KLM's North Atlantic JV with SkyTeam partners Delta and Alitalia has given it enhanced pricing power on routes to North America.
Although the JV within SkyTeam is not the biggest on the North Atlantic (it is second to the Star Alliance's Atlantic ++ JV), routes between Europe and North America are now tightly controlled by the three alliances and this is beneficial to all of their participants.
WEAKNESSES
1. Air France-KLM's track record of losses is mounting
In 2014, Air France-KLM's net result improved to a loss of EUR198 million compared with a loss of EUR1,827 million in 2013. However, the reported result was distorted by a number of positive non-operating items, including changes to KLM pension plans, the sale of part of the Group's holding in Amadeus and a lower tax charge.
Air France-KLM's operating result, which better reflects the performance of the business, fell to a loss of EUR129 million in 2014 from a profit of EUR130 million in 2013. The operating result without the impact of the pilots strike in 2H2014 would have been a profit of EUR296 million, more than double last year's result, but still only at a margin of 1.2%.
The net loss in 2014 was Air France-KLM's fourth in a row and its sixth in the past seven years. The operating loss was the fifth in seven years, although the trend would have continued upwards had it not been for the strike.
Although the Group achieved increases in operating profit in the early years after its creation in 2004, reporting an operating margin of 5.8% in the year to Mar-2008, it has struggled to restore a profitable track record since the global financial crisis of 2008/2009.
Air France-KLM revenue, net profit and operating profit (12 month period to date shown, EUR million) 2005-2014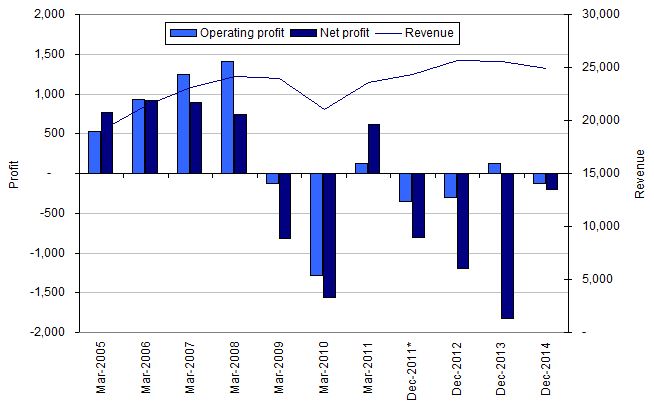 See related reports:
2. Air France-KLM's balance sheet constraints have limited its capital investments
Air France-KLM's lower profitability in 2014 led to a reduction in operating cash flow from EUR1.5 billion in 2013 to EUR1.0 billion in 2014 and its year end net debt increased for the first time in four years, from EUR5,348 million to EUR5,407 million. Gross liquidity fell from EUR4.2 billion at the end of 2013 to EUR3.5 billion at the end of 2014, equivalent to 52 days of revenue.
Net debt reduction remains a key priority for Air France-KLM, which has set an end 2015 target to cut it to EUR5 billion. Its capital expenditure plans have been cut by EUR300 million in each of 2015 (total spend now planned to be EUR1.6 billion) and 2016 (EUR1.9 billion). Planned investment in 2017 remains EUR2.2 billion, similar to the levels of the years immediately before the global financial crisis, requiring significant improvements in profitability.
Air France-KLM development of net debt and cash 2005-2014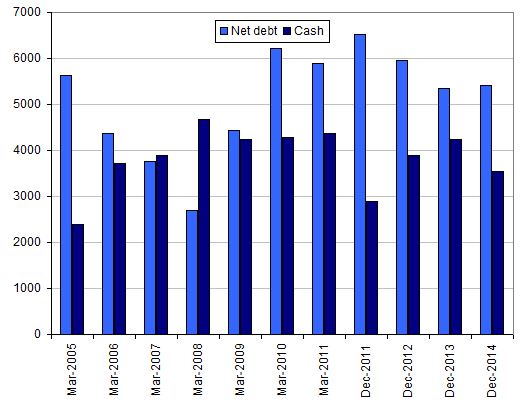 3. Pilot power at Air France is too strong
A strike by Air France pilots had a negative impact of EUR425 million on the group's 2014 operating result, sending it into a loss. The strike was the result of a dispute over the development of the group's LCC subsidiary Transavia in France. In order to resolve the dispute, management dropped plans to launch Transavia Europe, which was to have started up at bases outside the home markets of France and the Netherlands.
The agreement with pilots meant that Air France-KLM could put an end to the losses (both financial and in terms of its brand) stemming from the strike. It also allowed it to grow Transavia France, but at the price of a more limited scope for the LCC brand. Moreover, although the agreement allows Transavia France to grow its fleet to 40 aircraft, Air France-KLM will have to seek further negotiations with the pilots if it ever wants to go further than this.
The whole Transavia episode signalled the power wielded by Air France-KLM pilots in forcing management to compromise its strategic vision.
See related report: Transavia part 1. Pilots agree vital growth in France; Air France to rue end of pan-Euro LCC plan
More recently, Air France management has attempted to use the legal system to prevent pilot union SNPL from obstructing the implementation of the group's cost reduction targets within its restructuring plan. The union has reportedly said that it will not strike this summer, but does not rule out other forms of industrial action. Meanwhile, and by contrast, KLM pilots have recently signed a productivity agreement for the period 2015-2017.
4. Air France-KLM suffers from brand confusion
Although Air France and KLM are both long-established, solid brands (see Strengths above), the group's passenger airline brands now also include Transavia and Hop. In fact, Transavia has been around for many years, but it is only in the past couple of years that it has been growing aggressively in France and has moved from charter to scheduled operations in the Netherlands. There are clear benefits to branding a low cost operation separately from the mainline brand and this is common practice in other airline groups.
However, whereas the Lufthansa Group's Germanwings and IAG's Vueling have networks that are fairly clearly distinguished from those of their full service parents, Transavia France's network has a significant overlap with that of Air France.
Indeed, since the agreement with Air France pilots forbids the transfer of routes from Air France to Transavia, the LCC can only meet its growth target by opening completely new routes and by competing with its parent. This risks cannibalising sales and confusing travellers.
See related report: Transavia part 2: still constrained by unions and forced into high degree of overlap with Air France
OPPORTUNITIES
Transavia, with main bases at both Amsterdam and Paris Orly, is a genuine low cost airline, with a level of CASK that is consistent with LCCs, taking account of its average trip length. However, it took far too long for the Air France-KLM group to wake up to Transavia's potential. Even now, its ASK growth of 6.4% for 6M2015 looks timid compared with 15.5% growth by IAG's LCC subsidiary Vueling.
See related report: Transavia: too little, too late? Air France-KLM's LCC enjoys a growth spurt
Moreover, Transavia is loss-making and Air France-KLM does not aim for it to breakeven until 2017. Although its development by Air France-KLM into a major pan-European LCC has been delayed and compromised, the group still has an opportunity to make greater use of it.
2. Air France-KLMs short/medium haul point to point business can be returned to profit
Air France-KLM's short/medium haul point to point business (excluding Transavia) continues to be loss-making, although its operating result improved from a loss of c.EUR220 million in 2013 to a loss of c.EUR120 million in 2014. The largest part of the losses come from Air France's regional bases in France.
Air France-KLM targets breakeven for the short/medium haul point to point network by 2017. It expects to achieve this improvement through network reductions, cost cuts (particularly at stations), the reorganisation of Hop and Air France short haul point to point activities into a single structure and the promotion of Air France as a value for money brand against LCCs.
Nevertheless, with competition from LCCs, in addition to the high speed train and other forms of surface transport such as car pooling, this is a challenging segment.
3. Losses at the Air France-KLM cargo division can be turned around
The Air France-KLM Cargo segment continued to struggle in 2014, recording an operating loss of EUR212 million, EUR10 million worse than 2013 as reported, although this was EUR33 million better on a like for like basis (excluding the impact of currency movements, the pilots strike and other one-offs). The Cargo segment has reported operating losses in six out of the past seven financial years.
The group's Perform 2020 plan includes a target for the full freighter business to return to breakeven by 2017
Achieving this target presents an opportunity for the group to improve its profitability and includes a reduction in the full freighter fleet. Air France-KLM had a total of 16 dedicated freighters at the end of Mar-2015, but will reduce this to five by 2016. KLM will go from six Boeing 747 freighters and six MD-11 freighters in Mar-2015 to just three 747s, while Air France's freighter fleet will continue to consist of the current two Boeing 777 aircraft (down from five in Jun-2014).
4. Air France-KLM's JVs with Chinese airlines offer potential
As noted above, Air France-KLM already has a significant network from Europe to Asia Pacific and its biggest destination country by ASKs in the region is China. However, it also faces growing competition for traffic flows between Europe and Asia Pacific from global super-connectors such as the Gulf Three (Emirates, Qatar Airways and Etihad) and Turkish Airlines.
One way to combat such competition is through joint venture arrangement with local airline partners. Air France-KLM has JVs with two Chinese airlines, China Southern and China Eastern, although their progress has been relatively slow so far. The further development of these partnerships present an opportunity to Air France-KLM to grow its traffic and profits in China.
See related report: Air France-KLM's Asian partnerships: JAL codeshare ends, China Southern A380 & Xiamen to Amsterdam
5. Air France-KLM's relationship with Etihad could be extended
Air France and KLM also have codeshare agreements with Etihad and, in spite of the group's sometimes protectionist rhetoric against the Gulf carriers, this relationship also provides an opportunity to improve its position in Asia Pacific.
Air France carries Etihad's EY code on services from Paris CDG to Bordeaux, Copenhagen, Lisbon, Madrid, Marseille, Nice, Oslo, Stockholm and Toulouse. KLM carries Etihad's EY code on services from Amsterdam to Aberdeen, Barcelona, Bergen, Billund, Birmingham, Bristol, Cardiff, Copenhagen, Durham, Edinburgh, Glasgow, Gothenburg, Helsinki, Madrid, Newcastle, Nice, Oslo, Stavanger and Stockholm.
Etihad carries the AF code from Abu Dhabi to Brisbane, Chennai, Colombo, Hyderabad, Kathmandu, Khartoum, Male, Melbourne, Paris CDG, Perth, Seychelles and Sydney. Etihad also carries the KL code to Amsterdam, Chennai, Colombo, Islamabad, Jeddah, Karachi, Kathmandu, Khartoum, Lahore, Male, Muscat, Seychelles and Sydney.
Air France-KLM CEO Alexandre de Juniac told analysts at a presentation on its 2014 results that he plans to increase the use of partners and JVs in Asia Pacific. "We have to have the same grip in the Asian market as we have on the North Atlantic", he said.
6. Deeper integration of the Air France-KLM group would offer efficiency gains
Eleven years after their merger, the two main national airlines in the Air France-KLM group continue to operate as distinct brands, each with its own fleet, operations and labour structures. The degree of integration appears to be less than seen at merged groups in North America (such as Delta after the acquisition of Northwest and the merger of United and Continental).
There are a host of historical and cultural reasons why integration within large European airline groups has been slower. It is also true that progress has been made with the centralisation of certain administrative, financial and procurement functions.
Nevertheless, and although there are sometimes mutterings that some people inside KLM would like to break free entirely, a greater degree of integration would offer increased efficiency to the Air France-KLM group.
7. Further unit cost reduction at Air France-KLM will help to restore profitability
One of the key reasons for poor profitability at Air France-KLM is that its unit costs are too high relative to the level of unit revenue it has been able to generate. Although ongoing network and product enhancements are designed to bolster unit revenue, the highly competitive nature of the airline market makes it difficult to rely on unit revenue growth.
Indeed, a statement from Air France in mid Jun-2015 referred to "increased pressure on unit revenue since April" and Air France-KLM's Perform 2020 plan makes no expectation of unit revenue growth. It does, however, aim for further reductions in unit cost every year and achieving this will be vital if the group is to restore sustainable levels of profit.
Air France's Jun-2015 statement also referred to the "stepped up implementation" of Perform 2020, including route closures, frequency and aircraft size reductions and savings on external costs.
Air France-KLM targeted annual change in unit cost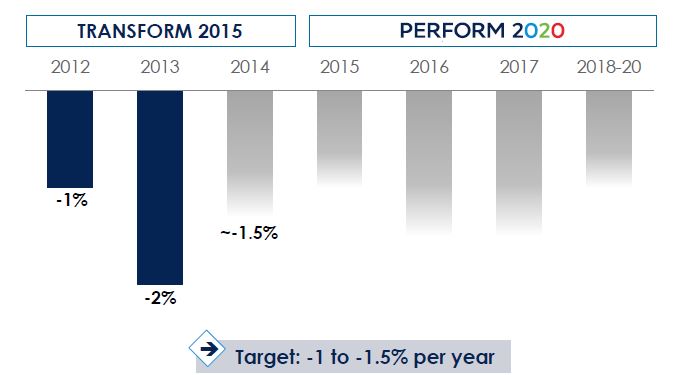 8. Air France-KLM fleet renewal will benefit unit costs and customer perception
According to the CAPA Fleet Database, the average age of Air France-KLM's fleet is 11.5 years. The long haul fleet contains some particularly ageing old generation aircraft, such as Boeing 747-400s (average age 21 years), MD-11Fs (20 years) and A340-300s (17 years). The group's focus on its balance sheet - lowering debt and safeguarding liquidity - has led to decisions to delay and reduce capital expenditure in recent years.
Nevertheless, it does have a fleet plan, mainly involving the replacement of these older types and only a cautious rate of growth (likely to be less than 2% pa for long haul). It has 24 A350 aircraft and 37 Boeing 787 Dreamliners on order, in addition to eight Boeing 777-300ERs still to be delivered (source: CAPA Fleet Database) for its wide body fleet. Air France will reportedly retire its Boeing 747-400 fleet by Jan-2016.
Renewal of the fleet should be beneficial both for unit costs and for passenger appeal and branding.
Air France-KLM long haul fleet plan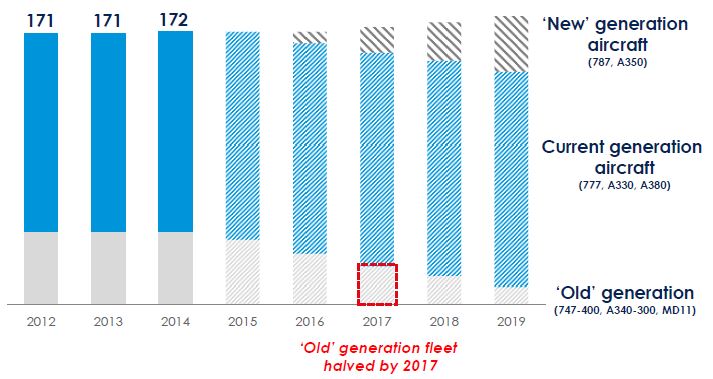 THREATS
1. Air France-KLM's LCC competition remains
As noted above, Air France-KLM is growing its presence in the LCC segment of the market with Transavia. However, Transavia's operations are limited mainly to leisure destinations in Europe and the Mediterranean from France and the Netherlands and its growth is only focused on France. The more successful European LCCs are bigger, with pan-European operations and a growing portfolio of business destinations, and are considerably more profitable. Growing LCC competition remains a threat to Air France-KLM.
See related reports:
The share of seats taken by low cost carriers in France is still less than in Europe as a whole. In 2014, LCCs had a share of around 30% on international routes and on domestic routes in France, compared with 44% for Western Europe overall (source: CAPA/OAG).
LCCs have a 9.3% share of seats at Paris CDG and 19.0% at Amsterdam Schiphol (including 3.6% for Transavia). However, the picture is a little different in the non-hub market. The LCC share of seats at Paris Orly is 31.6% (including 9.5% for Transavia).
Moreover, on routes between France and Europe (including France) excluding Air France's hub at Paris CDG, LCCs other than Transavia had a 40% share of seats in 2014 (43% including Transavia-branded operations). This is up from 18% in 2004. Over the same period, the share of the Air France-KLM group on these routes fell from 49% to 34%.
See related report: Transavia part 1. Pilots agree vital growth in France; Air France to rue end of pan-Euro LCC plan
2. Air France-KLM have strenuous Gulf airline competition on long haul
As with LCC competition on short haul, competition in long haul markets from the Big Three Gulf carriers (Emirates, Qatar Airways and Etihad) and Star Alliance member Turkish Airlines is not going to go away. Relative to IAG and, in particular, Lufthansa, Air France-KLM has a smaller European network and is perhaps therefore less vulnerable to the growing presence of the Gulf carriers, and of their European partners, in secondary cities that previously relied on Paris or Amsterdam for long haul connections.
See related report: Etihad raises its Europe profile with codeshares and equity, expanding indirect connections
Moreover, Air France-KLM has taken tentative steps to embrace Gulf competition and to work with it, through its codeshares with Etihad. In this respect, Air France-KLM has gone further than Lufthansa in working with Gulf airlines (Lufthansa has gone nowhere), but it has not gone as far as IAG, whose relationship with Qatar Airways now involves the Doha-based airline's holding a 10% stake in IAG and plans for a much closer commercial cooperation.
Furthermore, Air France-KLM continues to be vocally critical of Gulf airlines, siding with attempts by Lufthansa and a number of US airlines to advocate a reduction in the traffic rights granted to the Gulf Three under liberal bilateral air service agreements.
Air France-KLM's half-hearted approach to tackling the competitive threat from Gulf airlines risks falling between two stools, neither fully embracing the competition and meeting it head-on in the market place, nor fully putting its energies into (misplaced) attempts to wind back the liberalisation clock with raised protectionism.
Air France-KLM would be best advised to come clean on where its best interests lie and to seek a fuller relationship with Etihad, in addition to making more out of its Chinese joint ventures. This requires a more bold approach from Air France-KLM, just as it should also be more aggressive in pushing the development of Transavia. Pandering to protectionist tendencies and pilot stridency appears a likely recipe for a lingering and painful demise.